Platinum-selling country superstar George Strait will return to Las Vegas for a Super Bowl-weekend, in-the-round concert performance at the MGM Grand Garden Arena on Saturday, Feb. 3, 2007. The legendary Ronnie Milsap, known for his popular country soul tunes, is scheduled to perform as the evening's special guest. Tickets are $95, $75 and $50; call Ticketmaster at 702-474-4000.
Strait has sold more than 71 million records and earned more platinum or multi-platinum discs than any other musician in his genre. He recently scored his 53rd No. 1 hit with "Give It Away," giving him more solo No. 1 songs than any artist in the industry. An integral part of the fabric of the music industry for more than 25 years, Strait's "Pure Country" album is the best-selling country soundtrack of all time and his "Strait Out of the Box" is the best-selling country box set of all time. For this Christmas season, Strait is releasing "Fresh Cut Christmas."

Column Continues Below Advertisement


Milsap's track record includes 40 No. 1 hits, more than 25 million records sold, seven Grammy Awards, four Academy of Country Music Awards (ACMA) and eight Country Music Association Awards (CMA).
"Shag With A Twist" has moved from the Harmon Theater on the Strip to the Plaza downtown for an exclusive extended engagement. The retro-cool show runs Thursday to Monday at 7 p.m. with an additional Sunday matinee at 3 p.m. Tickets are $45 and $55; call 1-800-619-9496.
"Shag With A Twist" is based on the iconic artwork of famed visual artist, Josh "Shag" Agle. By moving the musical production into the larger 500-seat Plaza showroom, the producers have been able to unveil sophisticated sets that include 17-foot-tall original backdrops featuring Shag's vivid paintings, two rotating turntables for dramatic set changes, and larger-than-life set pieces including authentic mid-century modern furniture such as a stove-pipe fireplace.
For the 13th consecutive year, visitors will be able to celebrate the holiday season by walking through Ethel M's "Chocolate Wonderland," which will open Nov. 16 with the annual holiday Botanical Cactus Garden lighting. The Ethel M Chocolate factory is located in Henderson and the illuminated garden with almost 500,000 lights will run daily from 5 p.m. to 10 p.m. through Monday, Jan. 1, 2007.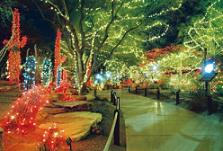 There will also be holiday-themed chocolate sculptures, chocolate samples, and local choirs occasionally performing. Santa will make appearances from 5 p.m. to 9 p.m. on Friday and Saturday evenings through Dec. 23. All events and tours of the factory are free. For information, call 1-800-4ETHELM (438-4356).
Plans were announced at a recent reception at the World Market Center for The Smith Center for the Performing Arts that will be built on 4.75 acres of land set aside by the city of Las Vegas within the 61-acre parcel of undeveloped land formerly owned by the Union Pacific Railroad. Current projections are to break ground in late 2008 and complete the estimated $250 million project in 2011.
Many years of planning have laid the groundwork for this public-private partnership. When completed, The Smith Center will put an end to Las Vegas being the largest community in North America without a world-class performing arts center. Plans call for a three-theater complex: a main theater seating more than 2,000; a proscenium theater seating more than 600; and a flexible studio theater accommodating approximately 300.
"Fantasy," formerly known as "Midnight Fantasy," is the provocative adult revue with eight incredibly gorgeous ladies at the Luxor in the 350-seat Atrium Showroom on the Attractions Level. The show produced by Emmy-award winner Anita Mann is vibrant, fast paced and sexy and has been revamped for the first time since early 2000 with some new numbers. Gone is the theme of each dancer lip-syncing a narrative about her fantasy.
Stephanie Jordan has been carried over as the show's singer, which works fine since her body figure blends nicely with the dancers and her voice is strong. The comic relief is provided in a couple places by Sal Salansang.
Ethel M's has opened a 1,200-square-foot, pink-and-brown cocoa heaven at the Fashion Show mall where consumers can be introduced to goods such as coffee, bread, cheese with chocolate added. Other produces are available like cookbooks, poster, and fondue for two, etc.
In 2005, Mars began rolling out 10 Ethel's Chocolate Lounges in the Chicago area. The new shop at the Fashion Show is the 11th location and first outside of Chicago.
Enjoyed a reception at acclaimed Chef Michael Mina's new restaurant StripSteak, which is his first steakhouse, at Mandalay Bay. The James Beard Award-winning chef founded his own company, Mina Group, with partner Andre Agassi, in 2002. Since then, he has opened five concept restaurants and Seablue at the MGM Grand is his other Las Vegas eatery. Mina also remains Managing Chef of Michael Mina Bellagio, which was formerly Aqua Bellagio, and Nobhill at MGM Grand.
The ultra modern StripSteak offers two varieties of beef, Certified Angus Beef and American Kobe, and is home to two wood-burning grills and six circulating low-poaching chambers. The main dining room seats 140 and the lounge, which opens daily at 4 p.m., seats 70. StripSteak offers more than 600 wine selections.
The topless revue "Erocktica" at the Rio closed last week with little notice for the nine-member cast. The show opened at the Rio in February 2005.
Remember the Stardust will be closing its doors forever on Nov. 1. It's the first Las Vegas hotel I stayed in back in 1958 and it is sad to see it close.
A new musical show "Fab Forever" will open in the Mardi Gras Theater at the Riviera on Nov. 4. Fab Forever's story brings the history of the Beatles' music to life on stage. The show is written and directed by award-winning producer Jerry Peluso. Show times are 5 p.m. and 7 p.m., Saturday through Wednesday. Tickets are $39.95, call 702-794-9433.
Election time has been interesting in Las Vegas. Because Jack Carter is running for the U.S. Senate, his father former President Carter has been on the campaign trail with his son and paid a visit at a private reception at Joyce Mack's country club home with U.S. Secret Service in tow.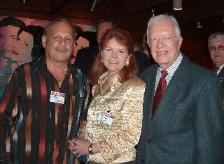 Maggiano's Little Italy at the Fashion Show mall on the Strip has begun featuring entertainment from 11 p.m. to 3 a.m., Tuesday through Saturday. Nightly drink specials include $4.95 martinis, $3.95 wine by the glass and complimentary hors d'oeuvres.
The Las Vegas Walk of Stars honored former IndyCar Series driver Sam Schmidt yesterday and the Filipino musical group Society of Seven will have their dedication ceremony on Nov. 28 at the Flamingo.
Paige O'Hara, who plays the Soap Star in "Menopause The Musical®" at the Las Vegas Hilton, is taking a few days off in Los Angeles to record a new song for a new release of "Peter Pan" and a video for the song to be aired on the Disney Channel. In December, O'Hara is off to Indiana for one of her "Belle To Broadway" concerts.
"Action Magazine" was in town recently to shoot the five lovely women of Sunset Strip, which is a high-energy band performing in the Shimmer Cabaret at the Las Vegas Hilton. The shoot was for an upcoming issue of the popular magazine.
An outdoor country and western impersonator show, complete with barbecue steak dinners and all the trimmings will continue at the Riviera on the second floor deck with two more parties on Nov. 8 and 15. The resort is planning to make the western parties and the Hawaiian luaus annual affairs.
Liza Minnelli is planning a free show for Las Vegas entertainers at 1 a.m. on Nov. 25 at the Luxor.
The second 40-story tower of the condominium-hotel at The Residences at MGM Grand will be completed this month. The third and final tower will top off this month with a completion date set for mid-2007.
Viaggio Italian Cuisine located on South Eastern Avenue is now presenting weekly Jazz Night every Saturday featuring different artists in the restaurant's upstairs Wine Room from 7 - 11 p.m.
Mark Winegardner, author of "Godfather's Revenge," will be visiting The Reading Room at Mandalay Bay for a book signing on Saturday, Nov. 11 at 7 p.m.
Mario Puzo's novel "The Godfather" was published by Putnam in 1969 and no actual additions to the saga were authorized by Puzo or his estate until 2004, when an authorized sequel by Winegardner, "The Godfather Returns," was published. Now Winegardner, who conceived of his contribution as one story told across two novels, has written the third and concluding book, "Godfather's Revenge," in this landmark tale.
Spago Las Vegas has introduced the newest addition to its extensive collection of fine art, which is displayed throughout Wolfgang Puck's restaurants and began at Spago Hollywood nearly 25 years ago with an Andy Warhol commission. Continuing in its commitment and dedication to the arts, Spago welcomes the installation of new contemporary artwork by acclaimed Las Vegas artist Tim Bavington.
Spago Las Vegas has redefined the restaurant's main dining room space at the Forum Shops with the installation of Bavington's six-panel contemporary painting titled "Imagine," an abstract tribute to John Lennon's iconic song. The acrylic on canvas work of art is 8-feet high and 28-feet wide and is the largest piece created by Bavington.
The Hard Rock will presents Angels and Airwaves at the Joint on Friday, Nov. 3. With the hiatus of pop-punk superstars blink-182 in full effect by the fall of 2005, singer/guitarist Tom DeLonge revealed the formation of his new alternative rock band Angels and Airwaves, which was unveiled live this year on April 12 to a sold-out crowd at Pomona, Calif. Their debut album, "We Don't Need to Whisper," appeared in May on Geffen Records. Tickets are $27.50, call 702-693-5583.
Devo, which became a cult sensation, will perform at the Joint on Saturday, Nov. 4. Devo was one of new wave's most innovative and for a time successful bands. Formed in Akron, Ohio, in 1972 by Kent State art students, Devo took its name from their concept of "de-evolution" -- the idea that instead of evolving, mankind has actually regressed, as evidenced by the dysfunction and herd mentality of American society. Tickets are $35 and $45; call 702-693-5583.
A two-day photography workshop by chief track photographer David Allio will be held at the Las Vegas Motor Speedway, Nov. 3-4. The two-day session will include a drag racing photography workshop on Friday at The Strip at LVMS in conjunction with the NHRA Lucas Oil Series Finals and paved short track oval racing photography on Saturday at the Bullring at LVMS in conjunction with the annual Fall Classic Super Late Model event.
Allio began his professional motorsports photography career in 1974. He worked for 17 years as a special events photographer for the R.J. Reynolds Tobacco Company with assignments at over 100 different race tracks. His editorial images have graced the cover of nearly every major motorsports publication in the world.
This two-day workshop is customized for photographers with digital SLR cameras. A prize will be awarded for the best photo taken during the workshop. Advance reservations are required and the cost is $445, call Ellen Wonnacott at 702-632-8213.
Phil Palisoul, who moved from Denver to Los Angeles in 1994 to become a stand-up comic, is booked for a seven-night engagement at the Riviera Comedy Club, Nov. 6-12, along with funny folk Marlene Westor and Steve Lazarus. Westor is making her Riviera Comedy Club debut and Lazarus is an honest-to-goodness Yankee Stadium hot dog vendor turned comedian. Show times are 8:30 and 10:30 p.m. and tickets are $19.95, call 702-794-9433.
Paulisoul makes many television appearances and landed a spot at the prestigious 1999 HBO U.S. Comedy Arts Festival.
CONTINUE ON TO...:
>THIS WEEK'S LAUGHLIN SEGMENT
>LAST WEEK'S LAS VEGAS SEGMENT
>VEGAS VIEWS FULL ARCHIVES
>Return to "Heard Around Town"
>Return to Las Vegas Leisure Guide