'MILLION DOLLAR QUARTET' OPENS RUN AT HARRAH'S!

The Broadway smash hit musical "Million Dollar Quartet" about the untold true story of four rock 'n' roll pioneers coming together for one magical night will move into Harrah's Showroom on Feb. 4. Tickets range from $69 to $94.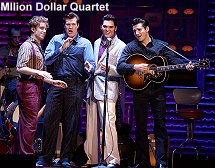 The Tony® Award Winning musical is set on Dec. 4, 1956, when an extraordinary twist of fate brought Johnny Cash, Jerry Lee Lewis, Carl Perkins and Elvis Presley together. Sam Phillips, the "Father of Rock 'n' Roll" who was responsible for launching the careers of each superstar, brought the four legendary musicians together at the Sun Records storefront studio in Memphis for the first and only time. The resulting evening became known as one of the greatest rock 'n' roll jam sessions in history.
Column Continues Below Advertisement
CIRQUE'S NEW SHOW 'ZARKANA' HOLDS A TREASURE HUNT
In celebration of the premiere of Cirque du Soleil's new show "Zarkana" at ARIA on Nov. 9, fans can participate in a treasure hunt through Friday, Nov. 2 to "Find the Eye of Zarkana." At stake are tickets to the show and a chance to win the Grand Prize – an all-access package to the premiere. Fifty Zarkana "eyeball" stickers redeemable for two show tickets are hidden in the following locations: ARIA, Town Square, The District at Green Valley and Tivoli Village.
RAIN NIGHTCLUB AT PALMS CLOSES
Rain Nightclub that opened at the Palms in 2001 has closed to make way for a multi-million dollar renovation. The 25,000-square-foot facility will host special events in coming weeks including New Year's Eve weekend performances by Kelly Rowland and Travis Barker. Renovations will begin next year. This announcement follows the closure of the Playboy Club in June.
MEATBALL SPOT WILL OPEN AT TOWN SQUARE
The new Meatball Spot will open in November across from Rave Motion Pictures at Town Square with renowned celebrity chef Carla Pellegrino, who is Executive Chef at Bacio in the Tropicana and Bratalian Neapolitan Cantina in Henderson. The new eatery will offer casual food such as meatball dishes, pizzas, salads and a gelato bar, as well as an array of cocktails. Meatball Spot will be open daily for lunch, dinner and late-night dining, and remain open for special screenings and private parties.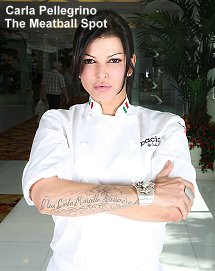 The 7,000-square-foot restaurant will seat 250 guests, have a white picket fence framing a spacious patio with a garden-style setting outside and a lively bar as the centerpiece to the inside dining room. A takeaway counter will offer pizza by the slice and other quick bites. On weekends, a DJ will spin an eclectic mix on the outdoor patio for late-night entertainment.
The new dining and drink destination will feature a food and drink happy hour menu from 3 until 6 p.m. Monday through Thursday; until 5:30 p.m. on Friday; and a reverse happy hour from 9 p.m. until close, Sunday through Thursday.
'FANTASY' LADIES APPEAR AT LAX NIGHTCLUB
The stunning dancers from the "Fantasy" show will celebrate the release of their 2013 "Barely Bejeweled" calendar with a bash at LAX Nightclub at the Luxor on Friday, Nov. 9. The bevy of beauties will host a special event to show off the striking images from their sexy calendar that can be purchased for $20 at various Luxor retail locations.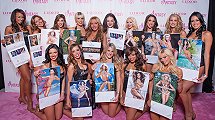 ENTERTAINMENT ITEMS
"Legends in Concert," the longest-running independently owned production show in Las Vegas, will close its four-year headlining engagement at Harrah's on Sunday, Dec. 30 to make room for "Million Dollar Quartet." Most likely the popular show will resurface at a different property.
"SPANK! The Fifty Shades Parody," a musical parody of the bestseller "Fifty Shades of Grey," will not open on Nov. 1, instead it will be performed at the Crown Theater inside Rio, Nov. 6 –10, at 10 p.m. Tickets are $39 and $49.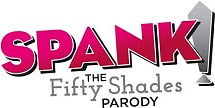 After really good reviews, Society of Seven with "American Idol" star Jasmine Trias has closed at the Riviera.
"Smash Magazine" will present Minus The Bear with special guests Cursive and Girl In A Coma on Wednesday, Nov. 7 at the Hard Rock Café on the Strip. Tickets are $23 in advance, $26 day of show.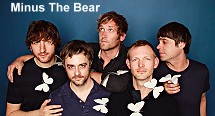 Arabian Nights will return to Paris with a performance in the Ballroom at 9 p.m. on Saturday, Nov. 3. Tickets range from $75 to $285. The show features singer Ragheb Subhi Alama, comedian Bassem Feghali, singer Hussan Al Rassam and violinist Divanessa Nassar.
Korean Pop Superstar Kim Bumsoo is bringing the "Kim Bumsoo Get Alright Show with Orchestra" to The Colosseum at Caesars Palace on Nov. 3.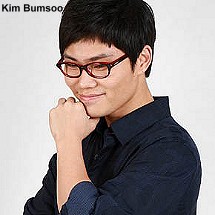 The Gay and Lesbian Community Center of Southern Nevada is holding its "Celebrate Community" event on Nov. 3, marking the 18th consecutive year for the nonprofit's Honorarium. This premier Southern Nevada LGBTQ fundraiser will be held at Rain Nightclub at the Palms. The evening will recognize three community heroes. Tickets are $150 and $250; visit thecenterlv.com/.
Canada's leading underground electronic dance music artist ill.Gates will perform with special guests Stephan Jacobs and Jay Fay at the Hard Rock Cafe on the Strip Tuesday, Oct. 30.
DJ Skribble, named one of the best DJs in the world by "DJ Times Magazine," now hosts a rooftop party under the Eiffel Tower at Chateau Nightclub at Paris every Saturday night.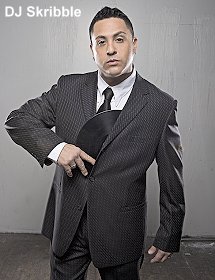 PSYCHIC THERESA CAPUTO WILL APPEAR AT PLANET HOLLYWOOD
Theresa Caputo, psychic medium and star of the hit TLC show, "Long Island Medium," will be appearing live at the CHI Showroom inside Planet Hollywood on Saturday, Nov. 10. Theresa will give interactive readings to audience members throughout the show and will also share personal stories about her life and her unique gifts. Tickets are $57.75, $67.75 and $87.75.
ANTHONY COOLS OPENS 'STRIP COMEDY' AT THE PALMS
"Strip Comedy" described as "uncensored and undressed improv" will begin its run on Nov. 7 at The Lounge inside the Palms with shows at 7 p.m. Wednesday through Sunday. Tickets are 39.95.
Presented by Anthony Cools, "Strip Comedy" follows two teams of improv actors going head-to-head in comedic games where nothing is off limits. The audience gets in on a big piece of the action, participating throughout the night in this fully improvised show created from their suggestions. The audience also judges the scenes, with live female scorecards removing an item of clothing with each win.
The host and creator is Kopy Kopatich, who moved to Las Vegas 10 years ago and has had shows at the Plaza, Alexis Park, UNLV and off-Strip theaters.
FIRST OUTDOOR SHOW AT SMITH CENTER IS 'ZOPPÈ' CIRCUS
The first outdoor show in Symphony Park at The Smith Center will be "Zoppè" – An Italian Family Circus in a 600-seat circus tent, Nov. 1-4. The one-ring circus starring Nino the clown played by sixth-generation circus perform Giovanni Zoppè is propelled by a central story as opposed to individual acts that features acrobatic feats, equestrian showmanship, canine capers, clowning, and plenty of audience participation.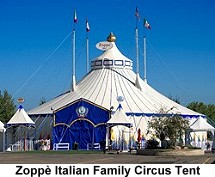 TOP OF NEXT COLUMN
ITEMS OF INTEREST
Art Square, the newest addition to the Las Vegas Arts District is now open at 1025 S. First Street. Art Square is located at the heart of the Arts District and features 16 creative and professional spaces ranging from 200 to 2,500 square feet and includes Artifice Bar & Lounge and Mingo Kitchen & Lounge.

After more than 15 years of planning, the Neon Museum is finally open. The two-acre outdoor museum is home to a collection of more than 150 neon signs dating from the 1930s and is the largest collection of neon signage in the world.
The Coachman's Inn was a landmark restaurant and bar on Eastern just north of Desert Inn that had been around since the 1970s and it is closed. In addition, the Italian American Club on E. Sahara has also closed but it's available for special events.
New Vista's Brew's Best will take place at The Village, Lake Las Vegas on Saturday, Nov. 10 from 1 to 6 p.m. Guests can sample beers by more than 100 local and regional breweries. Advance tickets are $25 and $30 at the door.
California Pizza Kitchen is inviting all veterans and active military to have a pizza and non-alcoholic beverage on them on Veterans Day Nov.11 or Monday, Nov. 12. Restaurants are located at Fashion Show mall, McCarran Airport, Mirage and Town Square.
Señor Frog's Las Vegas at Treasure Island has introduced a "Hoppy Hour" fiesta complete with a variety of two-for-one drink specials and half-priced appetizers Monday through Friday from 3 to 6 p.m.
Bellagio's 2012 Epicurean Epicenter Series will conclude on Saturday, Nov. 10 at 6:30 p.m. with a culinary event hosted by Director of Wine and Master Sommelier Jason Smith at Tuscany Kitchen, the AAA Five Diamond resort's high-tech, interactive exhibition kitchen. Tickets are $175, call 866-906-7171.
The Boulder City Public Art Scape will present "A Taste For The Arts" fundraiser – "Red Shoe Gala/Dance and themed Suitcase & Unique Items Auction" on Nov. 16 at 6 p.m. at the Boulder Creek Golf Couse Pavilion. Tickets are $35, call 702-293-7731. Evening includes a free food tasting provided by nine local restaurants.
ELI ROTH VISITS GORETORIUM AND UNVEILS NEW HAUNT PACKAGES
Eli Roth's Goretorium will celebrate its first Halloween on The Strip with extended hours through Oct. 31 from 2 p.m. – 2 a.m., a special appearance by the king-of-horror, Eli Roth on Oct. 31, and brand new haunt packages starting on Oct. 31. The "Get Your Spook On" $149 package allows a guest to select a character to play, have makeup done and scare guests inside the haunt.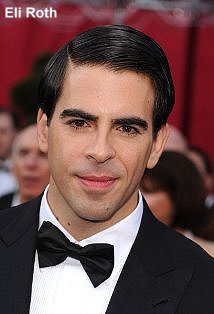 'LINNER' WILL CLOSE OUT PROJECT DINNER TABLE SEASON
"Linner" a playful spin on a mix of lunch and dinner will be the meal to close the season for Project Dinner Table on Sunday, Nov. 11 at 3 p.m. The chefs of the Cosmopolitan will helm this meal at The Smith Center downtown in the two-acre Symphony Park. The charity recipient will be Communities in Schools Nevada. Tickets are $175 at www.projectdinnertable.com.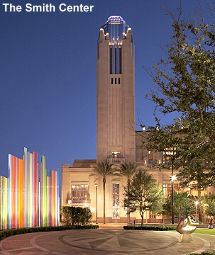 This will be the 18th Project Dinner Table event. Each dinner accommodates up to 175 guests seated at one long dinner table.
VEGAS VALLEY BOOK FESTIVAL IS FOR EVERYONE
The Vegas Valley Book Festival, now in its eleventh year and taking place Nov. 1-3, is a celebration of the written, spoken, and illustrated word. The festival has networked together a community-wide consortium of cultural organizations and sponsors to offer "a one-stop shopping experience for literature" through a wide range of programs built around sharing resources, developing audiences, advancing the craft of writing, and sharing the joys of reading. This annual festival is the Las Vegas Valley's largest literary event. Since its founding in 2002, the festival has presented more than 600 authors and speakers and has produced or sponsored over 450 events, sessions, readings, workshops, and book signings. Most events are free and open to the public; visit vegasvalleybookfestival.org/ for all the information.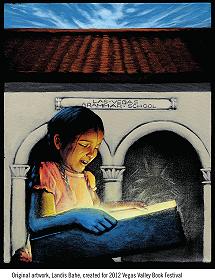 HENDERSON'S WINTERFEST LIGHT PARADE IS OPEN FOR ENTRIES
The City of Henderson is searching for groups and individuals to be a part of the 2nd WinterFest Evening Light Parade on Saturday, Dec. 15 at 5 p.m. in the historic Water Street District. All entries must be illuminated in lights and reflect the theme, "An Old-Fashioned Christmas Delight." Participating in the parade is complimentary, visit HendersonLive.com to register by Nov. 14. Each entry will be judged in three categories, incorporation of lights, creativity and overall appeal. Cash prizes are $500, $750 and $1,000.
WinterFest is a three-day holiday celebration with an array of festive traditions like a tree lighting ceremony, visits with Santa, gingerbread house exhibit, Festival of Trees display, horse-drawn carriage rides, carolers and more. Admission is complimentary.
SILVERTON HOLDS LAS VEGAS FOODIE FEST
Back by popular demand since its debut in April, the Las Vegas Foodie Fest featuring more than 40 food trucks and vendors will return to the Silverton, Nov. 2 – 4, and also include carnival rides, a beer garden, eating competitions and live entertainment. There will be more than 40 food trucks and vendors, many of which have been featured on The Food Network and The Cooking Channel and Nonna's Kitchenette food truck will make its debut after being named a finalist of Food Network's "The Great Food Truck Race," hosted by Tyler Florence. Admission is $8 or $12 with access for all three days.
MORE UPCOMING EVENTS
First Friday on Friday, Nov. 2 will celebrate the art of the written and spoken word. Highlights will showcase 65-plus artists, 10 live bands and DJs on three stages, 25-plus food trucks, art cars, Kids Zone, and much more; visit www.firstfridaylasvegas.com/.
Silverton 3rd annual "Mustachio Bashio" will be held on Saturday, Nov. 17 in the Veil Pavilion at 6 p.m. The event is free with celebrity judges choosing Mr. Stash 2012, who will win $1,000 cash. Limited edition "Mustachio Bashio" t-shirts will be on-sale for $10 with a portion of the proceeds going toward the Movember Foundation for Prostate Cancer. This event will also feature beer pong, drink specials, Jaimoke Karaoke, a mashed potato-eating contest and more.
The Friends of Metro Search and Rescue Las Vegas will host an inaugural Balloon Festival and Carnival with approximately 30 balloons, Nov. 2 through 4 from 5 a.m. – 10 p.m. at Southern Hills Hospital at 9300 W. Sunset Road. Entrance is free.
TROPICAL SMOOTHIE CAFÉ WILL OPEN TWO NEW LOCATIONS
On the heels of opening the first Strip-based location at the Strip and Harmon Avenue, Tropical Smoothie Café (TSC) is set to open at the Excalibur on Nov. 7. Later this year, TSC will open a stand-alone 24-hour location in North Las Vegas. The first TSC in Southern Nevada opened in Henderson in 2001 and was the company's 24th location nationwide. Six of the Vegas-area stores are among the top 10 in sales nationwide.
TSC will launch "Caring for Kids" a toy and gift card drive for the Boys & Girls Club of Las Vegas Nov. 29 through Dec. 7 and recently completed a "Coats for Kids" drive, collecting more than 6,000 new or gently used coats and sweaters for The Salvation Army.
RESORT GROUP HAS WINNING BEVERAGE IAPP PROGRAM
Caesars Entertainment's beverage ordering system, the Beverage iApp/Team Service, has been awarded an InformationWeek 500 Award for innovation. "InformationWeek" is a leading tech publication.
In 2011, members of the Caesars Entertainment innovation, information technology, customer service and operations teams created a new approach for delivering beverage service within a target order-to-delivery time by using the Apple iPad or iPod Touch devices to take orders. This technology is now available at 10 Caesars Entertainment properties.
CLAIM JUMPER HOLDS 'FEAST FOR A CLAUS'
Claim Jumper restaurants will support Opportunity Village during November by kicking off its "Feast for a Claus" on Nov. 1 with a special menu at its three Valley locations including the one at Town Square. To encourage registration for the 2012 Las Vegas Great Santa Run taking place Dec. 1, Claim Jumper will donate 15 percent of "Feast for a Claus" sales to Opportunity Village. Additionally, patrons who sign up for the run will receive $5 off of their registration fee and a complimentary order of Rudolph's Onion Rings with the purchase of an entrée.
Column Continues Below Advertisement
CONTINUE ON TO...:

THIS WEEK'S >LAUGHLIN NEWS
LAST WEEK'S >LAS VEGAS NEWS
>VEGAS VIEW FULL NEWS ARCHIVES
Return to >"Heard Around Town"
Return to >Las Vegas Leisure Guide