<!A-- Left Column -->

Carol Burnett's television kid sister, Vicki Lawrence will headline at Don's Celebrity Theatre in the Riverside, Nov. 7-11. Tickets are $35, call 928-754-2097.
During her senior year in high school, multi-talented Lawrence sent Carol Burnett a letter and lured the superstar to the local fire department's "Miss Fireball Contest" in which she was performing. Burnett cast her in her new variety series "The Carol Burnett Show."
Lawrence spent 11 years with Burnett, earned one Emmy Award and five Emmy nominations.
In 1995, Simon and Schuster published her autobiography "Vicki!: The True Life Adventures of Miss Fireball."
After the Burnett show, Lawrence starred in her own TV series, "Mama's Family." The last original episode was made in January 1990, completing five years of first-run syndication.
Lawrence further perfected her hosting skills on her own daytime talk show called "Vicki!" from 1992-1994. In the fall of 1997, she briefly returned to daytime talk as host of "Fox After Breakfast" from New York City.
On stage, she has appeared in numerous productions and most recently appeared in the "Vagina Monologues."
The Aquarius resort, formerly the Flamingo, will hold its "1st Anniversary Slot Tournament I," which is open to the public, on Nov. 3 from 8 a.m. to 6 p.m. and Nov. 4 from 8 a.m. to 1 p.m. Registration takes place Nov. 2 from 10 a.m. to 6 p.m. and Nov. 3 from 8 a.m. to noon.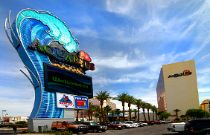 The "1st Anniversary Slot Tournament II" will also be open to the public and take place on Nov. 26 from 8 a.m. to 6 p.m. and Nov. 27 from 8 a.m. to 1 p.m. Registration will be on Nov. 25 from 10 a.m. to 6 p.m. and Nov. 26 from 8 a.m. to noon.
The entry fee for both tournaments is $39 and includes $20 free slot play, one choice buffet and a tournament gift. Participants will be competing to win a share of a $22,000 prize pool. Prize payouts range from $5,000 for first place to $200 for 26th through 50th place.
The Aquarius Casino Resort is the largest gaming resort in Laughlin providing 1,907 rooms in two 18-story towers and a 57,000-square-foot casino. The Aquarius offers 1,000 new state-of-the-art slot machines among the 1,250 total games available, a modern race and sports book, keno lounge and live poker room.
The Tri-State Renaissance Faire presented by the Kingdom of Albion and the Avi will take place on the lawn area near Avi Beach, Nov. 9-11. The event will feature Renaissance music, food booths, magicians, jugglers, bards, tarot card readings, games ("Feed the Dragon," "Boffer Sword Tournament," "Boffer Jousting," and more), merchants selling handmade and Renaissance items. Admission is free and event hours are 9 a.m. to 6 p.m.

TOP OF NEXT COLUMN
The Laughlin International Rally & Motorsports Festival will be a town-wide event incorporating several different motorsports activities at various locations in the area from Nov. 8-11.
The Laughlin International Rally, which is part of the U.S. Rally Championship, will draw drivers and enthusiasts from around the world. A feature of the rally will be the Super Stage event with side-by-side racing in view of the grandstands at the Laughlin Event Park west of Casino Drive. Another feature will be an Adventure Rally designed for SUV owners who can take to the back roads of the area using GPS units on a rally for cash and prizes. The Laughlin International Auto Show will highlight all types of domestic and imported vehicles. The Drift, "ballet on wheels," will be performed by professional drivers. The Rally Cross will be a race against the clock on a tight course. Other events will include vendors, displays and entertainment. For further details, visit www.rallyusa.com.
The Riverside will be running its "Our Holiday Gifts To You!" promotion from Nov. 1 through Dec. 24. During that time, King of Clubs Players' Club members will be eligible to receive free gift cards toward any purchase at Safeway-affiliated store through Dec. 24. For every 500 points earned, you will receive a $5 gift card. Joining the players' club is free.
For the entire month of November, the Riverside is presenting a four-of-a-kind bonus promotion. Hit four natural Jack's on any quarter, 50 cent, dollar or $5 dollar video poker machines from Nov. 1-30 and you'll receive a maximum bonus pay of up to 125 Riverside Rewards Bonus Dollars. Players must be a member of the King of Clubs Players' Club and have their Players' Club card inserted in a machine to receive bonus pay. Natural four of a kind only and no wild cards are included in bonus pay promotion. Multi-play machines are restricted to a maximum of one-line pay. Maximum coin bet only. For more information, call 702-298-2535 or 928-763-7070.
The Comedy Shop at the River Palms is lining up three comedians weekly, Monday through Saturday, to deliver laughs. Kivi Rogers will be on the Nov. 5-10 roster.
Rogers is a true product of South Central Los Angeles. As the second youngest of six boys and one girl, he grew up in the Pueblo Del Rio housing projects and went on to earn a degree in electronics. Always the prankster, he quickly traded a regular job for comedy winning his first competition and network television and film appearances followed.
The Riverside will offer two Halloween costumes contests. One will be in The Dance Club from 9 to 10 p.m. and the other in the Losers' Lounge from 11 p.m. to midnight on Oct. 31. Each contest will offer first, second and third place prizes: $500, $250 and $100. Contestants can enter both contests, but winners of The Dance Club competition cannot be in the Losers' Lounge contest.
An adult costume contest will take place on Oct. 31 at the Colorado Belle. The $3,000 Halloween Costume Contest will offer the first place winner $500 in cash and every contestant will be treated to $10 in free play on their ACCESS Players Club card. The contest will take place at the casino's Grand Staircase. Judging will be at 8 p.m. and participants must register by 7 p.m. Masks may only be worn at the contest site and costumes must be in good taste.
There will be a Halloween Monster Bash Party in the Boiler Room at 10 p.m. Drink specials will include Witches Boiler Brew and Ghastly Jello Shooters.
CONTINUE ON TO...:
>THIS WEEK'S LAS VEGAS NEWS
>LAST WEEK'S LAUGHLIN NEWS
>VEGAS VIEW FULL ARCHIVES
>Return to "Heard Around Town"
>Return to Las Vegas Leisure Guide