One of the most influential singer-songwriters of all time, Bjork is set to play The Pearl at the Palms on Saturday, Dec. 15, at 8 p.m. with special guests Ratatat. Tickets are $78, $103 and $128, call 702-474-4000.
Born in Reykjavik, Iceland, Bjork studied classical music in elementary school and her stepfather recorded and released her first album when she was only 11. Throughout her teens, she was in several bands, mostly punk rock. Eventually she formed the band the Sugarcubes which experienced some success in the United Kingdom and United States. In 1993, Bjork decided to venture outside the Sugarcubes and released a solo album titled "Debut," which sold nearly three million copies.

Column Continues Below Advertisement


She released her next solo album in 1995, "Post," and went on to deliver several other albums including the soundtrack to the movie "Dancer in the Dark," which she also starred in. She has been nominated for 12 Grammy awards and one Oscar.
Bjork released her sixth full-length studio album "Volta" in May. Its debut was her first album to reach the Top Ten in the United States. The newest album features hip-hop producer Timbaland and has proven to be her greatest international success.
International superstar Charo whose trademark statement is "cuchi-cuchi" will visit the Rampart Casino in North Las Vegas for an engagement on Sunday, Nov. 25. Recognized the world over for her witty humor, loveable accent and mastery of the flamenco guitar, this truly multi-talented icon will perform in the Grand Ballroom at the adjoining JW Marriott at 4 p.m. Tickets, which include a complimentary meal at the Rampart Buffet that can be used anytime before Dec. 23, go on sale Nov. 9 for $40, call 702-507-5900 or 866-999-4899.
Born in Murcia, Spain, Charo learned to play the guitar from the world-famous master, Andres Segovia, and became a recording artist in her early teens. She has performed on stage, in films and on countless hit television shows. Her career includes more than 45 appearances on "The Tonight Show with Johnny Carson," and she appeared on "The Love Boat" more than any other star. Currently, Charo is busy promoting her new CD, "Charo and Guitar."
After performing more than 2,000 shows during its five-and-a half-year residency on the Las Vegas Strip at New York-New York, Michael Flatley's "Lord of the Dance," which is on its 10th anniversary tour, is scheduled for a one-night only show on Dec. 6 at the Orleans Arena. More than 100 million people worldwide have seen the international Irish dancing phenomenon. Tickets are $35, $45 and $65, call 702-284-7777.
Recognized as one of the top culinary talents in the Southeast, Chef Louis Osteen will debut his signature restaurant at Town Square Las Vegas located at 6599 Las Vegas Blvd. Direct from Pawleys Island, S.C., Louis's Las Vegas will open to the public on Nov. 14. The menu will feature upscale and updated renditions of classical regional recipes. Louis's will be open daily for lunch and dinner; call 702-202-2400.
Twin Creeks 152-seat restaurant at the Silverton off I-15 will reopen on Tuesday, Dec. 4, with an innovative new menu, signature boutique bourbons, classically-trained chef, wine wall display and a restyled interior and exterior including a lounge and fully-stocked bar. To take the Epicurean award-winning restaurant to the next level, everything from the facade to the private dining room for 16 guests has been redesigned. For information, call 702-263-7777.
New York City's highly-acclaimed RUB (Righteous Urban Barbeque) BBQ will be opening at the Rio on Saturday, Dec. 1, and be the only venue outside the original New York location. The 9,000-square-foot restaurant will offer championship level barbeque created by Chef Paul Kirk, aka the Kansas City Baron of Barbecue. The menu will feature standard dishes and specialty items such as Burnt Ends, smoked twice until crispy and lightly sauced; World Champion Baby Back Ribs; and deep fried Oreos. RUB BBQ will be open for lunch and dinner.
The "Da Vinci Experience," which consists of more than 60 detailed replicas of scientific devices developed by Leonardo da Vinci, is an educational and interactive cultural exhibit open daily at the Henderson Events Plaza, 200 South Water Street, through March 2, 2008. The models include a hang glider, a bicycle, a double-hull boat, an air-screw (precursor to the helicopter), a fly wheel, an early tank, a robot, a chamber of mirrors and a movable bridge, among others.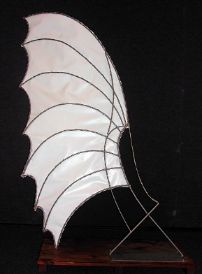 All of the replicas were designed from da Vinci's notebooks, which contain more than 13,000 pages of notes and drawings, and were recreated using the same materials and techniques that would have existed in his time - 15th and 16th centuries. The replicas are organized in three viewing galleries: transportation, military and mechanical.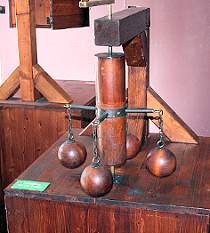 Other features of the Da Vinci Experience include a theater showing a short film about Leonardo da Vinci, a gallery housing replicas of many of his paintings, interactive computer kiosks and a gift shop. Tickets are $17 for adults and $12 for seniors, students and military, call 702-267-4TIX.
Musical comedian Stephen Sorrentino will present his "Voices In My Head" production at the Suncoast's 450-seat showroom, Dec. 14-16. "Voices In My Head" is a combination of a Las Vegas stage show with showgirls, dancers, costumes, and a classic television variety show with stars of yesterday and today mixed with stand up comedy. Tickets are priced from $19.95, call 702-636-7075 or 877-636-7111.
Sorrentino has been doing impressions since the age of 5. During high school, he learned to play piano, sax, flute and guitar. His musical impressions travel expertly from Joe Cocker to Pavarotti and his world famous Elton John segment is always a show stopper. Sorrentino has headlined in "Legends in Concert" at the Imperial Palace, appeared in a number of independent films, and opened for such superstars as Patti La Belle, Dennis Miller and Dana Carvey.
The 23rd Annual scholarship concert "76 Trombones + 4" will be presented on Sunday, Nov. 4 at 2 p.m. in the UNLV Artemus Hamm Concert Hall. This affair features more than 100 trombonists from all over the world. Comedian and roastmaster Cork Proctor will be the master of ceremonies. Admission is $10 and $5 for seniors, children under 12 and military, call 702-739-3267.
The Ms. Senior America pageant will return to the Imperial Palace, Nov. 5-10. For more than 25 years, the pageant has honored accomplished woman age 60 years or older. This year, contestants from 35 states will perform in the categories of interview, "philosophy of life," talent and evening gown, in hopes of being crowned the 27th pageant winner. Events are open to the public for a fee. The talent show is Nov. 7 at 1 p.m. with preliminary and final events at 1 p.m. Nov. 8-10. Cost is $20 and $25, visit www.senioramerica.org.
Country artist Sammy Kershaw will perform at Whiskey Pete's Showroom in Primm, Nev., located 25 minutes south of Las Vegas on Saturday, Nov. 17 at 8 p.m. Kershaw has a chain of major hit records and sell-out touring schedules. His platinum albums helped make the 90s a shining decade for country music. Tickets are $24.95, call 800-FUN-STOP.
Barry Manilow, hot off the release of his new album, "The Greatest Songs of the Seventies," will return to the Las Vegas Hilton Nov. 6-10, 14- 17, 27-30 and Dec. 27-30
Harrah's headlining comedy magician Mac King has expanded the recognition of his Magic in a Minute™ brand by teaming up with more than 1,400 Applebee's® restaurants for a nationwide promotion. Based on his nationally syndicated comic strip, "Mac King's Magic in a Minute," King will be launching the brand in the nationwide restaurant chain by creating a children's activity book, kids' menus and cups with the Magic in a Minute™ characters of a cartoon Mac King and his comical sidekick, Lewis the Monkey. The activity book entitled "Holiday Hocus Pocus! Magic, Monkeys & More!" will include magic tricks, jokes, coloring pages and other various activities.
Arizona Charlie's on Decatur will host The Lon Bronson Band - Revenge of the Horns for a limited engagement in the Naughty Ladies Saloon from 10 p.m. to 2 a.m., Nov. 2 - 4. The band's world-class musicians have been performing for 17 straight years and have backed up and worked with The Temptations, The Four Tops, David Foster, Frank Sinatra, Celine Dion, Diana Ross, Don Henley and Elton John to name just a few.
The Lon Bronson Band was featured throughout the 1998 HBO special, "Mr. Vegas All Night Party," starring Drew Carey, Comedy Central's "Viva Variety," the TBS Special "Earth to America," and the WB Special, "The Ron White Show." The band's high-energy stage show was captured on a CD in the 2005 release "Live," which received a five-star review from "Las Vegas Weekly" and is in its third pressing.
The KJUL Fall Harvest Dance will usher in the holiday season at the Cannery in North Las Vegas with the classic boogie-woogie tunes of the Cab Calloway Orchestra. The two-night event will be held at the Club on Nov. 23 and 24. Admission is only $10 at the door and the show begins at 8 p.m. each evening.
The Cab Calloway Orchestra performs all over the country under the baton of Cab's grandson, C. Calloway Brooks. The modern jazz orchestra uses the Calloway band's original vintage orchestrations performed by the awesome musicians who have been with the big band for decades.
Famed illusionist Criss Angel will host the Halloween party at PURE Nightclub inside Caesars Palace on Oct. 30. Doors open at 10 p.m. and there will be $20,000 in cash prizes for the guests decked out in the sexiest or scariest costumes.
Frank Marino the star of "An Evening at La Cage" at the Riviera is planning on being a witch instead of a b_____ for Halloween, which is his favorite night.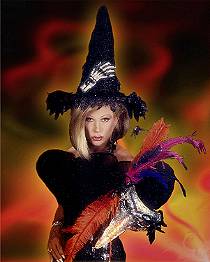 Body English at the Hard Rock will feature superstar DJ Roger Sanchez on Halloween night, Oct. 31, and a costume contest awarding one lucky winner $15,000 in cash and prizes. Doors will open at 10 p.m.
The Orleans and The Professional Bull Riders are teaming up to host a charity Texas Hold 'em poker tournament on Oct. 30 at The Orleans Poker Room to benefit the Resistol Relief Fund, which helps bull riders and their families. Each table will have one of bull riding's biggest stars playing alongside contestants. The event starts at noon. Spectator seating is available and open to the pubic.
All players may receive a photograph and autograph from the professional bull rider at their table. The first player at each table to "knock out" a bull rider will win two tickets to the PBR Finals and the final table of 10 players will win cash prizes. For information, call 888-365-7111 ext. 6167.
Terrible's Hotel & Casino located on Flamingo Road near the Strip has planned three holiday-themed slot tournaments: $30,000 Spooktacular, $30,000 Gobble Up the Cash and $30,000 Jingle Bells of Cash. Each is a free slot tournament featuring a brand new car giveaway. Participants must join Terrible's free players club.
The $30,000 Spooktacular tournament running through October includes cash giveaways and will award one lucky winner a Dodge Nitro GTS. The $30,000 Gobble Up the Cash tourney will run Nov. 9 through the end of the month with the first place prize being a Mitsubishi Lancer GTS. December will feature the $30,000 Jingle Bells of Cash tournament that will award a Nissan Ultima Coupe to the first place winner.
Master chef and restaurateur Wolfgang Puck is offering a collection of culinary-inspired holiday gift ideas that include cooking utensils, bake ware, cookware, appliances, cookbooks and the ultimate Universal Gift Card options for the ultra-pampered. Cardholders are able to visit any of the 15 Wolfgang Puck fine dining restaurants with one collective gift card.
El Cortez owner and Las Vegas legend Jackie Gaughan recently celebrated his 87th birthday with guests at the historic property's lounge. During his Las Vegas career, Gaughan has owned and/or operated the following properties: Boulder Club, Flamingo, Showboat, El Cortez, Union Plaza, Golden Nugget, Las Vegas Club, Gold Spike and Western Hotel. Gaughan still owns downtown's El Cortez that he purchased in 1961. The El Cortez is undergoing $20 million worth of renovations. Most days, Gaughan can be spotted playing at an El Cortez poker table.
The producers of "American Idol" filmed the series premiere on Oct. 19 of their latest talent show "The Next Great American Band" at Lake Las Vegas Resort last August. The nationwide search has band hopefuls competing for a recording contract.
CONTINUE ON TO...:
>THIS WEEK'S LAUGHLIN SEGMENT
>LAST WEEK'S LAS VEGAS SEGMENT
>VEGAS VIEW FULL ARCHIVES
>Return to "Heard Around Town"
>Return to Las Vegas Leisure Guide