TODD GLASS AND KEVIN FARLEY OPEN FOR DAVID SPADE

Comedians Todd Glass and Kevin Farley will open for David Spade Saturday, Nov. 2 at the Edgewater's E Center. Tickets start at $25.

American actor, comedian and television personality, Spade rose to fame in the 1990s as a cast member on "Saturday Night Live." From 1997-2003, he starred in his award-winning role as Dennis Finch, the wise-cracking, power-hungry assistant on "Just Shoot Me." His next notable television shows were "8 Simple Rules" 2003-2005 and "Rules of Engagement" from 2007 to the present.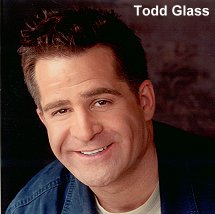 Glass started in comedy when he was 16. Glass has toured with David Spade, David Cross, Daniel Tosh, Sarah Silverman, Louie CK and Jim Gaffigan, and appeared on television in the "Dennis Miller Show," "Home Improvement," "Married with Children," "Politically Incorrect" and "Evening at the Improv."
Actor, writer and director, Farley's film credits include "Tommy Boy," "Black Sheep," "The Waterboy," "Dirty Work," "An American Carol" and "Hollywood & Wine" released this year. His TV credits include MTV's "2gether," "That 70s Show," "3rd Rock from the Sun," "Joey," and "Curb Your Enthusiasm."
HARRAH'S HAS TWO GROUPS HEADLINING NOV. 10-11
Jay and the Americans will headline on Nov. 10 in the Fiesta Showroom at Harrah's and Tower of Power will follow on Nov. 11. Tickets range from $40 to $55.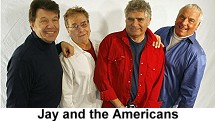 Jay and the Americans with three original members remaining was started by four teenage boys in Sandy Yaguda's Brooklyn basement 50 years ago. From 1962 to 1971, this group charted an amazing 12 Top Ten records. The group's first recording was "Tonight" from the "West Side Story" but their breakout hit was "She Cried." Jay and the Americans' recording of "Some Enchanted Evening" holds the record for most copies sold of this legendary musical masterpiece. The group also holds the distinct honor of recording Neil Diamond's first hit song, "Sunday and Me." In 2002, the group was inducted into the Vocal Group Hall of Fame.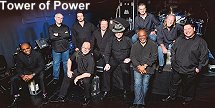 The renowned horn-driven funk outfit Tower of Power has been issuing albums and touring the world steadily since the early '70s, in addition to backing up countless other musicians. The band celebrated its 40th anniversary in 2008 and still retains five original founding members. By 1970, the funk outfit had inked a recording contract with Bill Graham's San Francisco Records, which resulted in the group's debut the same year at East Bay Grease.
'LAUGHLIN VETERAN'S FESTIVAL' PLANNED NOV. 8-10
The second "Laughlin Veteran's Festival" will honor military veterans and take place at the Laughlin Arena between the Golden Nugget and River Palms, Nov. 8-10. There will be music by LA Guns, Madison Rising and DJ; veteran tributes, displays and exhibits; an "Honor the Brave" charity poker run; custom motorcycle/car show and parade; vendor village; military fitness competition, motorcycle drill team demonstration; and meet and greets with Dick Marcinko and the Rogue Angels.
Event hours are Friday 5-9 p.m., Saturday 10 a.m.-7 p.m., and Sunday 9 a.m.-6 p.m. There is free admission except on Friday when there is a $10 admission fee. Visit www.laughlinveteransfestival.com for more information.
TROPICANA HOLDS THIRD VETERANS WEEKEND CELEBRATION
The Tropicana is holding its Third Annual Veterans Day Celebration, Nov. 8-13, filled with hotel discounts, food, fun, and huge thank you to our military heroes. American Veterans staying there Nov. 8 -12 will receive a 15 percent discount on their hotel stay, call 800-343-4533 and request promo #T-2334.
From Nov. 8-11, the Tropicana will be holding outdoor food fests in Victory Plaza from 3 to 7 p.m. with live country music by the Sedona Band. On Saturday, Nov. 9, the celebration will include a "Big Burger BBQ" for $7.49, and a signature $9.99 Pig Roast on Sunday and Monday, Nov. 10 and 11.
American Veterans Traveling Tribute (AVTT) and Traveling Vietnam Memorial Wall will be exhibited at the Tropicana, Nov. 8-11, and will be available for viewing and rubbing a loved one's name 24 hours a day in the North Parking Lot. The Traveling Wall is a 370-foot long replica of the Vietnam Memorial Wall in Washington, D.C. The 80 percent scale reproduction, which stands 8-feet tall at its apex, contains all 53,253 names as inscribed on the original wall. Memorabilia will be available for purchase. The AVTT is a veteran-owned project www.operationgratitude.com and collects donations of monies, letters and items to place into packages.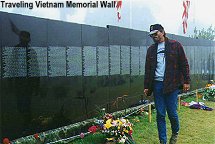 On Sunday, Nov. 10, veterans are invited to participate in Trop Knock Out at 5 p.m. to possibly win up to $1,000 in Free Play. Members of the Trop Advantage® Club with Veteran Edition cards receive a drawing ticket for every 25 points earned on their card beginning at midnight. Participants will have up to three chances to "knock out" a space on the game board and will receive the free play amount in the last space chosen.
ROGUE WARRIOR EVENT RETURNS TO EDGEWATER'S E CENTER
Seal Team Six founder and former commander Dick Marcinko is bringing his brand of cage fighting back to the Edgewater Casino's E Center on Saturday, Nov. 9 at 7 p.m. The upcoming Rogue Warrior Championships live MMA bouts will be part of Laughlin's Veterans Festival. The event will feature military fighters from all over the country including a strong contingent of fighting Marines from 29 Palms. Wounded warriors are in attendance at every event to enjoy the action and to meet the MMA celebrities. Tickets for this patriotic fighting event range from $15 to $75. For information, visit www.fighting.com.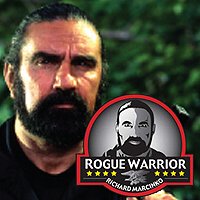 Marcinko was the man the U.S. Navy turned to when they needed to create their first counter terrorism command. The highly decorated Marcinko - Silver Star, four Bonze Stars with a Combat V, two Navy Commendation Medals - was already the primary action officer for the maintenance of special warfare/unconventional warfare plans worldwide, the Navy representative to assist in the establishment of Rapid Deployment Force (RDF), and handled the daily intelligence for the Deputy Chief of Naval Operations for Plans and Policy. Marcinko saw the need for an elite and highly trained counter-terrorism unit and created and commanded Seal Team Six, the Navy's first and only counter-terrorist command. Marcinko later was founder of a second counter-terrorism unit, Red Cell.
Marcinko has written 21 books in the Rogue Warrior series, makes speaking engagements and appearances, and enjoys the battle strategy inside a 30-foot steel cage. His Rogue Warrior Championships are now taking place around the country in support of the Stars and Stripes Foundation, an all-volunteer, truly nonprofit charity that helps wounded vets.
Joining Marcinko this year will be Army Special Operations legend Gary O' Neal, the author of the "American Warrior." Among O'Neal's many honors is his induction into the Army Ranger Hall of Fame. He is a former Golden Knight, an instructor for the SERE (survival, evasion, resistance, escape) course, and one of the first members of the Army counter-terrorist group, Blue Light, which preceded Delta Force.
GOLDEN NUGGET HOLDS 26TH ANNUAL FAST PAST CAR SHOW
The Golden Nugget's North Parking Lot will be the site for the "26th Annual Fast Past Car Show" taking place Nov. 7-10. The annual crowd-pleasing car show will feature a show n' shine, music, ladies poker walk, welcome reception and all kinds of awards. The cars will be on display daily Thursday through Saturday and free to view. The resort has room packages available starting at $139. For car entry information, call Bill or Linda Lewis at 619-390-0801 or 619-851-3232.
TOP OF NEXT COLUMN
VETERAN OLIVER NORTH WILL VISIT AQUARIUS
Nationally syndicated columnist and host of "War Stories" on the Fox News Channel, Lt. Col. Oliver North will speak at the Aquarius Pavilion Nov. 9 at 2 p.m. He is also a "New York Times" bestselling author and co-founder of Freedom Alliance, an organization that provides college scholarships to the children of U.S. military personnel killed or permanently disabled in the line of duty. Tickets are $25 and $30 and veterans receive a $5-off discount, visit www.aquariuscasinoresort.com/Special-Offers/Oliver-North.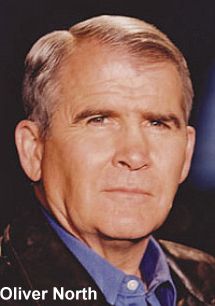 North, a combat decorated U.S. Marine, was the United States government's counter-terrorism coordinator during the Reagan administration. He was involved in planning the rescue of 804 medical students on the island of Grenada and also played a key role in capturing terrorists who hijacked the cruise ship Achille Lauro.
FRANK MARINO'S 'DIVAS' CONTINUES AT HARRAH'S
A cast of female impersonators lead by Frank Marino are headlining with their "Divas - Direct from Vegas!" show at Harrah's Fiesta Showroom through Nov. 9. This show has been headlining in Las Vegas for more than 30 years, first at the Riviera and now at The Quad (formerly Imperial Palace). That's why Caesars Entertainment, which owns Harrah's Laughlin, has Marino and his show on a road tour to their various properties around the country. Tickets are $27.50 and $38.50.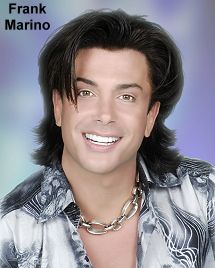 As the show's host, Marino is most widely known for personifying Joan Rivers. He is also famous for his lavish wardrobe with many outfits designed by Bob Mackie who also created fashions for Rivers. After headlining 30 years, Marino has thousands of exquisite designer costumes and will make 15 different wardrobe changes during the 75-minute show.
Marino will be joined by six dancers and an all-star cast of superstar female impersonators recreating uncanny likenesses of stars Cher, Reba McEntire, Tina Turner, Madonna and Diana Ross and new characters including Pink and Katy Perry.
RIVERSIDE HEADLINES MAGIC, MOE BANDY AND T.G. SHEPPARD
The Riverside highlights a variety of headliners in its Don's Celebrity Theatre. "Magic & Mayhem starring Michael Turco" will be featured Nov. 5-10. Turco discovered magic when he was 5 years old and has spent the past year headlining in his own show in Las Vegas. He created new illusions specifically for the Nevada stage and collaborated with ABC's "Dancing With The Stars" pro Lacey Schwimmer to introduce cutting edge choreography to his show. Tickets are $32.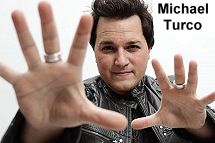 Moe Bandy and T.G. Sheppard co-headline, Nov. 12-17. Tickets are $32.50. At the core of Bandy's music is loving, cheating, drinking and patriotic songs. His long string of hits include "Bandy The Rodeo Clown," "You Wrote My Life," "Till I'm Too Old To Die Young," and dozens of other chart-toppers. His songs never strayed far from the traditionally Honky Tonk fare. Country music star, Sheppard also has chart-topping hits like "I loved 'Em Everyone," "Do you wanna go to heaven" and "Party Time."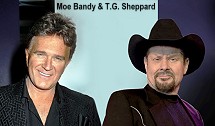 THE FUNNY BONE IS TICKLED WEEKLY AT THE EDGEWATER
Two established comedians take to the stage at the Edgewater every weekend at 7 p.m. Admission is $10 and veterans with a military ID and ACCESS Club card receive a $2 discount. Upcoming comedians include: Nov. 15-17 - Lori Callahan and Sean McBride; Nov. 22-24 - Ron Josol and Jeremy Greenberg; and Nov. 29-Dec. 1 - Cash Levy and Steve Mazan; Dec 6-8 - Willie Barcena and Nathan Brannon; Dec 13-15 - Richard Willa and Danny Serrano; Dec 20-22 - Marc Patrick and PJ McGuire; and Dec 27-29 - Jeff Capri and Any Snowden.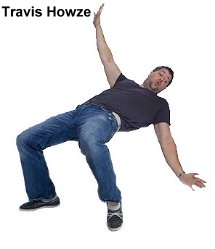 Travis Howze and Chino LaForge will be headlining Nov. 1-3. Howze is a former U.S. Marine, police officer and firefighter who turned national headlining comedian. After protecting America's citizens for more than 14 years, he switched to "funny under fire." In June of 2007 while working a furniture warehouse fire in Charleston, S.C., nine of his brother firefighters tragically perished in the line of duty while rescuing a trapped civilian. Due to injuries that he sustained in that same fire, Howze was forced to leave the job. Today, never taking things seriously, he makes fun of the general public and his own roles in life.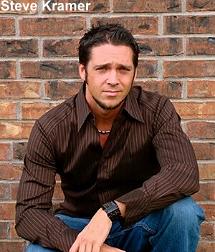 Steve Kramer and Gabe Dinger will share the stage Nov. 8-10. Kramer started doing voice impersonations as a child and got kicked off the school bus for impersonating both of his bus drivers and kicked out of several classes for impersonating his school teachers. Eventually, he moved on to impersonating celebrities. He started doing stand-up comedy in 1998 and taught himself how to play the guitar so he could add musical elements to his show. Then Kramer landed a roll in the national television series "Hype" and co-starred with nine other comics including Frank Caliendo and "Chicken."

AQUARIUS ANNOUNCES SECOND 'FEED A FAMILY' PROGRAM

For the second year in a row, the Aquarius will present the "Feed a Family" program that allows players with an ace | PLAY card to contribute their players club points to help put a Thanksgiving or Christmas meal on the table of a tri-state family in need. Sean Hammond, Aquarius general manager, said 900 families were helped last year. Players can contribute points from Friday, Nov. 1 and through Sunday, Dec. 22.

This is how the program works: for every 12,000 ace | PLAY points collected, Aquarius will purchase a box of holiday items that is large enough to feed a family of four. Food boxes will go directly to local food banks and pantries to be distributed to families. Players can choose to contribute as many points as they wish and contributions of less than 12,000 points will be combined with other member points.

AVI HOLDS EVENTS IN GRAND BALLROOM

On Saturday, Nov 8, the Avi will have a "Ladies of Soul" dinner show in the grand ballroom featuring a tribute to various ladies of soul and R&B music with dinner at 6:30 p.m. Tickets are $23.

On Saturday, Nov 16, the WFC World Fighting Championship Boxing sponsored by Top Rank, Unimas and Tecate Beer will feature boxers including Jose Felix, Jose Benavidez and Chris Avalos. Tickets range $60 ringside and $30 general admission.


CONTINUE ON TO...:

THIS WEEK'S >LAS VEGAS NEWS
LAST WEEK'S >LAUGHLIN NEWS
>VEGAS VIEW FULL ARCHIVES
Return to >"Heard Around Town"
Return to >Las Vegas Leisure Guide