RIVERSIDE's LINEUP IS BIG BAND MUSIC AND VICKI LAWRENCE
A big band dance featuring The Rusty Davis Orchestra will take place at Don Laughlin's Riverside Resort on Monday, Nov. 2 at 4:15 p.m. Tickets are $15, call 702-298-2535 or 800-227-3849.
Vicki Lawrence & Mama – "A Two Woman Show" will be presented at Don's Celebrity Theater, Nov. 4-8. Tickets for Lawrence's 8 p.m. shows are $10 to $35.
Emmy Award-winning comedienne Lawrence was part of the now-legendary cast of the "Carol Burnett Show." In the seventh season, at the ripe, old age of 24, Lawrence created her character, Thelma Harper, or "Mama." After the Burnett Show, Lawrence went on to star in "Mama's Family" for a six-year run.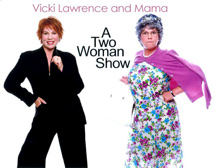 RIVER PALMS FEATURES STAND-UP COMEDIANS
Sammy's Comedy by the Shore at the River Palms is ongoing with stand-up comedians changing weekly and appearing Wednesday-Sunday. Tickets are $10. Upcoming acts are: Nov 11-15-Danny Browning and Johnny Beehner; and Nov 18-23-Mutzie and Mike Storck,
Danny Browning tours professionally all over North America, headlining comedy clubs, corporate parties, awards banquets, fundraisers and even one "nudist" resort.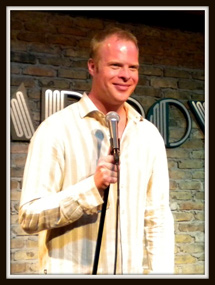 Recently, Browning was voted the "Funniest Person in Lexington," a competition that included more than 40 comedians. In 2008, Browing showcased in the Chicago Snubfest, a comedy festival featuring comedians who have been "snubbed" by other festivals. His performance earned a winning spot in the Top 3, and soon after, he was chosen to work at the prestigious Chicago Improv.
UPCOMING NOVEMBER EVENTS
The Silver Rider Wine Tasting, Charity Silent Auction, annual fundraiser featuring wine tasting and a silent auction will be held at the River Palms Grand Ballroom on Saturday, Nov. 14 from 2-4 p.m. Nevada time. The auction items will be a wide variety of items from extended vacations and trips, to services, art and merchandise along with two cash drawings for $500 each. Tickets are $15 in advance; $20 at the door; or call 702-298-4435 for more information.
On Wednesday, Nov 11, at 7 p.m., the Tropicana Express will hold a town-wide employee talent show. Winners from individual property talent shows will compete for the top award and the proceeds from the event will benefit the Colorado River Community Food Bank and Clothes Closet. Cost is canned goods or $5 donation to Laughlin Food Bank. For information, call 702-298-2214 or 800-227-5245.
On Nov. 28, the "River of Lights Holiday Boat Parade" will take place. The Colorado River-holiday event features decorated boats floating from Community Park in Bullhead City upriver to the Laughlin Bridge and returning to Community Park. Viewing will be along the Riverwalk at the casinos. Entries are welcome from private citizens and businesses; see laughlin.com for details.
TOP OF NEXT COLUMN
EDGEWATER PROVIDES LAUGHS AT KOKOPELLI's SHOWROOM
The Edgewater's "Comedy on the Edge" headlines two stand-up comedians each Friday, Saturday and Sunday at 7 p.m. Tickets are $10, call 702-298-2453. The lineup Oct 30-Nov 1 is Jimmy Della Valle and Chad "EO" Shapiro.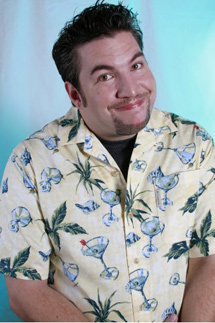 Jimmy Della Valle, born and raised in New York, now lives in Los Angeles and confesses – "Once a New Yorker, always a New Yorker." His humor has a streetwise edgy flare, macho vulnerability, and blue-collar twists. For more than a decade, he has been a stand-up comedian entertaining at clubs, corporate events and colleges. Della Valle's television appearances have included "Without A Trace," "My Name Is Earl," "Unfabulous," "Late Night With Conan O'Brien," HBO's "The Sopranos," "OZ" and "Sex And The City." He has also appeared in numerous feature films, plus print and national commercials.
Most recently, Della Valle was on the hit summer NBC show - "America's Got Talent" where Piers Morgan said, "I wanted to hate you with every bone in my body, but I loved you! You are hilarious!"
HALLOWEEN EVENTS ABOUND IN LAUGHLIN
The Tropicana Express will be hosting a Halloween Haunt & Glow Car Show in its North Parking Lot, Oct. 30-Nov. 1. Classic cars will be on display beginning at 1 p.m. on Friday and 9 a.m. on Saturday. There will be a Halloween costume contest at 6 p.m. on Saturday. It's free to view the cars; call 800-343-4533 for pre-car registration.
On Oct. 31 in the Aquarius Pavilion, there will be a Psychic Fair with more than 30 different specialists conducting readings, giving out information and discussing their specialties including aura photography, palm reading, pet psychics, toe reading, tarot card reading, mediums and channelers. This Saturday event will be from noon to 2 p.m. Cost is $20 per reading and tickets can be purchased at the door.
The River Palms will hold "Freakers' Ball and Purple Reign Concerts" on Oct. 30-31. The tribute to Prince show featuring Purple Reign will take place both nights at 8:45 p.m. Tickets on Oct. 30 with two free drinks are $10.
The Saturday night show includes the Freakers' Ball hosted by "All Night Mike" and a Halloween costume contest with $2,000 in total prize money ($1,000 for first place). Doors will open at 8 p.m. for the Freakers' Ball with Purple Reign concert. Tickets in advance are $25 with two free drinks included and $35 at the door.
On the Riverwalk between the Colorado Belle and Edgewater on Oct. 31 will be Halloween Safe Street. It will be trick-or-treating for kids with there parents plus food and candy booths from 5 to 8 p.m. The "Safe Street" will be followed at 9 p.m. by an adult Halloween costume contest with $3,000 in prize money ($1,000 for first place). Admission is free for both events.
At the Avi, the Halloween Party in the ArrowWeed Lounge will start at 6 p.m. on Oct. 31 and feature "Scary Dee Jay," "Monster Mash," surprise prizes and food and drink specials. The costume contest will be at 7:30 p.m. with prize money: $600 first place; $350 second place; and $250 third place.

CONTINUE ON TO...:
>THIS WEEK'S LAS VEGAS NEWS
>LAST WEEK'S LAUGHLIN NEWS
>VEGAS VIEW FULL ARCHIVES
>Return to "Heard Around Town"
>Return to Las Vegas Leisure Guide