FREMONT STREET HAS ADDED SOME ZIP
New for downtown's Oktoberfest this year is FRIGHTline, a zip line experience that runs approximately 800 feet in length, launches from a scaffold at 67 feet, and drops to 15 feet at the landing under the Fremont Street Experience (FSE) canopy. BCFlightlines, which runs a zip line business in Boulder City, has built the adventure ride that features four zip lines.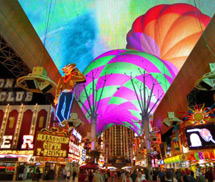 Column Continues Below Advertisement
FRIGHTline was put in to be a Halloween "Fastest Broom in the West" promotion, but new plans call for it to be in place for up to 90 days. If it's successful, the zip lines may become permanent and run the length of the FSE canopy.
For now, the ride is open 2 p.m. to midnight Sunday through Wednesday and 2 p.m. to 2 a.m. Thursday through Saturday. Rides are $15 before 6 p.m. and $10 for a re-ride; after 6 p.m. $20 and $15 for a re-ride, which includes head-of-the-line privileges. Hours may vary depending on volume of adventurers.
'SINATRA DANCE WITH ME' DEBUTS LIMITED RUN AT WYNN
"SINATRA Dance With Me" will debut in the Encore Theater at the Wynn Las Vegas on Dec. 11, the day before what would have been Frank Sinatra's 95th birthday. The show is conceived, choreographed and directed by Twyla Tharp using Sinatra's words and music. The limited engagement will run Monday –Saturday at 7:30 through Jan. 29, 2011. Tickets are $69 and $89, call 888-320-7110.
"SINATRA Dance With Me" follows four couples as they fall in and out of love at a swinging nightclub. The show blends the legendary vocals of Frank Sinatra with a 17-piece big band and 14 dancers.
Tharp's creative relationship with the music of Frank Sinatra began in 1976 with the premiere of "Once More Frank," a duet created for the American Ballet Theatre and performed by Tharp and Mikhail Baryshnikov. The collaboration continued with "Nine Sinatra Songs," Tharp's acclaimed piece for 14 dancers, and was followed by "Sinatra Suite," featuring Baryshnikov. Tharp's Broadway production "Come Fly Away" played in New York City earlier this year.
UNDERGROUND REBEL BINGO CLUB COMES TO THE HILTON
Beginning Nov. 4, an underground phenomenon from London and New York will be coming to Vegas and the Las Vegas Hilton when The Underground Rebel Bingo Club takes place every Thursday, Friday and Saturday from 10:30 p.m. to 3 a.m. in the Health & Safety Meeting Room. The party will be disguised as a Health & Safety Meeting. Tickets are $35 or $25 online at www.rebelbingovegas.com.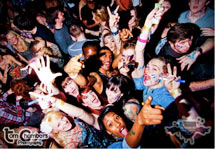 The Underground Rebel Bingo Club was started in the basement of a church hall in London and is now an underground phenomenon in both Great Britain and New York City. According to advance notice, the event combines an outrageous stage show with DJ music and is supposed to be an adrenaline-fueled nightlife experience.
PLATTERS, COASTERS AND MARVELETTES OPEN AT RIO
The Crown Theater at the Rio will become the new home "The Platters, The Cornell Gunter Coasters and The Marvelettes" beginning Monday, Nov. 1. Tickets are $$39.50, $59.50 and $79.50, call 888-727-6966.
This trilogy of historic rock 'n' roll artists has been performing for years in Las Vegas. Some of their rock 'n' roll classics include "My Prayer," "Please Mr. Postman," "Charlie Brown," "Smoke Gets In Your Eyes," "Yakety Yak" and 29 additional million-selling songs.
ALAIN NU-THE MAN WHO KNOWS™ HAS A RUN AT CLARION
The star of the TLC Network television specials, "The Mysterious World of Alain Nu," will open his one-man show "Invisible Connections" at the Clarion on Oct. 30 for a six-week limited engagement. Alain Nu's uncanny demonstrations reveal his "esp-ecially" sensitive powers. His new book, "Picture Your ESP! - Reveals Your Hidden Powers with The Nu ESP Test." was recently ranked No. 1 in "Hot New Releases in ESP" on Amazon.com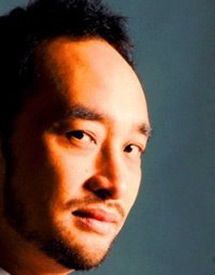 HARLEM ROOM OPENS AT RAIN NIGHTCLUB AT THE PALMS
Rain Nightclub inside the Palms has opened the intimate HARLEM Room, a sexy and elegant space within the venue that combines luxurious furnishings, a full-service bar and three TVs. The room features crimson red paint, jet black carpet and red neon LED lighting that frames the entry to the room. Lavish décor includes three Kristall chandeliers designed by Jonas Wannfors as well as horizontally-placed mirrors that display HARLEM's motto, "Proost!" which is Dutch for "Cheers!"
'THE GIFT OF LIGHTs' WILL MOVE TO THE MOTOR SPEEDWAY
"The Gift of Lights – Presented by US Bank" will happen again this year at a new home - the Las Vegas Motor Speedway. The holiday drive-thru light show will have even more room and be bigger than ever. All displays this year will be in LED lighting providing a brilliant look for the event's 10th year anniversary that will run from Friday, Nov. 19 through Sunday, Jan. 2, 2011. Admission will be $ 15 per vehicle. If a vehicle brings a bag of gently used items for Goodwill, there will be $2 off.
As a 10-year anniversary special, when you bring a donation for Goodwill on Monday, Tuesday, or Wednesday; the vehicle will be admitted for $ 10. The Boy Scouts and other youth organizations will again be on-site selling hot cocoa and apple cider to help raise funds for programs.
STUDIO 54 HOSTS 44TH ANNUAL BEAUX ARTS BALL
Zumanity's Mistress of Sensuality Edie, part showgirl and part cabaret queen, and local TV anchor Chris Saldana will host the Golden Rainbow's 44th annual Beaux Arts Ball, a Halloween HIV/AIDS fundraising celebration with custom production numbers, costume contests and a party atmosphere, on Sunday, Oct. 31 at 10 p.m. Tickets are $25 in advance and $35 at the event.
DOS CAMINOS HOLDS COCKTAIL AND COOKING CLASS
Caminos Executive Chefs Scott Linquist and Roberto Hernandez will hold an interactive creative holiday taco fiesta cooking and cocktail demonstration on Saturday, Nov. 13 from noon to 3 p.m. The cost for the class at Dos Caminos at The Palazzo is $65 and includes: coffee, Mexican hot chocolate on arrival; a signed copy of "Mod Mex" by Scott Linquist; cocktail and cooking demo with question and answer session; and a lunch tasting of demonstrated food items and two cocktails. For reservations call 702-577-9550 or e-mail: rgonzalez@brguestinc.com.
IGNITE LOUNGE OPENS AT MONTE CARLO
The Ignite Lounge is now open at the Monte Carlo. The lounge and bar, which is 24 hours daily with no admission, features LED color-changing lights, 14 flat-screen televisions, and deep red-tinted doors that create an intimate and warm ambiance. Dancers take the Ignite Lounge stage, adjacent to the resort's Party Pit, on Friday and Saturday nights from 7 p.m. to 3 a.m.
TOP OF NEXT COLUMN
NEWS ON SHOWS OPENING AND CLOSING
"Sandy Hackett's Rat Pack Show" at the Sahara has closed leaving Dick Feeney's "The Rack Pack Is Back" show downtown at the Plaza the survivor.
After making the Le Bistro venue at the Riviera home since early 2005, "Barbra and Frank – The Concert That Never Was" starring Sharon Owens and Sebastian has closed and the two impersonators will do a show at the Cannery on Oct. 30 before heading to London in November.
Halloween – psychics, guess they go hand in hand. Lior Suchard, who was named "The Successor" to Uri Geller on an Israeli TV contest, has a five-week run at the Palms starting on Oct. 23. The media got a sneak preview and he's very clever, talented and personable.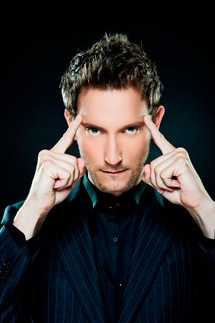 At the Riviera, The Amazing Kreskin will open after the Riviera Comedy Club closes at the end of the month.
QUICK CLIPS
Treasure Island has opened a new Gilley's pit on the casino floor conveniently located across from the Gilley's store. Gilley's female dealers take care of blackjack, big six, war and three-card poker patrons as country music plays from overhead LCD monitors. Hours are Thursday and Friday 9 p.m.-5 a.m., Saturday, 1 p.m.-5 a.m., and Sunday 1 p.m.-9 p.m.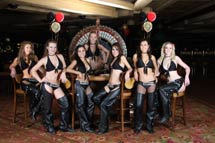 International music sensation Vanilla Ice will celebrate his birthday at the MGM Grand's Studio 54 during the nightclub's infamous Halloween bash, Nightmare on 54th Street, on Friday, Oct. 29 at midnight. He will kick off the night with a special performance. Special cover charge is $30 for men and $20 for women.
For the PBR rodeo finals, Oct. 20-24, the new Minus5 Ice Bar at Monte Carlo created a full-sized, 1,200-pound bull carved from clear, pure Canadian ice. The bull will be on display until January 2011.
Jason Alexander from the "Seinfeld" series will again perform as motivational speaker Donny Clay Nov. 4-10 at the MGM Grand in the Hollywood Theater. Alexander's theatrical show includes comedy, audience interaction, song and video.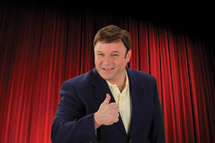 The Big Elvis Fan Club has started a Big Elvis Newsletter that shares updates about Pete Vallee's show at Bill's Gamblin' Hall & Saloon, special projects, and a glimpse into his personal life. In the current issue, there's mention of a trip March 16-19, 2011, from Las Vegas to Honolulu, for a special tribute to Elvis Presley with the entire Big Elvis family and honored guests, Sonny West, Elvis' head of security and confidant, and Sandi Pichon, a family friend and current president of the Elvis Presley Fan Club. To sign up for the newsletter, visit the Big Elvis website: www.bigelvis.biz.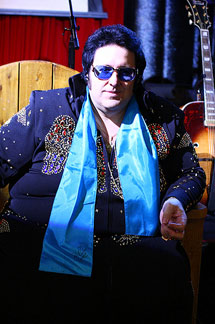 "The Real Housewives of Beverly Hills" episode three uses the Palms as its location.
Nove Italiano at the Palms will hold a five-course wine dinner at 7 p.m. on Thursdays, Oct. 28. The event will feature the Fontodi Winery located in the Chianti Classico region of Italy. Price is $150, call 702-942-6856.
SILVERTON FRIGHT FEST RUNS THROUGH HALLOWEEN
The Silverton is holding Halloween festivities at the Silverton Fright Fest through Oct. 31 featuring games, rides and two hunted houses: one is themed after the popular horror movie "Silent Hill" and the other tests survival skills in "The Crypt." The gate entrance fee for adults is $5 and $3 for children. The cost for both haunted houses is $19.99 or $13 for one. Hours are Monday-Thursday – 4 - 10 p.m.; Friday – 4 p.m. – midnight; and Saturday and Sunday – noon to midnight.
HOLLY MADISON HOSTS HOLLYWEEN AT STUDIO 54
Blonde bombshell Holly Madison and the current star of "Peepshow" at Planet Hollywood, will host her second Hollyween as part of Studio 54's 13th annual Nightmare on 54th Street celebration at MGM Grand on Saturday, Oct. 30 at 12:30 a.m. The burlesque beauty will serve as the mistress of ceremonies for costume contests awarding $10,000 in total cash prizes for club goers wearing the sexiest and most original ensembles. Special event cover charges are $40 for men and $20 for women.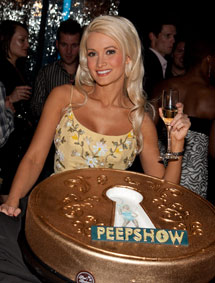 A.R.T. EVOLUTON DEBUTS EXHIBIT IN CORPORATE CENTER
A.R.T. evolution, a component of The Odyssey Lifestyle non-profit foundation, is unveiling an exhibition in the Stable Development's Corporate Center through Dec. 31.
The mixed media artist Carlos De Las Heras, sculptor Barry Ferich, photographer William Haugse, and abstract artist Bonnie Kelso (Earthlings) are the four artists represented. The quarterly exhibit, which is free to the public and open from 8 a.m. – 5 p.m. on weekdays, is showcased within three buildings at the Corporate Center complex in southwest Las Vegas.
Column Continues Below Advertisement

CONTINUE ON TO...:
>THIS WEEK'S LAUGHLIN NEWS
>LAST WEEK'S LAS VEGAS NEWS
>VEGAS VIEWS FULL NEWS ARCHIVES
>Return to "Heard Around Town"
>Return to Las Vegas Leisure Guide