Due to popular response, the Luxor is extending the run of "Burn The Floor®" through Sunday, Nov. 26. The high-energy, 70-minute show brings together ballroom dancing and rock 'n' roll, featuring a variety of dance styles, including salsa, samba, cha cha, tango and rumba, all with a sexy, modern edge. An international dance sensation, Burn The Floor® has been seen by more than three million people in 32 countries. Tickets are $41 and $29. call 800-557-7428 or 702-262-4400.
The legendary front-man of Mötley Crüe and tattoo aficionado, Vince Neil, will introduce the first and only tattoo shop on the Strip located in O'Sheas Casino on Nov. 3 and will feature tattoo services by an array of experienced tattoo artists. Hours of operation will be 11 a.m-4 a.m. daily.

Column Continues Below Advertisement


The 1,230 sq. ft. tattoo shop will feature four tattoo rooms, including one VIP room and one room that will allow people passing by to view tattoos in progress. In addition, a retail area will offer exclusive Vince Neil merchandise and Mötley Crüe memorabilia. To complete the rock n' roll vibe, the Chopper from Mötley Crüe's "Girls, Girls, Girls" video will be featured prominently in the front window.
In conjunction with the new tattoo shop, O'Sheas will introduce a new rock n' roll blackjack pit with six custom designed tables.
"Indie" recording artists, Barenaked Ladies, with special guests Mike Doughty's Band, will perform in concert at the Aladdin Theatre for the Performing Arts when they make a tour stop on Friday, Dec. 1. Tickets are $57.50; $42.75 and $33.25; call Ticketmaster at 702-474-4000.
On Sept. 12, Toronto-based Barenaked Ladies simultaneously released multi-platform versions (physical CD, downloadable CD and USB flash memory stick formats) of "Barenaked Ladies Are Me" through their own label, Desperation Records. This is the band's most cohesive and holistic set of songs. They wrote together, jammed together and lived together, raising each other's standards and blurring the lines of who wrote what.
Comedic hypnotist Anthony Cools, best known for his racy and uninhibited brand of adult comedy, will return to Paris Las Vegas for an indefinite engagement starting Thursday, Nov. 2. Tickets are $44.95 and $64.95, call 877-374-7469.
Cools, who has been performing for more than 13 years, will take the Paris stage Thursday - Tuesday at 9 p.m. The comfortable showroom titled The Anthony Cools Experience accommodates approximately 220 guests. The room brings the audience into the experience and encourages spectator participation.
Some of the biggest stars from the PGA TOUR, Champions Tour and LPGA will battle for a $1 million purse and tour bragging rights at the 2006 Wendy's 3-Tour Challenge, Tuesday, Nov. 14, at the Jack Nicklaus-designed Reflection Bay Golf Club in Lake Las Vegas Resort. ABC Sports will televise delayed coverage of the event Dec. 23 and 24.
The event format features three players from the PGA TOUR, Champions Tour and LPGA matched against each other in competitive threesomes. Each threesome consists of one player from each tour and the tournament format includes two separate, nine-hole stroke-play matches. Tickets are free and may be obtained in advance at Las Vegas area Wendy's restaurants and other outlets. For information, call 702-564-1600.
Now celebrating its 15th anniversary, the Wendy's 3-Tour Challenge has raised more than $21 million for its primary beneficiary, the Dave Thomas Foundation for Adoption. Thomas, founder of Wendy's® Old Fashioned Hamburgers, created the Foundation in 1992.
Erica Enders, the 22-year-old phenom of the National Hot Rod Association who has put the pedal to the metal since she was eight, will compete in her Dodge Stratus R/T at the NHRA Nationals Oct. 26 - 29 at the Las Vegas Motor Speedway. She will be signing autographs in the third floor Sports Bar area at the Imperial Palace between 5 p.m. and 7 p.m. Thursday, Oct. 26.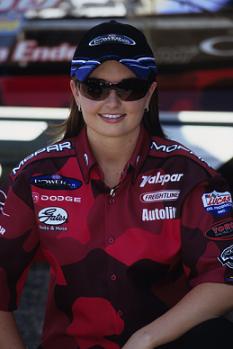 In 2003, Disney made the movie "Right on Track" about her fast-paced life among the cars - junior dragsters, super gas, super comp, top alcohol funny cars and now pro stock. Among her recent accomplishments, Enders was the first woman to reach a final round in Pro Stock, first woman in NHRA history to qualify in the top-half of a Pro Stock field and was the first woman in 13 years to compete in NHRA's Pro Stock category.
Six-time NHRA champion Kenny Bernstein and his son Brandon, will be signing autographs on Friday, Oct. 27 from 9:30 - 10:30 p.m. at the ESPN Zone located inside New York-New York. Fans who visit will have a chance to enter to win two VIP tickets to Sunday's Budweiser pitside hospitality area for the ACDelco Nationals at The Strip at Las Vegas Motor Speedway.
Kenny Bernstein, who retired at the end of the 2002 season, but drove the Budweiser/Lucas Oil Top Fuel dragster for a portion of 2003 while his son Brandon was recovering from racing injuries, has announced his comeback in 2007. Brandon, who is battling for the Top Fuel championship this season, earned NHRA Rookie of the Year honors in 2003.
When Barbra Streisand laid the 'F' word on a heckler in her concert at Madison Square Garden recently, little did I realize she'd be helping the "Barbra & Frank, The Concert That Never Was!" show featuring Sharon Owens portraying the famous singer with partner Sebastian Anzaldo playing a youthful Frank Sinatra at the Riviera. Tickets are $42.95, call 702-794-9433. Streisand will be performing her concert again this coming November in Vegas.
"Strip Las Vegas," which s a monthly publication that covers everything in Las Vegas from ultra lounges and gentlemen's clubs to shopping and celebrity interviews, will celebrate a year-end party Nov. 17 at JET nightclub and release its November and December issues. Many of the magazine's cover girls will be in attendance.
"Blue Man Group" at the Venetian has added a 10:30 p.m. performance on Tuesday nights. The show takes place nightly in a brand-new 1760-seat theatre built especially for the spectacular. .
The 40th Annual Beaux Arts Ball, which is also a fundraiser Golden Rainbow, will take at Studio 54 inside the MGM Grand for a night of Halloween decadence. Tickets are $25 in advance and $30 at the door, call 702-384-2899. Doors open at 10 p.m. and the party rages all night long.
Known as one of the biggest and best costume events in the nation, the Beaux Arts Ball has a reputation for attracting the most creative, outrageous and sexist costumes and offering big cash prizes awarded for Best Costume Overall: $1,054; Best Group Costume (three or more minimum): $654; Sexiest: $254; and Best Drag: $254.
The night will feature a guest appearance by Ty Taylor of RockStarINXS and live performances by cast members of Las Vegas production shows including "American Superstars," "Bareback," "Celine Dion's A New Day," "Chippendales," "Fantasy," "Fashionistas," "Folies Bergere," "Jubilee!," "La Cage," and "Toni Braxton Revealed."
Hawaiian-born singer Alben, who worked at The Orleans last year, is back in town with a 5:30 p.m. Friday night show at the "V" Theater inside Desert Passage at the Aladdin the next two Friday nights. Alben has been studying voice for the past 20 years and is well known on the islands. For information, call 702-932-1818.
The second Newport Pacific Jazz Festival will be held downtown inside the 360-seat Celebrity Theater across the street from the Lady Luck for three evenings, The kickoff night is Friday, Oct 27 with performances beginning at 7 p.m. throughout the weekend. An art exhibit by Art de Vignettes will start each evening at 5 p.m. with proceeds from the silent auction going to the education fund for Jerold "JJ" Johnigan's four children. He's the shoe shine man at the Triple George Restaurant. Tickets purchased in advance online are $37.50 and $45 at the door.
Friday will be the "Best in Contemporary Jazz" hosted by Pamela Black of "Pamela's Place." Saturday will be "The Best of Main Street Jazz Artists" and Sunday will be hosted by Larry White and his Jazz Orchestra. Each night, stars of the Jazz World will appear to sing or play their favorite jazz music.
Lisa Donovan, star of TVs long-running "Face The Music" will perform at the Starbright Theatre in Sun City, 2215 Thomas W. Ryan Blvd., on Wednesday, Nov. 29 at 7 p.m. On the show, she sang parts of more then 11,000 musical numbers. On the New York stage, Donovan starred in a revival of "Babe In Arms," directed by the legendary Ginger Rogers, who hand-picked her for the role. She has opened for many stars among them Donald O'Connor, Don Rickles, Bob Hope, Billy Crystal and many times with the late George Burns including his final tour. Tickets are $15, call 702-240-1301.
"American Idol" judge Paula Abdul will be honored on Jan. 27, 2007, as the Nevada Ballet Theater's "Woman of the Year." The gala event will be held at Wynn Las Vegas. Past honorees include Celine Dion, Carol Channing, Ann-Margret, Debbie Reynolds, Chita Rivera, Rita Rudner and Elaine Wynn.
The Hard Rock will present the Beastie Boys at the Joint on Monday, Oct. 23. The Beastie Boys have been known for their influential and ambitious music since the 1980s. The trio were the first white rap group of any significance. They gained prominent exposure in 1985 opening for Madonna on her Virgin Tour. Tickets for the show are $58, call 702-693-5583.
The Las Vegas Chapter of Speedway Children's Tournament Charities will hold its third annual "Cards for Kids" Texas Hold 'em Poker on Wednesday, Oct. 25, at the Cannery in North Las Vegas. The charity event will kick off the NHRA ACDelco Las Vegas Nationals at the Las Vegas Motor Speedway.
Tournament players will have the opportunity to play against NHRA drivers. Kenny Sargent of "SpeedFreaks" will also be hand playing poker and serving as master of ceremonies. Entry fee (buy-in) is $250 and players will receive $1,000 in tournament chips, hors d'oeuvres and drinks.
A total prize purse of $5,000 will be up for grabs at the event, with a guaranteed first place prize of $1,400. For information, call 702-632-8242.
The Vegas Grand Prix has announced a partnership with Fitzgeralds located on Fremont Street in downtown Las Vegas, which is a prime location for the three-day festival of speed and entertainment being held in the area April 6-8, 2007. There will be a grandstand at the corner of Carson and Fourth streets with a great view of Turn 9. Plus the east-facing hotel rooms will have a view of the same turn. The race will be televised live nationally on network television and internationally in more than 180 countries.
The Vegas Grand Prix will kick off the 2007 Champ Car World Series season and feature single-seat, open-wheel, Indy-style cars that generate 750 horsepower and can reach speeds up to 180 mph on the streets of downtown. The race course, which will also host support races that Easter weekend, will be run over a 2.44-mile road course around downtown. The three-day event will incorporate championship boxing, major rock concerts, a celebrity poker tournament and a giant Easter egg hunt.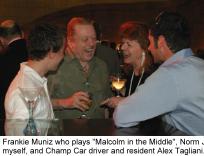 At a recent reception at the World Market Center announcing the Vegas Grand Prix, this columnist and fellow racer/writer Norm Johnson got to visit with two drivers Frankie Muniz, who plays Malcolm in the show "Malcolm in the Middle," and Champ Car driver and Las Vegas resident Alex Tagliani.
The Las Vegas Great Santa Run serves as the official warm-up event for the New Las Vegas Marathon and as a fundraising effort to benefit Opportunity Village. Registration is open to the public. Santa strollers and Kringle jinglers can register online at www.opportunityvillage.org. The first 5,000 jolly joggers will receive a five-piece Santa suit complete with hat, belt and beard during registration. Participants may choose from the 5K Fun Run/Walk or the Kris Kringle Jingle one-mile stroll for the casual walker or jogger.
Registration fees are $45 prior to Dec. 9 and $75 on race day. The Santa Dash in Liverpool holds the current record for the Largest Santa Gathering with 3,921 participants, according to Guinness World Records.
CONTINUE ON TO...:
>THIS WEEK'S LAUGHLIN SEGMENT
>LAST WEEK'S LAS VEGAS SEGMENT
>VEGAS VIEWS FULL ARCHIVES
>Return to "Heard Around Town"
>Return to Las Vegas Leisure Guide