CREEDENCE CLEARWATER REVISITED STOPS AT EDGEWATER!

Creedence Clearwater Revisited will perform at The E Center at the Edgewater on Saturday, Oct. 27 at 8 p.m. Tickets range from $25 to $65.

The band Creedence Clearwater Revisited is a group that was formed in 1995 by former Creedence Clearwater Revival members Stu Cook (bass player) and Doug Clifford (drummer). Cook claims, "We never really had any intention of playing for the public, but a friend wanted to promote a couple of concerts. We got talked into it, but didn't know how it would go over."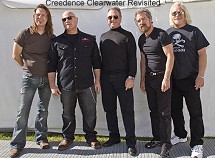 The band has toured in Australia, New Zealand, Europe, North America, South America and Asia. A legal injunction in 1997 by former band member John Fogerty forced the group to change its name to Cosmo's Factory, but the courts later ruled in Cook's and Clifford's favor. They have also released the album "Recollection," composed of cover versions of Creedence Clearwater Revival songs.
THE TEXAS TENORS SING AT THE RIVERSIDE
The Texas Tenors skyrocketed to national fame as the top vocal act in the history of NBC's "America's Got Talent" hit TV show. The trio starring country singer JC Fisher, contemporary singer Marcus Collins and opera singer John Hagen will headline at the Riverside in Don's Celebrity Theater, Oct. 30-Nov. 4 at 8 p.m.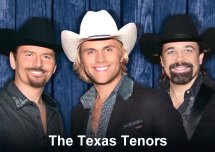 The group won the hearts of millions with their melodic three-part harmonies and Texas charm in 2009 and were the top five finalist in the fourth season of "America's Got Talent." The trio was formed in 2009 and performed together only a few times before auditioning for the talent show. Their debut CD is "Country Roots-Classical Sound."
BBQ TEAMS WILL BE COOKING AT THE RIVERSIDE
A first time event, "Smoke on the Water Nevada State Championships BBQ & Music Festival," will feature the top BBQ teams from across the United States competing for cash prizes at the Riverside in the South Parking Lot on Nov. 9 and 10. Among the competitors will be four-time world champion, "New York Times" bestselling author and star of TLC's "BBQ Pitmasters," Myron Mixon.
Grilling and barbecuing are among America's leading culinary pastimes and $20,000 will be up for grabs. According to organizers, the 2012 championship will rank among the biggest barbecue competitions ever held in the West. In 2013, planning is already underway to create the world's richest and largest barbecue event with a $100,000 prize purse and the state title at stake. For more information, visit smokeonthewaterbbq.com or riversideresort.com.
LAUGHLIN VETERANS FESTIVAL IS FAMILY AFFAIR
The Laughlin Veterans Festival will take place between the Golden Nugget and River Palms, Nov. 9-11. The family affair honoring U.S. veterans will include: a motorcycle show and shine; live entertainment; food and beverage vendors; military displays; a kids' zone; and a pancake breakfast on Sunday. Festival hours are noon to 7 p.m. on Friday, 10 a.m. to 7 p.m. on Saturday and 8 a.m. to 3 p.m. on Sunday. Visit laughlinveteransfestival.com for information.
A highlight will be a special appearance by former NASCAR driver Geoff Bodine, who is the oldest of the three Bodine brothers (Brett Bodine and Todd Bodine) who are all NASCAR drivers.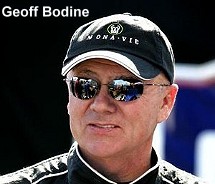 On the entertainment scene the featured artist will be Rockie Lynne, who is co-founder of an annual charity motorcycle ride called Tribute To The Troops, where riders visit the homes of the families of our fallen soldiers to acknowledge them for having made such an honorable sacrifice. The organization has raised more than $200,000 in aid to the families of the fallen.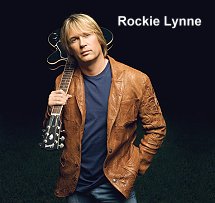 Lynne, a native of Statesville, N.C., has been singing and writing songs since the age of 14. After high school, he joined the Army, where he served for three years in the 82nd Airborne at Ft. Bragg. He is touring now promoting his album, "Songs For Soldiers," which is a longer version of the record that he originally compiled to give away to the troops during his overseas tour of U.S. Military bases. It contains eight original compositions along with six classics standards. One third of all the profits from the CD will benefit troop related charities. For every CD purchased from the website, Lynne will send another one to a soldier deployed overseas.
AQUARIUS OFFERS BIG BUCK HUNTER PRO MEGA JACKPOT SLOTS
The Aquarius is the only casino in Laughlin to offer IGT's Big Buck Hunter Pro Mega Jackpot Slots, a state-of-the art slot experience based off the arcade favorite known as "America's Favorite Hunting Game." Big Buck Hunter Pro features top of the line graphics that makes players feel like they are in the middle of the great outdoors, along with arcade gun hardware so they can literally take aim at their target. Players of all skill levels can enjoy the interactive technology, as on-screen instructions help even the novice hunters learn how to shoot.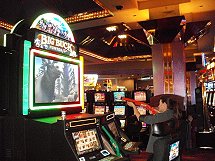 The penny denomination and 20-credit bonus bets keep Big Buck Hunter Pro accessible to players of all levels.
TOP OF NEXT COLUMN
HARRAH'S FEATURES MAGICIAN DIRK ARTHUR
Dirk Arthur will bring his magic to Harrah's Fiesta Showroom, Oct 23-28 and Oct 30-Nov 4, with the "Dirk Arthur—Wild Magic" show. Tickets are $27.50 and $38.50.
Arthur presents stunning illusions with rare animals and big cat magic interwoven with comedy, beautiful dancers, and large scale illusions. Arthur has been a featured performer on NBC's "World's Greatest Magic," David Lettermen, and his own documentary "Big Cat Magic" on Animal Planet.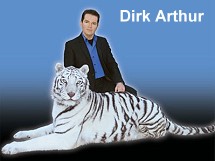 He has also starred for six years in the Las Vegas show "Xtreme Magic" at the Tropicana, which closed on March 12, 2010. He then took his show to O'Shea's Casino on the Las Vegas Strip, which closed when the property was torn down.
THE MOPTOPS BEATLES EXPERIENCE BOOKED AT THE RIVERSIDE
"The MopTops-The Beatles Experience" is booked at Don's Celebrity Theater at the Riverside, Nov. 6-11 at 7 p.m. With authentic Liverpool accents, 60s clothing, haircuts, and exact replicas of The Beatles' musical instruments and equipment, the MopTops recreate The Fab Four for Beatles fans. Tickets are $30.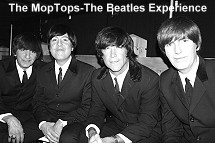 The original members of The MopTops were cast as look-a-likes of The Beatles in 1992 by Paramount Television for the highly-rated "I, Elvis" mini-series. On the set, they discovered that they all also played as musicians and quickly formed the band. The MopTops try to recreate what it might have been like to see the Beatles in concert. All members have studied hours upon hours of concert footage of the Beatles to make their recreation as authentic as possible.
COMEDIANS LINE UP AT THE EDGEWATER
The Edgewater every Friday through Sunday features two stand-up comedians at 7 p.m. in the Inferno Nightclub/Edgewater Showroom. Tickets are $10 at the door or Edgewater Casino Cage.
The upcoming lineup includes: Nov 9-11-Darryl Rhoades and John Crist; Nov. 16 Del Van Dyke and Marvin Deloatch; Nov 17-18-Nathan Timmel and Qincy Weekly; Nov 23-Sam Fedele and Jeremy Wieand; and Nov 24-25-Marc Patrick and Patrick Keane.
Ivan Pecel is paired with Dave Mencarelli, Oct. 26-28. Pecel isn't a regular stand-up comic, he's much more as he adds in world class juggling, audience participation and does it with clean humor.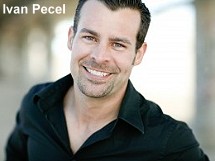 Luis Villasenor, who combines aspects of his personal life and observations of daily events into a stand-up routine, will appear with Ronnie Ray on Nov. 2. Villasenor who is Latino describes his personal style as being a smart-ass. "It's the simple things, the stuff of everyday life, that I find funny," said Villasenor. "It's the everyday issues that come up in relationships or what life throws at you that we all need to laugh at. That's the kind of stuff I talk about."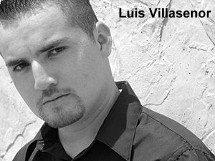 Dennis Blair and Phil Mazo will perform on Nov. 3 and 4. As an accomplished screenwriter, award-winning songwriter and comedic actor, Blair is a true Renaissance man. Yet he is probably best known for the caustic observations and musical satires of his live comedy performances. Early in his career, Rodney Dangerfield made him his protégé, and together they toured the United States and Canada for more than three years. Blair conceived and co-wrote Dangerfield's hit movie, "Easy Money," and also played two cameo roles. He has opened for a multitude of celebrities and toured for more than 18 years with George Carlin.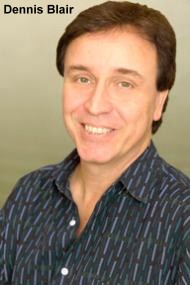 UPCOMING SHOWS AND EVENTS

Rita Rudner will headline at the Aquarius on Saturday, Nov. 11 at 7 p.m. Tickets are $25 and $35.

Harrah's will feature Lee Greenwood on Nov. 10 and 11 at 7 p.m. in the Fiesta Showroom. Tickets range from $33 to $49.50.

The Aquarius is holding a Psychic Fair on Oct. 27 and 28 with psychics from different genres giving readings and information. Admission is free and readings are $20. Event hours are noon – 8 p.m. on Saturday and 11 a.m. – 6 p.m. on Sunday.

Tropicana and River Palms employees are in a talent show in the Pavilion Theater competing for cash prizes on Oct. 24 at 7 p.m. The contest is free to view and the public is invited.

Dick Marcinko's Rogue Warrior MMA - all military live MMA bouts will take place at the Edgewater on Saturday, Nov. 10 at 6 p.m. Tickets range from $15 to $75.


CONTINUE ON TO...:
THIS WEEK'S >LAS VEGAS NEWS
LAST WEEK'S >LAUGHLIN NEWS
>VEGAS VIEW FULL ARCHIVES
Return to >"Heard Around Town"
Return to >Las Vegas Leisure Guide