A special ceremony was held recently at the Las Vegas Hilton showroom to unveil the American TV Game Show Hall of Fame and its first inductees: Monty Hall ("Let's Make A Deal"), Peter Marshall ("Hollywood Squares"), Wink Martindale ("Tic Tac Dough") and Hugh Downs ("Concentration"), who also received the "Lifetime Achievement Award." Impresario Merv Griffin was honored posthumously. The induction ceremony with wonderful video clips led into "The $250,000 Game Show Spectacular," which is the hotel's new afternoon show.
Three celebrity hosts, Bob Eubanks ("The Newlywed Game"), Chuck Woolery ("Wheel of Fortune," "Love Connection" and now "Lingo"), and veteran contestant Jamie Farr (cross-dresser Klinger from "M*A*S*H*") take turns hosting the new game show that is a compilation of many game shows. On this one special day, all three hosted.

Column Continues Below Advertisement


The lively interactive game show has 50 winners at each show. Participants are randomly chosen from ticket stubs. The show ends with a chance to win $250,000. IF someone wins the prize, every audience member receives $100. The last game is choosing three out of 20 envelops with the goal of having the money amounts adding up to $1,000 even. Pretty tough odds; however, the contestant walks away with whatever amount the three envelopes display. For game show lovers, this is a good bet. Tickets are $46.20, call 702-732-5755.
Comedian Vinnie Favorito has been headlining at O'Sheas for a few years and recently threw a party to celebrate his resigning to stay put. Actually the rather hidden showroom is perfect for Favorito who excels at attack humor aka Don Rickles. He actually uses O'Sheas as a foil making fun of where he's headlining.
You have two ways to go when you attend his show. You can either be a part of the show and sit down front and get picked on or you can try to hide in back. Either way, you'll laugh yourself silly and occasionally groan when Favorito pushes the envelope. He amazes you on the way he can remember the people he picks on and then the way ties them together with his adlib rants. Favorito is as good as it gets.
The Hawaiian Tropic Zone featuring dining and nightlife action will open in late December inside the Miracle Mile Shops at Planet Hollywood. The Las Vegas location will boast a sexy modern décor, multi-tiered dining room, cat-walk stage for nightly entertainment, full bar and a two-story waterfall.
Exotic and friendly Hawaiian Tropic models will serve as "table concierges" to assist with guests' dining needs as well as participate in nightly beauty pageants. Casting calls are being held Oct. 22-26 and Oct. 29-Nov. 2. American fashion icon Nicole Miller has designed exclusive fuchsia bikinis and floral sarongs for those chosen to be one of Hawaiian Tropic Zone's sexy table concierges.
Dos Caminos Las Vegas that will be opening at The Palazzo in December will be the fourth outpost of the Mexican cuisine mecca and the first outside of New York City. As with its sister locations, Dos Caminos Las Vegas will offer authentic, inventive Mexican fare along with a vibrant bar scene that will include a lounge menu for late-night dining on Friday and Saturday. Lunch and dinner will be served daily.
The David Rockwell-designed space will divide the 700-seat restaurant into different environments, each showcasing a specific aspect of Mexican life. A waterfall and hand-hammered gates will welcome guests to the intimate lounge, where snakeskin leather banquettes will carve up the space. An abstract nightscape of a Mexican village will frame the natural edge wood bar poised atop an iridescent gold and fuchsia tile wall. An incarnation of a Mexican bazaar, the main dining room walls and ceiling will be covered with panels taken from the markets of Mexico. Accentuating the dining room, the candle-lit serpentine chandelier of glowing glass gems will lead guests to an ancient stone-carved Mayan temple of fire that will connect the two distinct dining spaces. The rear dining room will be a celebration of eternal light with flickering candlelight reflecting off of the copper-colored glass and casting a warm glow onto the walls.
Trader Vic's with its rich history dating back to 1934 is scheduled to open a new eatery at the Miracle Mile Shops inside Planet Hollywood. Trader Vic's is the inventor of the Mai Tai and the first to import Polynesian dishes and decor to the United States. For Las Vegas, the new 15,000-square-foot restaurant will be re-invented with new design elements and new island-inspired, Euro-Asian-Polynesian cuisine.
Unlike any of the other Trader Vic's, it will include three separate dining and entertainment venues featuring a ground-level restaurant and Strip-side patio that opens onto the Strip and a second-level Tiki Club-ultra lounge.
The new place will build upon the signature Polynesian décor of towering wooden tikis and amplify the tropical theme with two separate DJ booths, a 20-foot outdoor bar and lanai surrounded by palms, thatch, a sweeping shingled roof, and an upstairs Tiki Club-ultra lounge.
Entertainer Terry Fator, who gained national popularity when he recently won NBC-TV's "America's Got Talent" promptly sold out two October show dates at the Las Vegas Hilton, and has now added another performance on Dec. 3. Fator's special guest for the December show will be fellow talent contestant Bobby Badfingers. Tickets are $39.95-$99, call 702-732-5755 or 800-222-5361.
Fator has spent 32 years honing his skills as a ventriloquist, comedian, singer, and celebrity impressionist, but his key decision to blend those skills with his incredible ability to mimic famous singers has put him over the top.
For the second year, Lake Las Vegas is promoting an Annual Gingerbread House Competition with a "Holidays Around The World" theme. Homemade and completely edible gingerbread houses must be delivered on Nov. 29 or 30. The competition's four categories are: Youth (ages 12 and under); Teen (ages 13-17); Home Cooks and Culinary Students; and Professional Chefs. Special guest judges will evaluate the pastries on Saturday, Dec.1 and declare the first, second and third place winners in each category. Prizes in each category vary, but include cash and resort-affiliated amenities. For entry forms and information, call 702-564-1600.
All of the scrumptious crafts will be on display in the lobbies of The Ritz-Carlton and Loews resorts from Dec. 1 - 22. In addition, Lake Las Vegas Resort houses a Rockefeller-center-style floating ice rink during the holiday season. Charge is $15 per day for adults and $12 per day for children. Hours of operation vary.
Harrah's Entertainment Inc. has announced next year's dates for the 2008 World Series of Poker. The 39th annual gathering of the world's best poker players will be held at the Rio, May 30 through July 17, and be sponsored by Milwaukee's Best Light beer.
Master magician and illusionist David Copperfield will return to the MGM Grand's intimate 740-seat Hollywood Theatre for special holiday performances from Nov. 15 through Nov. 28, and Dec. 20 through Jan. 2. Tickets are $97, call 800-929-1111. Copperfield will ring-in 2008 with a special midnight balloon drop following his 10:30 performance on Dec. 31.
Copperfield has been hailed by audiences and critics alike as the greatest magician in the world. In addition to decades of network television events, worldwide tours and "Dreams and Nightmares," the critically acclaimed Broadway show that set box-office records, he has been featured on the covers of "Forbes," "Architectural Digest" and "Esquire." He has performed seven times for presidents of the United States and was inducted into the Hollywood Boulevard Walk of Fame.
His celebrated feats and sense of theater have won "The Magic of David Copperfield" dozens of Emmy® Awards and twice led him to be named "Entertainer of the Year." His tours have set box-office records across Europe, Asia and North and South America.
The new eyecandy sound lounge & bar™ has opened at Mandalay Bay in the space that was formerly the Mandalay Bay's Island Bar. Eyecandy is very sleek and futuristic in design and high-tech with complicated light shows and table tops.
Andrea Bocelli will be appearing in concert at the MGM Grand on Dec. 1.
Voted as "Best Cocktail Server" by the Las Vegas Review Journal's "Best of Las Vegas" four years in a row, the Bevertainers at the Rio are sexier than ever with brand new costumes with lace material sprinkled with black diamond stones.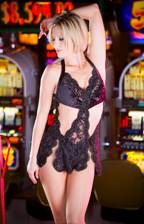 More than 100 Bevertainers add to the energy and excitement of Rio's gaming experience with special female and male cocktail servers who provide a high level of beverage service and also sing current tunes and dance to hot choreography at any of the 10 mini stages throughout the property. Each Bevertainer performs a 90-second live number once an hour - so at any one visit to the Rio, casino customers may enjoy a variety of free performances every 10 minutes.
The Playboy Club at the Palms is celebrating its first year in business at the resort with a media blitz that includes an eight-page pictorial of some of its dealers, who wear the famous ears, in the November issue of "Playboy" magazine.
The Diablo Cantina has opened at the Monte Carlo. The 13,000 square-foot multi-level complex features a Strip-side location with an open-air design on the second level and a live entertainment stage. The first floor is an indoor restaurant featuring "cross-the-border" Mexican, Southwest and America cuisine and more than 75 tequilas.
The Comedy Festival is coming up at Caesars Palace, Nov. 14-17. Chris Rock and Jerry Seinfeld are teaming up to lead the four-day event with dozens of performances and special events in a variety of venues within Caesars Palace. The Comedy Festival Village will be free and open to the public and feature live entertainment, food, drink and interaction with all Festival sponsors.
Paris Hilton will host a ghoulish night of fun festivities at LAX Nightclub's inaugural Halloween bash on Wednesday, Oct. 31 inside the Luxor. There will be $20,000 in cash prizes for the guests decked out in the sexiest or scariest costumes.
Las Vegas Mayor Oscar Goodman recently met with the "Little Legends" cast in his office when they invited him to their grand opening show at the Harmon Theater inside Krave nightclub. Goodman surprised the cast by giving them miniature bottles of Bombay Sapphire Gin and speaking openly of his former life as an attorney representing the Mafia.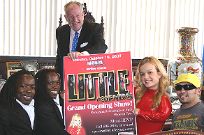 Steele Cage Promotions had its second fight, Fireworks in the Cage II, at the Riviera on Labor Day Weekend and it was a big success with mixed martial arts (MMA) fans enjoying more than three hours of fights. Fireworks in the Cage IV will feature nine fights and 18 contenders and be held at the Riviera on Dec. 15. Fight prices are inexpensive ranging from $30 - $150.
Steel cage fighting has been around since the mid-1930s, but was associated with wrestling. The idea of settling old scores was by keeping the fighters in a cage and any possible interference out. The only way for the fight to end was by either climbing out or walking out the only door. At one time MMA fighting was no-holds-barred and no rules, but that's changed and there are actually fouls in which a fighter could receive points.
Rising UFC® superstar Roger "El Matador" Huerta (20-1-1) will headline his first nationally-televised fight card when he takes on hard-hitting Clay "The Carpenter" Guida in a battle of top lightweight contenders on Spike TV, Saturday, Dec. 8 at 9 p.m. ET/PT. The fight will take place live from the Pearl at the Palms and feature Huerta vs. Guida, and the two season finalists from The Ultimate Fighter 6®: Team Serra vs. Hughes. Tickets are $350, $250 and $150, call 702-474-4000.
The Ultimate Fighting Championship® brand is the world's leading professional mixed martial arts organization and offers the premier series of mixed martial arts (MMA) sports events.
Now celebrating its 16th anniversary, the Wendy's 3-Tour Challenge, benefiting adoption, is the only professional golf tournament that pits three players from the PGA, LPGA and Champions Tours against each other in a head-to-head competition for tour bragging rights and a share of the $1 million dollar purse.
Lake Las Vegas will be hosting the tournament for the 11th time, with Reflection Bay serving as the host course for the seventh time on Nov. 13, with television air dates set for Dec. 22 and 23.
CONTINUE ON TO...:
>THIS WEEK'S LAUGHLIN SEGMENT
>LAST WEEK'S LAS VEGAS SEGMENT
>VEGAS VIEW FULL ARCHIVES
>Return to "Heard Around Town"
>Return to Las Vegas Leisure Guide