SPORTING HOUSE OPENS AT NEW YORK-NEW YORK
The new Sporting House Bar & Grill with more than 130 video monitors opened on Oct. 10 inside New York-New York in the area once occupied by the ESPN Zone. The two-story restaurant and bar features a collaborative menu design by Ark Restaurant Corporation's newly hired Executive Chef David Waltuck, celebrated chef/owner of four star Chanterelle in New York City, and Damien McEvoy, Ark's Executive Chef for the past 14 years in Las Vegas.
Column Continues Below Advertisement
In The Screening Room on the first-floor, there is tiered seating, two 16-foot, high-definition screens, and a dozen 36-inch, high-definition video monitors. Each table in The Screening Room features an individual video monitor and there are three private viewing rooms. The Sporting House's second-story has the All-Star Arcade with more than 10,000 square feet of interactive and competitive sports-themed attractions. Hours are 11 a.m. to 11 p.m. daily and vary depending on seasonal sports schedules. For example, the place opens at 9 a.m. on weekends during football season.
THREE HOTELS GO PET FRIENDLY
Caesars Palace, Imperial Palace and the Rio have launched "PetStay Las Vegas," the resorts' new dog-friendly hotel program. Each participating resort hosts a designated PetStay area within the hotel, equipped with welcome packets that direct guests to outdoor relief areas and dog walking routes as well as specialty room service menus. In-room amenities include a mat, food and water dishes, disposable waste bags and dog treats. Dogs staying at any of the three hotels must weigh 50 pounds or less and be present at the time of check- in. Dogs are permitted to walk through designated common areas while on a leash and accompanied by the owner. Dogs left unattended in a guest room must be crated at all times; crates are available for rental.
For a full list of policies, rates and availability visit www.petstaylasvegas.com. To book a room, call 800-427-7247.
'TRUIMPH. IT RUNS ON STEAM' OPENS NOV. 15 AT HILTON
"Triumph. It Runs On Steam" will open at the Las Vegas Hilton on Nov. 15. The original show is described as a mystical journey that pulls back the cosmetic curtain and takes you through the dimension of time and a parallel universe. "Triumph" is steeped in a sub-genre of science fiction and alternative history. The story is about good versus evil, the battle of humankind that will never end. Matinee tickets start at $19.95 and evening at $29.95.
This sci-fi fantasy genre show has an original music score, dance, magical illusions and the aerial artistry of LaRaf. "Triumph" under the artistic guidance of New York director Dom Ruggiero, will feature the artistic choreography and associate direction of Chet Walker, who has performed on Broadway since age 16, and scenic design by Kelly Tighe, who resides in New York.
LIOR SUCHARD HAS FIVE-WEEK RUN AT THE PALMS
"Supernatural Entertainment" featuring Lior Suchard will have a five-week Thursday and Friday run at The Lounge inside the Palms beginning Oct. 21 at 8 p.m. This is a return to Las Vegas for Suchard who previously performed as the opening act for Joan Rivers. Tickets are $43 and $63, call 702-944-3200.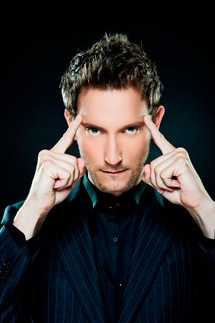 In "Supernatural Entertainment," Suchard presents an hour plus of telepathy, mind reading, drama and comedic adventure. Since chosen by mystifier Uri Geller as his official successor when Suchard was unanimously elected the winner of the international TV show "The Successor," he has performed in 42 countries, participated in television specials, appeared at conventions, company events and more.
On July 20, he appeared live on "The Tonight Show" and floored Jay Leno and his guest Zac Efron with his supernatural capabilities.
MGM RESORTS EMPHASIZES LATIN HERITAGE IN NOVEMBER
During November, Latin heritage will take center stage with four major events at MGM Resorts. On Nov. 6, Juan Manuel Lopez steps between the ropes to face Rafael Marquez for the World Boxing Organization featherweight title at the MGM Grand Garden Arena. It will be all about the hits on Nov. 11 when the Latin Grammys return to the Mandalay Bay Events Center. Singer-songwriter Vincente Fernandez will bring his ranchera-style back to Mandalay Bay Events Center on Nov. 26. It will be back to the ring when Juan Manuel "Dinamita" Marquez and Michael "The Great" Katsidis face-off on Nov. 27 in a 12-round championship boxing battle.
OPPORTUNITY VILLAGE HOLDS 6th ANNUAL GREAT SANTA RUN
Opportunity Village's fundraiser, the 6th Annual Great Santa Run will be held at 8 a.m. on Saturday, Dec. 4 at Town Square. Registration fees are $35 for participants 13 and older and $25 for participants 12 and younger prior to Dec. 4 and $45 on race day. Registration fee includes a five-piece Santa Suit and sponsor gifts. There will be live music and special guest appearances, including Grand Marshal, Mirage headliner Terry Fator. For registration information, call 702-880-4038 or visit www.LasVegasSantaRun.org .
The current world record for the Santa Run was set in 2007 with 12,965 participants at the Santa Dash in Derry, Ireland. In 2009, the Las Vegas Great Santa Run had 8,868 participants, its best effort to date. This year, Opportunity Village and Golden Gaming Inc. are working hard to reach the 13,000 participant plateau.
'ROCKY HORROR PICTURE SHOW' LIVES ON IN VEGAS
There are two places in Las Vegas to experience "The Rocky Horror Picture Show" once a month. It's screened and staged by Divine Decadence at midnight on the second Saturday of every month at the Onyx Theater at 953 E. Sahara Ave., Suite 16. Cost is $7, call 702-238-3896. It's also screened and stage by Frankie's Favorite Obsession at 10 p.m. on the first Saturday of every month at the Regency Tropicana Cinemas at 3330 E. Tropicana Ave. Cost is $9, call 702-810-5956.
For Halloween season from Oct. 15-30, Richard O'Brien's "The Rocky Horror Show" an original musical is playing at the Onyx Theater. It's a fully staged rock show with a live band, scenery, lighting and special effects. Shows are Thursday-Saturday at 7:30 p.m. and at 11:59 p.m. on Oct. 30. Tickets are $25.
TOP OF NEXT COLUMN
QUICK CLIPS
"The Comedy Stop" has closed at the Sahara, and "Barbra & Frank, The Concert That Never Was" is no longer at the Riviera.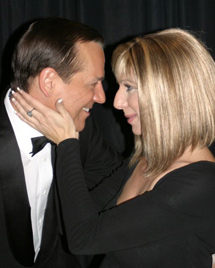 Imperial Palace headliners "Human Nature" recently wooed soap star Susan Lucci of "All My Children." Escorted from her front row showroom table, Lucci was brought on stage so the four Aussies could serenade the actress with the hit "My Girl." Lucci went backstage afterwards.
Hubert Kelleher's Fleur de Lys reaturant at Mandalay Bay closed temporarily last month with plans to reopen in mid-December with a newly designed menu and design makeover. The redesign will feature a rejuveniated decor spotlighting an expanded patio, social bar, and lounge seating.
The free official Margaritaville pre-concert street party will be held all-day from 11 a.m. to 6 p.m. on Saturday, Oct. 23. The outdoor event in the alley between O'sheas and Margaritaville will include live music from DJ Bo and Tommy Rocker, midway games, a Ferris wheel and giveaways.
Earlier this month, a group of Vegas headliners assembled in the wee hours of the morning at Hooters. The catalyst was Geechy Guy, Mickey Joseph and Todd Paul putting on a special "Dirty Joke Show" performance for Las Vegas entertainers. Rob Sherwood and Mat Black made guest appearances during the show and David Copperfield, Carrot Top, Amazing Jonathan and Nathan Burton were in attendance.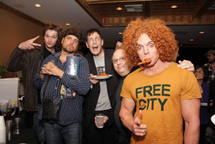 Legendary singer-songwriter and Paris headliner Barry Manilow's non-profit organization, the Manilow Music Project, put more than $500,000 worth of musical instruments into the hands of 15 Clark County School District middle schools and high schools earlier this month. It was the single largest donation of its kind in Clark County history for a music program.
The VooDoo Lounge on the 51st floor at the Rio will have three days of spooky soirees at 11 p.m. starting on Oct. 29 with "Electric Bogaloo." Oct. 30, it's "Ncredible Halloween Party" with screen star Nick Cannon and guests. On Oct. 31, "Carnal Carnaval" will have a live performance by dance troupe Fire N Ice, appearances by suspension artists and other side-show performers. Costume contests on Oct. 30 and 31 will offer $3,000 $1,500 and $500 for first, second and third places.
As part of the Crush celebration this month at Paris, Nevada Public Radio (NPR) will host a wine tasting event on Oct. 28 with hors d'oeuvres, desserts and live music. Cost is $100 for the fundraiser, call (NPR) at 702-258-9895.
On Nov. 13, a special Blue Man Group 7 p.m. performance at The Venetian will honor America's heroes, with all proceeds from ticket sales supporting ThanksUSA's efforts to provide scholarships for the spouses and children of military men and women. Tickets are $100, call 800-BLUEMAN, select Las Vegas when prompted, and mention code ThanksUSA.
On Oct. 30, the Mustang Club of Las Vegas is hosting Bright Lights' City Cruise 2010 at the Fremont Street Experience from 7 a.m. to 4 p.m., followed by a street cruise to the Temple Bar Marina at Lake Mead on Sunday, Oct. 31. Proceed will benefit The Lili Claire Foundation, call 702-804-4787 or visit www.mustangsoflv.org.
Jazz on the Lake will be presented on Friday Oct. 29 at Garfield's, 2620 Regatta Drive at Desert Shores, near Summerlin. Ladies receive free champagne from 5 – 7 p.m. on Garfield's Veranda. Classical jazz featuring Calvin Brooks and C-Breeze is scheduled from 7:30 – 11:30 p.m. Tickets are $25 in advance and $30 at the door with two free drink tokens included, call 702-240-5216. Dine at Garfield's on event night and receive 50 percent off the advanced ticket price.
To continue honoring National Breast Cancer Awareness Month, Fleming's Prime Steakhouse at 8721 W. Charleston Blvd. will host a "Women & Wine" Dinner on Friday, Oct. 22 at 6:30 p.m. Fleming's will showcase the work of three leading women winemakers at the four-course dinner. Cost is $95, call 702-838-4774.
The Los Angeles-based designer Lynda Murray will discuss the home she designed for Michael Bay, director of the "Transformers" series, "Armageddon," "Pearl Harbor" and more, along with her other work during her presentation "Grand Vision: What To Do With A 17,000 Square-Foot House," on Nov. 5 at 10 a.m. at Las Vegas Design Center at World Market Center Las Vegas. Her talk is part of the monthly First Friday design series. To attend, e-mail RSVP@LVDesignCenter.com or call 702-599-3093.
VEGAS VALLEY CHILDREN's BOOK FESTIVAL SET FOR NOV. 6
The fifth Vegas Valley Children's Book Festival will be held on Saturday, Nov. 6, from 10 a.m. to 3 p.m. downtown at Centennial Plaza, located at 401 S. Fourth Street, on the campus of the Historic Fifth Street School. The free festival offers book giveaways, hands-on children's activities, theatrical performances, costumed characters, access to children's authors and their books, informational booths and music by DJ Tony. For information, call 702-229-3515 or visit www.vegasvalleybookfestival.org.
CANNERY FEATURES TWO HAUNTED HOUSES
Two of Las Vegas' top haunts, The Asylum and Hotel Fear, are combined into one haunted terror – Chaos at The Cannery. Each attraction is a full-sized house of terror that is open through Oct. 31. Frights start at 6:30 p.m. Thursday-Sunday and run until 10 p.m. and midnight on weekends. Freak nights include Wednesday, Oct. 27, Oct. 28 and 31. Tickets are $12 for a single haunt or $18 for a Chaos Pass combo. There will be a special "lights on" tour for the little ones under 10 years old on Halloween, Oct. 31 from 4 to 5:30 p.m. for only a $2 donation, visit www.WeAreLV.com.
Column Continues Below Advertisement
CONTINUE ON TO...:
>THIS WEEK'S LAUGHLIN NEWS
>LAST WEEK'S LAS VEGAS NEWS
>VEGAS VIEWS FULL NEWS ARCHIVES
>Return to "Heard Around Town"
>Return to Las