HOLLY MADISON EXTENDED IN 'PEEPSHOW'

The Striptease spectacular "PEEPSHOW" at Planet Hollywood has announced that blonde starlet Holly Madison has signed a multi-million dollar extension contract to remain in the spotlight as "Bo Peep" through 2012.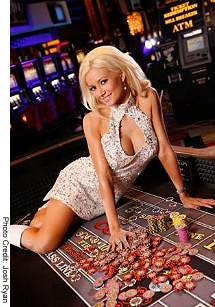 After her rise to fame in the E! series, "The Girls Next Door," Madison began her run as "Bo Peep" in June of 2009, quickly making her mark as the face of Las Vegas. Now Madison stars in her highly rated E! series "Holly's World;" has released her first book, "The Showgirl Next Door;" and is EXTRA's on-camera Las Vegas correspondent.
Column Continues Below Advertisement
GOLDEN GATE DOWNTOWN TO EXPAND
Downtown's Golden Gate at Fremont and Main streets, which opened in 1906, is planning a major expansion and renovation to include a new five-story structure with 16 new hotel suites, including two 1,600-square-foot suites on the top floor. In addition, the existing deli will be moved and modernized, the hotel lobby will move to the new structure, the casino floor will be expanded, some conference rooms will be added, and larger, modern restrooms will serve the entire casino.
The hope is to have the casino phase completed in March and the hotel rooms open by May. Construction will require at least a temporary closure of the existing deli, but the casino's signature shrimp cocktail will still be available on property at the restaurant.
CAESARS PALACE WILL OPEN OCTAVIUS TOWER
Caesars Palace's sixth tower will mark the completion of the $860 million expansion at the resort. The Octavius Tower is a 668-room hotel tower that includes 60 suites and six luxury villas. The tower will offer a unique luxurious resort experience with a private entrance, separate hotel lobby and direct access to the Garden of the Gods pool oasis and gardens.
The Octavius Tower was built - but not completed - in late 2008, just as the country sank into recession. The rooms have been done in shades of brown, gray, taupe and beige with accents of green and deep red. The rooms have marble floors and patterned carpets, dark wood furnishings and brushed chrome fixtures. Ample-sized desks feature dark wood with granite overlays. Rooms also contain a 42-inch flat-panel, high-definition TV with a media hub for connectivity and a bedside docking station that accepts iPods.
MGM GRAND REMODELS ROOMS AND SUITES
The MGM Grand is currently undergoing a $160 million remodel that includes all 3,570 guest rooms and 642 suites in the hotel's main tower and is expected to conclude by September 2012. The initial set of redesigned rooms will be complete by the end of November 2011.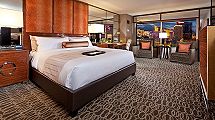 The new designs feature warm color palettes with contemporary furnishings. In keeping with MGM Grand's commitment to sustainability, the rooms and suites will incorporate environmentally responsible elements including LED lighting; improved thermostats and solar shades to better; upgraded faucets and showers; and bath amenities that are 100 percent biodegradable. Visit www.TheGrand Renovation.com for additional information.
ANDREW DICE CLAY HEADLINES AT RIVIERA
Andrew Dice Clay is returning to Las Vegas for eight 10:30 p.m. performances at the Riviera's Starlite Theatre Oct. 20-23 and 27-30. To this day, Clay remains the only performer banned for life from MTV. When he released his debut album, "DICE," the parental advisory label simply read "Warning: This album is offensive." Tickets are $49.99 to $89.99.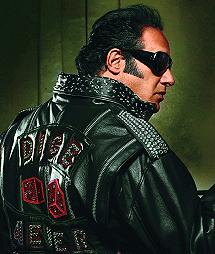 CHEF VIC VEGAS HOSTS POP-UP RESTAURANT AT RUMOR
Former Executive Chef of Addiction at Rumor, Chef Vic Vegas is returning to the boutique hotel with a pop-up restaurant concept offering two nightly seatings at 6 and 8:30 p.m. from Oct. 17 to 22. The four-course tasting menu is $39 with wine added for $10 more.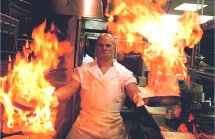 Known for bringing a variety of small plate Tapatizers to Addiction, Vic Vegas was the winner of the 2008 Food Network Challenge "Big Bash Caterers," and has also previously been named among Esquire Magazine's "45 Under 45" outstanding men. Vic Vegas is widely recognized for being a finalist on Season Seven of Food Network Star. Make a reservation through www.opentable.com.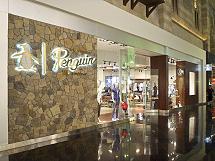 MIRACLE MILE SHOPS WELCOMES TWO NEW OUTLETS
Clothing store Original Penguin and authentic East Coast style pizzeria D'Amore's Famous Pizza are new at the Miracle Mile Shops at Planet Hollywood. This is Original Penguin's first and only store in Las Vegas. With roots dating back to 1955, Original Penguin started with men's golf shirts and has logo Pete the Penguin adorning most everything. D'Amore's Famous Pizza is brick-oven pizza with a 100-year old recipe.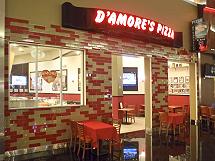 EXPOSÉ SINGER PREMIERES MUSIC FROM SOLO PROJECT
Jeanette Jurado, multi-platinum artist and member of the popular girl group, Exposé, will debut new music from her first solo project with a special concert, Friday, Oct. 21 at 8 p.m. at the Henderson Events Plaza. In the last year, she has formed a super group of talented local musicians to accompany her on this new project. Admission is complimentary.
Jurado's appearance will be her second at a Henderson venue. Last year, she was joined on-stage by her band members, Ann Curless and Gioia Bruno, for an Exposé reunion concert.
TOP OF NEXT COLUMN
QUICK CLIPS

The Lady Silvia located inside the SOHO Lofts is the newest urban lounge in downtown Las Vegas' arts district and features fine crafted cocktails, an extensive wine menu, and five gaming machines. Sporting events on big screen TVs will be in the future.

Las Vegas magic duo and Rio headliners Penn & Teller have a new TV show on the Discovery Channel called "Penn & Teller Tell A Lie." The show features seven science packages in one hour, challenging absurd scenarios such as whether or not a snail can really crawl along a razor blade. Last year, the twosome ended their Showtime series "Bullshit!" that ran seven years.

Aid for AIDS of Nevada (AFAN) will host an Evening of Cabaret with acclaimed singer, actress and cabaret legend Lainie Kazan at The Lounge at the Palms on Wednesday, Oct. 26 from 8 to 10 p.m. Tickets begin at $35.

MGM Grand's "Crazy Horse Paris" will make a special appearance at the Las Vegas Motor Speedway on Wednesday, Oct. 26, at 1 p.m. Six of the show's beautiful women will pose for photos and take to the track in some of the most expensive cars in the world courtesy of Exotics Racing, which was founded in Europe in 2004 and been operating in Las Vegas since 2009.

In honor of Steve Jobs, Slidin' Thru gourmet slider truck company has created The Crazy One – an applesauce-braised pork chop slider topped with an apple brand on the bun. The Crazy One slider will be sold through October and $1 from each will be donated in Steve Jobs' honor to the American Cancer Society. For locations, visit www.slidinthru.com

.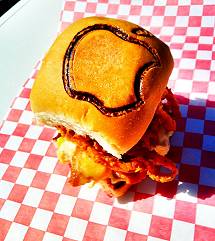 The China Poblano restaurant at The Cosmopolitan will honor one of Mexico's greatest traditions, The Day of the Dead, with two new cocktails and a menu showcasing special regional dishes from Oct. 17 until Nov. 2. The Day of the Dead menu items will range from $12 to $14 and innovative cocktails are $13.
Adrian Grenier, star of HBO's "Entourage," will return to Chateau Nightclub & Gardens at Paris on Friday, Oct. 21, for a second screening of his acclaimed documentary, "Teenage Paparazzo," followed by a Q&A session. There will also be an art exhibit on display in the Chocolate Lounge at Sugar Factory American Brasserie during the event.
The Architectural and Decorative Society (ADAS) is hosting an expanded five-day event on Mid-Century Architecture and Lifestyle –Oct. 19–23 including a reception at the Atomic Testing Museum and dinner and fashion show at Holsum Lofts. Events include a Mid-Century dinner and fashion show, with silent auction and raffle prizes, three Mid-Century discussion panel sessions with a reception at the Morelli House rounding off the day and a four hour double decker bus tour and commentary of historic Las Vegas neighborhoods. A very reasonable 5 day all pass is available for $100.00 per person and $90.00 for ADAS members. If you want to pick and choose the events that you want to attend please see all the events for individual pricing of them. For tickets, visit www.adas-lv.com.
On Saturday, Oct. 29, Rock 'n Roll Wine will return to the Hard Rock Cafe on the Strip for one of their signature wine tastings featuring live music from Barry Black. They will also introduce their newest sponsor Thirstygirl, which is a growing community for women who love wine, food, travel and cocktails, etc.
CELEBRITY SIGHTINGS
Hollywood heartthrob Mario Lopez recently celebrated his 38th birthday with girlfriend Courtney Mazza at the Gallery nightclub inside Planet Hollywood.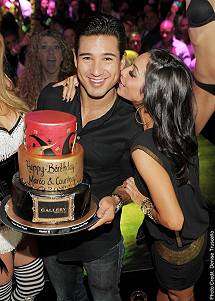 Nick Lachey joined by fellow members of 98 Degrees Drew Lachey, Jeff Timmons and Justin Jeffre had dinner at Nove Italiano inside the Palms last week.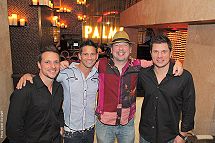 Laura Croft's Night School 4 Girls celebrated its grand opening with Croft's friends and co-stars from E!'s "Holly's World," Holly Madison, Angel Porrino and Josh Strickland.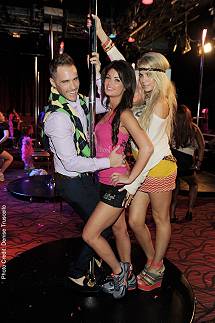 COMEDY MAGICIAN MAC KING GOES PINK FOR A CAUSE
Comedy-Magician Mac King has joined the fight against breast cancer during Breast Cancer Awareness Month. Throughout the month of October, guests donating $5 after the show receive two limited edition pink "Mac King & Susan G. Komen - Magic For a Cure" wristbands. Also for October, King is ditching his traditional yellow "Cloak of Invisibility" for a pink one.
HALLOWEEN MADNESS
Tryst Nightclub at Wynn will be transformed into a Haunted Haven for three nights of devilishness with guests encouraged to dress up, Oct. 27-30. Thursday is the "Cosmic Adventured" themed costume party with DJs Manufactured Superstars. Friday will be a "Fairytale Land" themed event with DJ Spider…how fitting. Saturday Angel Porrino from the reality series "Holly's World" and the Strip-side show "Absinthe" will host a sultry "Angels and Devils" themed party. For more information, visit www.trystlasvegas.com.
McFadden's Restaurant and Saloon at the Rio will be a party spot for a haunted Halloween weekend beginning Oct. 27 with "Scarefest: College Night" through Oct. 31 with a "Monster Monday." Thursday night will include a cash prize beer pong tournament along with an "Edward 40 Hands" contest. All partygoers with a scary costume will receive a free drink and the scariest costume will take home $250. Friday the best costume takes home $500. Saturday is "Boos and Booze" themed with best costume winner getting $1,000. For "Monster Monday," everyone wearing a costume will receive half off all wells and drafts from 10 p.m. to close.
The annual Haunted Harvest festival at the Springs Preserve is from 5 to 9 p.m. Oct. 14-16, 21-23 and 28-31. The family-friendly event features live entertainment, a haunted house, trick or treat stations, carnival games, Haunted Hayrides, results from the Scavenger Scarecrow Contest and much more; visit http://www.springspreserve.org/.
PBR Rock Bar & Grill at the Miracle Mile Shops at Planet Hollywood will host a two-day Halloween "Haunted Hoe-down" on Oct. 30 and 31. On Sunday, there will be a costume bull riding competition, and on Monday, a best costume contest. The top three winners for each competition will be appointed open bar tabs for $200, $100 and $50, respectively.
Column Continues Below Advertisement
CONTINUE ON TO...:


>THIS WEEK'S LAUGHLIN NEWS
>LAST WEEK'S LAS VEGAS NEWS
>VEGAS VIEWS FULL NEWS ARCHIVES
>Return to "Heard Around Town"
>Return to Las Vegas Leisure Guide