Due to popular demand, award-winning actress and singer Liza Minnelli will return to the 1,500-seat Luxor Theater, Nov. 23 -25. Originally slated for three Spotlight Series shows, Oct. 12 - 14, strong sales prompted Minnelli to add another weekend of performances. Her last concert performance in Las Vegas was more than eight years ago. Tickets are $90, $75 and $55, call 800-557-7428 or 702-262-4400.
Minnelli has won every major entertainment accolade including an Oscar, two Tony awards and an Emmy. When Minnelli received the Grammy Legend Award, she became part of a select group of performers who have won entertainment's top four awards. In addition, Minnelli has made notable public performances including the re-opening of the Statue of Liberty on July 4, 1986, and the 2001 New York Mets baseball game after the Sept. 11 attacks.

Column Continues Below Advertisement


The Comedy Festival (TCF), presented by HBO and AEG Live will return for the second year to Caesars Palace, Nov. 14 - 18. With TBS returning as title sponsor, this year's extravaganza has expanded from three days to five days, culminating with the return of "Comic Relief," starring founders Billy Crystal, Whoopi Goldberg and Robin Williams. The live three-hour event will be simulcast on HBO and TBS on Nov. 18 from The Colosseum.
TCF has announced its initial programming lineup. Highlights of the 2006 festival include: a special presentation of "Tourgasm" starring Dane Cook; a live version of MTV's "Nick Cannon Presents Wild 'N Out;" radio star Tom Joyner's "Oh, Oh, Oh, Comedy Show" featuring Mike Epps, Mo'Nique, Damon Wayans, and Katt Williams; perennial "D-list" celebrity comedienne Kathy Griffin; "Sex and The City's" Mario Cantone; the masters of edgy humor Dave Attell and Louis CK; an adults-only late night special hosted by Bob Saget; and a show by comedic legend Don Rickles.
TCF Village will open on Nov. 14 in the outdoor Roman Plaza amphitheatre at Caesars Palace and all events here will be free for five days. The Emperors Ballroom will be the site of this year's TCF Stand-Up Club. The Comedian Award will be presented to Chris Rock at 9 p.m. in the Palace Ballroom on Nov. 17. The event will feature a 60-minute Q&A with Rock and friends. For information, visit www.thecomedyfestival.com, call 702-866-1400 or 1-877-TCF-FEST (823-3378).
Three new venues have opened on the roof of The Palms' new Fantasy Tower, the Playboy Club, Moon Nightclub and a new Italian restaurant from the N9NE Group called Nove (or nine in Italian). The three venues are strategically stacked on top of each other and connected by escalators.
The Playboy Club isn't a new concept, in fact 22 of them previously operated in cities around the globe with the last closing in Manila 15 years ago. The new Playboy Club complete with bunny-clad ladies with the famous rabbit ears isn't a nightclub as much as it is a high-end gaming ultra lounge. Red leather walls coat the foyer and a diamond backed main bar inset with the infamous Playboy name greets patrons as they enter. The gaming tables and chairs are on hydraulics so they can be raised or lowered to a player's preference. Above the casino, four Philippe Starck designed Baccarat crystal chandeliers add a classic and elegant look. Along one wall are approximately 50 picture frames that are actually plasma screens flashing a Playboy archive of 20,000 pictures ranging from magazine covers, to pin up shots, to pictures of famous centerfolds.
Moon is a boutique 12,500-square-foot nightclub with lots of LED lights and a retractable roof that can open in 90 seconds. Each of the windows encircling the main room is covered in diamond-like beaded curtains so that the technical team can shoot images onto them. The club has created the city's first DL2 lighting systems, and features a whole laser and fog system.
Nove is also innovative and features numerous framed mirrors that reflect classic Italian pieces of art that can be changed electronically. Nove's wine cellar gets a technological boost appearing as a contained pixilated light wall blinking away in different patterns and paces.
Michael Johns and Terry Stokes combine their hypnotic powers to create nightly adult 9 p.m. "Hypnosis Gone Wild" adventures that will open at the new 200-seat Harmon Theater at KRAVE on Oct. 22. The two masters of hypnosis are alternate headliners and sometimes perform together as a two-man tag team. Hypnotist shows by definition are always different. Tickets are $39.95 and $49.95, call 702-836-0836.
Johns and Stokes are veteran showmen with more than five decades on stage. They have performed their fun brand of adult humor and hypnosis in several Las Vegas Strip venues with the most recent being the Stardust, which is closing at the end of the month.
Herman's Hermits starring Peter Noone will play their hits at the Cannery inside The Club in North Las Vegas on Saturday, Nov. 18. Tickets are $19.95, call 702-617-5585 or 866-287-4643.
At age 15, Noone from Manchester, England, achieved international fame as Herman, lead singer of the legendary '60s pop band Herman's Hermits. Their classic hits include "I'm Into Something Good," "Mrs. Brown, You've Got a Lovely Daughter," and "I'm Henry VIII, I Am." Ultimately the group sold more than 60 million recordings with 14 singles and seven albums going gold.
Jimmy Buffett saxophonist Amy Lee with the Jon Fratassio Trio will perform inside Club Tequila at Fiesta Rancho on Thursday, Oct. 19 at 7:30 p.m. Tickets are $14 in advance and $19 the day of the show, call 702-547-5300.
Lee began her career playing and arranging music in Charles Neville's jazz group Diversity for the New Orleans Jazz and Heritage Festival. She played with Neville and Diversity for six years while playing with music legend Jimmy Buffett. Lee became a member of Buffett's Coral Reefer Band in 1991. She left his band earlier this year and has put out her first CD filled with many styles of jazz.
While in town for the opening of the first new Playboy Club in 20 years at The Palms, the 80-year old Hugh Hefner was honored with a "celebrity star" at the entrance to the Brendan Theaters inside the hotel. The dedication was hosted by Robin Leach, who received his own star last year. Other inductees include Sylvester Stallone, TV "Superman" Dean Cain and Nicolas Cage.
The Las Vegas Walk of Stars recently honored Siegfried & Roy with a three-foot, sidewalk polished granite star placed in front of the statue of the two magicians at The Mirage, where the illusionists entertained for more than 13 years. Siegfried & Roy established box office records for the more than three decades they headlined in Las Vegas and their conservation efforts on behalf of the Royal White Tigers and White Lions have been heralded worldwide.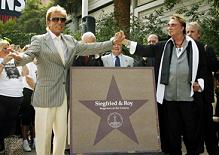 The International Food & Beverage Forum (IF&BF) recently honored Las Vegan and Certified Master Chef Gustav Mauler as "Restaurateur of the Year," at the annual Hall of Fame Gala Dinner. The native Austrian inductee is President and CEO of Gustav International, which owns Spiedini, Gustav's Catering and Gustav's Cigar Bar in the JW Marriott in Summerlin, and SAZIO in The Orleans. Prior to opening his own restaurants, this award-winning chef was Senior Vice President with Mirage Resorts. He has received certification as one of 54 Certified Master Chefs in the United States.
Andre Agassi and a superstar lineup of entertainers including Phil Collins, Michael Bublé, Counting Crows, Ellen DeGeneres, a special acoustic performance by John Mayer, Sarah McLachlan, Tears for Fears and Oleta Adams raised more than $8.6 million for children at the 11th Grand Slam for Children gala benefit at the MGM Grand Garden Arena.
Items at the pre-concert live auction included a 2007 Mercedes CL550, not yet available in the United States, and two Agassi rackets, the one he used to win his first tournament title and the racket he played with in his last match at the 2006 U.S. Open. After a bidding war, Stefanie Graf walked on stage and offered $360,000 to keep the rackets in the family; the auctioneer instantly closed the sale.
Due to demand, BODIES...The Exhibition, which showcases 21 whole-body specimens, and Titanic: The Artifact Exhibition with more than 300 deep sea artifacts, both at the Tropicana, will continue extended hours until 11 p.m. indefinitely. The last tickets are sold at 10 p.m. The exhibits are now offering a Speed Line Pass for an additional $10 that eliminates waiting in line. For information, call 702-739-2411.
Las Vegas Hilton headliner Barry Manilow will release "First & Farewell," his new double-DVD set on Oct. 31. One DVD features never-before-seen, footage from Manilow's inaugural tour rehearsal at Carroll's Studio in New York City in 1974. The second DVD captures the final concert of the historic "One Night Live! One Last Time!" farewell tour in 2004. Manilow will return to the Hilton stage on Nov. 8.
Elm Street's Freddy Kruger™, Crystal Lake's unstoppable monster Jason Voorhees™ and Leatherface™, his chainsaw toting sidekick from Texas, are three horror movie characters scaring guests at the new Chamber of Horrors, Live experience at Madame Tussauds. The characters are portrayed with special effects and live actors who create scare maze interactive experiences for guests walking through a number of themed environments.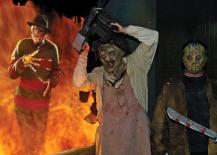 For the third straight Halloween, DJ "Rotten Rusty" Varney will be the gHost of "Scary-Okee," a karaoke party for guys and ghouls at the Imperial Palace that begins at 9 p.m. on Oct. 31. Admission is free and costumes are optional. Creepy cocktails for sale will include vampire kisses, floating eyeballs, zombies, purple people eaters and a shooter called a brain hemorrhage.
The District at Green Valley Ranch in Henderson will host a weekend "Festival of the Arts & Fall Harvest Fest" on Oct. 21, from 10 a.m. to 6 p.m., and Oct. 22 until 5 p.m. The event, which is free and open to the public and dog friendly, will feature a variety of artists displaying and selling their works, along with live musical entertainment and special activities for children.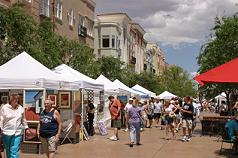 Concurrently, the Fall Harvest Fest at The District expansion will feature a variety of family- and youth-oriented activities including a mini farmer's market presented by Whole Foods Market. For information, call 702-564-8595.
Baseball legend Pete Rose is making appearances and meeting fans at the Forum Shops at Caesars from noon-6 p.m., Oct. 19-23 and 27-30. His signings take place near the fountains closest to the Field of Dreams sports memorabilia store, where the "apology ball" that he signs with "I'm sorry I bet on baseball" is available for $299. After the "New York Daily News" ran an article on the apology balls, Field of Dreams sold more than 350 baseballs in a single day.
A collection of 32 gold nuggets including the largest one at 21.61 troy ounces, which have been on display at the Golden Nugget since October 1979, is going to be auctioned off in Los Angeles on Dec. 3.
A couple nights after Clint Holmes closed his long-running show at Harrah's, Jaki Baskow and her talent agency hosted a party honoring him at the Casa De Amore restaurant. The celeb turnout included Mary Wilson, Frankie Randall, Cook E. Jarr, Freddie Bell, Mac King, Lance Burton, Gordie Brown, Steve Rossi, Frankie and Chrissi Scinta, Kelly Clinton, The Las Vegas Tenors, Michaelina Bellamy, and the Bobby Morris Jazz Band performing.
DOPE MCs are now performing every Wednesday at 9 p.m. on the House of Blues Courtyard stage. They have a loosely-scripted comedy show about a quartet of wannabe rappers who want to become hip-hop stars. DOPE MCs showcases old-school rap classics in a spoof of 1980s hip-hop. Admission is free, all-ages welcome. For information, call 702-632-7600.
The Hard Rock will present Damian "Jr. Gong" Marley at the Joint as part of the Vegoose at Night series on Friday, Oct. 27 at 11 p.m. The youngest of the Marley sons, he was only two when his legendary father, Bob Marley, died, has been a staple in reggae music for more than 10 years. Tickets are $37.50, call 702-693-5583.
Viaggio Italian Cuisine located on South Eastern Avenue is now presenting weekly Jazz Night every Saturday featuring different artists in the restaurant's upstairs Wine Room from 7 - 11 p.m.
CONTINUE ON TO...:
>THIS WEEK'S LAUGHLIN SEGMENT
>LAST WEEK'S LAS VEGAS SEGMENT
>VEGAS VIEWS FULL ARCHIVES
>Return to "Heard Around Town"
>Return to Las Vegas Leisure Guide