MEXICAN RESTAURANT JAVIER'S OPENS AT ARIA!

Southern California Mexican restaurant Javier's is now open at Aria with dishes derived from generations of co-founder Javier Sosa's family recipes. The 9,000-square-foot restaurant features a circular main bar, intimate lounge and two expansive dining rooms seating 280 guests. There's also a private dining room seating 20 with shimmering tile walls, agave-leaf-inspired chandeliers and hand-carved wooden ceiling ornaments.

Javier's offers lunch from 11:30 a.m. to 4 p.m. and dinner service until 2 a.m. The lounge and bar offers a full menu and transforms into a late-night experience at 11 p.m. Authentic Cuban and Spanish music adds to the experience.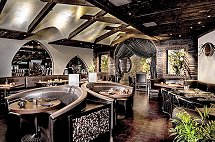 Javier's has a rich dramatic ambiance. A lounge is adorned in 4,000 metal decorative nail heads called "clavos" and accented by plush furnishings. Each culturally inspired decoration and piece of furniture was custom-made for the ARIA location, including reclaimed vintage belts adorning window and doorframes.
Over the main bar, hundreds of rope strands form an intricate canopy and floor-to-ceiling centerpiece. The vintage-roulette-inspired metal bar is topped with African Ziricote wood. Embedded in the bar are phone-charging hubs.
The artistic anchor is the world's largest piece of chainsaw art, spanning 25 feet and weighing 3,000 pounds, carved by artist J. Chester Armstrong. Conceived by Dodd Mitchell Design, the intricate work features five 5 x 10-foot panels illustrating the Mayan Creation myth blended with modern Mexican history.
Column Continues Below Advertisement
'SPANK! THE FIFTY SHADES PARODY' DEBUTS AT RIO
"SPANK! The Fifty Shades Parody" will make its Las Vegas debut at the Rio in the Crown Theater, Nov. 1-10. The new original show is a musical parody of "Fifty Shades of Grey," the risqué novel, which recently surpassed "Harry Potter" to become the fastest-selling paperback of all time. Tickets are $39 and $49 for the 10 p.m. shows.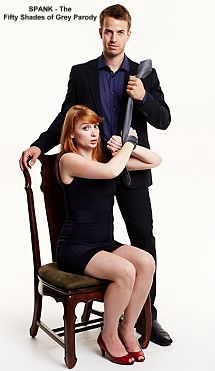 The show is written and directed by Jim Milan, whose credits include "The Kids in the Hall," "Larry King Standing Up," "Marijuanalogues with Tommy Chong" and "Mythbusters Live."
THE NEON MUSEUM HOSTS 'FIRST NIGHT' PARTY
The Neon Museum will host "First Night," a Vintage Vegas- themed costume party on Friday, Oct. 26, from 7 – 11 p.m. Guests will be able to take a sneak preview tour of the museum's newly designed Neon Boneyard, a nearly two-acre outdoor exhibition space showcasing Las Vegas' iconic signs.
There will also be food and cocktails, including a signature "Neontini," and live music by Thee Swank Bastards. Tickets are $75.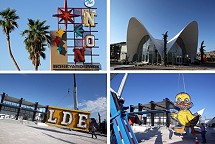 Special lighting has recently been added to the Neon Boneyard, allowing the rescued signs to be illuminated even though they are not restored or electrified.
The Neon Museum will officially open to the public on Saturday, Oct. 27. Tours will last approximately one hour and be available every half hour starting at 10 a.m., Monday through Saturday. Tickets are $18 for adults; $12 for students, senior citizens, veterans and Nevada residents.
ANGEL PORRINO GUEST STARS AS BO PEEP IN 'PEEPSHOW'
Local starlet, co-star in E!'s "Holly's World" and featured "Absinthe" performer Angel Porrino, will be the guest star in the role of "Bo Peep" from Oct. 22-Dec. 2, at Planet Hollywood. Porrino will fill in until the new headliner Coco Austin from E!'s, "Ice Loves Coco" takes over the lead role on Dec. 3.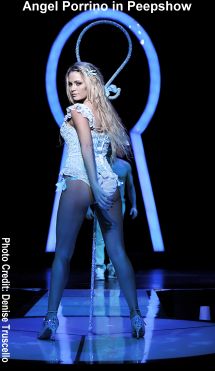 SETH GRABEL'S 'VARIETY MAGIC' BEGINS RUN AT THE CLARION
Featured on NBC's "America's Got Talent," Seth Grabel is performing his show "Variety Magic" in the Wolf Theater at the Clarion Thursdays through Saturdays at 6 p.m. Grabel's magic world creates "Acromagic," which fuses magic, acrobatics and comedy. Tickets are available from $39.95.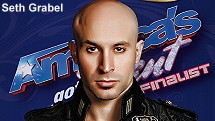 'SHADES OF TEMPTATION' OPENS AT NEW YORK-NEW YORK
New York-New York has opened "Shades of Temptation," an erotic show at The Broadway Theater. The show is Tuesday – Sunday at 10:30 p.m. Produced by David King for Spirit Productions, the show transports audiences to a world of pleasure. The glamourous cast includes American Idol vocalist David Hernandez. Tickets start at $49.95
NEVADA'S LARGEST SHOOTING FACILITY RANGE 702 OPENS
Nevada's largest indoor shooting facility Range 702 opened this month with a "ribbon shooting." Range 702 has 25 shooting lanes with some offering a variety of plasma moving video target options. The facility also includes a spacious retail center store with guns, accessories, clothing and ammunition and a full line of guns to rent and use. Range 702 will offer training classes, gunsmithing services, repairs and custom enhancements.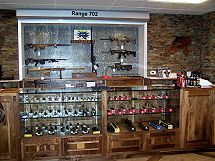 An exclusive feature is Gary's restaurant that is open to the public. Another non-traditional highlight is a private VIP room with seven private lanes, leather furniture, a pool table, darts, big screen TVs and a bar-like counter area. The VIP room can be rented and even has a separate outside private entrance. Range 702 is open daily from 9 a.m. – 9 p.m. and located at 4699 Dean Martin Drive.
KYLE MARLETT IS TAHITI VILLAGE'S FIRST RESIDENT HEADLINER
Comedian and magician Kyle Marlett is the Tahiti Village's first resident headliner inside Tahiti Joe's. Marlett "The Original Nerd of Magic" is performing his family show "It's Tricky" every Thursday and Friday at 9 p.m. and the adults-only "Kyle Unleashed" every Saturday at 10 p.m. Tickets begin at $39.99.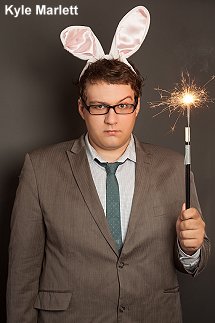 Marlett has made several appearances on "The Tonight Show with Jay Leno." A Tahiti Joe's $75 dinner package includes two show tickets, two dinners and Joe's Volcano specialty drink in a souvenir cup. Tickets are at the concierge desk.
BLUE MAN GROUP LAUNCHED NEW SHOW AT MONTE CARLO
Blue Man Group partnered with Red Bull Air Force and skydived 7,000 feet to land in front of their new home at Monte Carlo on opening day of their first new production in 20 years.
Each day, 45 minutes prior to the first show, a parade fills the casino as Blue Man Group launches a Percussipede, a musical centipede of percussion instruments, musicians, robots and puppets co-created with world-renowned 3-D designer Michael Curry. The experience includes the introduction of Kukas, humorous assembly-line robots, a sassy humanoid Showbot, as well as an exploration of the human brain through the Brain Drum. There is also a set of giant Smoke Drums that emit mystical, ethereal smoke rings out and a Neuronulum, a newly crafted pipe-instrument worn by the Blue Men.
AMAZING JOHNATHAN DEBUTS THE SCREAMONT EXPERIMENT
The Amazing Johnathan's SCREAMont Experiment, an interactive walk-through attraction at the Las Vegas Club downtown has opened and may even be permanent. For now, it is open through Oct. 31 from 6 p.m. to 2 a.m. Tickets are $20 and $30 for VIP.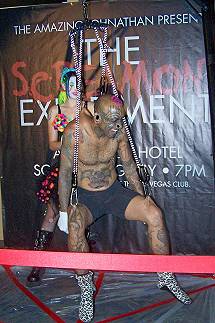 This is the headlining comedy-magician's first-ever Halloween event for the public. It's a multi-level haunted hotel featuring 35,000 square-feet of themed rooms, optical illusions and special effects.
JABBAWOCKEEZ FEATURES STAGE PAINTER DAVID GARIBALDI
Jabbawockeez is adding a new visual arts element to its show "MÜS.I.C." at Monte Carlo by featuring famed performance painter David Garibaldi in select October shows: Oct. 21 – 23 and 28-30 at 7 p.m., and Oct. 25-26 at 9:30 p.m. Garibaldi's music-driven art was witnesses on the seventh season of "America's Got Talent." Jabbawockeez debuted at Monte Carlo in 2010 and will close on Tuesday, Oct. 30. The dance crew will debut an all-new production at the Luxor next spring.
TOP OF NEXT COLUMN
EAST COAST FLAVA TOUR VISITS PLANET HOLLYWOOD
East Coast Flava, featuring Salt-N-Pepa, Doug E. Fresh, Rob Base, Slick Rick, Furious 5 with Grandmasters Melle Mel + Scorpio, DJ Kool, The Sugar Hill Gang, Kurtis Blow and Black Sheep, will perform at PH Live at Planet Hollywood on Saturday, Nov. 17, at 8 p.m. Tickets range from $45 to $95.
ENTERTAINMENT SNIPPETS
The Lynyrd Skynyrd BBQ & Beer restaurant and its sister establishment, American Burger Works, both at the Excalibur, have closed after having opened just last year.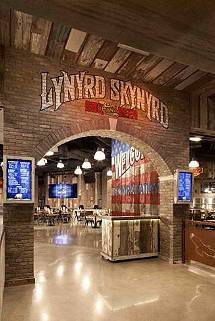 "Bite," the long-running vampire musical that recently lost its position as a late night headlining production at the Stratosphere for years looks to be opening in early November at the Plaza downtown.
Reminder Garth Brooks final shows at Wynn will be Oct. 26-27 and Nov. 16-17.
Cee Lo Green from "The Voice" stopped by for a tour of the Cleveland Clinic Lou Ruvo Center for Brain Health to get a closer look at the work being done and met with Larry Ruvo, founder of Keep Memory Alive. Cee Lo performed a special concert with friends at Planet Hollywood on Oct. 10 to raise money for the cause.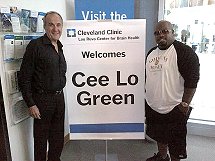 Jerry Lewis will be performing at the Orleans on Sunday, Nov. 18, for "An Evening with Jerry Lewis - Live from Las Vegas!" PBS special at 8 p.m.
Hip hop artist Kendrick Lamar will perform at the Hard Rock Cafe on the Strip Friday, Oct. 19, with special guests Ab Soul and Jay Rock. Tickets are $29.50 and $34 day of show.
The wax figure of Madonna flanked by Roman gladiators, inspired by her 2012 Super Bowl performance, has been unveiled at Madame Tussauds at the Venetian.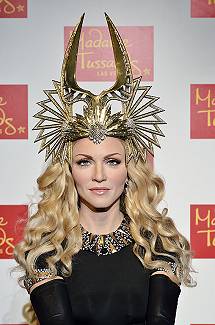 SILVERTON HOSTS SECOND ASIAN FOOD FESTIVAL
The second Asian Food Festival will bring Asian cuisine, beverages and entertainment to the Silverton from noon to midnight on Saturday, Oct. 20, and from noon to 10 p.m. on Sunday, Oct. 21. Sponsored by Lee's Discount Liquor and McDonald's of Greater Las Vegas and produced by Red Dragon Events & Promotions, this year's event is expected to exceed last year's attendance of 20,000 guests.
More than 25 authentic Asian restaurants will be represented along with several food trucks and a beer garden with an array of spirits including beer, sake, wine and cocktails. There will be music, cultural performances, carnival rides, and games and special guest celebrities.
MARQUEE HOLDS OFFICIAL GLAAD #SPIRITDAY PARTY
Marquee Cares, the charitable arm of Marquee Nightclub & Dayclub, will present the official GLAAD #spiritday Party at the Cosmopolitan. The nightclub will paint the town purple while speaking out against bullying and showing support for LGBT youth. The charitable bash on Friday, Oct. 19, will be hosted by NHL Legend Sean Avery and international DJ Dirty South.
In partnership with GLAAD and Flip the Script, Marquee will also honor the day and go purple in union with the entire Las Vegas Strip. Guests wearing purple will be able to party starting at 9:30 p.m. for a cause with free admission and an open bar before midnight.
CHOCOLATE AND WINE LOVER'S EXPERIENCE
The Chocolate and Wine Lover's Experience will be on Saturday, Oct. 20, at 1 p.m. at Bouchon Las Vegas. This chocolate and wine sensory journey will be hosted by Chef Les Kincaid from Wines Du Jour, chocolatier Kara Meyers from Vosges Haut-Chocolat, and Pastry Chef Scott Wheatfill from Bouchon located in the Venezia Tower at the Venetian. The cost is just $65 per person or $125 per couple.
EVENT NEWS ITEMS
The Downtown Brew Festival presented by Motley Brews and Ballast Point Brewing Company will be held at the Clark County Amphitheater on Saturday, Oct. 20, from 2 to 6 p.m. More than 40 local and regional breweries will feature more than 150 craft beers. Tickets range from $32 to $52. Tribal Seeds will provide entertainment along with opening band Kava Kreation.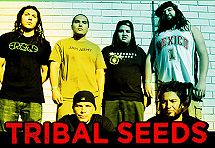 The El Cortez will toast legendary casino owner Jackie Gaughan on his 92nd birthday with a champagne and cake celebration at the property on Wednesday, Oct. 24, from noon to 6 p.m. Guests may also sign a birthday card.
Easter Seals Nevada will host the second "Cheers to Chocolate" on Saturday, Oct. 20, from 7-9 p.m. It's a luxurious wine and chocolate tasting at Tivoli Village. Entertainment will be Phat Pack, the singing trio who were former "Phantom-The Las Vegas Spectacular" cast members.
Master-planned community Mountain's Edge will host the free Family, Fur & Fun Festival on Saturday, Oct. 20. The annual event promotes kindness and humane treatment to animals with a variety of activities, booths and exhibits from 10 a.m. to 3 p.m.
CSI: The Experience at MGM Grand will support the Third Annual Spirit Day on Oct. 19 by offering a special 2-for-1 discount on general admission tickets to guests clad in Spirit Day purple.
Now through Oct. 31, the Las Vegas Ski & Snowboard Resort, which is celebrating its 50th anniversary this season and is scheduled to open Nov. 23, is offering season pass discounts passes, visit at www.skilasvegas.com.
Co-Chef/Owners Mary Sue Milliken and Susan Feniger of Bravo's "Top Chef Masters" will celebrate National Food Day on Oct. 24 with a variety of healthy and sustainable options at their restaurants. At Border Grill in Mandalay Bay, they have a two-course lunch for $20 and dinner for $25.
Playmate Miss February 2010, Heather Rae Young, and Playboy Cyber Girl, Chelsea Ryan, will both host Crazy Horse III's "Blondetourage" bash on Saturday, Nov. 10. Young is a former girlfriend of Hef and a past Affliction Clothing model.

HYDE BELLAGIO PARTIES WITH A NEON CIRCUS
XIV Vegas Sessions debuted at Hyde Bellagio in January 2012 and is the brainchild of those behind XIV Summer Sessions in Los Angeles. On Sunday, Oct. 21, Hyde Bellagio's XIV Vegas Sessions will whisk guests to a fantasyland under the Big Top for a Neon Circus starting at 5 p.m.
Clubgoers are invited to don casual fun neon attire and dance the night away. They will be able to pose for photos in the lion cage as cocktails are delivered by servers outfitted in bright stripes, ruffles and top hats. The epic party will be just in time to celebrate the birthday of its creator – the Ringmaster Mio Danilovic. There will be signature champagne showers, bright lights and beats by DJ Nathan Scott.
'SMASH MAGAZINE' PRESENTS ROOTS REGGAE UPRISING
"Smash Magazine" will present Roots Reggae Uprising featuring Tribal Seeds, along with special guests Fortunate Youth, ForTwentyDaze, HaleAmanO, One Pin Short and more on Saturday, Oct. 20, at the Henderson Events Plaza. Gates open at 4 p.m. Tickets are $17 in advance, $21 day of show.
HARVEST FOR HOPE FUNDRAISER OFFERS FAMILY FUN
Communities In Schools of Nevada (CISN) will host the family-friendly Harvest For Hope affair on Oct. 19 from 5-9 p.m. at World Market Center, Pavilion 3. The success of the inaugural Scarecrow Festival last October has allowed CISN to evolve the family event into an autumn soiree under a new name, Harvest For Hope. The evening will be highlighted by a tastings prepared by The Cosmopolitan's diverse assembly of restaurants. There will be activities and games galore and a live auction component. Tickets are $175 for adults and $5l0 for kids, call 702-770-7611.
MARQUEE CARES HOLDS BARQUEE FUNDRAISER FOR ANIMAL SHELTER
Marquee Cares will host Barquee at Marquee Dayclub at the Cosmopolitan on Thursday, Oct. 18, from 6-8 p.m. to celebrate the five year anniversary of Noah's Animal House that provides safety, shelter and assistance for pets. The roof deck experience will cater to both guests and their dogs weighing 25 pounds or less. The outdoor mixer will feature complimentary margaritas for the first hour, a doggie open bar with treats and refreshments, gift bags and giveaways with goodies from local pet businesses. Barquee is a free event and will offer many chances for guests to donate.
SPECIAL DINING OFFERS
Rice & Company at the Luxor will celebrate National Sushi Day on Thursday, Nov. 1, with a month-long prix-fixe $38 four-course menu, and guests can add a sake pairing for each course for $12.
Ranch House Kitchen at Town Square will support veterans with a 20 percent discount off their total dining bill on Sunday, Nov. 11.
During October, Strip House at Planet Hollywood is helping to fight breast cancer. While dining there, guests ending dinner by having a $10 Pink Velvet Chocolate Torte will have a portion of the proceeds benefit the cause.
SEÑOR FROG'S HOSTS COLLEGE FIESTA THURSDAYS
College students can now enjoy a fiesta at Señor Frog's restaurant and party bar at Treasure Island every Thursday night from 9 p.m. to midnight. College night offers: $1 shots; $2 domestic draft beers and tequila shots; $3 signature margaritas; $4 Frog's Punch; and $5 Absolut vodka mixed drinks. In addition, the party bar will feature beer pong, flip cup, conga lines, crazy contests and DJs spinning music.
Column Continues Below Advertisement
CONTINUE ON TO...:

THIS WEEK'S >LAUGHLIN NEWS
LAST WEEK'S >LAS VEGAS NEWS
>VEGAS VIEW FULL NEWS ARCHIVES
Return to >"Heard Around Town"
Return to >Las Vegas Leisure Guide