ROCK IN RIO USA IS READY TO ROCK LAS VEGAS!

Rock in Rio, the legendary music festival ready to rock Las Vegas May 8-9 and 15-16, 2015, is making its first impact by installing a 27-foot-tall custom guitar at McCarran International Airport next to the Arrivals area.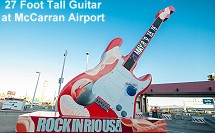 Rock in Rio recently took over Times Square when more than 75,000 people gathered on the streets to watch the surprise performances by Sepultura with Tambours du Bronx and John Mayer while more than 50 electronic billboards were showing the festival's brand. In addition, the organization announced Metallica, Linkin Park, Taylor Swift and No Doubt will take the Main Stage and Deftones and John Legend will perform on the Sunset Stage. For information, visit www.RockinRio.com.
Column Continues Below Advertisement
ROCK IN RIO USA WILL HOST FIVE WEDDINGS PER DAY
Rock in Rio will host five weddings per day during the mega event. Chosen couples will be married at the Rock in Rio Chapel as part of the festival's Rock Street experience at an unprecedented location on the Strip. Couples can submit their love story at marryme@rockinrio.com to be considered for one of the limited free ceremonies. This is the first time the festival will have a real wedding chapel.
The theme of love has run through multiple editions of the international festival, with the first wedding taking place at Rock in Rio Brazil in 2011 at the request of one lucky couple. Rock in Rio has been attended by more than 7.4 million and has showcased more than 1,270 artists in the 14 editions of the festival.
MAGICIAN DIRK ARTHUR OPENS NEW SHOW WITH CATS AT THE RIVIERA
Master Magician Dirk Arthur will return to the Las Vegas Strip with a new show, "Dirk Arthur's Wild Illusions!" In his show, big cat magic is interwoven with comedy, beautiful dancers and large-scale effects. Arthur's show is set to open at the Starlite Theatre inside the Riviera on Monday, Dec. 1. It will run Saturday through Thursday at 7 p.m. Tickets go on sale Oct. 18 at 10 a.m. and will be $40, $55 and $80; call 800-634-3420 or 702-794-9525.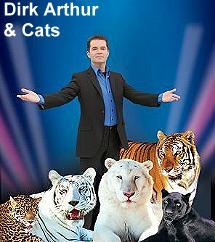 Arthur is a leading advocate of preserving endangered species and for the humane and proper care of all animals of the world. To that end, 100 percent of the proceeds from merchandise sales at his show will be donated to various animal care and conservation programs, animal sanctuaries and developing educational programs in schools to create awareness for endangered animal preservation.
CRAVE AMERICAN KITCHEN & SUSHI BAR OPENS IN DOWNTOWN SUMMERLIN
CRAVE American Kitchen & Sushi Bar has opened in the new Downtown Summerlin serving lunch and dinner with American cuisine and modern sushi. This is CRAVE's ninth nationwide location and the first in the West.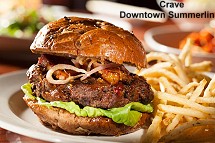 Décor is a tapestry of bright reds and rich golds with gold tiles surrounding the open kitchen area. Four hand-blown light fixtures created exclusively for CRAVE by Andrew Brat are scattered throughout the dining area. A stunning six-foot chandelier, also designed by Brat, hangs in the entryway to greet guests. The patio overlooks Downtown Summerlin's open square area, where guests can enjoy the sounds of the water fountain by day and watch the flames of the fire pit by night.
'GEORGIA ON MY MIND' CLOSES AT THE VENETIAN
"Georgia on My Mind - Celebrating the Music of Ray Charles" at the Venetian is closing Wednesday, Oct. 15, which is sooner than expected since the limited engagement was supposed to run through Oct. 29. The show premiered on Sept.18.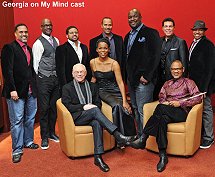 The show starring Clint Holmes, Nnenna Frelon, Take Six, sax great Kirk Whalum and backed by an all-star band directed by David Loeb is still going to tour as planned, moving to Miami on Nov. 7 and opening the Disney Center in Orlando on Nov. 20. Holmes will return to his regular residency at Cabaret Jazz in The Smith Center Dec. 5-7.
THE LINQ CELEBRATES OCTOBER WITH SPECIAL EVENTS
The LINQ Promenade is celebrating the entire month of October with special programming, festivals, weekly offers and a grand Halloween party with a $10,000 costume contest.
Weekly on Tuesday night starting at 9:30 p.m. is The LINQ BLOQ Party at the Fountain Stage. Mid-week is Wine Walk Wednesday with samplings and live music at the Blvd. Cocktail Company from 6-8 p.m.
The Las Vegas Foodie Fest will be held Oct. 15-19 with more than 50 of the nation's top food trucks and food vendors including White Castle along with carnival rides, games, eating competitions and a silent auction. Admission is $12 and VIP Tent tickets are $50.
From Oct. 24-31, The LINQ Promenade will be the place to celebrate the ghoul season with a decorated promenade and Halloween Trick or Treat bags distributed to children under the age of 17 at the High Roller. On Oct. 30 and 31, family night will be from 6 to 9 p.m. with candy being passed out from The LINQ retailers. Starting at 9 p.m. on Friday, Oct. 31, the night will transition to a grown-themed celebration with Silent Disco at The LINQ Fountain Stage and a costume contest for guests 21 years of age and older competing for a grand $10,000 prize.
On Oct. 30, The Quad will officially become The LINQ Hotel & Casino, with the first guests experiencing the new resort boasting 2,256 rooms including 204 suites along with 29 cabana suites with private access to the all-new pool area. The standard room will feature a fresh, modern design with floor to ceiling windows, boasting views of the iconic Las Vegas Strip or High Roller. The centerpiece of the room will be three distinct accent wall murals featuring stylized interpretations of vintage Las Vegas glamour. The all new lobby bar experience will embrace a unique beverage program with wines on tap, and table games.
WORLD FOOD CHAMPIONSHIPS WILL INVADE DOWNTOWN, NOV. 12-18
The third annual World Food Championships (WFC) will take place in downtown Las Vegas, Nov. 12-18. WFC will invite the champions from the biggest and best food competitions around the world to compete against each other. Following a tournament-style format across multiple food categories, the WFC will culminate with a Final Table faceoff on Sunday, Nov. 18 from 3-6 p.m. with category champions facing potential elimination in front of a live audience.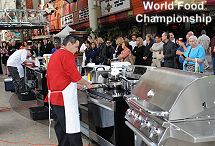 NEVADA BALLET - CIRQUE PRESENT 'A CHOREOGRAPHERS' SHOWCASE'
Nevada Ballet Theatre (NBT)and Cirque du Soleil® will again join forces to present the highly creative and collaborative 7th annual "A Choreographers' Showcase" featuring more than 60 local artists from both companies performing 11 original works on Sunday, Oct. 26 at 1 p.m. and Sunday, Nov. 2 at 1 p.m. at the Mystère Theatre at Treasure Island. Tickets are $25 and $45, call the Mystère Theatre Box Office at 702-894-7722 or go online at www.nevadaballet.org.
The NBT fundraiser is designed as a project to stimulate and encourage artistic growth. This year, artists were encouraged to incorporate more of an acrobatic element. Each artist is responsible for all of the artistic elements of their piece – from choreography, to costumes, to lighting and sound.
FREE AFTERNOON OF 'OPERANTICS' BEING HELD IN LORENZI PARK
The city of Las Vegas will present "OperAntics," a comical concert of operatic favorites and mischief performed by the Sin City Opera Company, Saturday, Nov. 1 at 2 p.m. in the outdoor Sammy Davis Jr. Festival Plaza located in Lorenzi Park. The free 90-minute, family-friendly concert presents the lighter side of opera in an unconventional way. The concert will be performed primarily in English, with a few pieces in their original languages, all by top operatic talent from the Las Vegas valley. To be comfortable in the outdoor amphitheatre, bring lawn chairs or blankets.
BARBRA STREISAND TRIBUTE ARTIST ADDED TO 'LEGENDS IN CONCERT'
"Legends in Concert" at the Flamingo has introduced Sharon Owens honoring the legendary Barbra Streisand through the end of the year with her uncanny resemblance and vocal range of three full octaves. Owens found success after winning FOX TV's "Performing As…" reality competition show. Owens has been featured as the legendary singer in "Entertainment Tonight," "Access Hollywood," "Extra" and in "People" Magazine.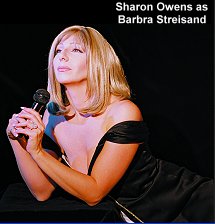 Owens joining "Legends in Concert" comes as Streisand just released her 34th, best-selling studio album, "Partners" featuring 12 duets with popular chart-topping singers. Billboard reports the album will reach the Top 200 and make Streisand the only person in history to have a No. 1 album in six different decades.
The current Legends' lineup includes tributes to Elvis, Britney Spears, Bobby Darin and Michael Jackson.
WEDNESDAYS DOWNTOWN RETURNS TO FREMONT EAST
Wednesdays Downtown will occupy the Fremont East Entertainment District every week from 6 p.m. to midnight through Oct. 29 between Las Vegas Blvd. and 7th St., which will be closed. The weekly event is bringing local businesses together to transform the area into a festive block party featuring a Food Truck Village, Painters Lounge, Downtown Dirty Bar Fight, the "World's Greatest Happy Hour by Coors," live entertainment, a silent disco and more.
TOP OF NEXT COLUMN
SHORT NEW ITEMS
Las Vegas native and R&B artist, Ne-Yo, will party the night away at Chateau Nightclub & Rooftop to celebrate his 32nd birthday on Saturday, Oct. 18. Admission to the birthday celebration is $30 for ladies and $40 for gentlemen.
Shaggy Chic, the luxury, natural and eco-friendly dog salon and boutique at Tivoli Village, has expanded its retail offerings to an outlet in Downtown Summerlin.
The Forum Shops at Caesars is one of four nationwide locations releasing an exclusive SHOES FIRST™ Shopping Guide spotlighting the season's hottest heels, boot and flats. The portable print booklet is available at Guest Services and consumers nationwide are invited to visit simon.com to view a digital copy.
Miss USA Nia Sanchez, Nevada's very first Miss USA, recently judged the Chateau Nightclub's first Miss Chateau pageant. The late-night competition was held on the club's Rooftop with 25-year-old Brittany McGowan being crowned. She will represent the nightclub in the Miss Nevada USA pageant on Sunday, Nov. 23 with the club sponsoring her entry fee valued at $1,000.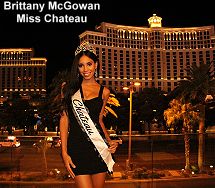 In honor of Breast Cancer Awareness Month, Señor Frog's Las Vegas at Treasure Island is donating $1 of the profits from sales of their specialty $13 "Tickled Pink" Martini to Smiles for Survivors Foundation, a Las Vegas-based charity that supports local breast cancer patients and survivors.
MINUS5 ICE BAR HONORS 'PANDA!' WITH PANDA!RITA COCKTAIL
Minus5 Ice Bar, honestly the coolest bar in Las Vegas, continued their celebrity cocktail program by honoring "PANDA!," the first ever Chinese production to take up a Las Vegas Residency, with a new signature cocktail – the "PANDA!rita. Two principal characters from the show at The Palazzo, LongLong the Panda and the Peacock Princess, shared the cocktail at the ice bar inside Monte Carlo.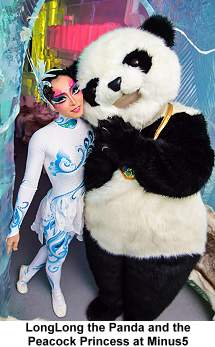 Some other celebrity cocktails include: Holly Madison's - Holly Mad-ICE-on; Carrot Top's - Heat Miser; Human Nature's - Inhumane Nature; Laura Croft's - Hypnoti-School Girl; FANTASY's - Fant-ICE-see; Frankie Moreno's - Crown and Coke-o-nut; Terry Fator's - Darth Fator; and Veronic's - Très Chic with Véronic.
FREAKLING BROS. BRINGS BACK THE VICTIM EXPERIENCE ON OCT. 24
Due to overwhelming demand, Freakling Bros. haunted attraction has The Victim Experience returning this month after it originally debuted in October 2013. The Victim Experience will run Oct. 2-26 and Oct. 31 at the Grand Canyon Shopping Center at 4245 S. Grand Canyon Drive.
For The Victim Experience, you're not the voyeur. You are the victim. Things happen to you. It's a twisted, masochistic and utterly hellish experience for a special kind of thrill seeker. The experience includes safety training, orientation, a decompression period with complimentary drinks and a special edition "Survivor" shirt for those who make it through. Tickets online only at www.victimexperience.com are $120 and $150 on Halloween night.
Freakling Bros. also operates The Trilogy of Terror from 7 p.m. to midnight on Fridays and Saturdays and from 7 p.m. to 11 p.m. Sunday–Thursday. Tickets are $12 for "Circus of Horrors" and "Castle Vampyre" and $15 for "Gates of Hell." Line-pass t-shirts are available for $10 and are valid all month.
'JABBAWOCKEEZ' CELEBRATES HALLOWEEN WITH MATINEE SHOW
Dance crew Jabbawockeez will celebrate Halloween with a special 4 p.m. matinee performance of "PRiSM" on Friday, Oct. 31 and treat locals to a "buy one, get one free" ticket offer for that day at the Luxor. Complimentary candy will be provided to guests who attend the show in costume and Jabbawockeez t-shirts will be awarded to best costumes. Note, masks or facial coverings may only be worn inside the showroom and not in the casino.
GHOSTBAR AT PALMS HOLDS TWO HALLOWEEN COSTUME PARTIES
More than $25,000 in cash and prizes will be given away at two spooktacular Halloween costume parties sponsored by Red Bull at the Ghostbar inside the Palms on Friday, Oct. 31 and Saturday, Nov. 1.
On Friday, the "Night of the Killer Costumes" event is at 10 p.m. with the first place prize being $5,000 cash and a lavish one-story sky villa for one night. Second place is $5,000 in cash plus VIP bottle service at the Ghostbar, and third is $1,500 in cash and VIP bottle service.
On Saturday, the "Day of the Killer Costumes" party is at 1 p.m. at the Ghostbar Dayclub. First place is $3,000 and second $2000 cash. Admission is free to local ladies and costumed partygoers and $10 for the rest.
NEON MUSEUM HOLDS BONEYARD BASH
The Neon Museum will hold its Boneyard Bash Friday, Oct. 31 from 7-10 p.m. The theme this year is circus sideshow with attendees encouraged to dress the part. There will be live entertainment, appearance by the cast of "Evil Dead," food trucks, free beer, wine and signature cocktail while supplies last, and a cash bar. There will be souvenir photos, specialty acts, midway games, tarot card readers and spirited Halloween revelers. Tickets are $40 for museum members, $45 for non-members and $55 at the door.
Following the Boneyard Bash, ticket holders can head to the after party at Velveteen Rabbit for a "spooky" makeup application.
COMMONWEALTH THROWS 'MONSTERS BALL' HALLOWEEN CELEBRATION
Commonwealth located in the revitalized Fremont East District of Downtown Las Vegas will host "Monsters Ball," a Halloween-themed bash on Friday, Oct. 31, starting at 7 p.m. The festive celebration will feature specialty themed cocktails such as The Ghoul Digger, Witches Brew, Poison Apple and Vamp Tramp.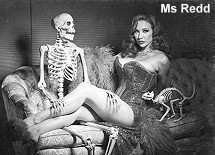 Burlesque performer Ms. Redd will headline a sequence of sexy burlesque performances starting at 10 p.m. Local burlesque master Aya Fontaine and Zosa Pistola will also perform.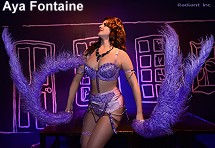 Halloween costumes are encouraged with $1,000 being offered for best overall costume, $500 for the sexiest costume, and $500 for the scariest costume.
SHERI'S RANCH THROWS ANNUAL ADULT HALLOWEEN BASH
Sheri's Ranch in Pahrump, Nev., 60 miles west of Las Vegas, is throwing its annual Adult Halloween Party Saturday, Oct. 18 at 8 p.m. DJ Kass from Las Vegas' LAX and PURE nightclubs will keep the beats moving, and partygoers will enjoy all-night drink specials and free food. The cover charge for Bash is $10 with proceeds going to charity, benefiting Pahrump's Senior Center. Ladies are encouraged to dress creatively land scantily for a chance to win the $1,000 cash first prize for Best Costume.
VENETIAN/PALAZZO RECEIVE MLT VACATIONS QUALITY ASSURANCE AWARD
The Venetian and The Palazzo received the 2014 MLT Vacations Quality Assurance Award recognizing qualifying hotels in Europe, Mexico, the Caribbean, Latin America, and the United States at MLT University in Minneapolis, Minn. Data was gathered from hundreds of thousands of customers who traveled with MLT Vacations, which is the official tour operator for Delta Vacations. The award is earned by partners that achieve a 99 percent customer satisfaction index and product delivery performance during the preceding six months. Out of the more than 4,000 hotel, destination management company, and car rental partners offered by MLT Vacations globally, an elite group of 275 hotels earned the recognition.
GRIMALDI'S PIZZERIA OFFERS GIFT CARD SPECIALS FOR THE HOLIDAYS
Grimaldi's Pizzeria is celebrating the holidays with a special offer on gift cards. From Oct. 13 through Dec. 26, guests purchasing a $50 gift card will get a $10 gift card and for a $100 gift card will receive a $20 gift card. The additional gift cards make good stocking stuffers. This offer is not redeemable the same day of purchase and valid only at participating locations.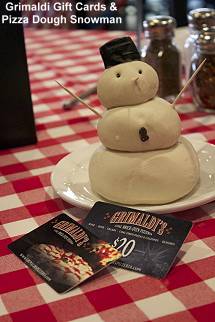 LEV RESTAURANT GROUP SUPPORTS DOWN SYNDROME
During October, the Lev Restaurant Group (LRG) is raising funds and awareness for programs assisting those with Down Syndrome, which affects one in every 691 babies born in the United States each year. LRG, which is named for the company's founder's son Levin who was diagnosed with Down Syndrome is the exclusive Las Vegas-based developer of The Coffee Bean & Tea Leaf® Las Vegas locations and owns and operates the following proprietary brands: i♥burgers at Town Square and inside the Palazzo; Daily Kitchen & Wellness Bar near 215 and Town Center; and Lobster ME in the Venetian's Grand Canal Shoppes and in Planet Hollywood's Miracle Mile Shops.
Column Continues Below Advertisement
CONTINUE ON TO...:
THIS WEEK'S >LAUGHLIN NEWS
LAST WEEK'S >LAS VEGAS NEWS
>VEGAS VIEW FULL NEWS ARCHIVES
Return to >"Heard Around Town"
Return to >Las Vegas Leisure Guide