RAT PACK TRIBUTE SHOW RETURNS TO HARRAH's
Returning to the Fiesta Showroom at Harrah's from Oct. 24-Nov. 5 will be "Drinkin', Singin', Swingin' Salute to Sinatra, Davis and Martin." The salute features the extraordinary talents of Ryan Baker as Frank Sinatra, Doug Starks as Sammy Davis, Jr. and Rick Michel as Dean Martin. Tickets for the 8 p.m. shows start at $16 plus tax and fees.
These accomplished entertainers skillfully blend musical performances with witty repartee and soft-shoe dance routines. Accompanied by a seven-piece band, the performers transport the audience to a time when three talented men, handheld microphones and martini glasses brought the best of music, comedy and chemistry to the stage.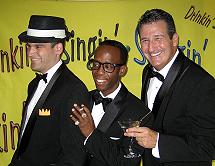 Using a different music set list every other night allows these artists to showcase more music and laughs for their audiences. The trio will perform their renditions of legendary hits such as "New York, New York," "Come Fly with Me," "Candy Man," "Everybody Loves Somebody Sometime," and "Mr. Bojangles." A song medley highlights more legendary hits such as "Volare," "Fly Me to The Moon," and "What Kind of Fool Am I."
SPECIAL EVENTS ARE PLANNED FOR LAUGHLIN
On Oct. 22, the Chef's Food Fest will be held at the Aquarius Pavilion at 5:30 p.m. Chefs from casinos and local restaurants will display their talents in this grand showcase dinner. The event is also a fundraiser for local charities, so the cost is $60 and you must be at least 21 years of age to attend. Grand prizes of three dinner parties for eight created by casino chefs will be awarded with drawing tickets at $20 and proceeds will go to help local 8-year-old cancer victim Lauren Terry. Call the Laughlin Chamber of Commerce at 702-298-2214 or 800-227-5245 to buy a food fest ticket, prize dinner drawing tickets, or reserve a table.
The Riverside will hold the 7th Annual Run to Fun-motorcycle ride with poker runs, Black Vest Dinner, pancake breakfast, bike games, "Ride for the Cure" special run, and more, Oct. 15-18. For details and registration for "Ride for the Cure," call 928-681-2466 or 928-303-0824.
In conjunction with the Laughlin Run to Fun will be the American Diabetes Association Ride For The Cure 2009 on Oct. 17. Entry fee is $25 and will include a free tee shirt and goodie bag. There will be refreshments and giveaways. For information, call Brake Masters at 928-692-3150, Station 66 at 928-681-2466, or James Estep at 928-303-0824.
With "Dancing with the Stars" being such a big hit, Tom & Sharon's Ballroom Dance Party on Saturdays (Oct 31, Nov 21, Dec 5 and 19) from 1:30 p.m.-4:30 p.m. may be a perfect activity. For details on parties or dance classes, call Tom and Sharon Craddock at 928-754-2097.
Harrah's will hold an Employee Talent Show on Thursday, Oct. 15 in the Fiesta Showroom. Doors will open at 6 p.m. and the show begins at 7 p.m. Admission is free and the general public is invited. Also one canned food item for the local food bank is appreciated but not necessary.
TOP OF NEXT COLUMN
EDGEWATER AND RIVER PALMS PROMOTE LAUGHTER
Both the Edgewater and the River Palms have comedy clubs that continuously change comedians. Next at "Comedy on the Edge" in Kokopelli's Showroom at the Edgewater will be Carrie Snow and Lang Parker, Oct. 16-18. Tickets are $10 for the 7 p.m. shows.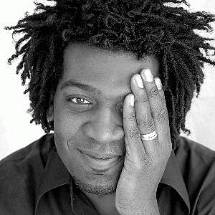 "Sammy's Comedy by the Shore" at the River Palms will have Ron Feingold and Kris Shaw, Oct. 14-15, 17-18 at 7 p.m. Tickets are $10. Pauly Shore and comics TBA will appear on Oct. 16 at 8:30 p.m. Tickets are $25.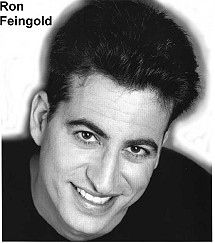 HALLOWEEN EVENTS ABOUND IN LAUGHLIN
The Tropicana Express will be hosting a Halloween Haunt & Glow Car Show in its North Parking Lot, Oct. 30-Nov. 1. Classic cars will be on display beginning at 1 p.m. on Friday and 9 a.m. on Saturday. There will be a Halloween costume contest at 6 p.m. on Saturday. It's free to view the cars; call 800-343-4533 for pre-car registration.
On Oct. 31 in the Aquarius Pavilion, there will be a Psychic Fair with more than 30 different specialists conducting readings, giving out information and discussing their specialties including aura photography, palm reading, pet psychics, toe reading, tarot card reading, mediums and channelers. This Saturday event will be from noon to 2 p.m. Cost is $20 per reading and tickets can be purchased at the door.
The River Palms will hold "Freakers' Ball and Purple Reign Concerts" on Oct. 30-31. The tribute to Prince show featuring Purple Reign will take place both nights at 8:45 p.m. Tickets on Oct. 30 with two free drinks are $10.
The Saturday night show includes the Freakers' Ball hosted by "All Night Mike" and a Halloween costume contest with $2,000 in total prize money ($1,000 for first place), Doors will open at 8 p.m. for the Freakers' Ball with Purple Reign concert. Tickets in advance are $25 with two free drinks included and $35 at the door.
On the Riverwalk between the Colorado Belle and Edgewater on Oct. 31 will be Halloween Safe Street. It will be trick-or-treating for kids with there parents plus food and candy booths from 5 to 8 p.m. The "Safe Street" will be followed at 9 p.m. by an adult Halloween costume contest with $3,000 in prize money ($1,000 for first place). Admission is free for both events.
At the Avi, the Halloween Party in the Arrowweed Lounge will start at 6 p.m. on Oct. 31 and feature "Scary Dee Jay," "Monster Mash," surprise prizes and food and drink specials. The costume contest will be at 7:30 p.m. with prize money: $600 first place; $350 second place; and $250 third place.
CONTINUE ON TO...:
>THIS WEEK'S LAS VEGAS NEWS
>LAST WEEK'S LAUGHLIN NEWS
>VEGAS VIEW FULL ARCHIVES
>Return to "Heard Around Town"
>Return to Las Vegas Leisure Guide