Country star Mark Chesnutt will be singing at Don's Celebrity Theatre at the Riverside, Oct. 24-29. Tickets are $28, call 1-800-227-3849, ext 616.
Chesnutt got his music start in the honky-tonks of Beaumont, Texas, learning from his father, Bob Chesnutt, a singer, record collector and country music fan. To develop his unmatched crowd-pleasing rapport and authentic country style, he sang covers by Lefty Merle, George Jones and Waylon Jennings.
With the release of his first single "Too Cold At Home," Chesnutt established himself as one of country's most authentic vocalists. He is known as one of the industry's hardest working concert performers and for being one of Billboard's Ten Most-Played Radio Artists of the '90s. Chesnutt's accolades include 14 No. 1 hits, 23 top ten singles, four platinum albums and five gold records.
Carole Hunsinger of Tempe, Ariz., and Donna Telenick of Scottsdale, Ariz., survived two "grueling" days of tournament action in the Colorado Belle's September Survivor VII Slot Tournament to split $22,500 in first place prize money. No stranger to the thrill of winning tournaments, the pair has taken home first place prize money in two other Colorado Belle slot tournaments, the "Valley of the Kings" Slot Tournament in 2001, and the "Survivor IV-Amazon" Slot Tournament in 2003. Twice each year for the past 15 years, Hunsinger and Telenick have traveled to the Colorado Belle with four to six friends to play in tournaments.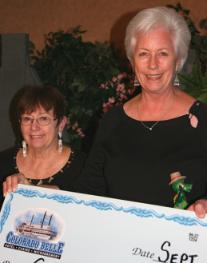 The "Cash Convoy" Slot Tournament scheduled Nov. 3-5, is the next event. The entry fee is $350, and first place pays $10,000 based on 150 entrants. Total prize money is $48,500. Contestants will have two days of exciting tournament action, three complimentary nights' accommodations, a welcome cocktail reception, complimentary food and beverages for two, a commemorative gift and an awards dinner, call 1-877-480-2747.
Next weekend, Oct. 14-15, the Ramada Express will transform Victory Plaza into an art gallery for the resort's fifth annual Artist Weekend, which brings casual and serious art fans together to meet some of the region's most acclaimed artists. The outdoor art exhibition is free from 10 a.m. until dusk. The eclectic mix of art will include watercolor and oil paintings, sculpture, pottery, inlaid wood, blown glass, and more.
To complete the Artist Weekend experience, continental breakfast will be served from 9-11 a.m. Freshly baked pastries and muffins will be available for $1 each and coffee and orange juice for $1.25. In the afternoon, attendees can eat shrimp and chicken kabobs for a nominal fee and relax with a glass of wine and cheese for $2.
The 4th Annual Run to Fun and Old Fashioned Swap Meet will take place at various sites at the Riverside, Oct. 19-22. The event involves a fall motorcycle run with poker runs, mixer / style show, bike safety seminar, vendors, old-fashioned swap meet for motorcycle-related merchandise, bike show and more. For more details, call 1-877-200-6378.

TOP OF NEXT COLUMN
Preferred Outlets, The Wagging Tail and Rocky Mountain Chocolate Factory will host the second Howlin' Hounds Halloween Costume Contest for dogs on Saturday, Oct. 28. The entry fee per pet is $5 and will benefit animal control. Registration begins at 11 a.m. and judging begins at 1 p.m.
Prizes will be awarded for Best Pet / Owner Look-A-Like, Best Trick for a Treat, Most Original Pet Costumes, and new this year, Tea Cup Best Costume. Last year there were more than 65 canine entrants.
The $1 Million In The Bag promotion began Oct. 1 and will run through Nov. 28, at Harrah's Laughlin and offer many winning opportunities. Customers can enter the promotion by showing their Total Rewards® player loyalty program card or signing up for membership to receive a tote bag that could contain a shopping card worth up to $1,000 at Macy's. Each promotional tote bag contains a WinFinder® game piece and one in 10 will illuminate during the day, awarding customers a shopping card, cash, Rewards Credits®, or an entry into the $1 million giveaway drawing.
On Sundays between noon and 7 p.m., the first 1,000 customers to swipe their Total Rewards card receive a tote bag that may contain a shopping card worth between $5 and $1,000 to Macy's and a WinFinder key chain. If the WinFinder lights, the person will have a chance to win a $5 to $100 Macy's gift card, bonus Total Reward credits, or an entry in the $1 million giveaway drawing.
Harrah's Laughlin guests may earn entries for the $1 Million In The Bag 5 p.m. daily drawings. Four daily drawing winners will have a chance to select a Harrah's tote bag. One tote bag will contain a spa basket; the second a $25 Macy's gift card; the third a $50 Macy's gift card; and the final tote a $100 Macy's gift card. In addition, each tote bag will contain a buy-one-get-one-free show coupon and an invitation to return for the final drawing on Dec. 3.
The invitation includes three complimentary nights from Dec. 1 - 3, 50 entries for the Harrah's Laughlin Finalist Drawing, 50 bonus entries into the Harrah's Laughlin Second Chance Drawing and one entry into the Harrah's Laughlin Daily Drawing Winner Final Drawing. Only daily drawing winners are eligible for the Daily Drawing Final Drawing on Dec. 3, at 1 p.m. in the Hacienda Grande Ballroom. Three winners selected for the Daily Drawing Final Drawing have a chance to win their share of $2,000 in Macy's gift cards.
The Harrah's Laughlin Finalist Drawing will take place immediately after on Dec. 3. Five potential winners will be randomly chosen from all eligible entries. Each winner will represent Harrah's Laughlin and move onto the brand-wide $1 Million In The Bag grand prize drawing.
A total of 10 Harrah's Laughlin customers will win a chance to enter the $1 million giveaway drawing held at the Forum Shops at Caesars Palace in Las Vegas. In addition to the $1 million prize, other customers will win $1,000 to $50,000 for fourth through second place.
Harrah's Laughlin will also host a "Second Chance Drawing" immediately after the final brand-wide event on Dec. 3. Five winners will be chosen for a chance to win $500 Macy's gift card, $1,000 Macy's gift card, $3,000 cash, $5,000 or $10,000 cash.
CONTINUE ON TO...:
>THIS WEEK'S LAS VEGAS NEWS
>LAST WEEK'S LAUGHLIN NEWS
>VEGAS VIEWS FULL ARCHIVES
>Return to "Heard Around Town"
>Return to Las Vegas Leisure Guide