Dixie Chicks, the largest-selling female group in music history, will bring their 2006 "The Accidents & Accusations Tour" to the MGM Grand Garden Arena for a special Thanksgiving weekend performance Saturday, Nov. 25. The North American leg of the tour was named after a line in "Easy Silence," a song on their highly anticipated new album, "Taking the Long Way." Lead singer Natalie Maines says the show is more old-style rock production and not so much about theatrics and props. Pete Yorn is scheduled to open the show. Tickets are $89.50 and $49.50; call Ticketmaster at 702-474-4000.
Comedian, actor Shawn Wayans will bring his multiple talents to the Blue Man Theatre at The Venetian on Nov. 3 at 10:30 p.m. Joining him is special guest Bruce Fine of "Last Comic Standing," whose streetwise style and boyish charm have won over audiences nationwide.
Japonais opened in Chicago in 2003 and last July in New York City. Now there is a stylish dinner outpost inside The Mirage featuring progressive Japanese cuisine fused with innovative presentations, flavors and ingredient pairings.

Column Continues Below Advertisement


The setting is introduced by a "glowing" fire-red canopy and dark slate platform that creates a theatrical foyer to the restaurant. Accommodating 300 people, the 11,000-square-foot space features an array of distinct areas. The modern tropical haven has cascading palm trees and water elements throughout, and a 110-foot-long glowing glass "fire" wall that provides a bold artistic backdrop for the curving onyx bar.
The vibrant 3,000-square-foot bar and lounge that overlooks the casino floor seats 100 guests and features a specially-designed Robata Grill. Custom chandeliers, a disc jockey booth and circular mahogany trellises with shimmering silver and gold sheer drapery add a dramatic touch. Guests can dine on sushi in the lounge. Adjacent to the lounge is a private dining room for up to 16 guests with its own bar, custom copper chandeliers, trellises, water elements, colorful seating and a custom 15-foot-long "royal mosaic" table constructed of gold glass.
The main dining room, traditionally known as the Red Room, seats 175 guests, has a 17-seat, L-shaped marble and slate sushi bar and an adjoining Golden Niche. The room is situated on a raised wide-plank platform, constructed of dark wood with additional raised seating areas. Other noteworthy design elements include Japonais' signature walnut "fin" ceiling-stone columns with copper and onyx details and custom blackened-steel railings.
The restaurant's trademark walls, made of red brick and blue glass designed to resemble water, complement the Madagascar ebony-wood screens and gold accents. Design elements are fused with dramatic theatrical lighting. Japonais' striking signature tree sculpture takes center stage with up-lit branches and custom-made moss pods.
"Redneck Comedy Live!" will kick off an indefinite run at the Sahara on Oct. 9 in a family-friendly, all-ages show. The show will feature four headlining comedic performers offering their "Redneck Wisdom" mixing together their blend of All-American, down-home humor found in our everyday lives. Show times are 9 p.m. nightly except Sunday. Tickets are $44.50; call 702-737-251.
The opening cast will showcase Dick Hardwick, MCA Nashville comic / recording artist T. Bubba Bechtol, Sam Griesbaum (pronounced "grease-bomb"), and Killer Beaz whose 23 years of stage, television and radio experience creates a great canvas for his trademark "Save Up!" catchphrase.
International recording artist, actor, impressionist and comedian Jeff Trachta, best known to over 450 million viewers worldwide as Thorne Forrester for more than eight years on CBS's "The Bold & the Beautiful," has brought his one-man show, "Jeff Trachta Live!" to the Rio for a limited engagement. He's headlining in the Masquerade Showroom daily at 3 p.m. except Friday. Tickets are $19.95 and $24.95, call 702-777-7776.
Billed as "a one-man show with a cast of thousands," Trachta's performance is a jam-packed 60 minutes of singing, dancing, music, impressions, comedy, and multi-media elements. At six-feet-three-inches tall, the blonde-headed Trachta turns heads.
Singing on "The Bold & the Beautiful" led Trachta to an international recording career and his debut album "Bold and Beautiful Duets," which soared to the top of the European charts and was the first of his three triple platinum albums. He has also performed sold-out concerts in international stadiums and arenas. Trachta made his Broadway debut starring in Tommy Tune's revival of "Grease."
"Cover Girls," a sexy adult variety show combining dancing, singing and comedy with interactive, three-dimensional imagery will debut at the Golden Nugget on Oct. 14 with shows at 9:30 p.m. nightly except Sunday. The show will be hosted by Noel Sullivan and Zoë Birkett from the UK television hits "Popstars" and "Pop Idol" and also features comedy specialty act Wally Eastwood. Tickets are $40.
The Rampart Casino located within the JW Marriott Resort in Summerlin will showcase New York's Friars Club comics Stewie Stone and Dick Capri in the Valencia Ballroom at 8 p.m. on Thursday, Oct. 19. Tickets are $15.
Born and raised in Brooklyn, Stone began his theatrical career as a drummer and later switched to comedy. Stone has an active presence at the New York Friars Club where he is Chairman of the Activities and Entertainment Committee.
Capri began his show business career as a clerk in his father's grocery store doing comedy mimes of the customers. Since then, Capri has toured nationally and internationally, performed on Broadway, made national television appearances and performed for Presidents Gerald Ford and George Bush.
The "Famous Artists Show" featuring the works of several artists including world-renowned paintings from Robert Lyn Nelson and Jane Wooster Scott will be on display in the Alamo/Goldfield Ballrooms at Sam's Town on Boulder Highway, Oct. 12 - 23, from 10 a.m. - 10 p.m. For information, call 702-456-7777.
For more than 30 years, Scott's oil paintings have become familiar depictions of life in 19th century America.
Nelson, known as the "Originator of Modern Marine Art," created the marine movement with the world's first "above and below water" painting, "Two Worlds," in 1979. He will be on hand to meet fans, sign autographs and do live painting demonstrations. Additionally, there will be daily two-hour auctions, where people can bid on Nelson's works.
Siegfried & Roy's ongoing efforts to support and recognize the vital role of police K-9 units continue with their sponsorship of the 16th Annual K-9 Trials from 8 a.m. - 5 p.m. Sunday, Oct. 15, at the Orleans Arena. The fundraising event is free and open to the public.
The event brings more than 40 K-9 units from across the country to compete in a series of maneuvers. The event is an incredible demonstration of the fierce bond between officers and their dogs.
The Hard Rock will present Thrice at the Joint on Friday, Oct. 13. Tickets are $17.50 and $20 the day of the show, call 702-693-5583.
Thrice was formed in 1998, and issued their self-released debut album "Identity Crises LP" in 2000. The album caught the attention of Hopeless/Sub City Louis Posen who signed the band in 2001. Reissuing "Identity" the same year, Thrice made their official label debut with "Illusion of Safety" in early 2002.
Fright Dome has returned to The Adventuredome at Circus Circus through Oct. 31 with special guests, scary haunted houses, freak shows, rides and a new maze. Fright Dome runs every Thursday - Sunday, 7 p.m. - midnight. Single-day tickets are $29.95 and the Fast Pass Admission tickets are $41.95, call 702794-3939
Adding to the haunting nightly entertainment is The Enigma, the odd human marvel with horns surgically embedded into his skull and tattoos from head to toe in blue jigsaw puzzle pieces. Performing nightly, The Enigma will utilize props including electric shock devices, a stomach pump and chainsaws to disturbingly thrill the audience. This human freak show has received national recognition through performances on the Nine Inch Nails' U.S. tour, the television show "X-Files" and photographs in National Geographic Magazine.
Lady Diabla, who often toured with the popular traveling sideshow, Ward's World of Wonders, also will be performing nightly. This lithe femme fatale will frighten audiences by swallowing swords, driving nails four inches into her head and lying face down on broken glass.
Fright Dome will also offer five enhanced haunted houses including the Zombie Mansion, three ride films, four extreme scare zones plus 20 rides and attractions.
Hawaii's premier contemporary and folk rock duo, Cecilio & Kapono, will return to Las Vegas for another inspired performance inside Sam's Town Live! on Saturday, Oct. 21 at 8. Sam's Town is located on Boulder Highway. Tickets are $25 and $30, call 1-800-225-2277.
Cecilio & Kapono emerged in 1973 and still going strong. The duo's latest release, "Lifetime Party Vol. 2 - 30 Years of Friends," sold out before the album's actual release in stores. This musical journey through Cecilio & Kapono's history has garnered four nominations from Hawaii's Grammy Awards - the prestigious Na Hoku Hanohano Awards.
The popular all-female rock-and-roll group, the Go-Go's, will perform at the Luxor Theater Jan. 26 - 27. The Go-Go's made rock history with the release of their first album, "Beauty and the Beat," which was the first record written and produced solely by women to reach No. 1 on the Billboard charts. Tickets are $88, $70 and $57; call 702-262-4400 or 800-557-7428.
Comedy impersonator Gordie Brown. who formerly headlined downtown at the Golden Nugget, will be making his debut at the Venetian with preview shows beginning on Oct. 11 and opening night on Oct. 24. He will be accompanied by his five-piece band. Tickets range from $69 - $79.
The Patriot Party will be held on Fremont Street, Friday-Saturday, Nov. 10-11. To celebrate Veterans' Day weekend the free concerts will feature rock legend Mark Farner formerly of Grand Funk on Nov. 10 and country star Aaron Tippin on Nov. 11.
The Elvis-A-Rama museum behind the Fashion Show mall has closed.
Tony Bennett, who headlines at the Las Vegas Hilton Oct. 20-21, has recorded a new album, "Duets - An American Classic," which is his 13th new studio collection since returning to Columbia Records two decades ago.
The Las Vegas Hilton hosts a new poker radio show with industry guests that is open to the public and airs every Monday at 3 p.m. on KLAV, 1230 on the AM dial. In addition, the Hilton's Poker Room offers free poker lessons by Valerie Thrower, Monday-Friday at 5 p.m.
Since the opening of Red Rock resort in April, Zowie Bowie has been packing the dance floor in the Rocks Lounge. Their weekend schedule will remain Friday, 11 p.m. -1:30 a.m. and Saturday, 8:30 p.m.-9:30 p.m. and 11 p.m.-1:30 a.m. Admission is free.
Zowie Bowie is now performing at the 500-seat Club Madrid inside Sunset Station in Henderson every Thursday night starting at 9:30 p.m. Admission is again free.
Zowie Bowie and Marley Taylor are a vocal duo backed by a five-member band. Zowie Bowie arrived in Las Vegas following a lengthy run in Scottsdale, Ariz., that captured a cult following.
The Four Seasons will host their sixth annual "Four Seasons 5K Halloween Run" on Saturday, Oct. 21. Festivities will include a 400 yard Mini Monster Dash, a costume contest for pets and children, face painting, carnival games, a bounce house, live music and a bake sale. Prizes will be awarded to the top three male and female finishers in each age bracket of the 5K. All proceeds from the $30 registration fee will go toward the UNLV Cancer Research Center, call 702-632-5333.
This is the third year that a corn maze will be open to the public on a four by five acre plot of land located 35 minutes north of North Las Vegas off of I-15 at Exit 90. Celebrating Halloween, the corn maze, which can be viewed on www.GLENDALECORNMAZE.com, has a likeness of the Broken Spoke Saloon's insignia with the words and a broken spoke. The 20-acre haunted maze will open on Friday, Oct. 13, and run through Oct. 28. Hours of operation will be Friday 7 - 10 p.m. and Saturday noon to 10 p.m. with haunted hours from 7 - 10 p.m. Weekdays are by appointment only. Admission is $10, $8 for kids under 12, and free for children under age 5.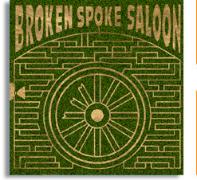 There will be a barbeque with a country music band from 4-8 p.m. on Friday, Oct. 27. For information, call 702-864-2277. Group discounts are available.
CONTINUE ON TO...:
>THIS WEEK'S LAUGHLIN SEGMENT
>LAST WEEK'S LAS VEGAS SEGMENT
>VEGAS VIEWS FULL ARCHIVES
>Return to "Heard Around Town"
>Return to Las Vegas Leisure Guide