JOSH TURNER HOLDS CONCERT AT RIVERSIDE AMPHITHEATER!
Country singer and South Carolina native Josh Turner will perform a concert at the Riverside Amphitheater on Saturday, Oct. 20, at 8:30 p.m. Tickets range from $30 to $75. Additionally, Turner's concert tickets will be good for a chance to win a Budweiser guitar autographed by Josh Turner. The drawing will be held after the concert.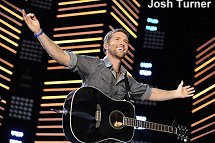 Turner has sold more than 5 million albums, won an American Country Award in 2010 for "Single of the Year," and was recently inducted into the Grand Ole Opry becoming one of the youngest artists to receive such an honor. His newest album, "Punching Bag," is his fifth for MCA Nashville. Of the 11 songs on the album, Turner penned eight tunes.
WHITNEY HOUSTON REMEMBERED AT EDGEWATER
The incredible music of the late Whitney Houston will be center stage at the "Queen of the Night: Remembering Whitney" show at the E Center at the Edgewater, Oct. 11-14. The production features live musicians and Trina Johnson Finn, a multi-talented singer, dancer, actress and producer who has appeared on the Grammys, Oprah, MTV Music Video Awards and American Music Awards. Finn's performance showcases Houston's hits from albums and adds dialogue providing personal insight behind each tune. Tickets start at $10.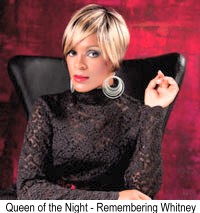 CASINO AND CHURCH UNITE AT THE RIVERSIDE
Father Charlie knows how to get his parishioners to attend his St. John the Baptist Catholic Church. He holds two Masses on Sunday and one on Saturday afternoon in Don's Celebrity Theatre at the Riverside. In this case, casino and church are soul mates. His Masses attract visitors, local residents, casino workers, lounge performers, visiting entertainers, etc.
Folks who attend a service can buy a souvenir from the church's gift table, rather than a store. Classic is a St. John the Baptist casino chip that says, "Pray With Us! It's A Sure Bet!" Gotta love it!
In 1992, the parish started as a mission with Masses in what is now the River Palms and moved to the Riverside in 1996.
GOLDEN NUGGET HOSTS CLASSIC CAR EVENT
The "25th Annual Fast Past Car Show" will take place in the front parking lot of the Golden Nugget, Nov. 8-10. The annual classic car show features Show 'n' Shine awards, a ladies poker walk, welcome reception and more. The Golden Nugget has Thursday through Saturday room packages, call 1-800-950-7700 and ask for "Fast Past Car Show." For car entry information, call Bill or Linda Lewis at 619-390-0801 or 619-851-3232.
COMEDIANS CREATE LAUGHS ON WEEKLY BASIS AT EDGEWATER
Two stand-up comedians appear at the Edgewater every Friday through Sunday at 7 p.m. in the Inferno Nightclub/Edgewater Showroom. Tickets are $10 at the door or Edgewater Casino Cage.
The upcoming lineup includes: Oct. 26-28 – Ivan Pecel and Dave Mencarelli; Nov. 2 Luis Villasenior and Ronnie Ray; Nov 3-4-Dennis Blair and Phil Mazo; Nov 9-11-Darryl Rhoades and John Crist; Del Van Dyke and Marvin Deloatch; Nov 17-18-Nathan Timmel and Quincy Weekly; Nov 23-Sam Fedele and Jeremy Wieand; and Nov 24-25-Marc Patrick and Patrick Keane.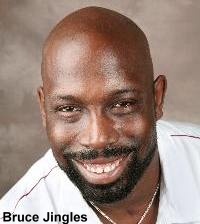 Bruce Jingles will headline on Friday, Oct. 12, with Ron Swallow. Jingles' material ranges from his teenage years in a Latin community to his several mishaps with the law. He also might mention his two DUIs, his obsession with marijuana, or sometimes he just simply talks about his day. His credits include the movie "Driving Bill Crazy" and two Showtime specials, "Jeff Garcia's Low Budget Madness" and "Jeff Garcia's Ten Dollar Ticket." Jingles has performed with famous national headliners such as Jeff Garcia, Carlos Mencia, Chris Tucker, Gabriel Iglesias, Damon Wayans, Dave Chappelle, Dane Cook, Christopher Titus, Paul Mooney, and many others. He has gone on several overseas tours to Iraq and Bosnia with the USO.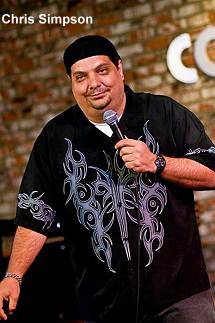 Chris Simpson and Brandon Vestal will work on Oct. 13 and 14. Simpson likes to work a crowd and pick on the members of his audience as a way to increase their self-esteem. Plus, he's discovered working a crowd is the best way to keep them interested. Simpson's standup career began 16 years ago, when a friend dared him to take the stage during a comedy club open-mike night. Although he bombed, he went on to perfect his material. He was derailed by a seven-year marriage where he didn't tell a joke but started up again the night he moved out. Growing up in a Mexican family, Simpson feels that any race or culture is fair game and that everything is okay if it's good-natured.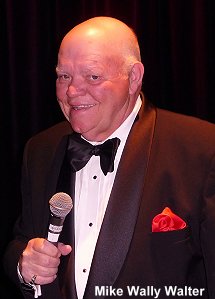 Mike Wally Walter, a stand-up comedian whose been working the comedy highways since 1982, will headline along with Adam Gropman, Oct. 19-21. Fans have described Walter with his politically incorrect humor as a cross between Don Rickles and Jonathan Winters. Walter gets some of his material from the fact he has four ex-wives and four children. He's not afraid to tackle delicate issues of relationships, childbirth and travel, etc.
TOP OF NEXT COLUMN
RIVERSIDE PROMOTES 'RICKY NELSON REMEMBERED'
"Ricky Nelson Remembered" starring Nelson's identical twin sons Matthew and Gunnar Nelson will be the headlining show at the Riverside in Don's Celebrity Theater, Oct. 16 – 21. Tickets are $32.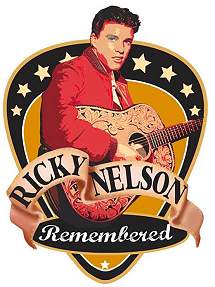 This show, which celebrates the life of true American "Teen Idol," is a unique multi-media entertainment event featuring the live music of Nelson's hit songs including "Hello Mary Lou," "Travelin' Man" and "Garden Party." The production includes never before seen big screen video footage of the Nelson family with interviews from celebrities Nelson influenced. This year 2010 marks the 25th anniversary of Rick Nelson's passing in a tragic New Year's Eve plane crash.
The twins are the grandsons of '50s TV icons Ozzie and Harriet Nelson. When they hit No. 1 on the Billboard with their rock band Nelson and self-penned No. 1 mega hit "(Can't Live Without Your) Love & Affection," it put the Nelson family in the "Guinness Book of Worlds" as the only family in entertainment history with three generations of No. 1 hit makers.
FAST MENTIONS
Creedence Clearwater Revisited will headline at the Edgewater on Saturday, Oct. 27. Tickets range from $25-$65.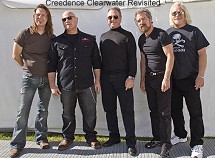 Magic will take over at Harrah's Fiesta Showroom Oct 23-28 and Oct 30-Nov 4 with the "Dirk Arthur—Wild Magic" show. Tickets are $27.50 and $38.50.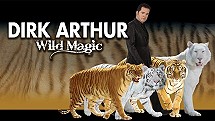 Pat O'Brien is back at the Tropicana with his Irish one-man band singing favorite classics, country, blues, rock 'n' roll, Sinatra and more. He performs Tuesday - Thursday 6 - 11 p.m. and Friday - Saturday 4:30 - 8:30 p.m.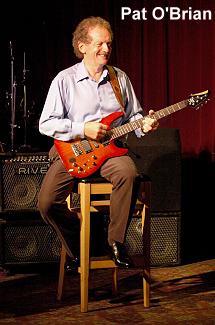 A Psychic Fair will be held at the Aquarius Pavilion on Oct. 27 and 28. There will be psychics from different genres give readings and information from noon – 8 p.m. on Saturday and 11 a.m. – 6 p.m. on Sunday. Admission is free and it costs $20 per reading.
A "Winter Dance Party" featuring the music of Buddy Holly, Ritchie Valens and The Big Bopper, will be held at the Riverside Resort in Don's Celebrity Theatre, Oct. 23-28. Tickets are $32.
There will be a Fall Food Festival on Oct. 13 at the Tropicana in Victory Plaza from 3 – 7:30 p.m. The dinner is $8.99 until 7 p.m. The Flying Blynd will provide music from 3:30 – 7:30 and a block party will follow from 8 p.m. until midnight with music by Chyna.
The Tropicana's Victory Plaza will be the site for a BBQ Food Festival on Saturday, Oct. 20. Again the dinner is $8.99. The free music from 3:30 – 7:30 will be provided by Krisy Thompson with a Block Party following from 8 p.m. – midnight and music by Barrington Group.
The Edgewater has a free dining on Tuesdays and Thursdays promotion where you can earn up to $50 per day in dining credits. You can receive $10 in dining credits for every 1,000 base points earned and keep the points. Details can be found at Casino Services.
Fight fans can catch amateur MMA, mixed martial arts bouts, at the E Center at the Edgewater on Saturday, Oct. 20, at 5 p.m. Tickets are $15.
'LEGENDARY LADIES OF SOUL' RETURN TO THE AVI
The Avi booked the "Legendary Ladies of Soul" last November. By popular demand, the ladies featuring Karen Durant and her cast will return on Friday, Oct 19, with a dinner and show in the Grand Ballroom from 6 – 9 p.m. Tickets are $18 with beverages not included.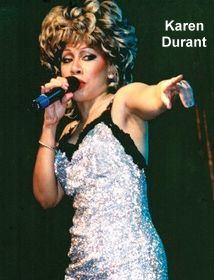 The performers present a repertoire of impersonations of Tina Turner, Whitney Houston, Gladys Knight and the Supremes backed by a band and backup singers plus several costume changes.

HALLOWEEN-THEMED HAPPENINGS

The Riverwalk between the Colorado Belle and Edgewater will be the scene for "Halloween Safe Street" on Oct. 31 from 5-8 p.m. This event will be safe trick or treating for kids ages 13 and under.

The Tropicana will hold "Halloween Haunt & Glow Car Show" in its North Parking Lot, Oct. 26 -28. All cars, trucks and motorcycles will be welcome. There is a $25 entry fee per car and it's free to view the cars each day. The event timeline starts with a car show on Friday at 1 p.m. followed by a light show at 6 p.m. On Saturday, the show will run from 9 a.m. – 7 p.m. with a Halloween costume contest at 6 p.m. Awards will take place on Sunday in the Pavilion at 10 a.m. This event is hosted by Island Cruiser; call 800-343-4533 for room packages and pre-registration.

On Oct. 31, a Freakers Ball will be held at the Tropicana Victory Plaza from 8 p.m. to midnight and feature a costume contest and music. Admittance is free and there will be a cash bar.

The Avi will hold its 3rd Annual "Monster Mash Dance Party" in the Grand Ballroom on Saturday, Oct. 27, from 7-10 p.m. with PUSH, a live five-piece band, and costume contests with funniest, scariest, and most original each winning $250 Xtra Bucks Bonus, which is free cash play. Admission to the party is $5 with all proceeds being donated to Boys & Girls Club of Aha Macav. No masks will be allowed on casino floor.

CONTINUE ON TO...:
THIS WEEK'S >LAS VEGAS NEWS
LAST WEEK'S >LAUGHLIN NEWS
>VEGAS VIEW FULL ARCHIVES
Return to >"Heard Around Town"
Return to >Las Vegas Leisure Guide