Impressionist Rich Little, dean of impersonators and master of more than 200 voices, will headline with his brand-new show at the Golden Nugget during a 20-week performance schedule starting on Oct. 25. A professed classic movie buff, Canadian born Little is known best for his vast repertoire of celebrity impressions. His shows will run Thursdays through Sundays at 7 p.m. through April 6, 2008, with breaks from Dec. 3 - 26 and Dec. 31 - Jan. 9, 2008. Tickets start at $39, call (866) 946-5336.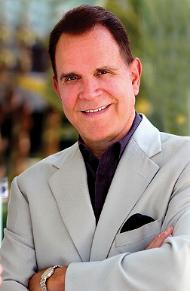 Master chef and restaurateur Wolfgang Puck is bringing his critically acclaimed, award-winning restaurant CUT to Las Vegas. The Beverly Hills, super-chic steakhouse will open at the new $1.8 billion Palazzo in late December. CUT will mark the sixth fine-dining restaurant from the Wolfgang Puck Fine Dining Group in Las Vegas.

Column Continues Below Advertisement


Noted food critic John Mariani awarded CUT, "Restaurant of the Year" in the November 2006 issue of "Esquire" magazine, less than six months after it opened. In April 2007, CUT was nominated for "Best New Restaurant" by the James Beard Foundation, considered one of the highest marks of distinction within the culinary community, and in August 2007, "Bon Appétit" magazine named CUT one of the top three steakhouses in the nation.
The interior will be a modern interpretation of a classic steakhouse with welcoming custom-made, large, bronzed glass doors, custom-designed lighting and rich textures such as a basket woven felt wall that will provide a soft white architectural envelope accented by bronze mirrors, honed limestone and custom-walnut flooring. Sculpted chairs of minimalist design will offer a unique form that combines the warm texture of aged leather with glossy ebonized ironwood. Leather table tops framed in brushed metal will provide a contrast to the English Windsor wood slab tables that will occupy the center of the space.
Adjacent to the 160-seat main dining room will be an upscale 60-seat bar and lounge showcasing exclusive custom cocktails, classic drinks and a smaller menu featuring CUT's popular appetizers such as the Mini Kobe Beef Sliders. The lounge will feature an eight-foot tall upholstered sofa in rich black pony-style fabric offset by vibrant cherry lacquer cocktail tables providing a perfect vantage point to people watch.
Private dining space also will be available featuring a fully retractable bronze glass wall that will open to a contemporary wine wall located just outside the kitchen, offering patrons a backstage glimpse into the bustling kitchen.
Penn & Teller, the bad boys of magic who have spent most of their career playing with knives, guns, livestock and fire-eating showgirls, are now celebrating five years of performances in the Penn & Teller Theater at the Rio.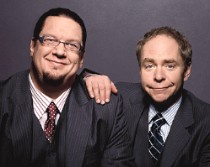 Performing together for more than 30 years, the duo have been combining Teller's silent and occasionally creepy magic with Penn's carnival barker zeal and juggling expertise. After three decades together, they show no signs of slowing down. Their latest project, "Penn & Teller: Bullshit!" for the Showtime network, will begin its sixth season in early 2008. The controversial show, which has received 11 Emmy nominations and the Writer's Guild award for Outstanding Comedy / Variety Series, tackles the frauds and fakes behind such topics as talking to the dead, alien abductions and feng shui.
Chippendales®, the longest running male revue celebrated its 2,000 performance milestone at the Rio this weekend. In addition, 2007 also marks the fifth anniversary of the Chippendales at the Rio. Each year the men bench press more than 3,300 pounds in the gym, discard 57,408 garments during their performances and bring more than 5,200 girls on stage to be a part of the show. They excite the ladies in their very own multi-million dollar Chippendales Theater.
Chippendales, one of the world's most recognized brand names, is the premier provider of entertainment for women. The Company licenses its intellectual property for select consumer products ranging from apparel and accessories to slot machines and video games. It also operates Chippendales.com, an online lifestyle and entertainment destination for women. Chippendales was established in 1978 and has headquarters in New York, with offices in Las Vegas and London.
Marilyn Manson will take the stage at The Pearl at the Palms on Wednesday, Oct. 31, at 8 p.m. Tickets are $58, $68, $73 and $78, call 702-474-4000.
Manson first formed the band in 1989 under the name Marilyn Manson & the Spooky Kids, and later shortened the name to Marilyn Manson in 1992. The following year, the band received the attention of Nine Inch Nails front man Trent Reznor, who signed them to his label, Nothing. Marilyn Manson's debut album "Portrait of an American Family" was released in 1994. It was in 1995 with the release of its second album "Smells Like Children" that Marilyn Manson received its first big hit with a cover of the Eurythmics "Sweet Dreams (Are Made of This)."
The band has steadily released albums with three reaching platinum and three reaching gold status.
Internationally celebrated vocalist Freda Payne will bring her show, "A Tribute to Ella Fitzgerald," to the Cannery in North Las Vegas on Nov. 2 and 3 at 8 p.m. Tickets are $10 and can be purchased at the door.
Payne's multi-faceted career spanning more than four decades includes Broadway shows, concerts, television and movies. At age 17, the legendary Pearl Bailey gave Payne her first professional job and paved the way for an extraordinary career that has included sharing the stage with such legends as Lionel Hampton, Sammy Davis, Jr., Billy Eckstein, Quincy Jones, Bill Cosby and many others. Her ever-expanding repertoire includes roles in the award winning musical "Blues in the Night" and "Jelly's Last Jam." She has also starred in the Broadway production of Duke Ellington's "Sophisticated Ladies," "Ain't Misbehavin'" and the Tony Awardr winning production of "Hallelujah Baby."
Once again, Ethel's® / Ethel M® Chocolates will create its annual "Chocolate Wonderland" and transform its three-acre Botanical Cactus Garden into a wondrous free-to-the-public holiday experience at its Henderson factory from Nov. 21 until Jan. 1, 2008. Families will be able to stroll along the illuminated cacti pathways from sundown to 10 p.m. Part of the experience is the free factory tour with a free piece of candy at the end in the gift shop. At various times during the holiday season, local choirs will perform holiday tunes, and Santa will be making appearances in the garden every Friday and Saturday evening through Dec. 22. For information, call 800-471-0352.
Opportunity Village's third annual fundraising Las Vegas Great Santa Run will happen on Saturday, Dec. 1, at 10 a.m. There will be an attempt to break the current world record for the largest Santa gathering and to provide a light-spirited, warm-up run for participants in the Zappos.com Las Vegas Marathon the following day. It is a 5K fun run-walk and a one-mile walk around the Fremont Street Experience for the casual walker/runner.
Registration fees are $45 for participants 13 and older and $25 for participants 12 and younger prior to Dec. 1 and $75 on race day. The registration fee includes the five-piece Santa suit, race bib and goodie bag filled with more than $150 in valuable goodies and offers. For information, call 702-259-3741.
Ozzy Osbourne will bring his massive 40-concert North American tour to The Joint at the Hard Rock on Saturday, Nov. 24. This will be his first solo concert in Las Vegas in more than four years and will feature special guest Rob Zombie.
The tour follows "BLACK RAIN" - Osbourne's critically acclaimed first album of new studio material in six years and Zombie's hit film "Halloween," which premiered No. 1 at the box office in its debut weekend and broke all Labor Day Weekend records, grossing an estimated $31 million.
Osbourne's first single "I Don't Wanna Stop" is the biggest rock song of his career, spending 20 weeks at No. 1 on the R&R Rock Chart and peaking at No. 1 on the R&R Active Rock chart. "BLACK RAIN" was released in May and entered the Billboard pop albums chart at No. 3 with more than 150,000 copies sold the first week. Overall, two-time Grammy Award winner Osbourne has sold more than 100 million albums combined as both a member of Black Sabbath and as a solo artist.
Zombie's first-ever live album "ZOMBIE - LIVE" is due out on Oct. 23. Zombie has sold more than 15 million albums worldwide and is one of Geffen Record's top-selling artists. He has directed dozens of high profile music videos including Osbourne's "Dreamer" video.
The Las Vegas Chapter of Speedway Children's Charities will hold its fourth annual "Cards for Kids" Texas Hold 'em Poker Tournament on Wednesday, Oct. 24, at the Cannery in North Las Vegas. The charity event will kick off the NHRA ACDelco Las Vegas Nationals, Oct. 25-28, at The Strip at Las Vegas Motor Speedway.
Tournament players will have the opportunity to play against NHRA drivers. Entry fee (buy-in) is $250 and players will receive $1,000 in tournament chips. Players will also receive complimentary hors d'oeuvres and drinks throughout the evening.
A total prize purse of $5,000 will be up for grabs at the event, with a guaranteed first place prize of $1,400. The top nine players each will receive a piece of the cash prize while other players will have the chance to win a variety of other prizes. Participants and observers will also have a chance to purchase raffle tickets for prizes. For entries and information, contact Janae Melvin at (702) 632-8242.
Since 2004, the Hilton has spent more than $100 million dollars in construction and renovation projects creating a new lobby, remodeled porte-cochere, enhanced and modernized casino, new Tempo lounge, Fortuna - a coffee and wine experience, and an expansion of the SuperBook. Now the resort is introducing new room product in its North and East towers.
The completely renovated and refurbished rooms feature new luxurious beds, premium bed linens, an elegant pillow package, 37" plasma TVs, wireless Internet access, high-end amenities and MP3 ports for digital players. Now 923 North Tower and 600 East Tower rooms are updated. In addition, 221 executive level "Resort Club" rooms have been added, offering additional exclusive amenities and access to the "Resort Club" lounge on the 24th floor that features complimentary food and beverage selections.
Siegfried & Roy's enduring efforts to support and recognize the vital role of police K-9 units continue with their sponsorship of the 17th Annual K-9 Trials 8 a.m. - 5 p.m. Sunday, Oct. 14, at the Orleans Arena. The trials bring more than 40 K-9 units from Canada, Mexico and the United States to compete in a series of maneuvers to display their crucial talents. The event, which is free and open to the public, is an incredible demonstration of the fierce bond between officers and their dogs.
Ten years after it first introduced candy-coated fun to the Las Vegas Strip, M&M'S World® Las Vegas on the Strip in front of the MGM Grand is celebrating its tenth anniversary as a Las Vegas retail icon by offering visitors a potpourri of prizes and special draws throughout the month of October.
A Masquerade Mystery Dinner will be held at Lawry's Prime Rib on Oct. 31. The Halloween interactive "who dun it" includes a three-course meal for $89.95 per person, call 702-497-7936. The mystery takes place in 1945 between big band rivals.
Walk with the Heart of a Child, a fundraising 3K walk event, is set for Saturday, Feb. 9, 2008, at Fashion Show Mall. More than 1,000 people participate. Registration has begun; call 702-967-3522. Fees are $20 for adults, $15 for virtual walkers, and $10 for students and seniors.
Through Nov. 2, the Lied Discovery Children's Museum located downtown has created and is exhibiting several "ofrendas (altars)" as part of its participation in the festivities of Los DĦas de los Muertos, or the Days of the Dead. Each weekend, they are celebrating this event sponsored by Target with many arts and crafts projects and much more!
Los DĦas de los Muertos offers an annual opportunity for families to recollect and celebrate the memories of relatives and friends through weeks of special preparations. For this special reunion, family and friends prepare gravesites and altars (ofrendas) with colorful cloths, streamers, candles, flowers, photographs, richly decorated "pan de muertos (bread of the dead)", skull-shaped sugar-sweets, and paper mâché skeletons.
CONTINUE ON TO...:
>THIS WEEK'S LAUGHLIN SEGMENT
>LAST WEEK'S LAS VEGAS SEGMENT
>VEGAS VIEW FULL ARCHIVES
>Return to "Heard Around Town"
>Return to Las Vegas Leisure Guide