FREMONT STREET EXPERIENCE HOSTS 'OKTOBERFRIGHTFEST'
The Fremont Street Experience is hosting a combined Oktoberfest and Halloween nightly street party with its second "OktoberFrightFest," a month-long festival from Sept. 29 through Oct. 31.
Column Continues Below Advertisement
The spook-tacular nightly fun includes Viva Vision light and sound shows themed to "Time Warp" and "Monster Mash," beer gardens featuring seasonal Oktoberfest food and drink specials, a haunted house attraction at Binion's, a Fall Beer Festival at the Golden Nugget, a Halloween parade, plus three free Halloween-themed stage shows.
On Halloween Night, Oct. 31, downtown will hold the inaugural Las Vegas Halloween Parade at 7 p.m. Parade participation is free and open to the public but costumes are required. Costumers should meet at 6 p.m. to line up at the corner of Hoover and 4th.
One of the live stage shows is "Freakin' Magic - Horror Hospital starring Kevin James" Wednesday-Sunday at 8:15 and 10:15 p.m. on the 3rd Street Stage. "Frank " The Steins" is a live musical revue of classic Halloween songs with hot ghouls and guys performed Thursdays-Mondays on the 1st Street Stage at 8:15, 9:15 and 10:15 p.m. "Alice and Ozzy's Frightmare" is a tribute to Alice Cooper and Ozzy Osbourne featured Tuesdays through Saturdays on the Main Street Stage at 9:15, 10:15 and 11:15 p.m.
The Haunted House at Binion's is a ticketed-admission attraction featuring two haunts open from 7 p.m. - midnight, Thursdays through Sundays, plus Oct. 26-31. The Golden Nugget will host their first Fall Beer Festival during a two-day event on Oct. 15 and 16.
TERRY FATOR PERFORMS 'TRIBUTE TO THE TROOPs' SHOW
Ventriloquist Terry Fator and The Mirage will honor wounded war veterans during his "Tribute to the Troops" concert on Sunday, Nov. 14 at noon. Tickets range from $59 to $129. Military and their immediate family will receive a 25 percent discount; call 800-963-9634 or 702-792-7777.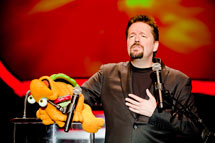 The special Veteran's Day weekend performance is a fundraiser with net proceeds going to the United Service Organizations (USO) Las Vegas center that will open in Terminal 1 at McCarran International Airport on Thursday, Nov. 11.
Fator is actively involved in honoring and supporting the Armed Forces. His contributions include donating all his proceeds from the Terry Fator retail store at The Mirage to military organizations.
IT's 'DOWN " DERBY' TIME MONTHLY AT THE HARD ROCK
The Joint at Hard Rock transforms into a retro roller skating phenomenon "Down " Derby" monthly from 10 p.m. to 3 a.m. beginning Friday, Oct. 8. "Down " Derby" returns to Las Vegas following a successful first run. The party on wheels features a nightclub experience combined with 1970s roller disco décor. Partygoers are encouraged to dress the part by wearing their best throwback attire including neon spandex, headbands, wristbands, high socks, glitter and more.
Set to a soundtrack of disco-inspired party anthems, "Down " Derby" features a candy bar, DJs, and skate-up VIP tables so skaters never have to remove their wheels. This unique nightlife event has transformed roller rinks in cities nationwide. "Down " Derby" takes place monthly on Thursday, Friday or Saturday depending on The Joint concert schedule. Tickets are $15, skate rental is $5 or you can bring your own roller skates.
'HIT PARADE THE SHOW' BRINGS NOSTALGIA TO THE SUNCOAST
Producer Ed Matthews will bring "Hit Parade The Show," a fully-scripted book musical to the Suncoast Showroom Oct. 30 and 31 at 7:30 p.m. Based on the old radio and television show formats, the show will be a journey through time illustrated by music and dance made popular during the 50s and 60s. Snapshots of pivotal events will also be painted during the show.
"Hit Parade The Show" will utilize performers regularly featured in the resort's weekly matinee variety show "Suncoast Hit Parade." Performers will include the Lionardo Orchestra, Carmine Mandia (Shades of Sinatra), Mark Giovi (previously with the Las Vegas Tenors), Genevieve Dew ("Lady Day"), Ronnie Rose, Ron Smith (Tournament of Kings), Fifth Avenue, The Swing City Dolls, Charley Raymond and the Andrea and Tim Dance Team (Jubilee!). Tickets start from $19.95, call 702-636-7075 or visit www.suncoastcasino.com.
THE OSMONDS RETURN TO THE ORLEANS
Celebrating more than 50 years in entertainment, The Osmonds –brothers Wayne, Merrill, Jay and Jimmy – will return to the Orleans Showroom, Oct. 22 - 24. Tickets start from $29.95, call 702-365-7075.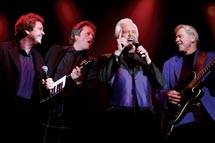 Five decades ago, the young Osmond boys were flashed across national television on "The Andy Williams Show." That single appearance led the Osmonds to seven seasons as regulars on the show. They gained further exposure with the 1976 advent of "The Donny and Marie Show" that the Osmond brothers executive produced.
Success continued and in 1982, the Osmonds transitioned their sound from pop to country music. After almost 40 years of concert tours, the Osmonds purchased a theater in Branson, Mo., and began performing 12 shows a week there.
B.J. THOMAS STOPS AT THE CANNERY
B.J. Thomas with his enduring hits will headline at the Cannery in North Las Vegas on Saturday, Oct. 16 at 8 p.m. Tickets are $21.95, call 866-999-4899 or visit www.cannerycasinos.com.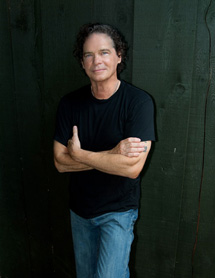 When Thomas signed with New York's Scepter, he was introduced to songwriter-producer Burt Bacharach. This led to his performance of "Raindrops Keep Fallin' on My Head" for "Butch Cassidy " the Sundance Kid," which is celebrating its 40th anniversary this year. This song was the first No.1 single of the entire decade of the '70s, earned an Academy Award for Best Original Song, was featured in "Forrest Gump" and appeared almost in its entirety during "Spider-Man 2."
DONNY OSMOND HOSTS 10/10/10 WEDDING ENGAGEMENT EVENT
Show business icon and Flamingo headliner Donny Osmond, who has been married to his wife Debbie for more than 30 years, will host the Oct. 10, 2010, 10:10 a.m. engagement event where 10 couples will simultaneously get engaged in front of The Trevi Fountain, a replica of Rome's famous Trevi Fountain, at The Forum Shops at Caesars. More than 200 couples from around the country entered a contest to be part of this once-in-a-lifetime event.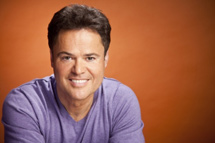 TOP OF NEXT COLUMN
CSN LINES UP ACTS FOR FIRST FALL FUN FEST
The College of Southern Nevada (CSN) Foundation will host the first Fall Fun Fest at the CSN Charleston campus Oct. 29 through 31. A variety of genres have been lined up for the festival's concerts, ranging from punk to hip-hop. Bands will play from 6 until 10:30 p.m. Friday's roster includes Strung Out and The Vandals followed by Big B and Unwritten Law on Saturday. Tickets are $15 in advance and $20 the day of the concert, call 800-745-3000 or visit www.ticketmaster.com.
'MUSICAL TRIBUTE TO BOB ROZARIO' BEING HELD AT UNLV
The "Musical Tribute To Bob Rozario" being held at 1 p.m. on Sunday, Oct. 24 at the Doc Rando Recital Hall, Beam Music Center on the UNLV campus will be a benefit with all proceeds going to the UNLV College of Fine Arts. Tickets are $20, call 895-ARTS (2787).
Rozario, who worked with Louis Prima and Bobby Darin, is celebrating his 50th year as an accomplished jazz musician. Rozario has countless television credits as musical director and arranger and has wielded the baton worldwide for Tony Orlando, Engelbert Humperdink, Suzanne Sommers and Shirley McLaine. In the late 90s, Rozario came out of retirement to work with Vic Damone and came out of retirement a second time to tape the "Dennis Bono Show" live every Thursday for 11 years. The show is now produced at the South Point and aired on U.S. radio stations and worldwide through Stay Tuned America.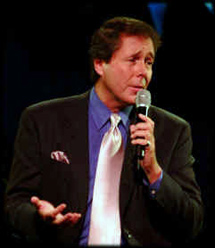 This special concert will feature the music of Louis Prima, Bobby Darin, Tony Orlando, Vic Damone and Dennis Bono and star Lena Prima, Art Vargas, Tony Orlando, Laura Taylor and Dennis Bono.
QUICK CLIPS
"WICKED," the smash hit musical, will kick off The Smith Center for the Performing Arts' 2012-2013 Broadway-subscription series with a limited six-week engagement, Aug. 29 – Oct. 7, 2012.
Singer/songwriter Gwen Stefani, who is an entertainment and fashion icon and became the lead singer of No Doubt in 1986, recently had her $300,000 wax figure unveiled at Madame Tussauds at the Venetian.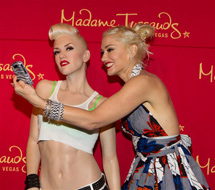 The Cosmopolitan on the Strip, which will open in December, has announced Coldplay and Jay-Z will team up for a private party at the resort on New Year's Eve. Plans also call for the casino to broadcast the superstars on a 65-foot outdoor digital marquee.
"Triumph"…It Runs On Steam has set an opening date of Nov. 15 at the Las Vegas Hilton Theater. Cost for evening performances at 7:30 and 9:30 p.m. will start at $29.95 and 4 p.m. matinees at $19.95.
The last scheduled performances for the Riviera Comedy Club that will be closing are Mitchell Walters, Bruce Clark and Bob Gautreau from Oct. 25-31. Headlining Oct. 11-17 will be Joe Moffa, who was featured in "Law " Order: SVU" and appeared on the FOX Cartoon Network in the role of Officer Gansley in "The Teenage Mutant Ninja Turtles" series.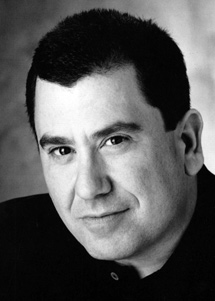 The second Italian Festival with Italian food, family entertainment, and grape stomping will be held at the M Resort on Oct.23 and 24 from 11 a.m. to 9 p.m. poolside at the Villaggio Del Sole. This event was started by the Marnell family 17 years ago when they owned the Rio. Admission is $10, $5 for children ages 6-12, and free under age 5. Paid admission includes one select beverage.
"High-Tini," a Vegas twist on a traditional English High Tea will take place at the Queen Victoria Pub at the Riviera on Saturday, Oct. 16 at 3 p.m. Attendees are encouraged to dress up and wear a fancy hat. Tickets, which include one special martini, appetizers and entertainment, are $12 and $20 for two, call 702-794-9260.
Rocktoberfest will be a block party with live music and food celebrating Oktoberfest at O'sheas alleyway on Saturday, Oct. 9 from 3 p.m. to midnight. There will be beer pong and corn hole games all day. At 9 p.m., Sick Puppies will perform.
The Golden Nugget downtown recently had "CSI: Crime Scene Investigation" spend three days of filming at the property for the episode that aired on Sept. 30.
Lurie Horns Pfeffer, Tony© Award-winning stage manager for the Broadway hit and international tours of Billy Crystal's, "700 Sundays," is joining the crew of "Macbeth" for her debut with the Shakespeare in the Park series. The 7 p.m. complimentary performances of "Macbeth" will be at four different venues: River Mountain Park – Oct. 2; Lake Las Vegas –Oct. 9; Discovery Park – Oct. 16; and Sonata Park – Oct. 23. Also, a green show will occur one hour prior to each show. For information, call 702-267-2171 or visit HendersonLive.com.
The scheduled Oct. 15 concert of the three women who play the role of Christine in "Phantom: The Las Vegas Spectacular" has been canceled. Instead, the public is invited to bring lunch and enjoy tenor Mark A. Thomsen performing a free noon concert on Friday, Oct. 15, in the Lloyd D. George Federal Courthouse Jury Assembly Room downtown at 333 Las Vegas Blvd. South. For information, visit www.artslasvegas.org or call 702-229-3515.
The Las Vegas Design Center at World Market Center Las Vegas is encouraging people to brighten the holidays of foster and adopted children by dropping off a toy valued at $25 or more through Nov. 15 at Nourison in showroom C112. In exchange, they will get 20 percent off merchandise at participating showrooms.
EXPOSÉ, ALL-4-ONE " P.M. DAWN PERFORM IN HENDERSON
Exposé, All-4-One and P.M. Dawn will perform the greatest hits of the 80s and 90s at the Henderson Pavilion on Oct. 9 at 8 p.m. Tickets are $10, visit HendersonLive.com or call 702- 267-4TIX.
Exposé, the freestyle dance/pop trio, had four Top 10 hits on their debut album and were the first girl group to have seven back-to-back Top 10 hits on Billboard's Hot 100. Grammy Award-winning quartet, All-4-One, achieved success in the early 90s with an original version of the John Michael Montgomery song, "I Swear," and they are known for the chart topping a cappella song, "So Much In Love." P.M. Dawn, comprised of brothers, Prince Be (Attrell Cordes) and DJ Minute Mix (Jarrett Cordes), achieved music success in the hip-hop/R"B world of the late 80s and early 90s.
Column Continues Below Advertisement




CONTINUE ON TO...:
>THIS WEEK'S LAUGHLIN NEWS
>LAST WEEK'S LAS VEGAS NEWS
>VEGAS VIEWS FULL NEWS ARCHIVES
>Return to "Heard Around Town"
>Return to Las Vegas Leisure Guide