VINCE GILL VISITS RIVERSIDE AMPHITHEATER
Superstar Vince Gill will headline the Riverside Amphitheater on Saturday, Oct. 22. Tickets range from $35 to $80.
By his high school years, Gill was proficient in banjo and guitar and playing in his first bluegrass band. After graduation, he turned professional performing in bands such as Pure Prairie League. In 1989, he recorded his breakthrough hit "When I Call Your Name." Gill has produced more than 26 albums, collections and compilations including "These Days" a four-CD set featuring 43 recordings covering musical styles from traditional country to contemporary country to bluegrass. Today, Gill continues to be one of country music's most prolific songwriters, musicians and singers.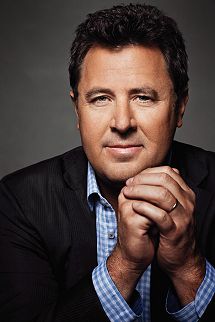 NOTE: Vince Gill concert tickets will be good for chances at winning Bud Light guitars autographed by Vince Gill at a drawing after the concert; see the players club for details.
AQUARIUS HONORS VETERANS
The Aquarius will honor military Veterans Day, Nov. 11, with a special free presentation taking a look into America's patriotic heritage at 5:30 p.m. in Pavilion B called "Marching Through History."
The historical journey begins with the Revolution and ends in the present. It includes costumes, music and dance representing each era as well as some of the serious and humorous events in American history.
Produce Frank Pangborn served in Vietnam in 1969 and 1970 as a Platoon Leader with the 1st of the 12th, 1st Air Calvary Division. Much of his time was spent conducting combat assaults, living in the jungle and searching for the North Vietnamese Army along the Cambodian border through a network of trails known as the Ho Chi Minh trail.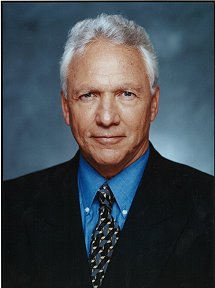 Pangborn is a former President of Chapter 785 of the Vietnam Veterans of America and a college professor at Irvine Valley College in California. He also is a member of the Screen Actors Guild (SAG) and the American Federation of Television and Radio Actors (AFTRA). His credits include roles on "Young and the Restless," "General Hospital," "Days of Our Lives." "Moonlighting," "Murder She Wrote" and "Melrose Place."
DARIUS RUCKER PERFORMS AT HARRAH's AMPHITEATER
Country star Darius Rucker will headline the Rio Vista Outdoor Amphitheater at Harrah's on Friday, Oct. 28. Rucker is riding high with the release of his sophomore country album, "Charleston, SC 1966," which pays tribute to one of his biggest influences, Radney Foster. His debut chart-topping 2008 release, "Learn To Live," produced three consecutive No. 1 singles and Top 5 smash, "History In The Making." Rucker was recognized at the "43rd Annual CMA Awards" when he received the Top New Artist title and again with ACM, Teen Choice, and AMA Award nominations. Tickets start at $40.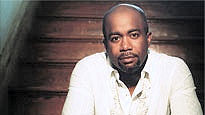 STEVE MARCH TORMÉ SINGS AT AQUARIUS
Steve March Tormé will sing his father Mel Tormé's hits plus contemporary songs in the Splash Cabaret at the Aquarius on Friday, Oct. 14. Tickets are $15.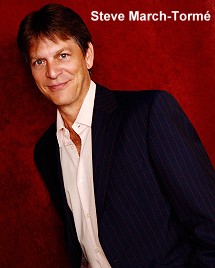 Tormé was born in New York City to Mel Tormé and the former model, Candy Tockstein. They divorced when Steve was a baby and his mother married actor/comedian Hal March, who hosted NBC's "The $64,000 Question Show."
Tormé was an avid baseball player and fan growing up; however, by age 12, he knew he wanted to be a performer and at 13, he earned his first paycheck fronting his own band.
In the late 1970s, Tormé recorded his first LP, "Lucky," and later produced and sang on Liza Minnelli's Columbia Records release "Tropical Nights." He was recommended by Quincy Jones to be one of the three featured singers for the vocal group Full Swing, which had its debut release on Planet Records. More releases as a solo artist followed and his current jazz CD, "So Far," combines the most popular material from his first three CDs.
As an actor, Tormé played the male lead in a mini-series for RAI (Italian) Television, and appeared on a number of variety television shows in America. He spent three years as the featured vocalist on ABC-TV's "$100,000 Name That Tune."
In addition, Tormé hosts his own radio show every Wednesday and Thursday afternoon on the Music of Your Life network and he's the voice every afternoon for four hours on the syndicated station 91.1 FM "The Avenue."
THE RIVERSIDE WILL HOLD WINTER DANCE PARTY, OCT. 4-9
The "Winter Dance Party" at the Riverside, Oct. 4-9, will be a tribute show to Buddy Holly, Ritchie Valens and The Big Bopper. Tickets are $32.
John Mueller's "Winter Dance Party" ® is the official live and authentic re-creation of Buddy Holly, Ritchie Valens and the Big Bopper's final tour and the only show endorsed by the Holly, Valens and Richardson estates. Each live concert performance includes more than two hours of unbridled entertainment featuring all the hit songs of the 50's era.
TROPICANA HOLDS ITALIAN FEST
The Tropicana will hold an outdoor Italian Fest on Saturday, Oct. 8, from 4 to 8 p.m. in Victory Plaza. You can partake of an authentic Italian dinner featuring a choice of entrees: Spaghetti and Meatballs or Chicken Parmesan with Spaghetti Marinara, served with a garlic breadstick and a garden salad for $8.99. There will be music with the smooth sounds of Martin and Sinatra performed by Danny D., a Laughlin favorite whose tributes include many of the great male vocalists from the Golden Age of Swing.
TOP OF NEXT COLUMN
NATHAN OWENS 'MOTOWN AFTER DARK'
Nathan Owens "Motown After Dark" will be rocking the Fiesta Showroom at Harrah's nightly at 8 p.m., Oct. 14-23. Tickets are $18.95 and $24.95.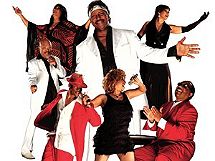 With a horn section that emulates the Motown sound, this show has singing, dancing and costumes. Nathan Owens is backed by a dynamic seven-piece band, performing the biggest hits from the Motown era. The show includes special tributes to Michael Jackson and the Jackson Five, Stevie Wonder, Gladys Knight, Tina Turner and Aretha Franklin.
EDGEWATER STICKS WITH LAUGH MAKERS
The Edgewater sticks with "Comedy on the Edge" in the showroom every Friday, Saturday and Sunday at 7 p.m. Each show features two stand-up comedians. Upcoming acts are: Oct 8-9 Barry Diamond and Richie Cantor. Oct 7 Bruce Jingles and Ron Swallow; Oct. 8 – 9 Barry Diamond and Richie Cantor; Oct 14 Corey Sweeney and Andrew Rivers; Oct. 15-16 Vicki Barbolak and Cindy Burns; Oct 21 Rick Pulido and Kul Black; Oct. 22 -23 Rick Corso and Wes Martens; Oct 28-30 Stephen B and Adam Gropman (Fri-Sun); Nov 4 Ed Regine and Pat Mellon, and Nov. 5-6 Chris Clobber and Ryan Wingfield. Tickets are $10 at the Edgewater Casino Cage or the door.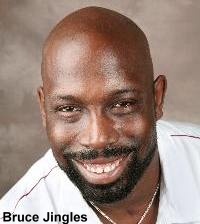 Jingles has performed with national headliners including Jeff Garcia, Carlos Mencia, Chris Tucker, Gabriel Iglesias, Damon Wayans, Dane Cook and The Legend...Paul Mooney. His material ranges from his teenage years in a Latin community to his several mishaps with the law--his 2 DUIs, his obsession with marijuana--or sometimes he just simply talks about his day.
BELLE AND EDGEWATER HALLOWEEN SAFE STREET
The Colorado Belle and Edgewater Resorts we will be hosting their 5th Annual Halloween Safe Street Experience On Halloween – Monday, Oct. 31, in the early evening. Once again, the Riverwalk spanning between the resorts will be transformed into a "Spooktacular" safe trick or treating experience with free trick or treat candy given out at booths, games, and more. It's free to attend with food and beverages sold separately.
QUICK CLIPS
The 24th Annual "Chefs' Food Fest" will be held in the Aquarius Ballroom on Thursday, Oct. 6, at 5:30 p.m. This major fundraiser showcases the talents of casino chefs and area restaurants with decorated booths and culinary masterpieces as well as wine and spirits booths from major distributors. Tickets are $60, which includes all the samplings, call 702-298-2214.
"Das Beer Fest" will be an Oktoberfest event with a variety of German food and music provided by an oompah band held on the Riverwalk between the Colorado Belle and Edgewater, Oct. 7-9. The event is free to attend with food and beverages will be sold separately. Hours will be 4-9 p.m. on Friday, noon to 9 p.m. on Saturday, and noon to 6 p.m. on Sunday.
The lineup in Don's Celebrity Theatre at the Riverside this month is: "Oh What A Night!" a tribute to Frankie Valli and the Four Seasons, Oct. 11-16; Sha Na Na Oct. 18-23; and The Oak Ridge Boys, Oct. 25-30.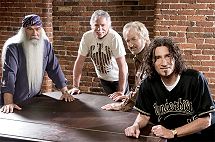 On Saturday, Oct. 15 at the Edgewater's E Center will be Shark Fights 20 - live professional MMA featuring 20 fighters starting at 7 p.m. The main event will be Artenas Young vs. Clifford Starks. Tickets range from $20 to $100.

The Tropicana will hold "Fall Festival" on Saturday, Oct. 15, from 4-8 p.m. in Victory Plaza and highlight festive live music, German food and a drink special. It's free to attend and food and drink will be sold separately.

Pure Aloha Laughlin - a salute to everything Hawaiian with traditional Polynesian entertainment, vendors selling Polynesian merchandise, and a wide assortment of traditional Islands cuisine will take place at The E Center at the Edgewater, Oct. 22 and 23. Entertainment will include one of the premier Hawaiian bands, Kapena on Saturday at 8 p.m. as well as numerous other Polynesian bands and dance troupes throughout the event. Hours are 10 a.m. – 10 p.m. on Saturday and 10 a.m. - 5 p.m. on Sunday. A weekend pass is $12; $10 on Saturday and $5 on Sunday. Children 12 and under are admitted free.

Girls Day Out will be held at the River Palms in the 2700 Club on Saturday, Oct. 22, from 10 a.m. – 3 p.m. and be hosted by Cameron Broadcasting. This event will feature a wide variety of vendors, services, displays, and advice geared toward ladies. Contact 928-763-5586 for more information.

The Riverside Resort Employees Talent Show will take place on Monday, Oct. 24, in Don's Celebrity Theatre at 7 p.m. Admission is free; however, donations of can of non-perishable food for holiday food drive appreciated.

The "Haunt & Glow Car Show" put on by the Island Cruisers Car Club will be held in the North Parking Lot at the Tropicana, Oct. 28-30. The event welcomes all cars, trucks, bikes, and features vendors, food and beverage booths, and music. Other activities include: a light show on Friday at 6 p.m.; a Halloween costume contest on Saturday at 6 p.m.; cars on view starting at 1 p.m. on Friday and Saturday from 9 a.m.-7 p.m.; and awards at 10 a.m. on Sunday. There's no charge to view the cars. For information, call 800-343-4533.

The Avi will hold the "Monster Mash Dance" in the Avi "Haunted" Grand Ballroom on Saturday, Oct. 29, from 7-10 p.m. This Halloween event will feature the music of "Ronnie & The Classics" and a costume contest with $250 Xtra Bucks Bonus (free cash play) prizes in each category: "Funniest Costume," "Scariest Costume" and "Most Original Costume." Admission will be $5 at the door at 6 p.m. All proceeds will be donated to the Boys & Girls Club of Aha Macav.

The Aquarius will host the 4th Annual Psychic Fair on Oct. 29 and 30 in the Aquarius Pavilion. Guests will have access to tea leaf readers, spiritual healers, astrologists, numerologists, aura photographers and tarot card readers and other specialty talents. There will be more than 30 psychic specialists. Admission is free and readings cost $20. Event hours are noon to 8 p.m. each day.

The Silver Rider Wine Tasting Charity Silent Auction will be held at the River Palms in the Ballroom on Saturday, Nov. 5, from 2 – 4 p.m. This event will feature wine tasting, hors d'oeuvres, a silent auction with of all manner of merchandise, services and casino room stays, and three cash drawings ($300 and $500). Proceeds will benefit senior transit programs, Meals on Wheels and other transportation services of Silver Rider. Admission is $15 in advance - call Silver Rider Transit at 702-298-4435, and $20 at the door.

On Thursday, Nov. 20, the "Laughlin's Got Talent" show will be held in the Tropicana Pavilion at 7 p.m. This program highlights winners of individual casino employee talent shows competing for the overall winner. Admission is cash or canned food donation.

The "River of Lights" holiday boat parade on the Colorado River will be held on Nov. 25 with viewing all along the Riverwalk.


CONTINUE ON TO...:

>THIS WEEK'S LAS VEGAS NEWS
>LAST WEEK'S LAUGHLIN NEWS
>VEGAS VIEW FULL ARCHIVES
>Return to "Heard Around Town"
>Return to Las Vegas Leisure Guide