TOBY KEITH WILL STAR AT LAUGHLIN EVENT CENTER!

The Ford F Series will present Toby Keith with opening act Ned LeDoux at the outdoor Laughlin Event Center on Saturday, Oct. 28 at 8 p.m. Tickets range from $75 to $130, with suites available at $250/$350.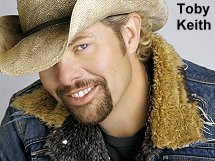 Ned LeDoux was a drummer in his dad Chris LeDoux's band Western Underground since 1998 with "no plan b" but to play music. When his dad passed away in 2005 from cancer, LeDoux continued to tour with his father's band to keep the musical spirit alive.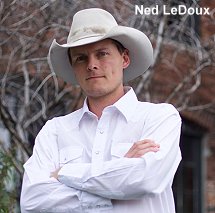 Keith's newest "35 MPH Town" released in October 2015 was his 18th studio album. His albums have sold more than 40 million copies, ranking him among the top-selling all-genre artists on Billboard's Top 200 Artists of the Decade. He is also Billboard's No. 1 Country Artist of the Decade and No. 1 Country Songwriter of the Decade. Long sponsored by Ford Trucks, Keith's tours including 2014's Shut Up And Hold On Tour have drawn more than one million fans each year for the last decade.
From one of his previous collections, "Clancy's Tavern," the lead single, "Made In America," topped the charts as one of the fastest rising songs in a long line of chart burners Keith penned. The second hit, "Red Solo Cup," has become a remarkable commercial successful with a viral video receiving more than 30 million views.
Keith's most rewarding experiences come from giving back. Whether it's helping sick children and their families in his native Oklahoma through the Toby Keith Foundation and their cost-free home, OK Kids Korral, or supporting U.S. Troops including 11 USO Tours, Keith never loses touch with the most important things in life.
GABRIEL IGLESIAS HEADLINES RIO VISTA AMPHITHEATER
Comedian Gabriel Iglesias will appear in concert at Harrah's Rio Vista Amphitheater on Saturday, Oct. 14 at 8 p.m. Ticket range is $34.40 to $89.45.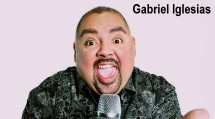 The self-proclaimed "fluffy" comedian conjures laughs with his self-deprecating jokes about his weight including the "Five Levels of Fatness." Iglesias got his start in 1997 when he decided to dedicate himself to comedy and let go of his day job. Struggling fueled his career fire and helped him hone his act. National exposure for Iglesias came on season four of "Last Comic Standing" and he has become known for his voiceover work. Using voices and sound effects gives life to characters he introduces with his storytelling style of stand-up comedy.
EVERY WEEKEND IS DIFFERENT COMEDIANS AT THE EDGEWATER
The Edge Lounge at the Edgewater has two different comedians each week appearing every Friday-Sunday at 7 p.m. in "Comedy on the Edge." Tickets are $15 with a $2 discount available on Sundays for U.S. veterans.
Future comedians will include: Oct. 6-8 Adam Hunter and Jonathan Gregory; Oct. 13-15 Will C. and David Rosenberg; Oct. 20-22 Tim Homayoon and Julian Michael; Oct. 27-29 Rick Izquieta and Joseph Nybyk; Nov. 3-5 Kathleen Dunbar and Jonathan Giles; Nov. 10-12 Freddy Charles and Alex just Alex; Nov. 17-19 LA Hardy and Derrick Stroman; and Nov. 24-26 Eric Lamparet and Jorge Ruiz.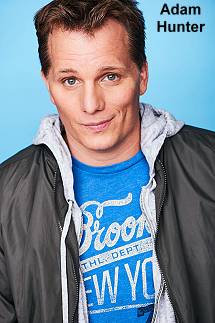 Adam Hunter will appear with Jonathan Gregory Oct. 6-8. Hunter, a 20-year stand-up veteran, tells jokes covering topics such as his family, marriage, his dog, when he was single, music, pop culture, politics, drugs and much more. Hunter has shared the stage with Dave Chapelle, Amy Schumer, Chris Rock, Daniel Tosh, Damon Wayans and many others at comedy clubs all over the country. He's appeared on "The Tonight Show," "Last Comic Standing," "Chelsea Lately," "Comics Unleashed," and "The Real Husbands of Hollywood," and done more than 10 overseas tours for the U.S. Troops.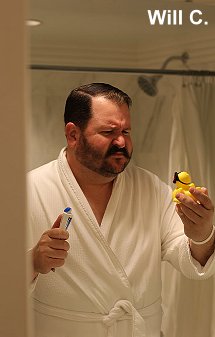 Will C. will share the stage with David Rosenberg Oct. 13-15. Self-deprecating comedian Will C. is a 20-year stand-up vet who talks about military, life, family and kids. He started at The Comedy Store in La Jolla in 1995 and over the years has performed with many other comedians including Lisa Lampanelli and Lewis Black. Will C. is a veteran of the Air Force, Marine Corps, and the Army, and toured with the GIs of Comedy in 2011 and 2012. He started his own tour in 2014 called The Veterans of Comedy, and went to Afghanistan to perform for our troops. He has many credits as an actor in movies, commercials and on TV.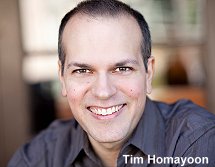 Tim Homayoon will share the Oct. 20-22 dates with Julian Michael. Homayoon's comedy material is about familiar subjects like family, marriage, dating, plus he tosses in some advice and trivia. His act also mixes wild characters and physical comedy. He started his comedy career as a high school senior and by the time he was 18 joined an improv group with future comedy stars Kevin James and Adam Ferrara. Along with working with comedy superstars like Richard Jeni, Ray Romano, Jeff Dunham and Kevin James, he's performed for U.S. Troops numerous times, been a former writer for SNL, and was filmed in an episode of CBS' "The Good Wife."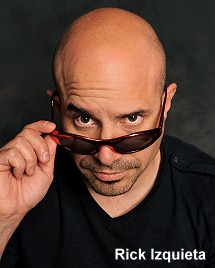 Rick Izquieta will frame the laughter with fellow comedian Joseph Nybyk Oct. 27-29. Izquieta's subject matter is mostly about family, Spanish culture, gay community, sports, plus some bits about current affairs. Izquieta showcased his stand-up comedy in December 2013 on the Starz TV Network comedy show "STAANN' DUP!!" hosted by Donnell Rawlings of Comedy Central's Dave Chappelle Show. Izquieta creates comedy sketches on Funny or Die, has been the voice for Black Belt TV's MMA fights and a Montejo Beer commercial. His stand-up is also on Sirius Radio and YouTube.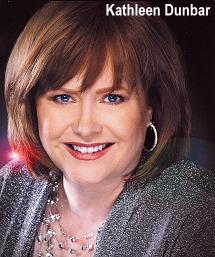 Kathleen Dunbar will headline with Jonathan Giles Nov. 3-5. Dunbar's quick wit, realistic look at life and observations joking about family and aging helped her develop into a sarcastic edgy comic with attitude and humor. Her life in comedy started in Las Vegas with Ladies of Laughter and later moved to Kathleen Dunbar's Divas of Comedy Show. She was the Comedy Winner in the 2003 Las Vegas Star Search competition. In 2005, the Entertainment Consumer Exchange (ECE) awarded Dunbar the Excellence in Entertainment Sunrise Award. In 2006, she won the ECE Favorite Comedy Show award.
TOP OF NEXT COLUMN
DEANA CARTER GRACES THE STAGE AT THE RIVERSIDE
Music country staple Deana Carter will appear at the Riverside in Don's Celebrity Theater Thursday, Saturday, Oct.19-21 at 7 p.m. Tickets are $30.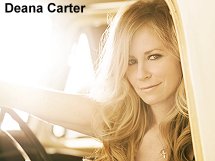 The natural beauty caught the eye of Willie Nelson early in her career and she's co-written songs with the likes of Kenny Chesney. She's the daughter of famed studio guitarist and producer Fred Carter, Jr., Carter grew up exposed to the wide variety of musicians her father worked with, including Willie Nelson, Bob Dylan, Waylon Jennings, and Simon & Garfunkel. Their strong influence eventually seeped into Carter's own country-pop style.
Developing her songwriting skills, Carter eventually signed a writing deal with Polygram and soon after a record deal with Capitol Records. One of her demo tapes fell into the hands of none other than Willie Nelson, who remembered her as a child. Nelson asked Carter to perform along with John Mellencamp, Kris Kristofferson and Neil Young as the only female solo artist to appear at Farm Aid VII in 1994. Her debut album, "Did I Shave My Legs For This?," boasts six songs co-written and co-produced by Carter and was released in late summer 1996.
Carter now divides her time between Los Angeles and Nashville, writing and producing for both the pop/rock and country markets when she's not on the road touring. She is also the national spokesperson for the National Kidney Foundation.
TROPICANA HOLDS 3RD ANNUAL LUAU
It's the perfect time of year for the 3rd Annual Tropicana Luau poolside at the Tropicana on Thursday, Oct. 19 at 6 p.m. The evening will be highlighted by a buffet-style luau dinner with island-flavored dishes such as poi, papaya salad, char siu ribs, mahi mahi and a show performed by the Hot Lava singers, dancers and master fire dancer. Tickets are $50, call 1-888-888-8695.
LAUGHLIN FILM FESTIVAL RETURNS
The 6th Annual Laughlin International Film Festival (LIFF) is scheduled Oct. 12-15. For cinematic enthusiasts, this event operates as an annual platform for the United States and international filmmakers to showcase their films and to network. Films, short films, feature films, documentaries, music videos, experimental work and more are screened at the Laughlin Stadium 9 Cinemas over four days in conjunction with social networking events, film workshops/panels, parties, a Saturday Night Awards Show, and a Filmmaker's Breakfast on Sunday with a director/producer panel. The Tropicana is the host casino.
COLORADO BELLE EMBRACES FESTIVALS
With the advantage of the Riverwalk, the Colorado Belle is known for putting on themed music and food festivals. The 9th Annual Das Beer Fest with cold beer and German cuisine will take place Friday-Sunday, Oct. 6-9 and 13-15 with live music on the Loading Dock Stage showcasing oompah bands: The Rhinelanders with Helmut Oct. 6-8 and The Warsaw Brothers Oct. 13-15. The Rhinelanders are a Denver-based band specializing in a wide variety of music including German polkas, Schinkel waltzes, and beer drinking songs including the chicken dance.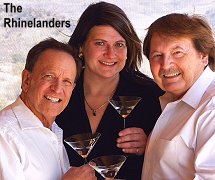 The Riverwalk Honkytonk Festival with live country music on the Loading Dock Stage will follow Oct. 27-29. The acts performing will be Chris Johnson & the Hollywood Hillbillies and Guitars & Cadillacs.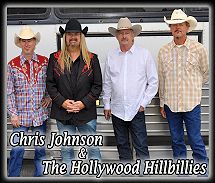 RIVERSIDE BOASTS TOP-NOTCH TRIBUTE SHOWS
Tribute artists can recreate a realistic experience and deserve much credit for their talent. In October and November, the Riverside will feature tribute shows in Don's Celebrity Theatre honoring the music created by Queen, Rod Steward and Frankie Valli & the Four Seasons.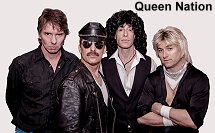 Queen Nation will deliver a live 90-minute product of Queen's greatest hits Oct. 12-15 at 8 p.m. Queen Nation was formed in 2004 with the mission to carry on the musical torch and pay homage to the golden age of vintage Queen' concerts. Queen, the kings of arena rock, performed to packed stadiums around the globe for more than two decades. Freddie Mercury's showmanship as front man had him undisputedly crowned the lord of arena rock. Upon his death in 1991, a huge void was left in the rock concert world. Tickets are $30.
Direct from Las Vegas, "Tonight's the Night: A Tribute to Rod Stewart" starring John Anthony will headline Wednesday-Sunday, Oct. 25-29 at 8 p.m. Anthony is one of the mainstays with the "Legends in Concert" show and has toured America, Canada, Europe and Japan. He is recognized as one of the best and unmatched impersonators in the business. Tickets are $30.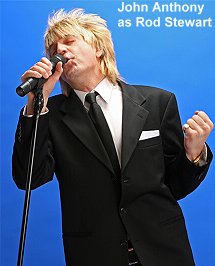 The music of Frankie Valli & the Four Seasons will be forefront in "December '63" playing Wednesday-Sunday, Nov. 1-5 at 7 p.m. The music comes to life in this re-creation of the Frankie Valli concert experience. The group released their first album featuring with their first No. 1 single "Sherry" in 1961. From 1962 to early 1964, only the Beach Boys matched the Four Seasons in record sales in the United States. Tickets are $35.
TROPICANA HAS HALLOWEEN SPIRIT
The Haunt & Glow Car Show at the Tropicana Oct. 27-28 will evoke Halloween fun. The event includes a show N shine, vendors, Halloween costume contest, car light show and more. Car, truck and motorcycle viewing will be free Friday 1-6 p.m. and Saturday 9 a.m.-7 p.m. The costume contest and light show will take place Saturday at 6 p.m. in the North Lot with awards at 10 a.m. on Sunday in the Pavilion Theater.
FAST TRACK ITEMS
"Girls Day Out," one of the biggest one-day shopping events in the Tri-State area, will highlight more than 95 booths featuring gifts, jewelry, clothing, accessories, etc. on Saturday, Oct. 28 at the Aquarius Pavilion until 6 p.m. with free admission.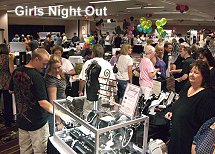 The Colorado Belle will host The Laughlin Bikes 'N' Rods Music Festival in the Parking Lot Saturday-Sunday, Nov. 18-19. The event will feature two days of rock 'n' roll and country concerts including Ricochet, tribute acts, Cash O'Riley and The Local Drunx, as well as a motorcycle and car show, vendor village, beauty pageant, and much more. Cost one day is $10 or $15 for two days.
The Country Artists Tribute will headline at Harrah's Oct.18-27 with a focus on country superstars Eric Church, George Strait, and Kenny Chesney and a live band from the Las Vegas Strip.
The 2017 Run Laughlin Half Marathon, 5K and 10K event presented by the Laughlin/Bullhead International Airport will take place Saturday, Dec. 2. The new element this year is the 10K, which is 6.2 miles. The Tropicana is the host hotel.
The Band Perry, a trio of siblings Kimberly, Reid and Neil Perry, will appear at the Laughlin Event Center for a citywide concert on Friday, Oct. 6 at 8 p.m.
"Legends of Motown" is an Old School Tribute Show capturing the look and sound of a Motown-era concert taking place Oct. 4-8 in Don's Celebrity Theatre at the Riverside. Tickets are $36.
The groove will continue with Smokey Robinson at the Edgewater in the E Center Saturday, Nov. 18 at 8 p.m. Tickets are $40, $50, and $80.
Vintage entertainment will be featured at Harrah's with "The Rat Pack Is Back" reliving tributes to legends and pals Frank Sinatra, Sammy Davis, Jr. and Dean Martin Nov. 1-10. It's ritzy, classy Vegas at its best!
The Laughlin Fall Fest hosted by the Laughlin Elks 2872 will be held Saturday, Oct. 14 from10 a.m.-8 p.m. at Laughlin Town Center at 3100 Needles Hwy. The music and food event will also have craft vendors and raffles.
AVI FEATURES JOHNNY CASH TRIBUTE
"Walkin' with Cash: Johnny Cash Tribute" starring Keith Furry will happen on Sunday, Nov. 12 in the Avi Grand Ballroom at 3 p.m. Tickets start at $10.
The show is a celebration of the life and music of an American icon and singer known as The Man in Black. Furry's love for Cash allows him to capture the legend's skills and intricacies from his baritone voice to his all black outfits. Hailed as one of the most influential musicians of the 20th century, Cash's crossover appeal had him earning induction into the Rock n Roll, Country and Gospel Halls of Fame.
CONTINUE ON TO...:

THIS WEEK'S >LAS VEGAS NEWS
LAST MONTH'S >LAUGHLIN NEWS
>VEGAS VIEW FULL ARCHIVES
Return to >"Heard Around Town"
Return to >Las Vegas Leisure Guide