The Kingston Trio's three-part harmony consists of George Grove, Bill Zorn and Rick Dougherty. They will headline at Don Laughlin's Riverside, Oct. 17-22. Tickets for the 8 p.m. show are $30, call 1-800-227-3849, ext 616.
The Trio's trademark harmony and clean, crisp sound keep them touring 30 weeks out of the year. In the '60s, the Kingston Trio was the No. 1 vocal group in the world, a musical and cultural phenomenon whose record sales and concert draws were matched only by The Beatles.
In 1976, Grove was invited to join the Kingston Trio. When he is not touring, Grove arranges and scores orchestral music, produces albums for other artists, and does session work as a musician and vocalist.
Zorn has toured the world with three of the country's top folk groups and produced albums in England and America. He has also acted in British movies, provided voiceovers for documentaries and cartoons, and published dozens of his own songs. Zorn left the group for several years and has been back for the past seven.
Dougherty, known best for his tenor voice, has been a guitarist, songwriter, performer, arranger and director for more than 30 years. He also possesses a flair for comedy.
As part of the Viva Laughlin! celebration, Harrah's will host singer, songwriter and guitarist Kenny Loggins at the Rio Vista Outdoor Amphitheater on Saturday, Oct. 7, at 9 p.m. Tickets are $25; call 702-298-8510.
A successful artist, Loggins has produced hit songs for four straight decades. He has become the reigning soundtrack superstar with hits such as "I'm Alright" from the movie "Caddyshack," "Danger Zone" from "Top Gun," and "Footloose" from the same-titled flick. Loggins has had chart-topping duet hits such as "Whenever I Call You Friend" with Stevie Nicks and "Don't Fight It" with Steve Perry.
The Viva Laughlin! celebration continues with dining specials at two Harrah's restaurants, the 24-hour Beach Café and Baja Blue Restaurant & Cantina.
The Colorado Belle will feature free live entertainment Oct. 6-8, during the 3rd Annual Viva Laughlin! event. The three-day "Sabor Latino" fiesta will take place in the Belle's Center Circle outdoor event area beginning at 5 p.m. Friday and 4 p.m. Saturday and Sunday. Entertainment will include two Latin bands - Las Florecitas con Estylo and Ambixion, Folklorico Dancers with Floreador, trick ropers, and the Miss Hawaiian Tropic Latin contest.
Billed as "Las Florecitas," Jessica and Vanessa Maito are the first and only identical Hispanic female twins with a Tejano/Norteno show band. They are eight-year show business veterans with the high-energy five-man band "Estylo" from New Mexico. Their performance is marked by water flying from the timbales, smoke coming from the drums, and fire flying from the accordion and bajo-quinto-taking their art to the extreme.
"Ambixion" guarantees "100 percent Mexican Cumbia with Latin flavor." The seven-man band was formed in San Antonio, Texas, seven years ago and has produced four CDs since then including their newest album "Cumbia Fuzion" featuring the single "Oye Como Va," a tribute to Tito Puente.
Food and beverage tents will feature fajitas, Budweiser and Bud Light, and "The Winner," which is the Belle's award-winning tropical margarita).
In the casino, Oct. 7-9, you can earn tickets to play to win a share of $2,500 in Rollin' on the River, which is the popular game played by rolling giant dice down the Grand Staircase. The Sombrero Prize Patrol will be giving away up to $10,000 in cash and prizes during the festival, Oct. 6-10.

TOP OF NEXT COLUMN
La Mafia will headline at Don Laughlin's Riverside, Oct. 4-8, at 8 p.m. Tickets are $32; call 1-800-227-3849, ext. 616.
Hailing from Houston, Texas, La Mafia is one of the most versatile Latino Bands, and is largely responsible for the resurgence of the "Norteno Sound," which has some basis in country and western music. This five-member group was founded by Oscar De La Rosa and Armando Lichtenberger Jr., who are both from the north end of Houston. Released in 1981, the group's debut album garnered both critical and commercial success. However, it was their second attempt that sky-rocketed the group to stardom. "Estas Tocando Fuego," released in 1991, sold more than one million copies. Their follow-up, "Ahora y Siempre," went triple platinum in 1993. The group received numerous accolades, including the 1996 and 1997 Grammy Award for "Best Mexican-American/Tejano Music Performance."
The Ramada Express is celebrating the colors, the flavors, and the music of the Latin culture with the town-wide 3rd Annual Viva Laughlin!, Oct. 6-8.
Victory Plaza will be turned into a nightclub with DJ Fernando "G" Gonzalez spinning the discs. The nightclub will be the hot spot from 9 p.m. to 1 a.m. and admission is free. It's all happening under the stars with icy cervesa and other drinks for sale at the outdoor bar.
There will be more free entertainment with no cover and no minimum in the Caboose Lounge with the band Blackjack performing from 9 p.m. to 2 a.m.
During the day on Saturday and Sunday from 11 a.m. - 1 p.m. in the Caboose Lounge, there will be free Latin and Salsa dance instruction.
On Friday at 8 p.m., the popular La Internacional Sonora Show with singers and musicians will bring their Columbian music, coined "Cumbia," to the Pavilion Theater. Tickets are $12.
Latin music's acclaimed bands, Tierra and Malo, will be on stage together in the Pavilion Theater for two nights, Oct. 7-8, performing their biggest hits. Tickets are $25.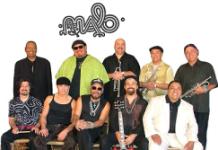 In conjunction with the Riverside's 6-Pack Giveaway promotion, you can win a new Streakin' Motorized Cooler every Thursday in October. This new creation of a standard ice chest is fully motorized, with a comfortable padded seat, hand brake and can go up to 13 mph.
Drawings will take place at 6 p.m. on Oct. 5, 12, 19 and 26. For information, call 702-298-2535 or 928-763-7070.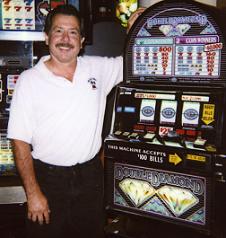 Jef H. of Simi Valley, Calif., saw his trip to Ramada Express Hotel Casino really pay off when he hit three Double Diamonds for a $20,000 win on a $25 machine.
CONTINUE ON TO...:
>THIS WEEK'S LAS VEGAS NEWS
>LAST WEEK'S LAUGHLIN NEWS
>VEGAS VIEWS FULL ARCHIVES
>Return to "Heard Around Town"
>Return to Las Vegas Leisure Guide