PURE Management Group (PMG) has introduced Social House, the first restaurant from the Las Vegas-based company. Located within Treasure Island atop Tangerine Lounge & Nightclub, Social House is an innovative Asian cuisine and sushi restaurant with unrivaled décor.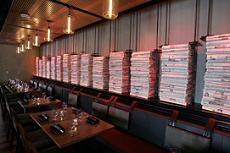 Designed by acclaimed New York firm, AvroKO, the 270-seat Social House combines an array of rich color patterns with a modern wood and steel-based design. The eatery - formerly Buccaneer Bay - winds around the edge of the hotel and features many nooks and crannies plus and elongated patio overlooking the Strip. Each room blends together to create a tranquil flow for dining and lounging.

Column Continues Below Advertisement


The stairway up to the restaurant from the casino features walls lined with brass file boxes, which are considered good luck, and is truly inspiriting. The lounge and bar area, which includes dining tables, is distinctive with light fixtures in birdcages. Former owner Steve Wynn's boardroom has been turned into a private dining room with 35 seats, a plasma screen TV and a private terrace with patio seating.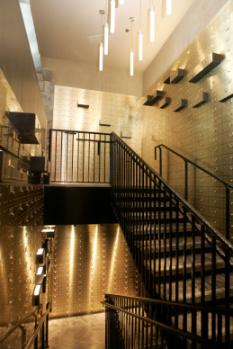 Other artistic highlights include steel grates for semiprivate dining, a 10-seat sushi bar, a six-seat circular bar that serves drinks and dinner, a hideaway bar in the back, and the "newspaper room" with rows of Japanese newspapers under presses.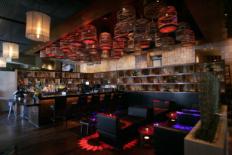 Dinner is available nightly from 5 p.m. until 11 p.m. In addition, there is late-night dining Tuesday through Saturday from 11 p.m. until 4 a.m.
"Burn The Floor®," a phenomenal Latin and ballroom dance revue seen by more than three million people in 32 countries, has opened a run at the Luxor through at least Oct. 26. The show features 18 of the world's finest dancers performing all dance styles including tango, rumba, salsa, cha cha and samba. Shows are Sunday through Thursday and tickets are $41 and $29; call 800-557-7428.
The show's director and choreographer, Jason Gilkison has a strong background as a World, British and International dance champion. His long list of choreographic credits include, the 2000 Sydney Olympic Games Closing Ceremony, 2003 Miss USA Pageant and the Broadway production and North American tour of Dame Edna's "Back With a Vengeance."
Timing for this show couldn't be better considering the popularity of today's television dance shows especially "Dancing With The Stars." "Burn The Floor" has an unmatched intensity with lots of athleticism, costume changes and unbridled energy. The resumes for the cast are astounding and two lead singers add to the show's production value. This show makes you understand why ballroom dancing should have a place in the Olympics.
"Cavalia," a grand-scale equestrian odyssey presented under its majestic White Big Top, will visit the Rio as part of a North American tour that began in 2003. The exclusive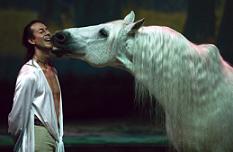 Las Vegas engagement will begin on Nov. 16 and run through Dec. 9. Tickets are priced from $30 to $95; $15 to $75 for children 12 and under. Cavalia Rendez-Vous packages, which include hors d'oeuvres and refreshments, a special souvenir, and an exclusive tour behind the scenes are also available and start at $175 for adults; $85 for children 12 and under, call 1-866-999-8111.
Designed especially for "Cavalia," the White Big Top houses a 160-foot-long "playground." It is the largest touring tent in North America at 110 feet high, which is the equivalent of a 10-story tall building, and seats 2,000. More than 1.2 million spectators have already seen the show that highlights 35 artists and 49 horses.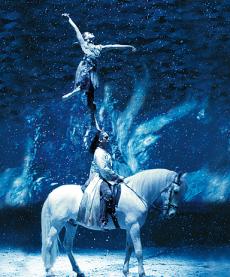 Normand Latourelle, President and Artistic Director of "Cavalia," are the show's visionary and a pioneer of Cirque du Soleil until 1990. "Cavalia" is a lavish orchestration combining the equestrian and performing arts. Acrobats, aerialists, dancers, musicians and riders share the stage with the horses, enchanting sets, multimedia projections, colorful lighting and special effects.
The soft-rock group, Foreigner will make a tour stop and perform at the Tropicana on Saturday, Nov. 4, in the Tiffany Theatre. Tickets for the 7:30 p.m. show are $49; call 702-739-2411.
Foreigner is led by front man guitarist Mick Jones and backed by the hottest talent from some of the greatest bands of all time, featuring Jason Bonham on drums, bass guitarist Jeff Pilson (ex-Dokken, ex-Dio) and vocalist Kelly Hansen (ex-Hurricane) joining forces with longtime keyboardist Jeff Jacobs and rhythm guitarist/saxophonist Tom Gimbel. Foreigner has sold in excess of 70 million albums worldwide.
When the Golden Nugget reopens its expanded 600-seat showroom this month, it will have a dance production show called "Simply Ballroom" to give "Burn The Floorr" some competition. It will be like before when we had a couple successful Irish dance shows headlining at different resorts.
Comedian Rita Rudner will be signing copies of her new book, "Turning the Tables," and posing for photos in three separate venues around town. "Turning the Tables," Rudner's fourth book and second novel, was published in August. This tale of revenge takes place in "Heaven," a fictional Las Vegas casino, and takes readers on a wild romp through the corrupt and sexy landscape that defines the country's hottest city. Signings are: Oct. 8 at noon Barnes & Noble in Summerlin 702-242-8644; Oct. 14 at 3 p.m. The Forum Shops at Caesars 702-893-3807; and Oct. 21 at 2 p.m. The Reading Room at Mandalay Place 702-632-9374.
Setting the tone for the Halloween season, Dee Snider, well known as the lead singer of Twisted Sister, will present his show "Van Helsing's Curse" at the Hard Rock on Oct. 20 and 21 inside The Joint. The concert will feature an 18-piece gothic rock-orchestra performing alongside Snider who will narrate a chilling story as the band performs remarkable versions of classic horror films and ominous songs with original melodies mixed in throughout.
In addition to the show, Snider promises a gothic-wedding ceremony on Oct. 21 in which he and his wife Suzette, who will wear black, will renew their vows as they celebrate their 25th wedding anniversary. Halloween is special for the couple since their daughter Cheyanne was born on Oct. 31.
In addition to food and drink specials, the month of October at the Hard Rock will feature special memorabilia cases dedicated to the likes of horror-movie greats such as Pinhead and cocktail waitresses will be costumed all month.
Terrible's Hotel and Casino on the corner of Flamingo and Paradise roads has opened its new 500-car parking garage and hotel tower that includes Jacuzzi suites. All rooms in the new tower feature views of the pool and plush gardens. Decorated in wine and beige hues the rooms include 42' plasma televisions.
The casino area has also improved in the recent expansion with brand new slots and video poker machines.
The Vegoose at Night Concert Series 2006 will include a special acoustic performance by Dave Matthews and Tim Reynolds at the MGM Grand Garden Arena Friday, Oct. 27. Tickets are $58.50; call Ticketmaster at 702-474-4000.
The Vegoose at Night Concert Series performances are events that will occur following the Sam Boyd Stadium shows Friday, Oct. 27 through Tuesday, Oct. 31 at a number of different venues throughout Las Vegas. The series' concerts are scheduled to include Damian "Jr. Gong" Marley, Keller Williams, Maceo Parker, The String Cheese Incident, Trey Anastasio with Robert Randolph &' The Family Band and others.
Patrons who purchase tickets for Vegoose at Sam Boyd Stadium are eligible to participate in a special pre-sale opportunity for the Vegoose at Night Concert Series shows. For information, visit the festival's Web site at www.vegoose.com.
The full-scale production show "Splash" at the Riviera debuted on June 21, 1985, and closed last night.
Sting tribute artist Andreas Krumkuhler from Germany recently made his U.S. debut as the legendary rocker in "Legends in Concert" at the Imperial Palace. Krumkuhler began playing drums in a band when he was 12. The following year he started playing bass guitar. Paying homage to Sting's former new wave rock band, The Police, Krumkuhler formed a band called Mr. Police in 1992. He has since performed in Spain, Switzerland and Greece and has appeared in "Stars in Concert," a celebrity tribute show performed in Berlin. He will appear in "Legends" until January.
Las Vegas has a new full-service production company, MaxxaM Entertainment, Inc. They are taping a new realty show for network television utilizing Las Vegas as the backdrop. "So You Wanna Be An Actor" will pit a cast of 12 females and 12 males against each other in a quest for a $1 million grand prize.
Fright Dome will open in the Adventuredome at Circus Circus on Oct. 6. and run through Oct. 31, Thursday - Sunday from 6 p.m. - midnight.
John DiCrosta, who has been called "one of the funniest 'Audio-Visual'" comedians, returns to the Riviera Comedy Club for seven nights beginning Monday, Oct. 9. DiCrosta has lived in Los Angeles for the last five years and has become a popular "audience warm-up" comic with credits that include "Politically Incorrect," "The Late, Late Show with Craig Kilborn" and "America's Funniest Home Videos." He's also a voiceover actor.
The popular Karaoke Club at the Imperial Palace recently celebrated its third anniversary at the resort. DJ Rusty Varney keeps the nightly song fests going in the club's new locations on the third floor next to the Sports Bar and near Burger Palace, voted eighth best hamburger in Las Vegas.
The CineVegas Film Festival will host a special screening of the film "Thanks to Gravity" at Lake Las Vegas Resort on Oct. 5 at 8:30 p.m. The screening will be free and open to the public who are encouraged to bring blankets to sit on while watching the movie. After the screening at 10 p.m., there will be a Q&A session with the film's director, Jessica Kavana, about her debut movie that stars Sean Astin (Lord of the Rings), Adam Rodriguez (CSI Miami), Shirley Knight, Bryan Greenburg and Rachel Miner. It's about a Jewish Latin-American girl played by Gina Philips, who struggles with questions of identity, culture and tradition.
Hooters Casino Hotel has continued its sponsorship of Wayne Allyn Root's "WinningEDGE," a nationally televised sports gaming/handicapping pre-game show direct from Las Vegas. The program airs nationally on "The Discovery Channel," reaching millions of viewers every Saturday at 8:30 a.m. PST and now has Michelle Nunes, Miss Hooters International 2006, opening the weekly show. Nunes, a blackjack dealer in Hooters Girl Party Pit, was selected from more than 120 Hooters Girls worldwide to represent the company for the next year.
Last week, KRAVE, the only alternative nightclub on the Strip, celebrated its second anniversary and marked the launch of several new amenities, promotions and entertainment offerings. A new decadent look for the VIP area of the club was unveiled. Redecorated in a brilliant white and red color scheme, with new white sofas, sleek tables, seductive sheer white curtains and increased mood lighting, the VIP area offers patrons a decadent nightlife experience including a personal assistant providing first-class service. KRAVE's new after-hours initiative "Love Life" immerses partygoers in a heavenly atmosphere that starts at 3 a.m. every Saturday night / Sunday morning.
For the 13th year, Sunset Park on East Sunset Road at Eastern Avenue, will be transformed into a medieval kingdom with lavishly costumed knights, knaves, fine ladies and wenches, as Clark County Parks and Recreation presents the annual "Age of Chivalry" Renaissance Festival, Oct. 13-15, beginning at 10 a.m. each day. Admission is $10 per day or $25 for a three-day pass for adults and $5 per day or $10 for a three-day pass for seniors and students. Ages 5 and younger are free. For information, call 702-455-8200.
Featured again this year will be live music, historical re-enactments, jousting tournaments on horseback, stage and strolling performers, medieval pageantry and parades, gladiator battles, hand-made craft demonstrations and sales, and authentic period food and beverage vendors. Over 200 artisans and craftsmen from throughout the United States and Canada will demonstrate and sell their wares. Concerts on Friday and Saturday evening will feature nationally known Celtic bands.
A Renaissance Village with encampments of German, Italian, Ottoman Turk, French, Celtic, Polish and British military will demonstrate daily life.
CONTINUE ON TO...:
>THIS WEEK'S LAUGHLIN SEGMENT
>LAST WEEK'S LAS VEGAS SEGMENT
>VEGAS VIEWS FULL ARCHIVES
>Return to "Heard Around Town"
>Return to Las Vegas Leisure Guide