<!A-- Left Column -->

The Boiler Room at the Colorado Belle continues to offer a new lineup of mid-week dining specials as well as free live entertainment, which has been added Thursday through Saturday.
Monday Nights are football action in Laughlin's only micro-brewery with a special menu being offered during the season that includes "Home Team Pizza," "1st and 10 Chicken Quesadillas," "The Quarterback Sneak Chicken Tenders" and Herchel Walker's "No. 34 St. Louis Style Ribs" basted with the Boiler Room's own Cola BBQ sauce.
The restaurant is also famous for its wood-fired pizza, which guests can enjoy for half price on Tuesdays. Giant Wings are also a specialty of the house and wing fans can get them for a quarter each on Wednesdays with orders of six or more. Both specials are offered after 4 p.m. On Thursdays, hand-crafted Boiler Room beer is 75 cents and pitchers are $4 all day long from 11 a.m.
Chubby Checker & The Wildcats will perform at the Tropicana Express in the American Heroes Pavilion on Nov. 10. He's the only artist to have five albums in the Top 12 all at one time. Tickets for his 8 p.m. show are $29.95 and $45.95, call 800-243-6846.
Ernest Evans better known as Chubby Checker gained his everlasting fame in June 1959 when he recorded "The Twist." Checker got his nickname Chubby from his boss at the Produce Market in South Philadelphia.
The storeowner of Fresh Farm Poultry was so impressed with Checker, he began showing off his employee to his customers through a loud speaker and arranged for him to do a private recording of the Yuletide novelty "Jingle Bells" with impressions for Dick Clark, who sent it out as a Christmas greeting to his friends in the music business. Cameo-Parkway liked it so much they wrote a song called "The Class" and it became Checker's first hit in early 1959.
The next few years were prolific for Checker as hit followed hit. In between recording and touring, Checker took time to add feature films to his portfolio with the releases of "Don't Knock The Twist" and "Twist Around The Clock."
In the fall of 1961, record industry history was made when Checker's original hit record, "The Twist," re-entered the charts and by January of 1962, it was back in the No. 1 position. No other record before or since has accomplished that feat. "The Twist" was not only the No. 1 song but it introduced the concept of "dancing apart to the beat."
In 2000, Checker branched out into the snack food business commemorating 40 years of "The Twist" with Chocolate Checker Bars, Beef Jerky, Hot Dogs, and Popcorn, all to be washed down with Girl of the World Water, which was dedicated to his wife.
NASCAR race parties have been held all season at the Colorado Belle in the property's Mardi Gras Room. Admission to the NASCAR parties is $10 per event and includes two drinks, stadium snacks and an entry to win official NASCAR merchandise in drawings. Guests must be 21 or older to attend. Tickets are available at the One Club booth or at the door on the day of the event.
The remaining race to be shown on big screen televisions will be the Bank of America 500 on Oct. 13, at Lowe's Motor Speedway in Concord, N.C.
Dynamic Las Vegas entertainer, Earl Turner, will return to the Fiesta Showroom at Harrah's, Oct. 27 - Nov. 7. He'll perform at 7 p.m. and 9 p.m. on Saturday and 7 p.m., Sunday through Wednesday (dark Nov. 1 - 2). Tickets start at $17.95, call 702-298-8510.

TOP OF NEXT COLUMN
Harrah's will presents legendary blues man, B.B. King at 8 p.m. on Oct. 27, in the Rio Vista Outdoor Amphitheater. Tickets start at $40, call 800-447-8700.
Born Riley B. King in 1925, King has been the face and sound of blues music for more than 40 years. In 1948, he first hit the airwaves on the Sonny Boy Williamson radio program broadcasting from West Memphis, Tenn., and got a new name. Riley B. King became known as Beale Street Blues Boy, which was shortened to Blues Boy King and finally, B.B. King.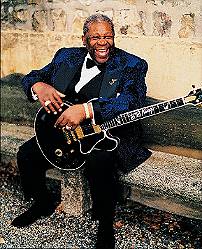 In the 1950s, fate stepped in to tie King with another name, Lucille. While performing at a dance hall in Twist, Ark., a fire broke out causing King to race to safety outdoors - without his $30 acoustic guitar. While narrowly escaping death, King rushed into the dance hall to retrieve his guitar. He later named his guitar after learning the fire was caused by two men fighting over a woman named Lucille. Since then, King's trademark Gibson guitars have been named Lucille.
The "King of Blues" has released more than 50 albums and produced classic hits. In September 2005, in honor of his milestone birthday, King released his duets with superstar's album, "B.B. King & Friends - 80." King earned his fourteenth Grammy Award for it and saw his 1997 release, "Live at the Regal," inducted into the Grammy Hall of Fame. This musical legend has also been inducted into the Blues Foundation Hall of Fame as well as the Rock and Roll Hall of Fame.
Harrah's will continue its 2007 fall entertainment series with a performance by 70s power band, Styx, at 8 p.m. on Thursday, Oct. 4, in the Rio Vista Outdoor Amphitheater. Tickets are $35, calling 702-298-8510.
The Kingston Trio known for their three-part harmony will headline in Don's Celebrity Theater at the Riverside at 8 p.m., Oct. 2-7. Tickets are $30, call 800-227-3849.
The Aquarius will host a performance with Hootie and the Blowfish on Saturday, Oct. 6 at 8 p.m. in the 3,000-seat Aquarius Outdoor Amphitheater. Tickets are $32.50 for general admission and $42.50 for premium seating, call 800-435-8469.
Comedian Louie Anderson will appear at Harrah's Fiesta Showroom, Nov. 17-19. He'll perform at 7 p.m. and 9 p.m. on Saturday and 7 p.m. on Sunday and Monday. Tickets start at $27.95.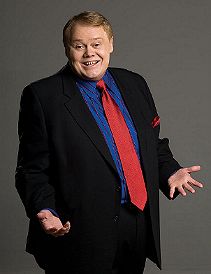 The Comedy Shop at the River Palms has three comedians lined up weekly through Nov. 10. Tickets are $14.95 and $19.95, call 866-448-7849.
CONTINUE ON TO...:
>THIS WEEK'S LAS VEGAS NEWS
>LAST WEEK'S LAUGHLIN NEWS
>VEGAS VIEW FULL ARCHIVES
>Return to "Heard Around Town"
>Return to Las Vegas Leisure Guide