Some of the greatest golfers will participate in the PGA Tour's 25th annual Fall Tournament in Las Vegas, Oct. 11 - 14. They will compete in the 2007 Frys.com Open benefiting Shriners Hospitals for Children for a $4 million purse, with the winner taking home $720,000. The Frys.com Open was the first in PGA Tour history to offer a $1 million purse and the first non-major tournament to offer a $5 million purse.
Brand new to the experience this year is "The Hill," a luxury 22,000-square-foot entertainment pavilion overlooking the 16th, 17th and 18th holes with a panoramic course and skyline view. The fun on The Hill will culminate in the Hole-in-One Ferrari sweepstakes at the 17th hole on Sunday. The Ferrari valued at $350,000 will go to a lucky hole-in-one winner or be raffled off as a complimentary entry into the tournament's 2008 Pro-Am. The Pro-Am package is valued at $12,000 for this year's tournament.

Column Continues Below Advertisement


The Pro-Am segment of the Frys.com Open has amateurs paired one-on-one with Pros for twp days of golf competition at TPC Canyons and TPC Summerlin. Tournament play will be preceded by three days of practice rounds as well.
Tickets range from $5 for a day grounds-only pass up to the $100 for the Clubhouse Badge with tournament admission, clubhouse amenities and access to The Hill, call 702-873-1010.
"Defending the Caveman," the one-man show headlining at the Golden Nugget since June, has had worldwide success since 1991. In celebration of Oktoberfest, the Golden Nugget is hosting "Cavetoberfest" featuring the European version of the show spoken entirely in German on Saturday, Oct. 20, at 3 p.m. Karsten Kaie, who has been performing the show in Germany since 2001, will star in the performance. There are currently 15 actors in Germany performing "Defending the Caveman" on tours. Tickets for the one-time performance are $40 for adults and $20 for students, call 866-946-5336.
"Cavetoberfest" will kick off on Monday, Oct. 1 with special German drinks at the showroom bar including an imported German beer. Souvenir Caveman Las Vegas beer steins will also be given out as part of the month-long promotion. Local star of "Defending the Caveman" Kevin Burke will join Kaie, to tap the keg at the Hofbräuhaus on Friday, Oct. 19.
For the 14th year, a medieval kingdom will take over Sunset Park, 2601 E. Sunset Road, with lavishly costumed knights, knaves, fine ladies and wenches as Clark County Parks and Recreation presents the annual Age of Chivalry Renaissance Festival, Oct. 12-14. Admission is $10 per day or $25 for a three-day pass for adults, and $5 or $10 for seniors and students. Ages 5 and younger are free, call 455-8200.
Several stages will feature entertainment with costumed performers presenting more than 50 shows per day along with historical re-enactments, jousting tournaments, medieval pageantry and more than 100 artisans including blacksmiths, stained-glass designers, jewelers, wood workers, toy makers, perfume blenders, stone carvers and sword, dagger and armor craftsman. Authentic food, from fish and chips to an English feast, will also be available.
Iconic alt rock vocalist Chris Cornell is set to perform at The Pearl's 2,500-seat venue at the Palms on Friday, Nov. 23, at 8 p.m. Tickets are $40 and $45, call 702-474-4000.
Cornell rose to fame in the 1980s as lead singer of Seattle-based Soundgarden, a band that was instrumental in leading the '90s "grunge revolution." After releasing multiple albums throughout the latter 1980s, Soundgarden released the double-platinum album "Badmotorfinger" in 1991. Around that same time, Cornell formed the band Temple of the Dog with fellow grunge rockers from the band that would become Pearl Jam. Temple of the Dog released one album that sold more than one million copies and the hit album "Superunknown" in 1994 that sold more than seven million copies and earned two Grammy awards. In 1996, the group released its final million-seller album "Down on the Upside."
Cornell then pursued a solo career, releasing the album "Euphoria Morning" in 1999, which garnered a Grammy nomination for Best Male Vocals in 2000 for the single "Can't Change Me." In 2001, Rage Against the Machine approached Cornell to be their new vocalist. Joining the band now known as Audioslave, Cornell and his band mates released their debut album in 2002, "Audioslave," which reached triple platinum status. In 2005, the band released "Out of Exile," which debuted at No. 1 on the U.S. charts. The band became the first American rock group to perform a free concert in Cuba for an audience of more than 70,000. The band released its third and final album "Revelations" a year later. During his final year with Audioslave and before going solo, Cornell released the single "You Know My Name" for the 2006 James Bond film "Casino Royale." This past June, his solo album debuted at No. 17.
Peace Frog, a Tribute to The Doors, will return to the Cannery in North Las Vegas for two nights on Friday and Saturday, Oct. 19 and 20, at 8 p.m. Admission is $5 at the door.
This act pays tribute to Jim Morrison and The Doors by recreating the magic and intensity of a Doors concert experience. Based out of Venice, Calif., lead singer Tony Fernandez lives out Morrison's every move on stage. Peace Frog is the drama and rock theater that made The Doors famous.
The Fifth Annual Fall Arts Festival will be held on Saturday and Sunday, Oct. 13 and 14, at MonteLago Village Resort at Lake Las Vegas located in Henderson. Fine artists and crafts persons from California, Arizona, Colorado and Utah will be displaying their original works in the picturesque village. The event is open to the public from 10 a.m. until 5 p.m. with free admission. Lena Prima, singer and daughter of legendary entertainer Louis Prima, will be a featured artist displaying her fine art drawing and paintings as well as her jewelry designs. For information, call 702.245.6077.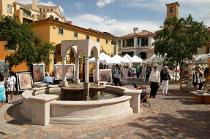 Last month, OPM nightclub at the Forum Shops at Caesars ended a four-year run. The new club called Love & Money after a $5 million remodeling job is suppose to open this weekend with cocktail waitresses dressed as French maids, black wall curtains, chandeliers and oil paintings depicting Dante's Inferno-like scenes.
The 4th annual Haunted Corn Maze in Glendale, located only 25 minutes north of North Las Vegas via I-15, will features an old-fashioned Coca-Cola bottle this year and kick off the Halloween celebration with a BBQ on Friday, Oct. 5 from 5-8 p.m. The official sponsor this year is the Coca-Cola Corp. and they are donating prizes.
Admission is $10 for adults, $8 for children 6 to 11, and free children 5 and under. The open hours are from 6-10 p.m. on Friday and Saturday with appointments required Monday through Thursday. The corn maze is 460-feet wide by 900-feet in length. For information, call 702-864-2277.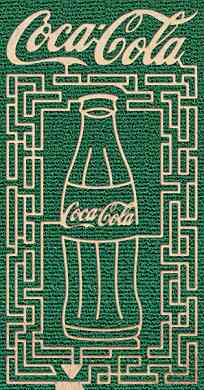 In addition, there will be all different sizes of pumpkins for sale this year for $2-$3 a pumpkin.
Blue October will bring its creative rock style to the Pearl at the Palms with special guests Yellowcard, Shiny Toy Guns and Lovedrug on Wednesday, Oct. 24. Tickets are $38; call Ticketmaster at 702-474-4000.
Blue October, formed in 1996, will be returning to Las Vegas knowing what platinum feels like thanks to their incredibly successful 2006 release, "Foiled." Yellowcard, the pop punk band from Florida, just released, "Paper Walls." Shiny Toy Guns was formed in 2003 and the band's debut album was "We Are Pilots." Rounding out the night, indie rockers Lovedrug will add another genre of music to the night.
The 82-year old comedian, Mickey Manners, has been entertaining audiences for nearly 50 years and he's known as a 'clean' comedian. He will be appearing at the Riviera Comedy Club with Jon Fisch and John Pizzi, Oct. 8-14. Tickets are $19.95, call 702-794-9433.
From stand-up to variety to touring with Milton Berle, Manners has also made numerous network television appearances on hit series and "The Tonight Show." In addition to appearing in two Jerry Lewis movies, Manners is most famous for his panelist role on CBS' "Stump The Stars" and on the original "Hollywood Squares."
New York City's highly-acclaimed RUB BBQ will be opening its first venue outside of that city at the Rio on Friday, Nov. 2. The 9,000-square-foot restaurant will be open for lunch and dinner and will offer championship level barbeque created by Paul Kirk, aka the "Kansas City Baron of Barbecue." The menu will feature standard dishes and specialty items such as Burnt Ends, smoked twice until crispy and lightly sauced; World Champion Baby Back Ribs; and deep fried Oreos.
Recently learned about Thunderball, which is a new sports and entertainment concept focused on the world of professional Power Driving. This weekend 15 world class golf ball hitters competed at the Las Vegas National Golf Club. The event was suppose to be filmed for cable television and the promoter said he's planning seven weekends of Thunderball next year beginning in April. For information, contact 702-533-7645.
Roy's Chef Partner Brandon Konishi beat out nine of the city's top chefs recently, in the regional qualifying Las Vegas Chefs' Challenge - Battle: Aloha Soy Sauce. Konishi's prestigious reward for crafting the best tasting poke dish is a coveted spot at the competition's national finals this October in Hawaii, which is his birth state. Chef Percy Oani of Roy's on Flamingo took third place honors. First introduced in Honolulu, Roy's has become well known throughout the world for its Hawaiian Fusion Cuisinec.
Every Saturday from 11 a.m. to 3 p.m. at the weekly Souk, which is a Moroccan market, visitors can enjoy one-of-a-kind shopping, a wine tasting, and the relaxing Mediterranean-inspired atmosphere of Loews at Lake Las Vegas Resort. The resort features a variety of local artisans and specials and restaurant promotions. For information, call 702-567-6000 x 51.
The Boomers Show will be held at the Sands Expo Center, Oct. 6 -7, from 10 a.m. to 6 p.m. It's open to the public. Exercise guru Richard Simmons will be giving a talk and an exercise class on Saturday afternoon from 1:30 p.m. to 3:30 p.m. Ed Begley will be displaying his environmentally friendly product line, Begley's Best. Admission is $25; however, free tickets can be obtained at any CVS/pharmacy. For information, call 310-276-2155.
The recently redesigned and expanded meeting and convention floor at New York-New York offers more than 21,000 square feet of adaptable space for small groups of 10 to 300. The resort was recently honored by "Meetings & Convention" magazine with the prestigious Gold Key Award for 2007.
The new, 2,200-square-foot Park Terrace room offers groups a view overlooking New York-New York's casino floor, while the spacious Central Park room offers a panoramic view outside to the pool area below. Other venues range in size from the 6,500-square-foot Staten Island Ballroom to the 1,000-square-foot Midtown, many offering the flexibility to divide into separate rooms. Combined with the unique, outdoor Brooklyn Bridge venue, able to accommodate receptions of up to 1,000 and seated dinners for up to 600, the resort provides versatile options.
The Comedy Festival (TCF) and Ziddio.com, the user-generated Web site created by Comcast, has announced that The Andy Kaufman Award will be presented at the festival on Friday, Nov. 16 at 10 p.m. in the Emperors Showroom at Caesars Palace. The Andy Kaufman Award recognizes comedians who have an original approach and was created to carry on the essence of Kaufman's unique and zany style as a performer. This is the first year The Andy Kaufman Award will be presented at TCF and the fourth time the award will be given.
All U.S. performers 18 years and older who would like to be considered should submit a video up to five minutes in length at www.ziddio.com/theandykaufmanaward. Eight finalists will be chosen by a panel that includes TCF, Shapiro/West and The Andy Kaufman Estate. The finalists will compete in a live performance at TCF, and the ultimate winner will be chosen based on their humor and on how closely they reflect the originality, courage and clean performance of the late Andy Kaufman.
Past winners include: Reggie Watts (2006), who is due to release a new album with his rock group Maktub; Kristen Schaal (2005), who has appeared on ABC's "Ugly Betty," NBC's "Law & Order: SVU," Comedy Central's "Live at Gotham," and is currently co-starring on HBO's cult hit "Flight of the Conchords" as Mel, the band's biggest fan; and the 2004's winner Suzanne Whang, who is the host of HGTV's "House Hunters."
CONTINUE ON TO...:
>THIS WEEK'S LAUGHLIN SEGMENT
>LAST WEEK'S LAS VEGAS SEGMENT
>VEGAS VIEW FULL ARCHIVES
>Return to "Heard Around Town"
>Return to Las Vegas Leisure Guide