SAMMY HAGAR HOLDS BELATED BIRTHDAY BASH DOWNTOWN!

Sammy Hagar will transform the new Downtown Las Vegas Events Center (DLVEC) into an epic belated Birthday Bash on Saturday, Oct. 18. Sammy Hagar's Belated Birthday Bash will highlight Sammy Hagar & The Circle featuring Michael Anthony, Jason Bonham and Vic Johnson rocking music spanning four decades - including hits from Montrose, Hagar's solo career, Van Halen and beyond - and with Bonham on board, they can also expect a few Led Zeppelin classics. In addition, Joe Satriani and Chad Smith will join Hagar and Anthony for a special Chickenfoot encore.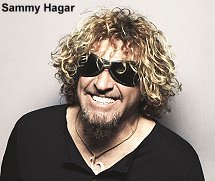 DLVEC will exude the Cabo lifestyle with exotic cocktails, street food, sand volleyball, and rock 'n' roll. Tickets are $65 and $85 for "Red Zone," which includes access to the Party Pit, visit dlvec.com.
This party announcement follows on the heels of Hurricane Odile, which forced Hagar to cancel his 24th annual Birthday Bash at the Cabo Wabo Cantina in Mexico. Fans with tickets to the Cabo bash can transfer them to the Las Vegas event and receive a complimentary upgrade to Red Zone passes or get a refund, visit RedRocker.com.
Column Continues Below Advertisement
ADULT CHILDREN OF ENTERTAINMENT LEGENDS PERFORM AT M RESORT
On Saturday, Nov. 8, the adult children of famous legendary entertainers will come together for a special history-making performance at the M Resort. "An Evening with The Next Generation" will showcase the musical talents of Ricci Martin - son of Dean Martin, Lorna Luft - daughter of Judy Garland, Lena Prima - daughter of Louis Prima, and Steve March-Torme - son of Mel Torme, as they celebrate their legendary parents. Anthony Lewis, son of comedian legend Jerry Lewis, will host the event.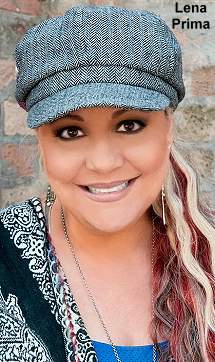 "An Evening with The Next Generation" is the first-time collaboration between the sons and daughters of these musical icons who helped shape the American songbook. The singers will be accompanied by a 10-piece band and never-before-seen video montages. Tickets for the 7 p.m. concert are $29.99 and $34.99.
NEW FIVE GUYS BURGERS AND FRIES OPENS AT DOWNTOWN SUMMERLIN
Five Guys Burgers and Fries will open its eighth location in the Las Vegas Valley at the "Sahara Entrance" of the new Downtown Summerlin on Thursday, Oct. 9 at 11 a.m. Five Guys uses only fresh, never-frozen ground beef with 15 free toppings available. The fresh-cut fries are cooked in pure peanut oil and complimentary peanuts are served in bulk. Recently named the number one burger restaurant in America by "Playboy" Magazine, all Las Vegas, Henderson and Northern Nevada Five Guys locations operate 11 a.m. to 10 p.m. daily.
ENJOY RECKLESS IN VEGAS AT DOWNTOWN GRAND IN OCTOBER
Innovative California rockers Reckless In Vegas will perform three free 8 p.m. concerts Oct. 11, 18 and 25 at the Downtown Grand. The first show will take place at Mob Bar, while the second two concerts will be presented at PICNIC, the property's urban rooftop pool experience.
Reckless in Vegas has taken timeless classics from the mid-20th century such as "Luck Be a Lady" and spun them into something completely different and entirely modern. In honor of the band's appearances at Downtown Grand, the hotel-casino will feature several "Reckless at Downtown Grand" specials.
JAQUET DROZ'S TIMEPIECE EXHIBIT VISITS THE SHOPS AT CRYSTALS
As part of a world tour to celebrate 275 years of history, Swiss watchmaker Jaquet Droz brings the Enchanted Journey Exhibit this fall to The Shops at Crystals. The exhibit is open to the public from Sept. 30 to Nov. 12 showcasing an outstanding selection of the brand's antique and contemporary timepieces including original watches handmade in the 18th century, such as a Singing Bird Cage and other functioning automatons. Exclusively on opening day, a Jaquet Droz master artist will be demonstrating the skillful artistry of hand engraving and miniature painting on watch dials.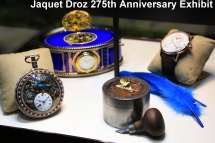 GREEN VALLEY RANCH GIVES BINGO A MAKEOVER
There are about 20 bingo parlors in Las Vegas and not in the major hotels on the Strip. The game let's say usually attracts the more mature or senior player. However, Station Casinos recently reached out to younger gamblers by hosting a millennial-minded bingo event at Green Valley Ranch with dimmed lights, music blaring and alcohol flowing.
The event tagline "not your grandmother's game" was all-electronic with players paying $25 for an electronic bingo board. In addition to winning cash, players won shots for themselves and surrounding participants. A DJ maintained a club-like atmosphere blasting music all night. Let's see if this new concept for bingo catches on.
FREMONT STREET EXPERIENCE HOSTS 6th ANNUAL OKTOBERFRIGHTFEST
The Fremont Street Experience will again be transformed for the Sixth Annual OktoberFrightFest, which is a combination of Oktoberfest and Halloween making up the ultimate street party from Oct. 5-Nov. 1. The spooktacular festivities will include free performances from the themed stage production shows "Frank & The Steins," "Vampire Rising" and "Halloween Hotties." Viva Vision's three to four-minute nightly light and sound shows will also be themed to "Time Warp" and "Monster Mash."
"Frank & The Steins" will perform on the 1st Street Stage from 8-11 p.m. except on Oct. 9, 16 and 23. "Vampire Rising" will take over the 3rd Street Stage Oct. 7-30 on Tuesdays and Wednesdays from 9 p.m.-midnight and Thursdays-Saturdays from 7-10 p.m. (dark Oct. 18). Sexy "Halloween Hotties" will feature "American Idol" Season 6 Finalist Haley Scarnato and take place on the Main Street Stage Oct. 6-31 on Mondays-Wednesdays from 8-11 p.m. and Thursdays-Saturdays from 7-10 p.m.
GOLDEN NUGGET HOLDS FIFTH ANNUAL FALL BEER FESTIVAL
The Golden Nugget will host its Fifth Annual Fall Beer Festival Oct. 10 and 11. The two-day festival brings together consumers, craft beer vendors, live music, food and hundreds of beers in two very different events. Guests interested in both events can receive discounted food and beer tickets for Saturday's Oktoberfest Pool Party with paid admission to Friday's All American Craft Beer Tasting.
The first event kicks off Friday, Oct. 10 from 7-10 p.m. in The Grand Events Center. Guests will sample more than 125 craft beer selections from award-winning breweries and enjoy chef-inspired appetizers, live entertainment and mingle with award-winning brew masters. Tickets are $50 at the Golden Nugget Box Office.
The fun continues on Saturday, Oct. 11 with the Oktoberfest Pool Party from 1-7 p.m. at The Tank Pool. Admission is free and beer enthusiasts can enjoy 150 different international and domestic beers available for purchase as well as bratwursts, pretzels and more great food while enjoying live music.
DEC. 6 WILL BE OPPORTUNITY VILLAGE'S 'LAS VEGAS GREAT SANTA RUN'
The 10th anniversary of Opportunity Village's largest annual fundraiser, the Las Vegas Great Santa Run®, will be held Downtown on Saturday, Dec. 6. This event has been the reigning champion of the "World Santa Challenge" for three consecutive years and hopes to uphold that tradition in 2014 with thousands of Saint Nicholas lookalikes racing, running and walking. Participants can do a 5K run or one-mile walk.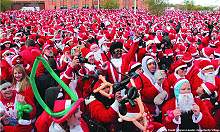 Registration is $45 for individuals; $40 per person on a team of five or more; and $30 for children under 17-years-old; visit Opportunity Village's Great Santa Run website. Registration includes a five-piece Santa suit and a runner goody bag from event sponsors. A canine companion can join the fun for $10 and receive a doggie bag with treats and toys.
'MARRIAGE CAN BE MURDER' CELEBRATES 15 BLOODY YEARS
"Marriage Can Be Murder," Las Vegas' longest running dinner theatre show, will celebrate 15 bloody years of performances with a year-long promotion offering locals specially priced $30 tickets on the 15th of each month through July 2015. The whacky cast of characters serves up murder, mayhem and mystery nightly at 6:15 p.m. in the showroom at the D Las Vegas. Tickets are $64.85, $81.35 and $98.95.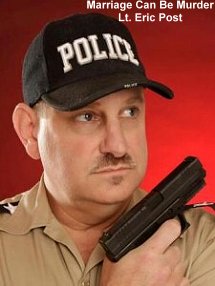 Since its Las Vegas debut, "Marriage Can Be Murder" has committed 5,000 performances with 20,000 murders, and given 375,000-plus people the opportunity to play detective alongside the outlandishly eager Lieutenant and his ditzy hostess. "Marriage Can Be Murder" rotates its actors and plot line every few months.
OCTOBER EDITION OF 'MONDAYS DARK' WILL BE 'WOMEN WHO ROCK'
Actor Mark Shunock, who currently stars in "Rock of Ages" at the Venetian/Palazzo and is a former member of the Canadian Hockey League, is the creator/producer of "Mondays Dark," a monthly variety show where 100 percent of all ticket proceeds go to a local Vegas charity. The October edition will take place Monday, Oct. 13 at 8:30 p.m. at Vinyl inside Hard Rock. This month's proceeds will benefit The Healing Curve - a nonprofit initiative to help women who have beaten breast cancer but are left with scars.
The October on-stage showcase theme and title is "Women Who Rock" featuring Gretchen Bonaduce, Savannah Smith, Rockie Brown, Justin Mortelitti, Jaime Lynch and others to be announced, all in honor of Breast Cancer Awareness Month. Tickets are $20 in advance, $30 at the door, visit www.MondaysDark.com.
TOP OF NEXT COLUMN
CSI: THE EXPERIENCE CELEBRATES FIVE YEARS AT MGM GRAND
This October, CSI: The Experience at MGM Grand, which is the attraction based on the hit CBS show, will celebrate its five-year anniversary. As October is also Domestic Violence Awareness Month, $3 from every full-priced ticket sold during the month will benefit S.A.F.E. House, which is committed to stopping violence and abuse in the family environment.
WILD WILLY PARSONS HEADLINES LAUGH FACTORY AT NEW TROPICANA
Wild Willy Parsons will take the stage at the Laugh Factory at the New Tropicana with Chris Newberg and host Brett Riley Sept. 29—Oct. 5. At first glance, Parsons' biker-clad girth could almost send the audience scampering for their lives. But instead, the Emmy winning comedian sends them home with a fresh and positive outlook about their own misconceptions of the stereotypical biker. Shows are nightly at 8:30 and 10 p.m. Tickets are $34.95 and $44.95.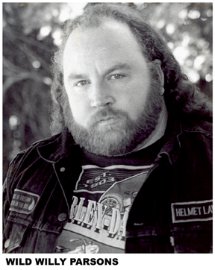 Newberg's refreshingly smart and edgy humor, delivered with a streetwise sense of philosophic cool, has propelled the guitarist/songwriter turned comedian to the forefront of the national comedy scene. Riley covers topics from pop culture to relationships, family, advice on how to mess with people, and has the ability to sing.
FORUM SHOPS AT CAESARS WELCOMES NEW RETAILERS
At the Forum Shops at Caesars, It's a British invasion with retailers Mulberry opening its first Las Vegas location complete with an exclusive Las Vegas Capsule Collection and AllSaints opening a unique multimedia flagship location. The Forum Shops location is the second largest store globally for AllSaints and features the debut of its new women's bag capsule collection. In addition, NARS Cosmetics recently opened a flagship boutique in the renowned center.
Nine new retailers and restaurants are preparing to open inside The Forum Shops in the coming weeks and months including: Giorgio Armani, Polo Ralph Lauren, Blancpain, Jaeger-Lecoultre, Chanel Beauty, Lush, The Art of Shaving, Moncler, and Starbucks.
Border Grill chef/owners Mary Sue Milliken and Susan Feniger, of Bravo's "Top Chef Masters" and Food Network's "Too Hot Tamales," will open their modern Mexican restaurant on the mall's first level this fall.
Retailers currently expanding or remodeling include: David Yurman, Jimmy Choo, Balenciaga and Victoria's Secret.
MIXOLOGIST TONY ABOU-GANIM STARTS 'VODKA DISTILLED' BOOK TOUR
In early celebration of National Vodka Day, renowned curator of cocktails, Tony Abou-Ganim will kick off his book tour for "Vodka Distilled" at the Lobby Bar at Caesars Palace on Friday, Oct. 3 from 3-6 p.m. Abou-Ganim is widely regarded as one of the pioneering and leading bar professionals in the world.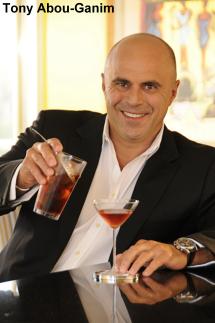 SUGAR FACTORY INTRODUCES THE DUCK YARD SOUVENIR CUP
Sugar Factory has introduced the Duck Yard, a 48-ounce souvenir cup, now available online and at select Sugar Factory locations. Inspired by Sugar Factory's loveable iconic yellow duck, the Duck Yard may be purchased either as a souvenir cup for $20, filled with an alcoholic beverage of choice for $36, or a non-alcoholic beverage of choice for $25. Refills are also available for purchase and are priced at $20.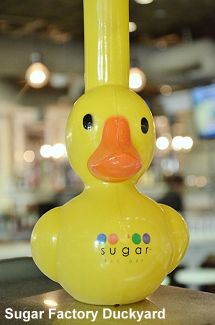 The delightful souvenir cup can also be filled with Sugar Factory's signature specialty candy for $50. The Duck Yard is available at Miracle Mile Shops inside Planet Hollywood, Fashion Show Mall, and Town Square and online.
ROTARY PARK ARTS FESTIVAL WILL BE OCT. 11
The free Rotary Park Arts Festival will be held Saturday, Oct. 11 from 10 a.m. to 4 p.m. in Rotary Park at 901 Hinson St. This family-friendly event will offer a variety of art forms including dance and music from several cultures, hand-painted pictures, photography, clay arts, handmade jewelry, and a variety of other artwork. The Chuck Wagon food truck will offer refreshments for sale. For information, visit www.artslasvegas.org or call 702-229-ARTS.
MEGAN ROMANO HOLDS FALL DECORATING AND COOKING CLASSES
Megan Romano will be presenting her fall cooking and decorating classes for adults and children featuring personal recipes and professional instruction for $25 per person from 4 -5 p.m. on select Tuesday nights at her Chocolate & Spice Bakery at 7293 W. Sahara Ave., call 702-527-7772. Upcoming classes are: Oct. 21 Halloween Decorating for Children; Nov. 4 Pie Making Class for Adults; and Dec. 9 Holiday Decorating Class for Children.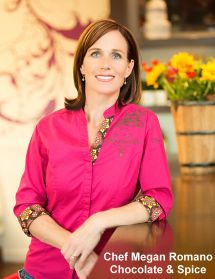 NEWS CLIPS
No more Blue Man Group parade winding through the casino 40 minutes before the first show of the night at Monte Carlo. The loud procession was comprised of the show's creative musical props, robots and custom-built vehicles that lit up.
The free laser-water show at Sam's Town at the property's Mystic falls Park will be closed Oct. 1-31 for maintenance and repair.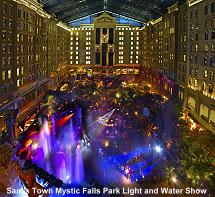 The Henderson health care center Union Village is finally going to break ground on Wednesday, Oct. 8. The goal has been to build an integrated health village as a model of state-of-the art technology and environmental sustainability featuring a world-class healthcare center integrated into retail, entertainment and cultural centers.
Diana Krall performance scheduled for Nov. 8 at The Pearl inside the Palms is postponed to 2015 due to ongoing complications brought on by a severe case of pneumonia. The Grammy Award-winning jazz pianist and singer has also postponed her scheduled album release and U.S. fall tour.
"PANDA!" performer Boran Yu was honored with the Merlin Award from the International Magicians Society on Sept. 21.
The Capital Grille on the Strip through Nov. 23 is offering a Wagyu Burger and Wine pairing special in the lounge for $25. There's a choice of one of three distinctive gourmet Wagyu burgers and a glass of one of two California reds: an elegant Jordan Cabernet Sauvignon or a stunning J Pinot Noir.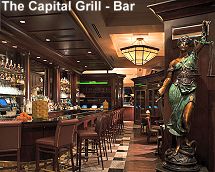 The nation's premier amateur mixed martial arts promotion, Tuff-N-Uff, is bringing another round of all-star MMA action back to The Orleans on Friday, Oct. 17 live from inside the Mardi Gras Ballroom. Tickets start at $25 and $30 day of the 7 p.m. event.
Elixir in Green Valley has live music from 8-11 p.m. on Friday and Saturday nights. In addition, Elixir continues its Monday Night Movies Series. During the midnight "Brewvies," guests watch a classic movie on the 'big screen' while enjoying $3 beer and free popcorn.Elixir also offers Ladies Night on Sundays and an extended Happy Hour on Wednesdays.
Adult retail, entertainment and news website POPPORN.com has been selected as the exclusive retail sponsor of the 2015 AVN Awards show, which caps off the AVN Adult Entertainment Expo (AEE) held in conjunction with the AVN Novelty Expo (ANE) taking place Jan. 21-24, 2015, at Hard Rock Hotel & Casino.
TREVI AND PANEVINO CELEBRATE PASTA WITH TRIO OFFERINGS
TREVI Italian Restaurant located at The Forum Shops at Caesars next to the "Fountain of the Gods" will commemorate World Pasta Day on Saturday, Oct. 25 by offering a pasta trio priced exclusively at $10 for the holiday. The combination will include: the rigatoni Bolognese tossed with homemade meat sauce; penne puttanesca served with black olives and capers in a spicy tomato sauce; and penne al pesto con pollo served with sun-dried tomatoes, pine nuts and grilled chicken tossed in a pesto cream sauce.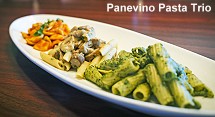 In celebration of October's National Pasta Month, Panevino, the Las Vegas family-owned Italian restaurant on Sunset, will feature The Pasta Trio for $28 through the month of October. The Pasta Trio is made up of rigatoni with basil pesto sauce, penne with creamy porcini mushroom sauce, and orecchiette with Panevino's signature tomato basil sauce. The entrée can also be made vegan.
Column Continues Below Advertisement
CONTINUE ON TO...:
THIS WEEK'S >LAUGHLIN NEWS
LAST WEEK'S >LAS VEGAS NEWS
>VEGAS VIEW FULL NEWS ARCHIVES
Return to >"Heard Around Town"
Return to >Las Vegas Leisure Guide