The new $11,467,860 downtown Henderson Events Plaza, located adjacent to Henderson City Hall and the Henderson Convention Center, encompasses 2.7 plus acres with more than 60,000 square feet of programmable space. Many key signature Henderson events will be scheduled here including the next two: the Water Street District Fine Arts Festival, a juried fine art show, Oct. 28-29; and the Firefighter Combat World Challenge, Nov. 7-11.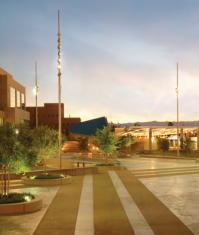 The Henderson Events Plaza Courtyard features 4,000 square feet of open space with a shade canopy. The Paseo Canopy features 22,000 square feet of event space providing connection from the Events Plaza to Lead Street. The complex has a 4,000-square-foot shaded canopy amphitheater with seating up to 500, tiered lawn seating for 200 and seating around the perimeter for an additional 200 people. The amphitheater includes a 900-square-foot stage area.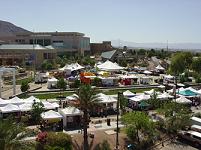 Column Continues Below Advertisement
Andre Agassi has announced the addition of Ellen DeGeneres and a special acoustic performance by John Mayer to the all-star line-up for his 11th Annual Grand Slam for Children benefit concert for at-risk youth in Las Vegas on Saturday, Oct. 7 at the MGM Grand Garden Arena. Tickets are $90, $70 and $50; call Ticketmaster at 702-474-4000. 
Mayer, currently on tour with a brand new album entitled "Continuum," and DeGeneres will complement the existing superstar roster which includes Counting Crows, Sarah McLachlan, legendary rocker Phil Collins and Grammy Award-winning producer, arranger and composer David Foster, who will be serving as musical director for the 11th time.
Last weekend, three local finalists were selected to be flown to Los Angeles to audition before Foster in his Malibu recoding studio. He will select the winner, who will be announced at the benefit concert.
Bertolini's Authentic Trattoria located at The Forum Shops at Caesars has begun a complete renovation this month. The new design will feature a combination of contemporary fixtures and old-world Italian flair throughout the restaurant. A mezzanine level will be added with seating that will overlook The Fountain of the Gods. Executives anticipate a re-opening in late December.
The Rockwell Group that is designing the new restaurant concept has Bobby Flay's Mesa Grill at Caesars Palace, Emeril's Fish House at the MGM Grand and the interior design of the Phantom of the Opera theatre at the Venetian as Las Vegas credits.
Morton's Restaurant Group, Inc. owns and operates 71 Morton's Steakhouses in 62 cities and four Bertolini's Authentic Trattorias.
Edgar Winter will return to The Club inside the Cannery in North Las Vegas with his blues, rock and jazz style on Saturday, Nov. 11. Tickets are $14.95, call 702-617-5585 or 866-287-4643.  
In 1972, he created the Edgar Winter Group that produced No. 1 hits such as "Frankenstein" and "Free Ride." Their album "They Only Come Out at Night" stayed on the Billboard charts for 80 weeks and reached double platinum status in 1986. Winter released more than 20 albums and his songs can be heard in more than 15 movies and television shows including "The Simpsons."
The Ventures will be headlining on Saturday, Oct. 21 at 8 p.m. Tickets are $17.95, call 617-5585 or 866-287-4643.
In 1959, Bob Bogle and Don Wilson formed the nucleus of the original music group, The Ventures. The duo was joined a year later by Nokie Edwards and Howie Johnson to record "Walk, Don't Run," which hit Billboard's singles chart on July 18, 1960 and peaked at No. 2. Since that spectacular beginning, The Ventures have gone on to help define instrumental rock. More than 45 years later The Ventures boast success with record sales approaching 100 million, 14 songs that hit the singles charts and 37 LPs that hit the album charts.
The Las Vegas Hilton and Southern Wine and Spirits will present a Winemakers Dinner with four of Germany's renowned wineries on Saturday, Oct. 7 in the Le Montrachet restaurant. Andrea Baroness Langwerth von Simmern, owner of Langwerth von Simmern Estate; Paul Count von Schonborn, owner of Schloss Schoenbern Estate; Stefan Pauly, owner of Dr. Heidemanns-Bergweiler Estate; and Dieter Greiner, Managing Director of Kloster Eberbach Estate will host the event, explaining their great wines. The dinner is $95 inclusive and reservations can be made by calling 702-732-5755 or 800-222-5361.
The Cannery in North Las Vegas has completed a $45 million expansion that began in August 2004 and will hold a grand opening celebration for the public on Tuesday, Oct. 3 from 4 to 8 p.m. Vino's Italian Ristorante and Deli is slated to open at the end of this month.
To celebrate the completion, Cannery patrons will receive free cake, champagne, samples of Vino's pizza, Galaxy Movie Theatre's real buttered popcorn and T-shirts in the phase two new corridor which includes Vino's, the Poker Room, Race & Sports Book and Galaxy Movie Theatres.
Phase one of the expansion included a five-story covered garage with 1,903 parking spaces and 15,000 square feet of new space increasing the slot floor by more than 35 percent.
"The Price is Right - Live" at Bally's has a new Friday night show schedule. The 8 p.m. show has moved to 7:30 p.m. to make room for an added 10:30 p.m. show, and the 2:30 matinee has been dropped. The show gives contestants the chance to win thousands of dollars in cash and prizes, just like on the TV show.
This is quite a different opportunity for artists who visit the Tropicana's BODIES The Exhibition with their sketchbook and pencils. They can receive free admission every Thursday between 10 a.m. and noon or 9 p.m. and 11 p.m. and submit their work through Dec. 8 for a juried show on Dec. 15 from 7 to 9 p.m. Work must be based on and influenced by BODIES The Exhibition. All mediums will be accepted. Winners will receive: $300 for First Place; $100 for Second and Third Place. All artists that enter will receive one free ticket for themselves and a guest the night of the show. For a prospectus contact: Eileen Lorraine at elorraine@prxi.com.
Steve Lawrence and Eydie Gorme will perform the last show in the historic showroom at the Stardust on Oct. 28. The duo had the same honor of closing down the Circus Maximus showroom at Caesars Palace in September 2000.
Here's a change. Steve Connolly's Elvis tribute show will be staying at Fitzgeralds, but it will move from the 7 p.m. show time, which will end on Sept. 25, to 10:30 p.m. starting Sept. 28. The 7 p.m. slot will be taken over by the burlesque revue "Bottom's Up."
Effective Tuesday, Oct. 17, Blue Man Group at the Venetian will add a 10:30 p.m. on Tuesday night. This spectacular takes place nightly in a brand-new 1,760-seat theatre built especially for the unique show.
Downtown, the Las Vegas Premium Outlets with 120 stores will be adding 30 new tenants filling a nearly 110,000-square-foot addition on the mall's west side before the end of next year. The 435,000-square-foot outdoor shopping center opened in August 2003. In addition, two new multilevel parking garages will be added. One will be a five-story garage with 500 parking spaces and the other a separate four-story, 1,115-space garage.
The Fourth Annual Fall Fine Arts Festival will take place on Oct. 14 and 15 from 10 a.m. to 5 p.m. at the MonteLago Village at Lake Las Vegas. The weekend art walk will feature 65 fine artists displaying their original works. The event is free.
Once again at the Riviera, Herb Rawlings Jr., who played the part of James Thunder Early in the Broadway hit musical "Dreamgirls" and performed the role in the national and international Europe and Japan tours of the show, will take center stage at the open-air casino venue on Sept. 27 and 29 from 12:30 p.m. to 5 p.m. The shows are free. For information, call 702-794-9433.
Consolidated Resorts Inc. has begun work on Phase II of its flagship 27-acre Las Vegas Strip property, Tahiti Village. The new development will have 284 luxury suites in a 10-story tower. All of the designer-decorated suites will have the same luxury and efficiency displayed in the first phase of Tahiti Village.
In addition, Phase II will involve completion of water features including the quarter-mile lazy river flowing through the resort's lush inner courtyard, where owners may indulge in a wide variety of aquatic amenities, including sand beach pools, Jacuzzis, and more.
At completion, this resort development will offer vacation owners and guests 1,083 vacation suites.
Studio 54 will host a week-long Halloween party, the ninth annual Nightmare on 54th Street, from Thursday, Oct. 26 through Tuesday, Oct. 31. Naughty devils and erotic angels will help transform Studio 54 into a haunted nightlife playhouse.
Each night Studio 54 will present renditions of two Halloween classics. Throughout the evening, skilled dancers and performers will recreate scenes from Michael Jackson's "Thriller" and Lou Adler's "Rocky Horror Picture Show."
Friday night will welcome the first of three costume contests with prizes for the most original costume and most erotic costume.
Las Vegas' most extravagant costume party, the 40th Annual Beaux Arts Ball, will take place on Oct. 31. Performers from Studio 54 and cast members from a variety of shows on the Las Vegas Strip will come together to host the evening. Over $1,900 in prize money will be awarded to the best costumes including "Best Group," "Sexiest Costume," "Best Drag Costume" and "Best Overall Costume." Admission is $25 in advance or $30 at the door, with all proceeds benefiting the Golden Rainbow Organization.
On Saturday Dec. 9, The Lakes community in northwest Las Vegas will once again host their annual Lakes Festival of Lights. This annual family event includes an electric light boat parade, a car show, a five-hour entertainment program, an eclectic craft show, Santa Claus, face painters, balloon twisters, a fire engine, an ambulance, a mounted horse patrol, food and more. The free event is open to the public and runs from noon until after the electric light boat parade which starts at 5 p.m. For information, call 702-256-9998.
The 30th Annual Christmas Parade of Lights presented by the Lake Mead Boat Owners Association (LMBOA.org) will take place at Las Vegas Boat Harbor on Saturday, Dec. 2. The parade beginning at 6:30 p.m. will consist of up to 50 decorated boats from 16 to 75-feet in length Free viewing by thousands of people will be at the docks before and after the parade and along Boulder Beach. For information, call 702-373-4406.
The Las Vegas Theatre Community will present the second What A Relief! Benefit at the Spring Mountain Ranch State Park on Saturday, Sept. 30 beginning at 4:30 p.m. The festival in the meadow and picnic area will feature sword fighting demonstrations, show tune karaoke, pictures with the princesses and more. Entertainment on the main stage begins at 5 p.m. with magicians, jugglers, acrobats, dancers and singers. The main show begins at 7 p.m. Raffle tickets will be sold for prizes. Tickets are a suggestion $20 donation call 702-403-7294.
The Las Vegas Hilton features no smoking Football Central every Sunday at 10 a.m. with a 15' X 20' HDTV and 10 other giant screens, as well as state-of-the-art theater sound in the Hilton Theater. There are prizes from Miller including "Beer for a Year," monthly Pro Bowl Ticket giveaways, including round trip airfare to Hawaii and hotel accommodations, and $250 MasterCard gift cards given away weekly. The Hilton is sponsoring a $10,000 weekly cash giveaway all season long, with the drawing at 5 p.m. every Sunday. Five winners share the $10,000 each week with first place, $3,500; second place, $2,500; third place, $2,000; fourth place, $1,500; and fifth place, $500. There are also food and drink specials, including $1 hot dogs and draft beer.  
CONTINUE ON TO...:
>THIS WEEK'S LAUGHLIN SEGMENT
>LAST WEEK'S LAS VEGAS SEGMENT
>VEGAS VIEWS FULL ARCHIVES
>Return to "Heard Around Town"
>Return to Las Vegas Leisure Guide