LAUGHLIN HOLDS INAUGURAL INTERNATIONAL FILM FESTIVAL!

Laughlin will be the site of the inaugural Laughlin International Film Festival (LIFF), a four-day event featuring ongoing film screenings at the Phoenix 9 theaters in the Laughlin Outlet Center, Oct. 11-14. The event will showcase films in the following categories: U.S. and International Narrative Feature Film; U.S. and International Documentary Films; U.S. and International Short Films; University Film Competition; Experimental Cinema; Music Videos; Animation; Youth Film; and LIFF Picks Showcase. For many of the film screenings, the filmmakers, crew and/or actors will be available for "Question and Answer" sessions at the conclusion of the film screenings.

Along with the film screenings, the festival schedule will also include a variety of social networking events, including an opening night gala on Thursday at the Aquarius, Cosmic Bowling and an after party on Friday at the Riverside, an Awards Ceremony on Saturday night at the Tropicana, and a Sunday morning brunch. Peppered throughout the days will also be a series of filmmaker receptions, as well as several workshops and panels for filmmakers and actors.

GEORGE THOROGOOD STARS AT HARRAH'S RIO VISTA AMPHITHEATER

George Thorogood and his group the Destroyers will headline Harrah's Rio Vista Outdoor Amphitheater on Saturday, Oct. 6, at 8 p.m. Tickets range from $30 to $60.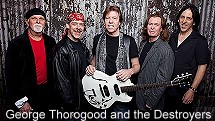 Thorogood is an American blues rock vocalist/guitarist known for his numerous hit songs including "Get a Haitcut," "Move it On Over." and "Bad to the Bone." He and his group have released 16 studio albums, including two that were certified Platinum and six certified Gold and 5 live albums. Thorogood gained his first mainstream exposure as a support act for The Rolling Stones during their 1981 U.S. tour. During the early '80s, Thorogood and the Destroyers became known for their rigorous touring schedule, including the "50/50" tour of 1980, on which the band toured 50 US states in the space of 50 days. His latest album, released in 2011 is named "2120 South Michigan Avenue," after the home address of Chicago's Chess Records an early producer of blues and rock 'n' roll. The album includes original tributes to the Windy City and Chess' crucial songwriter-producer-bassist Willie Dixon, penned by Thorogood.
JEFF COOK & THE ALLSTAR GOODTIME BAND VISIT RIVERSIDE
Jeff Cook & the Allstar Goodtime Band will appear at the Riverside in Don's Celebrity Theatre, Sept. 26-30. Tickets are $32.50 for their 8 p.m. shows.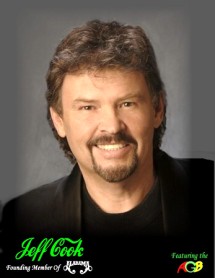 Cook was a founding member of Alabama. He has been playing lead guitar and keyboard since age 13. Cook secured a broadcast license three days after his 14th birthday, and went to work as host and DJ of "The Jeff Cook Experience" at a local radio station. Today, with the Allstar Goodtime Band he has a rejuvenated enthusiasm for performing. Cook is back on stage again, singing some of his 25 years of hits plus his own special blend of country, soul, and rock 'n' roll.
EDGEWATER PROMOTES LAUGHS WITH WEEKLY COMEDIANS
The Edgewater has two stand-up comedians appearing every Friday through Sunday at 7 p.m. in the Inferno Nightclub/Edgewater Showroom. Tickets are $10 at the Edgewater Casino Cage or at the door.
The upcoming lineup includes: Oct. 12 Bruce Jingles and Ron Swallow; Oct. 13-14- Chris Simpson and Brandon Vestal; Oct. 19-21 – Mike Wally Walter and Adam Gropman; and Oct. 26-28 – Ivan Pecel and Dave Mencarelli.
Character actor and comedian Jimmy Della Valle along with L Jimmy will appear at the Edgewater, Sept. 28-30. Della Valle's act revolves around his life's experiences such as his dysfunctional blue collar family that includes his hot-tempered Italian father, neurotic Irish mother and sister's African American husband. He pushes his audience's humor button with surprising one-liners, impressions, weird anecdotes, crazy stories, audience interaction and improvisation off the audience's.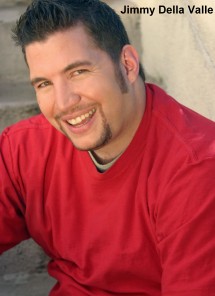 Della Valle has been a comedian his whole life and got kicked out of catholic school in the 5th grade for being the class clown. He has been making a living as a full-time comedian since 1991, done more than 5,000 comedy shows in all 50 states, and performed for our Armed Forces worldwide. Della Valle has appeared on major network shows, in commercials, done voiceovers, had a XN satellite radio show, and made a CD called "It's Just A Jimmyism."
Gary Wilson and Eddie Jarvis will headline on Friday, Oct. 5. Wilson has performed with Bill Hicks, Bobcat, Sam Kinison, Jeff Foxworthy, and more. He has performed for U.S. troops in Japan. In Los Angeles, he worked for Hanna Barbera Cartoons where he wrote for the hit series "Cow & Chicken."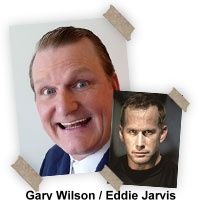 Lori Callahan will stir up the laugh with Frank Schuchat on Oct. 6 and 7. Callahan has toured with Paula Poundstone, Will Durst, and Thea Vidal, and appeared on Showtime's "Comedy Club Network," as well as ESPN's award winning show "The Lighter Side of Sports." Denver native Callahan is known around the Mile High City as the "Mom of Denver comedy."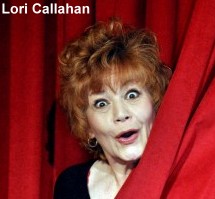 She had a series of jobs — construction, welding, banking, surveying for the State Highway Department — before making her living as a stand-up comedian. She has performed for troops across Asia, Guam and Hawaii as part of a PACAF tour.
TOP OF NEXT COLUMN
COMEDIAN CRAIG SHOEMAKER VISITS THE RIVERSIDE
Comedian, writer and voice actor Craig Shoemaker, best known for his baritone voiced character "The Lovemaster," which he routinely portrays in his stand-up act, will bring laughter to the Riverside, Oct. 3-7. Tickets are $32.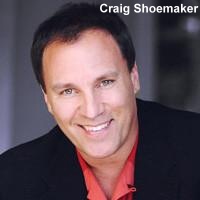 Shoemaker is far more than the jokes he tells on stage. He's a natural storyteller with keen observational instincts. Named "Comedian of the Year" by the "American Comedy Awards" on ABC, Shoemaker's half-hour Comedy Central special has been voted by viewers as one of the network's "Top 20" stand-up specials of all time. Additionally, he has had his own nationally syndicated radio show, which after only 10 months on the air, won the prestigious Communicator Award's "Crystal" prize.
Shoemaker's feature film credits include "Scream 2," co-starring opposite Patrick Stewart in "Safe House" and playing opposite Daryl Hannah as her love interest in "Dark Honeymoon." As a voice over artist, Craig's dead-on impression of Don Knotts was featured in the film "Pleasantville," and he has voiced many hit animated series including "Teamo Supremo," "Monsters," and "I M Weasel."
TROPICANA HOLDS FOOD EVENTS IN VICTORY PLAZA
The Tropicana will be holding a series of Saturday food events with music in Victory Plaza from 4 to 8 p.m. beginning on Oct. 6 with a Luau featuring Hawaiian dancers and a tropical dinner for $14. On Oct. 13, it will be a Fall Food Festival featuring live music and chicken and fixin's dinner for $8.99. There will be a BBQ Food Festival on Oct. 20 with dinner costing $8.99. For all these events, it is free to listen to the music.
BELLE AND EDGEWATER HOLD EVENTS ON THE RIVERWALK
The Colorado Belle and Edgewater have festival events planned on the Riverwalk between the two properties. It will be free to listen to the music and food and beverages will be sold separately. The hours for each will be Friday from 4-9 p.m., Saturday noon to 9 p.m., and Sunday noon to 6 p.m.
The "4th Annual Italian Festival" featuring Italian food plus music by The Bada Boom Band will be held Sept. 28-30.
The "Das Beer Fest" featuring German Oktoberfest food and music by the oompah band, Bavarian Stew, will take place Oct. 5-7.
AQUARIUS HOLDS 'WITCH'S BREW OF FREE PLAY'
For the Halloween season, the Aquarius is offering loyal ace | PLAY members treats with its $10 free slot play giveaway promotion; the Witch's Brew of Free Play. From Oct.15 to 21, ace | PLAY card members will receive $10 in free slot play for every 2,000 base slot points earned during the promotional period. There is no cap on the amount of free slot play a player can earn. Signing up for ace | PLAY is free.
RIVERSIDE HOLDS 21ST ANNUAL 'RODDIN' ON THE RIVER'
The 21st Annual "Roddin' on the River" car show will be held by the River Cruizers car club in the South Parking Lot at the Riverside, Sept. 27-30. The event will include a Show 'n' Shine on Saturday, contests, auto parts swap meet, "Car Corral," vendors, poker run, raffles, music, "Cosmic Bowling" on Friday, and more. The event is a fundraiser for local charities. It's a $2 donation to view the cars and $45 to enter a vehicle in advance and $50 at the show. Event hours will be Thursday noon-10 p.m., Friday and Saturday 8 a.m. – 11 p.m., and a 7 a.m. awards ceremony on Sunday. For more information, visit rivercruizers.com.
TROPICANA HOLDS 'VIVA TROPICANA CAR SHOW'
The "Viva Tropicana Car Show" is planned in the North Parking Lot at the Tropicana Sept. 28 and 29. This two-day event will include a Show 'n' Shine on Saturday at noon with trophies awarded for "Classic Car," "Classic Low Rider," "Classic Muscle Car," and "American Made Motorcycle." There will be music by DJ Cholo on Friday and Saturday. There's a $25 entry fee per car and it will be free to view cars. The event is hosted by Louie and Cynthia Rojas of Happy Times Events; call 800-243-6847.
TROPICANA HOLDS $5,000 GOLF TOURNAMENT
The Tropicana will hold its $5,000 Golf Tournament Oct.12-13 at the Laughlin Ranch Golf Course in Bullhead City, Ariz. The golf tournament on Saturday, Oct. 13, is a four-man scramble format with an 8 a.m. shotgun start. A certified handicap is required. Tournament will include "Longest Drive" and "Closest to Pin" contests, as well as a putting contest where the player that hits a hole-in-one on the 17th hole will drive away in a 2012 Chevy Equinox courtesy of Findlay Motor Company. The $100 entry fee includes a one-night stay (choice of Friday or Saturday night), one golf tournament entry and a Cutter and Buck Polo shirt. Players will also receive a buffet luncheon and two drink coupons. To RSVP, call 800-343-4533 and request promo T-9183.
QUICK INTEREST CLIPS
The Lettermen will perform at Don's Celebrity Theatre inside the Riverside, Oct. 9-14. Through the 1960s and 70s, The Lettermen scored 20 chart-topping hits with songs like "Goin' Out of My Head," "Can't Take My Eyes Off of You," and "Hurt So Bad." Tickets are $30 for their 8 p.m. shows.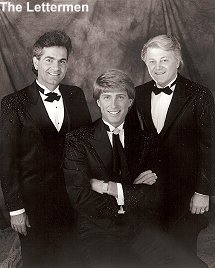 The "Queen of the Night: Remembers Whitney Houston" starring Trina Johnson is scheduled at The E Center at the Edgewater Oct. 11-13. Tickets are $10 for the 8 p.m. shows.

"Ricky Nelson Remembered" is a multimedia entertainment event featuring the live music of

Ricky Nelson's hit songs performed by Nelson's twin sons Matthew and Gunnar and includes

never before seen big screen video footage of the Nelson family. The show will run at the Riverside Oct. 16-21 and tickets are $32.

The upcoming dates for Tom & Sharon's Dance Party at The Dance Club at the Riverside are Sept. 29, Oct. 13, 27, and Nov. 17. Dancing will go from swing and country to ballroom and Latin from 1:30 – 4 p.m. There is an admission fee. On Oct. 27 and Nov. 17, a zumba party will follow at 4 p.m.

The "Gun/Collectibles Show" will take place at The E Center at the Edgewater, Sept. 29-30. Items found at this show include Western collectibles, guns, ammo, fishing equipment, books, coins, boots, spurs, antique firearms, and much more. Hours are 9 a.m. – 5 p.m. on Saturday and until 4 p.m. on Sunday. A two-day pass is $8 and free for ages 12 and under accompanied by a paying adult.

A live pro roller derby featuring the San Francisco Bay Bombers vs. Brooklyn Red Devils will be held on Saturday, Sept. 29, across the river from the Avi at the Mojave Crossing Events Center. Tickets range from $10 to $25.

On Oct. 20, the Community Achievement Awards will be held at the Aquarius Pavilion. The event is an annual black tie dinner/awards ceremony to honor local individuals, organizations, businesses for above and beyond sacrifice and commitment to improving the local communities. Tickets are $75, call the Laughlin Chamber of Commerce at 702-298-2214.

CONTINUE ON TO...:
THIS WEEK'S >LAS VEGAS NEWS
LAST WEEK'S >LAUGHLIN NEWS
>VEGAS VIEW FULL ARCHIVES
Return to >"Heard Around Town"
Return to >Las Vegas Leisure Guide