Legendary Don Rickles, who has starred on Las Vegas stages longer than any other performer, will take the stage for his final 2007 performance in The Showroom at the Golden Nugget, Oct. 5-7. The much-honored comedian will conclude his 48th consecutive year as a Las Vegas headliner when he appears for this third engagement this year.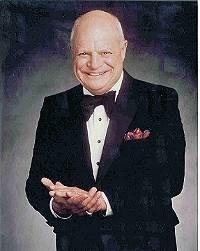 Column Continues Below Advertisement
Celebrating a successful 20-year relationship with the Golden Nugget, Rickles first appeared at the hotel in March of 1987, performing for a six-year run. Rickles will perform at 9 p.m. in the newly-renovated, 600-seat Showroom for this three-night gig. Ticket prices start at $55, call 702-386-8100.
Hooters has opened the new game show "Bonk" in the Night Owl Showroom. It features tricky questions and physical mayhem Sunday through Friday at 3 p.m. Tickets are $14.95.
The show's host and creator is comedy club veteran, Kerry Pollock. His assistant is Bonk Babe. "Bonk" begins with three randomly chosen contestants wearing helmets and holding soft foam mallets. The helmets are equipped with sensors that ring when the helmet is hit by a contestant "bonking in" and answering a question.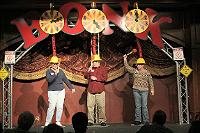 The first round is strictly self-inflicted bonking. Contestants score points for a correct answer, lose points for an incorrect answer. When a contestant reaches 10 points the round ends and the low scorer is eliminated. The remaining two contestants face off in the "Back BONK" round. The questions in this round get tougher and opponents may not only bonk themselves, but may bonk their opponent.
The winner of this round is a finalist and given the opportunity to win a prize by taking the "BONK Challenge." There, they are asked to name 10 items from a given category within 30 seconds while being bashed on the head by the BONK Babe.
This process is repeated three times producing three BONK winners. At the end of the third game, the three winners then compete in a single round finale known as the "BONK Bash." This is a free-for-all where all three contestants may hit themselves or any of the others in a race to 10 points to determine the champion, who is crowned with the mirrored BONK disco helmet. The winner gets the grand prize, which may include an overnight stay at Hooters, dinner and much more.
Celebrity roaster and insult comedian, Vinnie Favorito, will celebrate his contract re-signing with O'Sheas with a free "Check Your F*#@ing Attitude at the Door" Italian-style festival with games and gags on Friday, Oct. 5, from 7 to 10 p.m. Favorito will perform a show at 8:30 p.m. Show tickets are $39.95, call 702-733-3333.
With the popularity of Mac King's Magic in a Minute Suitcase-O-Magic, headlining Harrah's comedy magician Mac King has paired up for a second time with well-known toy maker Fundex Games to create Mac King's Magic in a Minute Trunk-O-Tricks", a magic set based on King's nationally syndicated comic strip "Mac King's Magic in a Minute." The game features a cartoon Mac King and his comical sidekick, Lewis the Monkey. The magic set, which has the look of King's on-stage magic suitcase, offers more than 50 magic tricks with fun titles such as "Ape Escape" and "Los Bananas Fantastico!" It retails for $29.99 at www.mackingshop.com and will be at Target.com beginning in late October.
The magic set, which is intended for amateur magicians ages six and older, also includes a demonstration DVD with several additional tricks not included in the set. In addition, there's an 88-page "Official Magic Manual," illustrating tricks in comic book form and a trading card with another bonus trick.
Palace Station's newest entertainment offering, the LA Comedy Club, is now open nightly and featuring two comedians, both of headlining caliber, in the 150-seat showroom at 7 and 9 p.m. doing one-hour long shows. Tickets, which are $24.95, include either two drinks inside the showroom or a meal at the Palace Station Feast Buffet, call 702-574-5300.
Tim Gabrielson and John Padon will share the stage from Sept. 24 - 30. Accomplished entertainer and comic magician, Gabrielson has performed on numerous national TV shows and for sold-out crowds across the country. Padon's well-honed act and no-prisoners approach have had him starring in major production shows, such as "The History of Sex" and "Hot Stuff." Padon also worked with acts such as War, Glen Campbell, Kenny G and The Temptations. He even performed for President Ronald Reagan on his ranch.
For the sixth year, Shark Reef Aquarium at Mandalay Bay will be transformed on Oct. 27 into Haunted Reef for Halloween. Rattling chains, creaking doors and hauntingly spooky music will replace the normal sounds of the ocean and jungle. Children 12 and under, in costume, will receive complimentary access and candy. Not to leave Count Dracula out, Haunted Reef also host a blood drive. Each adult who donates blood will receive a complimentary pass.
The Frankie Moreno Band, a high-energy group influenced by rock, punk and funk, will continue entertaining at the Golden Nugget's RUSH Lounge through 2007. Their schedule is nightly Wednesdays, Thursdays and Sundays from 10 p.m. to 2 a.m., and Fridays and Saturdays from 10 p.m. to 2:30 a.m.
Singer Jimmy Hopper, who gained fans a few years ago when he worked at Bellagio, will be making a Las Vegas appearance headlining at The Orleans in a benefit concert for Miracle Flight on Dec. 2 at 2 p.m. Tickets for "Journey of the Heart" are $35, $45 and $55, call 702-365-7075.
Resident rockers Metal Skool is performing at the Hard Rock at a new time. The heavy metal comedy group hits the stage at 9:30 p.m. every Thursday inside Body English.
Station Casinos will host a free concert series of headline artists over the next three months. Concerts venues are the 500-seat Ovation at Green Valley Ranch, its newest entertainment venue and lounge, the 399-seat Rocks Lounge at Red Rock, and The Railhead with 650 seats at Boulder Station.
The free concert series based on a first-come, first-serve basis features headlining bands from various musical genres and occurs through the rest of 2007. All concerts are for adults 21 years and older.
The lineup is as follows: Green Valley Ranch - Flynnville Train (country) Oct. 4, Scandal with Patty Smyth (80s rock) Oct. 26, The Fixx (80s pop) Nov. 23-24, John Cafferty and the Beaver Brown Band (rock) Dec. 8; Red Rock Casino - Berlin (rock) Oct. 20, Average White Band (R&B/funk) Nov. 9, 2007, Squirrel Nut Zippers (swing/jazz) Dec. 14 and 15; and Boulder Station - Flynnville Train (country) Oct. 6.
The second three-day Pure Aloha Fall Festival will be presented by Vizzun Entertainment at the Cannery in North Las Vegas, Oct. 12 - 14, at the Club, an indoor/outdoor festival venue. The event will include concerts by Hawaiian and Polynesian acts and daytime festivities highlighting cultural performances and Pacific Island vendors featuring a variety of island arts, crafts and food. Admission to each daytime event is $5 for adults and $2 for children under 10, at the door.
Tickets for the 6 p.m. evening concerts range from $23 to $35, call 702-617-5585 or 866-287-4643. Friday night's lineup includes Fiji, who will be launching his new CD, "Xperience," Cool Progression, winners of "Brown Bags to Stardom 2007," Hawaii's biggest high school talent competition, Bonafide and Rushouze Allstars. The Saturday evening concert will feature another star-studded lineup that includes Manao Company, Next Generation and Liquid Roots.
H&M, the international fashion retailer established in Sweden in 1947 and known for its stylish and affordable fashions, will open its first Las Vegas location inside Miracle Mile Shops at Planet Hollywood at noon on Oct. 4. As part of the celebration, H&M has enlisted stylist-to-the-stars and fashion guru, Robert Verdi, to co-host the store opening and provide customers with the latest trends and tips for every occasion. In addition, opening day festivities will include gift card giveaways worth up to $500 for the first 300 customers, complimentary H&M t-shirts and heavily discounted key garments selected from the fall collection. For information, call 702-369-1195. Today there are more than 1,300 H&M stores in 24 countries.
Congratulations to "V-The Ultimate Variety Show" on its fifth anniversary. From the start, it was a great idea to string together Las Vegas best specialty acts that normally fill a 10 to 15 minute slot in a major Strip spectacular show. The production at the Miracle Mile Shops at Planet Hollywood is always entertaining.
"Ooh La La," the sexy topless female revue in the Anthony Cools Showroom at Paris has expanded to two shows nightly at 7 and 11 p.m., Thursdays through Tuesdays. Tickets are $49.95, call 877-374-7469.
Illusionist Hans Klok, star of "Hans Klok - The Beauty of Magic" at Planet Hollywood, has formed a partnership with Las Vegas charity Opportunity Village to support it through a series of special events and promotions. This includes an upcoming benefit performance, incentive packages for donors, and special appearances at events such as the Magical Forest and the Las Vegas Great Santa Run.
The Palms will expand its entertainment beginning Sept. 28 with the addition of DJ Scientific spinning an eclectic mix of hip-hop, funk, electro, reggae and rock on Friday nights in The Lounge from 11 p.m. until 3 a.m. Additionally, DJ Scientific will hit the turn tables following select concerts taking place in The Pearl Concert Theater.
The Guess Who, one of the most celebrated acts of the rock era, will take the stage at the Cannery in North Las Vegas on Saturday, Oct. 6. As Canada's first international rock superstars, The Guess Who rose to rock 'n' roll prominence in the late '60s and early '70s. The group's timeless classics include "American Woman," "Clap for the Wolfman" and "These Eyes." Tickets are $34.95, $24.95 and $14.95, call 702-617-5585 or 866-287-4643.
The Ritz-Carlton at Lake Las Vegas has an upscale Sunday Brunch with the inclusion of unlimited pours of Veuve Clicquot champagne. Served in the hotel's signature restaurant Medici Café & Terrace from 11 a.m. to 2:30 p.m., Sunday Brunch features an array of specialties at more than six culinary stations. Saxophonist George Butts Live provides entertainment. Cost is $65 for adults, $55 without alcoholic beverages, and $25 for children ages 3 - 12, call 702-567-4700.
The MGM Grand is proud to announce Kamel Guechida, pastry chef at the Mobil Five-Star, AAA Five Diamond restaurant Joöl Robuchon, has been named "Bon Appetit" magazine's Pastry Chef of the Year. Guechida is innovative with the bounty of the season in dishes such as the Violet Milkshake with blueberry marmalade and Marinated Peaches with raspberry meringue and strawberry sorbet. Since 2000, Guechida has worked alongside Chef Joöl Robuchon in his kitchens all over the world including Tokyo, Macau, Paris and Monte Carlo.
Singer Kelly Clinton. who performs weekends at the Stirling Club and is the private venue's entertainment director, will preview her one-woman show - "Out of My Mind: An Evening with Kelly Clinton" - at the Family Music Centers, 8125 W. Sahara, on Oct. 1 at 7 p.m. Tickets are $25 with proceeds benefiting the Southern Nevada chapter of the Leukemia & Lymphoma Society's Team in Training campaign. Clinton will be introducing a cast of characters that have played a role in her life through the years. For tickets, call 702-210-9721 or 702-810-0995.
The 30-year prestigious Artexpo, the world's largest fine art and popular art fair with more than 300 exhibits, which has annually appeared in New York, will appear for the first time in Las Vegas at Mandalay Bay, Sept. 28-30.
The Library of Congress exhibition recounting three centuries of American Jewish history is coming to Las Vegas. Featuring materials drawn from the Library of Congress and other major archives, the From Haven To Home: 350 Years of Jewish Life In America exhibition follows the original 23 refugees who landed on American soil in 1654 to today's diverse American Jewish community. Among the items reproduced are a 1735 Hebrew grammar book; an 1863 petition protesting General Ulysses S. Grant's decision to expel all Jews from Kentucky and Tennessee during the Civil War; and a handwritten version of Irving Berlin's song, "God Bless America." For information, call 702-794-0090.
CONTINUE ON TO...:
>THIS WEEK'S LAUGHLIN SEGMENT
>LAST WEEK'S LAS VEGAS SEGMENT
>VEGAS VIEW FULL ARCHIVES
>Return to "Heard Around Town"
>Return to Las Vegas Leisure Guide