BRITNEY SPEARS ANNOUNCES RESIDENCY AT PLANET HOLLYWOOD!

Finally it is official! Britney Spears has a two-year residency deal to headline at Planet Hollywood. The pop music icon made the announcement live on ABC's "Good Morning America" and staged an event in the middle of the Nevada desert with more than 1,300 people coordinating a large card stunt, reaching more than 10 stories long and seven stories across, to announce her show "Britney: Piece of Me." Her first shows will be Dec. 27, 28, 30 and 31. Tickets range from $59 to $179. All shows begin at 9 p.m. and 10 p.m. on New Year's Eve.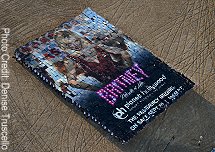 "Britney: Piece of Me" will be presented in a fully-reconstructed theater and feature one of the largest indoor immersive stage productions anywhere. The show will celebrate her career, which boasts 20 worldwide hits, and give a glimpse of brand new material from her upcoming eighth studio album.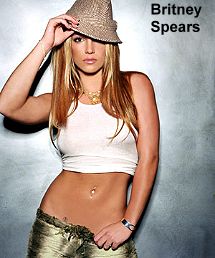 Column Continues Below Advertisement
MÖTLEY CRÜE LAUNCHES SECOND LAS VEGAS RESIDENCY
Mötley Crüe debuted their second residency featuring 12 shows at The Joint at Hard Rock through Sunday, Oct. 6. The notorious band following last year's sold out three-week run has introduced an all-new, never-seen-before production with an elaborate stage design, flashy costumes and over-the-top pyrotechnics. From hell-themed costumes including the venue's ushers, bartenders and box office staff clad as the gatekeepers of the underworld, to devil-inspired magicians and stilt walkers at the entrance to the venue, visual details prevail. Remaining Las Vegas dates are Sept. 25, 27 - 29 and Oct. 2, 4 - 6. Tickets start at $49.50.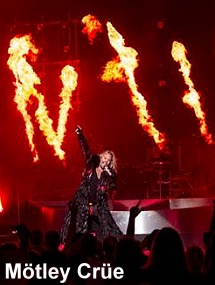 FIZZ LAS VEGAS IS HIRING AND WILL OPEN IN NOVEMBER
FIZZ Las Vegas is a high-end champagne lounge and bar set to open in November 2013 inside Caesars Palace. The $3.2 million, 2,750-square-foot venue will be a fashionable two-story space rendered in warm hues of champagne, cognac, copper and ivory all to compliment Sir Elton John and Furnish's personal colored photography collection. Bronze glass, cream leathers, faux fur and cheetah will complete the finished palette recalling the original interior fashions of Caesars Palace in the late '60s and early '70s with a spirit entirely reimagined for today by Todd-Avery Lenahan (TAL Studio). Fizz will feature a selection of high-end champagnes by the glass, carefully-curated spirits, and a menu of caviar, charcuterie and small plates.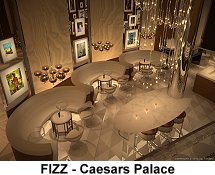 BELLAGIO GALLERY OF FINE ART HAS FREE ADMISSION ON OCT. 5
Bellagio Gallery of Fine Art (BGFA) will host its annual free admission day on Museum Day Saturday, Oct. from 10 a.m. - 7 p.m. to visit the current exhibit "Warhol Out West," a pioneering exhibition that focuses on Andy Warhol's depiction of all things Western. To gain complimentary entry, visit bellagio.com/attractions/museum-day.aspx and download an admission ticket redeemable for two free admissions per household.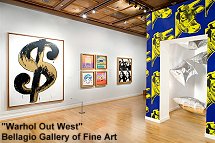 J. COLE IS FIRST HIP-HOP ARTIST TO PERFORM AT THE COLOSSEUM
Grammy-nominated, platinum selling recording artist J. Cole is bringing his 2013 North American tour, "What Dreams May Come Tour," featuring Wale, to The Colosseum at Caesars Palace on Friday, Oct. 25. He will be the first hip-hop act to perform at the venue and was the first artist signed to Jay Z's Roc Nation record label. Cole released his self-produced sophomore album, "Born Sinner," on June 18, 2013, and it has since hit No. 1 on the Billboard Top 200 Chart and reached RIAA Gold status. Tickets range from $39 to $69.
PIA ZADORA STARTS GIG AT PIERO'S ITALIAN RESTAURANT
Actress and singer Pia Zadora, now a Las Vegas resident, is starting an open-ended residency at Piero's Italian Cuisine. The restaurant's lounge will be transformed into Pia's Place with the Golden Globe winner performing with a quartet led by Vincent Falcone, pianist and former musical director for Frank Sinatra, at 9 p.m. Thursdays-Saturdays. A cover charge of $30 includes two cocktails.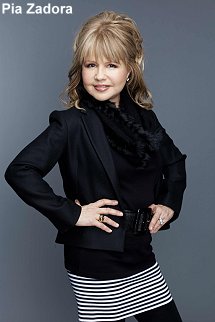 THE DIRTY GUV'NAHS PERFORM TWICE AFTER PGA TOURNAMENT
The 2013 Shriners Hospitals for Children Open brings the FedExCup to Las Vegas as the PGA Tour returns to the Las Vegas Valley for the 31st consecutive year from Oct. 14 - 20.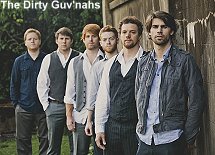 When PGA Tour play wraps, a new concert series presented by the Southern Nevada Hyundai Dealers will feature The Dirty Guv'nahs on Friday, Oct. 18 and Saturday, Oct. 19. The Dirty Guv'nahs has sold out shows across the country, playing along with huge names such as Grace Potter and the Nocturnals, Zac Brown Band, Train and more. Their opening act on Friday will be singer/songwriter Jared Lee with his R&B infused pop-rock songs, and on Saturday local favorite Jeremy Cornwell.
On Saturday, the special event will include 27 wine and craft beer tastings brought to you by Rock 'N Roll Wines and Blue Moon Brewing Company.
Adding to the party atmosphere both nights, attendees will be eligible to enter a drawing to participate in MillerCoors Shot at Glory with 10 spectators earning one shot at the famous Par 3 17th hole. Each night, if a hole-in-one is achieved, the participant wins a brand new Hyundai Veloster Turbo.
All Friday and Saturday grounds ticket holders will be granted complimentary access to the concert. For package information, visit http://shrinershospitalsopen. eventbrite.com. Individual tasting tickets are $20.
'A CHOREOGRAPHERS' SHOWCASE' IS SET AT TREASURE ISLAND
Nevada Ballet Theatre, together with Cirque du Soleil, will present "A Choreographers' Showcase" at the Mystère Theatre at Treasure Island on Sundays, Oct. 6 and 13 at 1 p.m. Now in its fifth year, this critically-acclaimed and completely organic dance experience will include encore performances and original choreographed pieces performed by artists from both organizations. Tickets are $25-$45.
NATIONAL NURSES HEALTH INSTITUTE SPEAKERS SERIES IS FREE
The National Nurses Health Institute Speakers Series will be held on Friday and Saturday, Oct.11 and 12 from 8 a.m. - 6 p.m. at the Red Rock Hotel and Convention Center and it is free to the public. Event founder Helene Neville has assembled a specially selected group of speakers, exhibitors and vendors. Topics will include weight loss, nutrition, exercise, Pilates, Zumba, surviving cancer, motivation, holistic nursing and more. Among 15 keynote speakers is world-renown humanitarian Edna Adan from Somaliland who will be introduced by actress Diane Lane. Adan is former World Health Organization Regional Nursing Advisor, former First Lady of Somalia and former Foreign Minister of Somaliland. She's an internationally acclaimed nurse who has changed the face of healthcare in Africa and was awarded the French Legion of Honor. In 2012 Edna Adan was featured in the documentary "Half the Sky: Turning Oppression into Opportunity for Women Worldwide."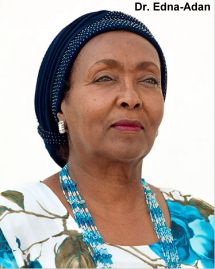 The National Nurses Half Marathon or 5K race follows on Sunday morning, Oct.13 at Red Rock Canyon. The 5K is $55 and Half Marathon $70 by Sept. 30. Volunteers are still needed, contact Helene Neville at heleneneville@hotmail.com or 480-299-5748.
TOP OF NEXT COLUMN
MARGARITAVILLE HOLDS ANNUAL POOL PARTY TWICE

Margaritaville Las Vegas will hold its annual Margaritaville weekend outdoor parties at the Flamingo Las Vegas Go Pool to coincide with Jimmy Buffett's Las Vegas concerts at the MGM Arena on Oct. 19 and Oct. 26. Beginning at 11 a.m. both days, the all-day, outdoor free admission pool party will offer guests interactive games, food and drinks, live entertainment by Tommy Rocker and giveaways.

PARTY IMPROV COMEDY PLAYS AT CABO WABO CANTINA

The new "Party Improv Comedy Show" presented by Strip headliner Anthony Cools and hosted by Nicolas "Kopy" Kopatich features performers improvising off of audience suggestions at the Cabo Wabo Cantina's second-floor room inside Miracle Mile Shops at Planet Hollywood starting at 7 p.m. every Thursday through Sunday.

The party starts when comedians are divided into two competing teams with three members each and the emcee serving as referee with a whistle. Much like the Drew Carey show, "Who's Line is it Anyway," patrons actually create the show with their participation and suggestions making it a different show each night. Tickets start at $24.99 plus a two drink minimum: visit Cabo Wabo Cantina box office, www.jestserendipity.com

or call 702-531-4320.

Kopatic, began performing improv in Wisconsin while still in high school. Upon moving to Las Vegas to play football at UNLV 10 years ago, he created an improv troupe Jest Serendipity and held their first show in the dormitory. Since then, Kopatic has performed with his cast at The Palms, The Plaza, Alexis Park, and various off-Strip theaters.

WORLD SERIES OF POKER OFFERS REAL MONEY ONLINE POKER

The World Series of Poker (WSOP) has started offering real-money online poker in the United States and Nevada exclusively at WSOP.com, which will be the destination for online players in Nevada to win seats into the land-based World Series of Poker held at the Rio in Las Vegas. The site, which is available to both PC and Mac users, will offer a series of launch promotions including a special weekly Sunday tournament beginning Sept. 29 guaranteeing $15,000 in payouts. To sign up, visit www.WSOP.com, follow instructions and download the poker client.

SPRINGS PRESERVE HOLDS GRAPES & HOPS FESTIVAL FUNDRAISER

Kicking off Breast Cancer Awareness Month in October, Par for The Cure, a nonprofit organization dedicated to raising funds for breast cancer research, will benefit from the fourth annual Grapes & Hops Festival on Saturday, Oct. 5 from 5 – 9 p.m. at the Springs Preserve. This event features beer and wine tastings, live music by The Busker Kings, a silent auction, and food from El Segundo Sol, Stripburger and Mon Ami Gabi. Admission is $40 in advance ($50 at the door) or two for $70. VIP tickets are $100.

SHORT CLIPS

Sugar Factory is opening its first off-Strip location at Town Square this fall. It will be a 7,000-square-foot brasserie and retail venue and offer new one-of-a-kind ice cream cones.

Hollywood power-couple Justin Timberlake and Jessica Biel were at Old Homestead Steakhouse at Caesars Palace for dinner recently with more than 20 friends and family. The group had attended the world premiere of "Runner Runner" at Planet Hollywood, in which Timberlake co-stars with Ben Affleck.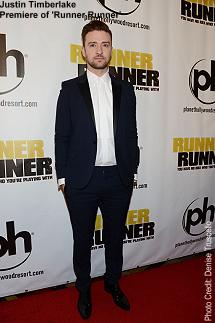 The Who will get its own Viva Vision® light and sound show downtown, titled "The Who - Miles Over Vegas," with stunning graphics built around three iconic songs: "My Generation," "I Can See for Miles" and "Pinball Wizard." Viva Vision, the world's largest video screen spanning five football fields, features customized light shows nightly synced to smash hits from legendary bands including: "Bon Jovi - Wanted in Vegas," "A Tribute to Queen," "The Doors - Strange Days in Vegas" and "Heart - Crazy on Vegas."
PBR Rock Bar & Grill inside Miracle Mile Shops at Planet will hold a "Haunted Hoe-down" Halloween celebration on Thursday, Oct. 31. The Strip-side destination will host a costume bull riding competition at 8 p.m. and hold a late night costume contest inside Rock Bar.
Stephen Sorrentino, who has shared the stage with Patti LaBelle, Dennis Miller, Dana Carvey and Debbie Reynolds, will be the headliner at the Gateway Arts Foundation benefit show on Saturday, Oct. 5 at the Starbright Theatre. Tickets are $12 and $15, call 702-240-1301.
Cleveland Clinic Lou Ruvo Center for Brain Health downtown at 888 W. Bonneville Avenue holds free programs, including the "Lunch & Learn" weekly education series and a special art series from The Cleveland Museum of Art. On Sept. 25, Patricia Verdi, RD, LD, CSG, Cleveland Clinic Nutrition Therapy will present Brain Healthy Foods and answer if chocolate improves memory.
LAVO LAUNCHES MURAL DESIGN CONTEST
The nightclub LAVO at The Palazzo has launched a mural design contest for amateurs and professions. The permanent artwork will be a focal point situated directly behind the DJ booth and main VIP area and replace the current mural seen in the photo.
Contestants can submit artwork through Friday, Oct. 25. The grand prize and people's choice winners will be announced Monday, Nov. 18. The grand prize is $2,000, dinner at LAVO Italian Restaurant and admission and VIP table at the nightclub. For information on submitting, visit http://www.talenthouse.com/design-for-lavo.
UPCOMING ACTIVITIES IN HENDERSON
On Nov. 1, Henderson will host ArtBeat presented by Target, a free cultural series incorporating family-friendly activities with art displays, crafts, demonstrations and concerts. Pre-show activities begin at 6:30 p.m., followed by a concert at 8 p.m. featuring rising country music star Sam Riddle, at the Henderson Events Plaza.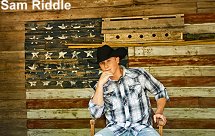 The Super Run Classic Car Show will return to Henderson's Water Street District Sept. 26-29. The car show features all years, makes and models of classic vehicles: cars, trucks, motorcycles and special interest vehicles. The event will also have art and food vendors as well as live music. For more information on both events, visit www.hendersonlive.com.
Henderson's 2nd BBQ Cook Off competition and festival will be held at the Henderson Events Plaza on South Water Street Oct. 4-6. Along with all the food, there will also be live entertainment, souvenir and merchandise vendors, other food and beverage vendors, carnival rides, midway games and much more. For information, visit http://thecowboybbq.com.
'ATOMIC OVERLOOK' IS NEW ART SERIES AT MUSEUM
The National Atomic Testing Museum's Art in the Museum Series currently features the works of Clay Lipsky, a fine art photographer and Emmy Award winning graphic designer based in Los Angeles, Calif. His artwork has been published and exhibited internationally. "Atomic Overlook" is a series of photomontages that blend 1950s atmospheric atomic bomb tests with 21stCentury tourism.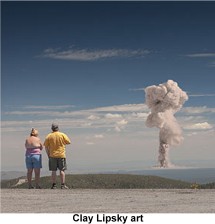 SIN CITY GALLERY PRESENTS KRYSZTOF NEMETH'S PIN-UP WORK
Krysztof Nemeth will exhibit a 10-year retrospective of his pinup work entitled, "Live, from Sin City," at Sin City Gallery Oct. 3-27. On Thursday, Oct. 3, there will be a gallery reception with Nemeth available for Q&A from 6-11 p.m. Working primarily in black-and-white pen-and-ink, Nemeth has published two collections of his pin-up art. He's done pin-ups of all kinds including pirates and roller derby girls, lady devils, librarians, nurses, witches and has a penchant for mermaids.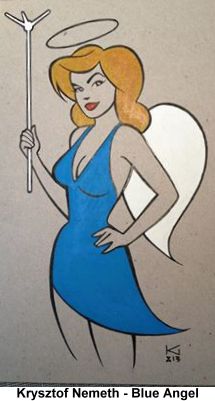 DOWNTOWN TRANSFORMS INTO MASSIVE BLOCK PARTY
Downtown will be transformed into a monumental block party for AfterGlow, the finish-festival for the second 5K GlowRun on Sunday, Oct. 13. Dance music veteran and Los Angeles native DJ Vice will headline the festivities spanning the Fremont East Entertainment District. DJ Echo will kick off AfterGlow at 9 p.m. as runners dash through the finish line. Additionally, up-and-coming DJ talent will be featured throughout neighborhood hot spots like Commonwealth and Park on Fremont. Racers are encouraged to walk, run or dance through the 5K course in their most elaborate and colorful costumes. Registration for GlowRun is $45 and includes guaranteed entry for the after-party, visit www.glowrun.com.
EPICUREAN CHARITABLE FOUNDATION HOSTS M.E.N.U.S. AT LUXOR
Epicurean Charitable Foundation of Las Vegas (ECF) will host its 12th annual M.E.N.U.S. (Mentoring & Educating Nevada's Upcoming Students) fundraiser with a private VIP performance by Jabbawockeez in the theater followed and a dine-around from 8:30 – 11:30 p.m. featuring 30 of Las Vegas' top restaurants poolside at the Luxor on Friday, Oct. 4. Tickets start at $500.
THE CENTER ANNOUNCES PARTNERSHIP WITH INSERT COIN(S)
The Gay and Lesbian Community Center of Southern Nevada, a community-based organization, is partnering with downtown's video gaming Insert Coin(s), which has committed to hosting fundraising events, donating supplies and games to The Center, and contributing to the educational outreach programming with inspirational lectures and events. Kicking off the partnership, Insert Coin(s) will host a night on Thursday, Oct. 3 for invited guests from 8 - 9:30 p.m. and then for the public from 9:30 p.m. to closing.
Column Continues Below Advertisement
CONTINUE ON TO...:

THIS WEEK'S >LAUGHLIN NEWS
LAST WEEK'S >LAS VEGAS NEWS
>VEGAS VIEW FULL NEWS ARCHIVES
Return to >"Heard Around Town"
Return to >Las Vegas Leisure Guide