'AMERICA'S GOT TALENT LIVE' IS COMING TO THE PALAZZO!

Following weeks of heavy competition on the seventh season of NBC's "America's Got Talent," the million dollar-winner Olate Dogs and other top performers, along with fan-favorite special guests, will perform together at The Palazzo Theatre for an eight-week limited engagement, Sept. 26. – Nov. 17. The show will be performed Saturday through Thursday at 7:30 p.m. Tickets start at $45.

Richard Olate and his son Nicholas coach their dogs to perform remarkable routines. Richard, born in South America, is a third generation circus performer who has worked since age 12.

The live show will be hosted by season seven runner-up, veteran stand-up comedian Tom Cotter. Other fan-favorite performers will include: creative sand artist, Joe Castillo; innovative musician and inventor of the Earth Harp, William Close; glow-in-the-dark Lightwire Theater; AGT alumni and "Junk Rock" group Recycled Percussion; and the world's youngest escape artist, Spencer Horsman.


Column Continues Below Advertisement



PLANET HOLLYWOOD PRESENTS 'CEELO AND FRIENDs'

Mega superstar CeeLo Green is teaming up with some of the biggest names in entertainment to deliver an early Christmas gift to the Las Vegas-based non-profit organization Keep Memory Alive. "CeeLo and Friends" will be presented in the Showroom at Planet Hollywood on Wednesday, Oct. 10, at 8 p.m. CeeLo will perform songs from his upcoming Oct. 30 Christmas album with past artists from NBC's "The Voice," and other performers to be announced later. Tickets range from $125-$500, call 800-745-3000 or visit www.ticketmaster.com

.

The concert will be filmed and premiere on Monday, Nov. 26, on The Warner Sound (www.youtube.com/TheWarnerSound), YouTube channel.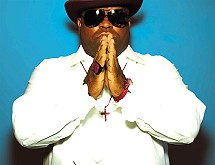 CeeLo will begin his Las Vegas residency show "Loberace" at Planet Hollywood in February 2013. He can currently be seen on the third season of NBC's hit show "The Voice" as a coach alongside Christina Aguilera, Adam Levine and Blake Shelton.
BACCHANAL BUFFET OPENS AT CAESARS PALACE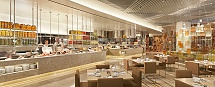 The Bacchanal Buffet at Caesars Palace is open. Overlooking the world-famous Garden of the Gods pool oasis, Bacchanal Buffet serves more than 500 dishes daily in a 25,000-square-foot modern space that seats 600, designed by internationally renowned Japanese firm Super Potato. The distinguishing feature is its nine open kitchens. With the current cultural focus on food, the buffet positions food and chefs as entertainment.
'LEGWARMERS – AN 80S MUSICAL' OPENS AT V THEATER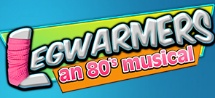 "LegWarmers – An 80s Musical" will open at the V Theater inside the Miracle Mile Shop at Planet Hollywood on Sept. 20. The show tells the story of six friends and the night that changed their lives forever combined with hit music from the 80s.
BRET MICHAELS AND ONEREPUBLIC HEADLINE FOR THE D
Celebrating the completion of its transformation, the D Las Vegas downtown will host a week-long celebration and two free concert events on the 3rd Street Stage of the Fremont Street Experience at 10 p.m. Poison front man and solo artist Bret Michaels will appear on Saturday, Oct. 13, and American rock band OneRepublic on Saturday, Oct. 20.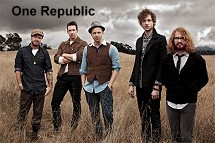 The grand opening week will celebrate renovations more than a year in the making as the former Fitzgeralds has steadily transformed into the D Las Vegas. The newly renovated property will feature an entirely new gaming experience with its two-level casino featuring dancing dealers on the first floor and a Vintage Casino on the second floor, along with 638 remodeled contemporary rooms and suites.
'FANTASY' RELEASES 2013 'BARELY BEJEWELED' CALENDAR
"FANTASY's" "Barely Bejeweled" calendar is the show's sexiest calendar yet featuring the stunning ladies from the Luxor's sultry revue. The 2013 calendar is scheduled to be released Tuesday, Oct. 16, and incudes November and December 2012. Shot by renowned photographer Oscar Picazo, "Barely Bejeweled" showcases "FANTASY's" gorgeous dancers draped in opulent jewelry and little else. The $20 calendar will be available at retail outlets in the Luxor and there will be a series of calendar signings leading up to the holiday season.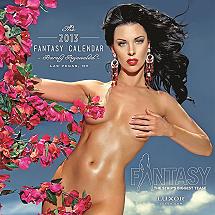 RACE CAR DESIGNER PETER BROCK VISITS SUPER RUN
Automotive architect Peter Brock, known for creating the iconic style of the World Championship-winning Shelby Daytona Cobra Coupe, Corvette Stingray and Shelby GT350 Mustang, is scheduled to attend Henderson's 13th annual Super Run Classic Car Show and meet fans Sept. 21 –23, at the Henderson Events Plaza.
Known as Southern Nevada's largest car show, Super Run features more than 1,000 hot rods, vintage vehicles and muscle cars, as well as popular contests, including burnouts and roaring engines. This year's entertainment will star country music artist Jerrod Nieman and "Route 66 – The Musical," featuring hit songs from the '50s and '60s. Admission for spectators is complimentary. For a schedule of events, visit HendersonLive.com.
TAO GROUP HOLDS WORLD'S LARGEST BACHELORETTE PARTY
TAO Nightclub and TAO Beach in The Venetian and LAVO Nightclub in The Palazzo are hosting the World's Largest Bachelorette Party, Sept. 20-23, with Mayor Carolyn Goodman proclaiming Sept. 21 as "Vegas Bachelorette Day."
The final fling will give bachelorettes and their girlfriends a chance to score thousands of dollars in prizes including a Honeymoon getaway, giveaways and VIP gift bags while partying. All attendees will enjoy complimentary spa services from Canyon Ranch Spa, libations, special performances by the Chippendales, and free pole dancing classes from Stripper 101. The weekend will conclude with an attempt to break the World Record for the Longest Linked Toast which is currently set at 232 people linking arms and toasting. For information, visit www.taolasvegas.com/wlbp.
"LAUGH-A-THON," A LIONS BENEFIT, SET FOR SEPT. 23
"The Laugh-A-Thon," a fundraiser sponsored by the Lions Club, is a special musical-comedy benefit that will take place at the South Point in the main showroom on Sunday, Sept. 23, from 2 to 4 p.m.
Entertainers set to perform include: Rich Little, Bill Fayne, Genevieve, Michele LaFong, Gordie Brown, Leigh Zimmerman and her daughter Cayleigh Capaldi, Lisa Smith, Shades of Sinatra, Marlon Multo, Peter Anthony, Fielding West, Michelle Rohl, and host Kelly McDonald. Tickets are $25, call 702-739-6393.
LOUIE ANDERSON PRESENTS TWITTER'S FUNNIEST COMEDIANS
The #140Tour, featuring some of the funniest comedians on Twitter with more than 164,000 followers combined, will visit the Palace Station Sept. 28 and 29 at 9 p.m. There will be live performances by Travon Free, Eli Braden, Halli Borgfjord and Pauly Casillas aka @travon, @elibraden, @hallib and @paulypeligroso. Tickets are $39.95.
"The ability to make so many people laugh in 140 characters or less shows how talented and truly unique these comedians are," said Louie Anderson. Now everyone will see how they do at stand-up.
SATURDAY CHAMPAGNE BRUNCH RETURNS TO LAVO
LAVO's Saturday Champagne Brunch will return for a second season on Oct. 13. The afternoon soiree from 2 – 6 p.m., which originated at LAVO's sister location in New York City, blends food, 15 types of champagne and European house music during fall and winter when the pools are closed for the season. Confetti showers, costumed hosts, gold painted dancers and sounds by DJ Jason Lema provide the backdrop for the daytime affair. For Saturday brunch and bottle service reservations, call 702-791-1818 or brunch@lavolv.com.
FLEMING'S HOLDS 'BOTTLE WARs' TASTING EVENTS
Las Vegas' only Fleming's restaurant is holding "Bottle Wars" wine tastings this month on Fridays from 5:30 – 7 p.m. This reporter experienced "Battle of the Hemispheres" on Friday, Sept. 14, featuring wines from northern and southern hemispheres. The wines are paired with appetizers that enhance the experience. Highly recommend this for wine enthusiasts. There aren't too many people so it's an intimate experience. The next two are "Old World vs. New World" on Sept. 21 and "Glass Warfare" Blind Tasting on Sept. 28. Cost is $25.
TOP OF NEXT COLUMN
EASTON CORBIN SET TO PERFORM AT THE SILVERTON
Country singer Easton Corbin will take to the stage at Veil Pavilion inside the Silverton on Friday, Sept. 28, at 8 p.m. Tickets are $35, $50 and $60. Corbin burst onto the country music scene with the release of his self-titled album in 2009 that produced two No. 1 singles on the Billboard Hot Country Songs. He won three American Country Awards and had seven nominations. Corbin's latest single is "Lovin' You Is Fun" and his sophomore album "All Over The Road" hits stores on Sept. 18.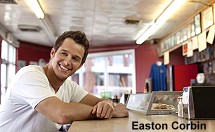 COREY HARRISON WILL LEAD BIKEFEST'S FIRST 'STRIP RIDE'
Corey Harrison from Cable TV's No. 1 rated show, Pawn Stars," will be the Grand Marshall of the inaugural "Strip Ride" on Thursday, Sept. 27, that will benefit "Wounded Warrior Project." This new event is part of the 12tn Annual Las Vegas BikeFest taking place Sept. 27-30 at Cashman Center. The "Strip Ride" will start at Cashman Center, travel down the Strip, and end at The Hard Rock Café for an "After Party." Registration will be from 5-7 p.m. at Cashman Center, with the ride at 7:15 p.m. The Strip Ride is free, with charity Souvenir Pins available for $10.
Bikers from more than 13 countries and 40 states will attend the four-day rally and celebration "of all things motorcycle!" There will be many activities including a "Vendor Village" at Cashman Center with more than 250 vendors, a "Bikes for Sale" corral, and a display of hot rods and rat rods.
Contests will include Motorcycle Games, Miss Las Vegas BikeFest, Bikini Contest, World's Strongest Biker, Hog Out Competition, Mr. Las Vegas BikeFest, Poker Runs, Poker Walks, and a Tattoo Contest. The two bike competitions will be Baddest Bagger of Las Vegas and the Custom Bike Show. Plus, there will be Stunt Ride shows every day.
For admission prices, which vary, visit www.LasVegasBikeFest.com.
HOT ROD CITY INVOLVED WITH UPCOMING EVENTS
Hot Rod City, the multi-faceted automotive mecca located at 5115 Dean Martin Drive, has two of its showcase vehicles—a 1971 Cadillac Hearse known as "The Dead Sled" and a 1960 Chevy El Camino in the Barrett-Jackson Car Auction (www.barrett-jackson.com), which takes place at Mandalay Bay Sept. 20-22.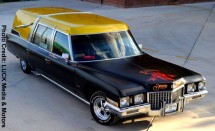 The following week, Hot Rod City will be one of the stops for the Poker Run event of the 12th Annual Las Vegas BikeFest, which takes place at various venues throughout the city Sept. 27-30. The Hot Rod City leg of the Poker Run will happen on Saturday, Sept. 29, from 10 a.m. to 2 p.m. Festivities will include food and ice cream trucks and music.
MISCELLANEOUS NEWS
Gary Puckett and the Union Gap, one of the most successful musical groups of the sixties especially with the hit song "Young Girl," disbanded in 1974. Puckett will headline at South Point, Sept. 21-23. Tickets are $30 to $40.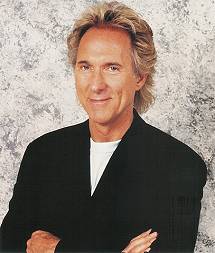 Got to see Esteban and his daughter violinist Teresa Joy perform at The Smith Center in the Cabaret Jazz room. It was truly a mesmerizing show. You can't help but admire the love this father and daughter have for one another and for music. They spent lots of time afterwards visiting with fans.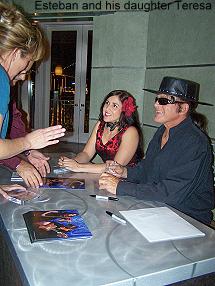 The 2012 Justin Timberlake Shriners Hospitals for Children Open is coming up Oct. 1-7, at TPC Summerlin. The giant fundraising event draws well-known golfers, celebrities and event host Justin Timberlake.
The final Bikinis, Bands and Burgers Poolside Concert Series for this year at the Silverton will feature Authority Zero at the Sway Pool Lounge at 7 p.m. on Saturday, Sept. 29. Authority Zero was formed in 1994 in Mesa, Ariz. This year, the group released its sixth studio album "Less Rhythm More Booze."
Rick Moonen's rm seafood at Mandalay Bay has a non-traditional happy hour, Tuesday through Saturday from 7 to 10 p.m. in the upstairs lounge, with an early evening menu that celebrates sustainable seafood and cocktails.
"V The Ultimate Variety Show" that features all different specialty acts at the V Theater inside the Miracle Mile Shops at Planet Hollywood is celebrating its 10-year anniversary this month. Show producer David Saxe opened the show at The Venetian in 2002. After two years, he decided to open his own venue, the V Theater.
For the first time ever, three internationally recognized companies, Nevada Ballet Theatre, Northwest Ballet and Ballet West, will come together to perform George Balanchine's three-part masterwork "Jewels," at The Smith Center on Oct. 13 and 14. Tickets start from $35.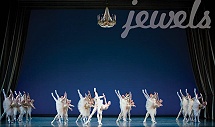 R Steak & Seafood at the Riviera is hosting a four-course wine tasting dinner featuring Ferrari-Carano Winery on Thursday, Sept. 27. Cost is $65, call702-794-9233, or $75 at the door.
There will be a Wine Walk featuring 20 different wines at Lake Las Vegas, Oct. 6 from 7-10 p.m. Advance tickets are $25 at the door $30.
A limited number of specially priced tickets are available for "Terry Fator: Ventriloquism in Concert" at The Mirage on Sept. 28 and 29. Ticket prices are $70, $99 and $129, with 100 percent of the purchase price going to Nevada Public Radio (NPR). Tickets must be purchased through NPR, call 702-258-9895.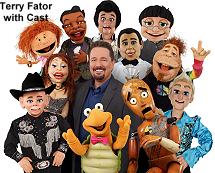 Collective Zoo ends the summer with the final edition of their pool party series: Pool Party Safari. The finale will be held at Rumor on Saturday, Sept. 22, at noon.
Crazy Horse III will hold its "Naughty School Girl" party hosted by Playmate, Ciara Price, on Saturday, Sept. 29. She was Miss November 2011.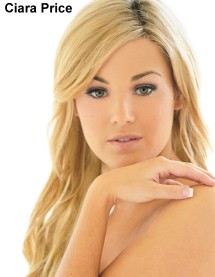 NASCAR CAMPING WORLD TRUCK DRIVERS MEET FANS AT RIV
Drivers from the NASCAR Camping World Truck Series (NCWTS) will meet fans on Sept. 27 at 6:30 p.m. at the Riviera for an autograph session just days before the Smith's 350 NCWTS race at the Las Vegas Motor Speedway. The meet-and-greet will include: current championship points leader, Timothy Peters; two-time champion Todd Bodine; Matt Crafton; Johnny Sauter; David Starr; Ross Chastain; and more.
AREA 51 LECTURE SERIES HELD AT ATOMIC TESTING MUSEUM
The National Atomic Testing Museum will present the fifth lecture in the AREA 51 Lecture Series, titled, "Military UFOs: Secrets Revealed" on Saturday, Sept. 22, at 6 p.m., at the museum. The lecture will feature a group of senior military officers discussing credible UFO incidents around the world. The panel consists of Nick Pope, Col. Robert Friend, Col. Bill Coleman, Col. Charles Halt, and Col. John Alexander. The moderator is Commander Allan Palmer, CEO of the ,useum. You must RSVP by calling 702-794-5150. Tickets are $20 for museum members, $35 for non-members.
MOB MUSEUM HOLDS 'INSIDE STORIEs' SPEAKER SERIES
The Mob Museum downtown has started an inaugural "Inside Stories" speaker series with Q and A that will be held in the museum's historic courtroom that once housed trials of mobsters Tony Spilotro and Meyer Lansky and include a pre-event reception with hors d'oeuvres and a cocktail. Tickets are $35.
First up on Sept. 19 is FBI undercover agent Joaquin "Jack" Garcia, followed on Oct. 17 by Dr. Mark Galeotti, a professor specializing in global organized crime, and JFK Assassination Investigator - Notre Dame Law professor G. Robert Blakey.
Column Continues Below Advertisement
CONTINUE ON TO...:

THIS WEEK'S >LAUGHLIN NEWS
LAST WEEK'S >LAS VEGAS NEWS
>VEGAS VIEW FULL NEWS ARCHIVES
Return to >"Heard Around Town"
Return to >Las Vegas Leisure Guide