Three legendary game show hosts, Bob Eubanks of "The Newlywed Game" and "Card Sharks," Chuck Woolery of "Love Connection" and "Lingo," and Jamie Farr of "The Gong Show" and his Klinger role in "M*A*S*H," are uniting to bring some of America's most recognizable game shows together for the first time on one stage at the Las Vegas Hilton beginning Oct. 8. Showtimes will be 1:30 and 3:30 p.m. Tickets are $42, call 702-732-5755 or 800-222-5361.
The "$250,000 Ultimate Game Show" will have more winners on stage, more than 50 per show at nine shows a week, and will give away more money and prizes, more than $50,000 each week in guaranteed cash and prizes, than any other live game show in recent history. At each show, an audience member will have the chance to win $250,000. If that person wins, every audience member with a valid show ticket will also win $100. Each show will feature one of the three rotating legendary hosts.

Column Continues Below Advertisement


Fright Dome will take over The Adventuredome at Circus Circus, Thursday - Sunday, from Oct. 5 through Halloween. The hours are 7 p.m. until midnight. Single-night tickets are $32.95 and will include all haunted houses, freak shows, rides and attractions. The Fast Pass Admission ticket is $44.95 and will entitle the holder to express entry into all haunted houses, call 702-794-3939.
For this season of fright, not even the sky is safe. Multiple Drop Demons will unexpectedly fall from the sky and torment passersby. They are the latest addition to the Fright Dome experience, ranked fourth Scariest Haunted Attraction in the country by AOL. Dressed in professionally designed costumes and intricate masks, they will descend from the ceiling and induce blood curdling screams.
In addition, other new attractions will include a terror-filled Wax Museum, a haunted 4D Special FX Theater and the haunted house, Killer Clowns in 3D. Lizardman will cause audiences to shriek since he has undergone approximately 650 hours of tattooing, covering him from top to bottom with reptilian scales and black markings. His eyelids and lips are tattooed and he also has a bifurcated tongue - a surgically split tongue. Implanted Teflon horns form ridges over each eye and his teeth have been filed to sharp points. Lizardman is nationally recognized from appearances on "The Daily Show with Jon Stewart," "The Late Late Show with Craig Kilborn," "20/20" and "Ripley's Believe It Or Not!"
Spectacular freak shows will feature the engrossing Swing Shift Sideshow, Insane Entertainment and Lady Diabla. The returning, red-haired, femme fatale, Lady Diabla is currently on tour with Ozzy Osbourne's Ozzfest 2007. She will spook audiences by driving nails four inches into her head, lying face down on broken glass and swallowing swords.
Fright Dome will offer five enhanced haunted houses, including the all new Cell Block 13, Chainsaw Massacre, Morgue of Misery, Cavern of The Living Dead and the new Killer Clowns in 3D.
Madame Tussauds at the Venetian honored Xbox 360's Halo by immortalizing Master Chief as the first video game character to be enshrined in the world famous attraction's 250-year history. The impressively life-sized figure of Halo's Master Chief was revealed to the world by songwriter and Fall Out Boy bass player Pete Wentz.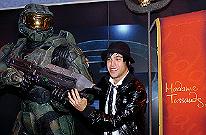 Master Chief stands 7'2" tall, with an approximate finished weight of 275 pounds. A total of 10 studio artists worked on the massive soldier and dedicated an estimated 892 man-hours. Materials included more than 1,000 pounds of clay.
Visitors to Madame Tussauds will have the opportunity to see the massive figure up close before the anticipated game release of 2007 - Halo 3, the third installment of the landmark "Halo" trilogy, scheduled for Sept. 25. Master Chief is stationed at the attraction's front entrance area. In addition to taking pictures, Halo 3 fans can purchase an array of Halo-licensed products.
The Art of Peter Max Gallery in The Forum Shops at Caesars Palace will host a gallery exhibition with internationally renowned artist Peter Max on Friday, Nov. 23 from 7 to 9 p.m. and Saturday, Nov. 24 from 1 to 4 p.m. Max will unveil his newest collection of original paintings including an acrylic on canvas, full-bodied Statue of Liberty painting measuring six-feet tall, which will be on display and available for purchase exclusively at the Las Vegas gallery. Beginning Nov. 1, collectors can view the installation of paintings available for purchase.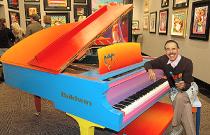 Newly remodeled to a more subdued upscale motif featuring pinpoint lighting, The Art of Peter Max Gallery has taken on a new look and undergone expansion to display nearly 40 additional paintings. With more than 150 original Peter Max paintings available for acquisition, the Art of Peter Max Gallery hosts the largest collection of Peter Max paintings available for sale in one room anywhere in the world.
Miracle Mile Shops at Planet Hollywood is continuing its transformation with ongoing renovations and an influx of new tenants. The center has transformed its north entrance by adding people movers, a backlit sidewalk water feature and an LED video screen offering continuous streaming imagery. Urban Outfitters' multi-story glass-front store is open and Trader Vic's restaurant is opening mid-September. More future openings will include the Hawaiian Tropic, Las Vegas' first H&M fashion store, and the 15,000-square-foot True Religion's apparel store.
Interior renovations will continue into the first quarter of 2008. Both Strip-side corridors have lost their painted sky ceiling for more modern and brighter steel tiles. Visitors entering Miracle Mile Shops from Las Vegas Boulevard via the north entrance are now greeted by an iconic 'M' on the wall which features the word "welcome" in over 160 languages. New to both north and south entrances, chandeliers are suspended directly inside the doors to greet shoppers with 2,500 strands of crystal balls each.
Also new to Miracle Mile Shops' interior are many streamlined and modernized storefronts which include floor-to-ceiling glass. All of the center's heavily themed kiosks have been replaced with more modern and inviting designs, separated by several key colors based on the area of the mall in which they are located.
The Rotunda Bar located just outside the Planet Hollywood Theatre for the Performing Arts entrance is under construction and will feature a total of 14 chandeliers of varying sizes. Able to hold 99 people, the bar will have a top sound system, illuminated frosted-glass walls and a marble top.
The Comedy Festival (TCF) has announced additional programming for the 2007 festival. Joining previously announced Jerry Seinfeld, Chris Rock and Ellen DeGeneres are Wanda Sykes, Eddie Izzard, Steve Schirripa, Jamie Kennedy & Nick Swardson, Bill Engvall, Frank Caliendo, Nick Cannon, Zach Galifianakis, Brian Posehn, Artie Lange, John Oliver, Bill Burr & Marc Maron, and The Kims of Comedy. Individual tickets and packages are available, call 877-TCF-FEST.
Audiences have been growing steadily over the past two years for the Las Vegas Tenors, who have been headlining many resorts in the valley and earlier this month performed two nights in the Las Vegas Hilton's showroom to packed audiences. This incredible foursome is worth mentioning because you should remember who they are and catch their show whenever you can. For the Hilton show, they were backed by a 15-piece orchestra that featured the all-female, eight-piece string section known as Bella Rumore, which in Italian means "beautiful noise."
The four Las Vegas Tenors are Bill Fayne, Bobby Black, Mark Giovi and Teddy Davey and they produce concerts filled with eclectic music from many genres. Their performances are among the best I've ever seen in Las Vegas.
Fayne is a classically trained singer who loves opera and Broadway and has worked many years as the pianist and conductor for Las Vegas headliner Clint Holmes. Black, who is from Georgia has charmed millions of people internationally and loves country music. Giovi is the more contemporary artist who loves rock music. For the past couple years, he's been featured in the "Bite" show at the Stratosphere. Classically trained Davey was one of the original gondoliers at the Venetian, has performed in Las Vegas theater productions, been on TV, and for over a year-and-a half sang at Maggiano's Little Italy.
Multi-talented comedic actor Jim Gaffigan will bring his stand-up show to The Pearl at the Palms on Saturday, Nov. 24, at 8 p.m. Tickets are $58.00, call 702-474-4000.
Gaffigan is most recognized for playing a main role in the Sierra Mist commercials. He recently brought his talent to Comedy Central for a one-hour special CD and DVD titled "Beyond the Pale." The DVD version propelled to Gold status within the first six months of its release.
After developing a sitcom titled "Welcome to New York" at the request of David Letterman following the comedian's first appearance on his show, Gaffigan went on to co-star with Ellen DeGeneres on the CBS hit "The Ellen Show." The humorist also had roles on FOX's "That '70s Show," NBC's "Ed" and HBO's "Sex and the City," among others.
Currently Gaffigan has a regular role on TBS' "My Boys" and has signed on to co-write and lend his voice to 20 new episodes of "Pale Force," a series of animated shorts that will air regularly on "Late Night with Conan O'Brien" beginning in October.
Tangerine Lounge & Nightclub at Treasure Island (TI) will remain open through 2007. It is still slated to undergo a major reinvention in early 2008.
Had the opportunity to attend the opening of Blush Boutique Nightclub, which is situated right off the casino floor at Wynn. The créme multi-sized lantern ceiling sculpture treatment and special lighting quite spectacularly provide the club's design focal point. And a visit to the restroom is a must for either sex. The stalls in the men's and ladies' restrooms feature shadow boxes of Barbie and Ken dolls.
"Joey & Maria's Comedy Italian Wedding" is an interactive "wedding" show taking place in the Riviera Convention Center on the following dates: Sept. 19, 26; Oct. 3, 10, 13, 31; Nov. 6, 28; and Dec. 4, 19. Complete with wedding cake, tickets are $65; call 702-794-9433.
"Defending the Caveman," is a worldwide blockbuster one-man show about male and female relationships that has been performed in more than 30 countries and been translated into 15 languages. Earlier this month, Kevin Burke celebrated his 100th Las Vegas performance of the show he's starring in at the Showroom at the Golden Nugget.
Three Dog Night will perform at Buffalo Bill's Star of the Desert Arena in Primm, Nev., located 25 minutes south of Las Vegas on I-15, on Friday, Oct. 5 at 9 p.m. From 1969-1974, Three Dog Night was one of the most popular bands in America, earning 21 consecutive Top 40 hits and 12 straight gold records. By late 1975, Three Dog Night had sold nearly 50 million records. Tickets are $34.95 and $24.95, calling 1-800-FUN-STOP.
The Cannery in North Las Vegas will host its 4th annual Rocktoberfest that combines music, beer and food in one event that will take place on Saturday, Sept. 29. The festival begins at 6 p.m. and admission is $5 at the door. This year's entertainment features two popular tribute acts: Space Oddity, David Brighton's Tribute to David Bowie, and Journey Unauthorized. In addition to the tribute acts, Los Angeles-based rock band Sugarwall will perform and open the festivities.
A new restaurant, Grimaldi's Pizzeria, which is a New York City Brooklyn Bridge icon, has opened at 9595 S. Eastern.
Barry Manilow, prior to his return headlining at the Las Vegas Hilton, Sept. 25-29, will be all over the tube promoting his new album, "The Greatest Songs of the Seventies."
Alternative Las Vegas rock band Searchlight, which was formed in 2005, will hold a soundtrack signing of its single "Contagious" that is featured on the "Resident Evil: Extinction" movie coming out on Sept. 21 and soundtrack being released on Sept. 19. The signing and a free performance will take place at Zia Record Exchange on Eastern Avenue off Flamingo Road on Sept. 22 at 1 p.m.
Members of the Strip casts of "Mamma Mia!," "The Producers," "Spamalot," and "Phantom: The Las Vegas Spectacular" will stage two performances of "God Lives in Glass" to benefit Make-A-Wish. "God Lives in Glass" presents 16 diverse songs representing global faiths. One show will be on Saturday, Sept. 22 at 2 p.m. at Faith Community Lutheran Church in Summerlin and the second will be on Sunday, Oct. 7 at 3 p.m. at the Flamingo Library near the Strip. Minimum donation is $35, call 702-686-7034.
CONTINUE ON TO...:
>THIS WEEK'S LAUGHLIN SEGMENT
>LAST WEEK'S LAS VEGAS SEGMENT
>VEGAS VIEW FULL ARCHIVES
>Return to "Heard Around Town"
>Return to Las Vegas Leisure Guide