BELLAGIO GALLERY OF FINE ART WILL OPEN 'FABERGÉ REVEALED' NOV. 14!

Bellagio Gallery of Fine Art (BGFA) will debut "Fabergé Revealed" on Nov. 14. The new exhibition will showcase 238 rare Fabergé ornate creations from the Virginia Museum of Fine Arts. "Fabergé Revealed" will highlight each of the distinct styles displayed in the original House of Fabergé stores in St. Petersburg, Moscow, and London centuries ago. Unique to this exhibition is a small collection of "Fauxbergé" objects - Fabergé look-alikes once believed to be originals. As part of the largest public collection of Fabergé outside of Russia, these treasures are synonymous with exquisite craftsmanship, impeccable taste and the rich history of the Russian imperial family from the late 19th and early 20th centuries.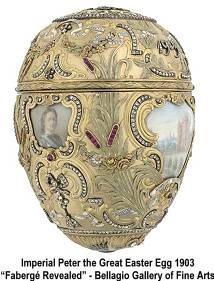 BGFA's current exhibition "Painting Women: Works from the Museum of Fine Arts, Boston" will close Oct. 17 and "Fabergé Revealed" will be on view Nov. 14 through May 25, 2015. Tickets will be $17; $14 for Nevada residents and seniors 65 and older; and $12 for students, teachers and military with valid ID.
Column Continues Below Advertisement
LAO SZE CHUAN RESTAURANT OPENS AT PALMS
Famed Chef Tony Hu opened Lao Sze Chuan, the Palms resort's newest restaurant serving authentic Chinese cuisine. The property hosted an extravagant event in celebration of the opening with former Las Vegas Mayor Oscar Goodman and the restaurant's key partners. Goodman gave Hu an official Las Vegas welcome with his signature Bombay Sapphire Gin cocktail in hand, and with a Szechuan pepper replacing his usual garnish of choice, a jalapeño.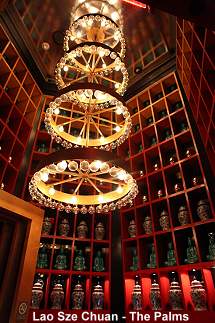 JEFF WAYNE STARS IN 'BIG DADDY'S BARBEQUE' AT STARBRIGHT THEATER
Comedian Jeff Wayne will be performing his one-man show, "Big Daddy's Barbeque," for one day only at the Starbright Theater in Summerlin, Sunday, Sept. 21 at 3 p.m. Tickets are $15, call 702-240-1301. Wayne has performed his show "Big Daddy's Barbecue" over a thousand times in more than 30 cities and this will be the first time in the Las Vegas area.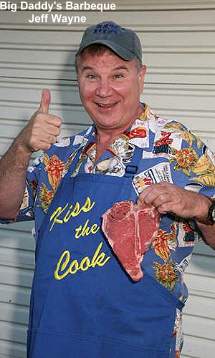 Wayne spent many hours researching barbeques as he was writing the show. After that, he went to his friend, Ted Lange, who is best remembered as Isaac the bartender on the hit series, "The Love Boat," and asked him to direct the show. Since his "Boat" years, Lange had directed movies and just completed filming 26 episodes of "Mr. Box Office" starring Jon Lovitz.
In the show, Wayne cooks and pontificates. He plays a letter carrier on his day off who just wants to BBQ but his X-X-wife Phyllis, who he remarried because he wanted the house back, has been given opera tickets and wants to go. As Big Daddy, Wayne tries to laugh, sing and dance his way out of going to the opera.
Wayne is a seasoned veteran who continues to perform his stand-up comedy at clubs, colleges, cruise lines, and on all the top television shows such as HBO, Showtime, A&E, Fox, and Comedy Central.
NEW DELANO CELEBRATES OPENING WITH EXCLUSIVE HIGH-STYLE BASH
New Delano Las Vegas is holding an official invite-only grand opening celebration Sept. 18 hosted by actress and tastemaker Jaime King and celebrity fashion designer Charlotte Ronson. The high-style affair's centerpiece will be an exclusive showing of Ronson's Spring/Summer 2015 collection.
RED DRAGON HOSTS LAS VEGAS FOODIE FEST AT THE LINQ
Las Vegas Foodie Fest presented by Pepsi, a Red Dragon event, will take place Oct. 15-19, with a new location at The LINQ Promenade. Event hours for foodies are 4 p.m. to midnight Wednesday through Friday, noon to midnight on Saturday, and noon to 10 p.m. on Sunday.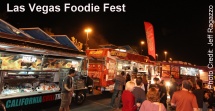 Las Vegas Foodie Fest will feature more than 50 of the nation's top food trucks and food vendors highlighted by East Coast and Midwest favorite, White Castle, back for its fourth festival appearance, along with a number of celebrity trucks from The Food Network, History Channel, Cooking Channel and Travel Channel. The White Castle Crave Mobile will serve foodies looking to purchase 10 or less sliders and have separate lines for those looking to indulge in larger quantities.
Unlimited general admission is $12 or $10 if purchased in advance online. One-day passes are $10 or $8 in advance. An upgraded foodie experience is the new-and-improved Red Dragon VIP Tent priced at $50 per day with advance purchase or $60 at the event.
JARED BLAKE RECORDS LIVE MUSIC VIDEO AT SANTA FE AND RED ROCK
Country rock rebel Jared Blake, who was a contestant on the first season of NBC's "The Voice," will make two special appearances alongside "The Voice" winner Danielle Bradbery at Revolver Saloon inside Santa Fe Station on Thursday, Sept. 18 at 10 p.m. and Friday, Sept. 19 at 8 p.m. at Rocks Lounge inside Red Rock Resort, as part of Elvis Monroe's second anniversary celebration. There is no cover charge for either show.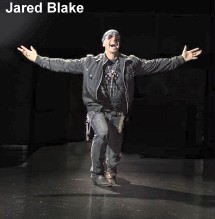 Blake recently shot the 1920s Prohibition-era scenes for the music video of his newest single "Stomp" in his home state of Arkansas and will shoot scenes at both Las Vegas performances. An additional day of filming will be held at Red Rock Resort on Wednesday, Sept. 17 that will call for free extras with "freakish talent." Filming will be invite-only; contact contact@theM3agency.com.
An original member of Team Blake in 2011, country rock rebel Jared Blake won the enthusiasm of audiences with his grunge rock style and R&B flair. Following in his mentor's footsteps, Jared Blake is releasing "'Til Morning Light," his first EP since his debut on "The Voice," on Sept. 30, the same day as Blake Shelton's "Bringing Back the Sunshine." The EP's title track "Stomp" is currently featured on Sirius XM's "The Highway" and charted at number five on MPE downloads, only behind Thomas Rhett, Brad Paisley, Jake Owen and Montgomery Gentry.
RICK HARRISON LEADS FIRST 'PAWN STARS POKER RUN' OCT. 5
Rick Harrison of History Channel's hit reality show "Pawn Stars" will lead the inaugural "Pawn Stars Poker Run" on Sunday, Oct. 5 to benefit the Epilepsy Foundation of Nevada. Harrison, accompanied by his son Corey, will lead motorcycle riders through Las Vegas starting off at the World Famous Gold & Silver Pawn. Some stops will include; the 100-year old historic Pioneer Saloon in Good Springs, Nev.; Distill - A Local Bar in Summerlin; and Triumph Motorcycle.
The After Party will be at Hogs & Heifers downtown where prizes will be raffled off and the $2,000 Grand Prize will be handed out. Freedom Cycle owner Mark Yuill has donated a new 2014 Triumph Bonneville motorcycle valued at more than $11,000 for the raffle. Early registration is $30 per rider and $15 per passenger.
Harrison is an Epilepsy Foundation national board member and spokesperson. He developed and had epilepsy as a child. When a person has two or more unprovoked seizures, they have epilepsy, which affects more than two million people in the United States and 65 million people worldwide.
OUTDOOR FALL FESTIVAL SEASON COMING UP
MGM Resorts' outdoor Village on the Las Vegas Strip across from Luxor will host a wide variety of festivals from Boulevard Brew Fest featuring Kings of Leon on Sept. 27 to Rock 'N Roll Wine Amplified Weekend with headliners Train and Blink 182, Oct. 10-11. Another festival will be iHeart Radio Music Festival Village with a smashing lineup that includes Iggy Azalea, Magic!, 5 Seconds of Summer and more on Sept. 20.
'THE LAST FIVE YEARS' WILL MAKE LAS VEGAS DEBUT NOV. 6-9 AT UNLV
The Nevada Conservatory Theatre will present Jason Robert Brown's contemporary musical "The Last Five Years" Nov. 6-9 at the Judy Bayley Theatre on the UNLV campus. The limited engagement stars Adam Kantor and Betsy Wolfe of the record-breaking 2013 off-Broadway revival and will also feature an on-stage live orchestra. Single tickets are $30; call the box office at 702-895-2787.
"The Last Five Years" tells the story of two 20-something New Yorkers who dive into a marriage fueled by the optimism that comes with finding "the one." Cathy is a struggling actress and Jamie an up-and-coming novelist. The show takes a bold look at one young couple's hope that love endures the test of time.
TOP OF NEXT COLUMN
MINT INDIAN BISTRO HOSTS FIRST INFERNO CURRY CHALLENGE MONTH
Mint Indian Bistro, a full-service contemporary Indian restaurant will host its First Inferno Curry Challenge Month Oct. 1-31. Anyone who dares to attempt Mint's signature Inferno Curry and succeeds at finishing the dish will receive a $50 Mint gift card, an entry into a drawing for complimentary dinner entrees for a year (one per month) and a spot on Mint's Wall of Fame. Since the opening of Mint in 2008, more than 1,600 guests have attempted finishing the Inferno Curry with only 16 guests succeeding.
To order the Inferno Curry dish, you must sign a waiver. The curry is made with fresh veggies ($17.99), chicken thigh ($18.99) or boneless lamb ($19.99).
Indian food in the United States is widely known as North Indian cuisine. Mint Indian Bistro's dining experience offers an exotic fusion of Hindu and Buddhist Cultures and The Lassi Bar® imports international and gluten-free beers plus vegan and organic wines. Mint Indian Bistro has one of largest varieties of international beers in Las Vegas and indeed the largest variety for any Indian Restaurant in the world. Mint is located at 730 E. Flamingo, Suite 10.
HARD ROCK HOTEL HOSTS CHARITY BENEFIT CIRCUS COUTURE
Circus Couture presents "Unlocked," an extravagant performance, fashion, and art event inside The Joint at Hard Rock at 6 p.m. on Sunday, Oct. 5 benefitting the Children's Specialty Center of Nevada. Tickets start at $35.
Celebrating its fifth year anniversary, Circus Couture has grown to include talents from Las Vegas' fine artists and community leaders. The event features a silent and live art auction paired with a circus spectacle featuring sensational runway fashion.
DROPKICK MURPHYS VISIT BROOKLYN BOWL
Dropkick Murphys will be live at Brooklyn Bowl Las Vegas at The Linq on Saturday, Nov. 8 at 9 p.m. Advance tickets are $29 and $34 day of show.
Dropkick Murphys come out swinging on their eighth full-length album "SIGNED and SEALED in BLOOD." This time around, everything has been cranked up by the seven-member group with its trademark blend of guitars and acoustic folk instruments.
TONY ORLANDO FEATURED GUEST ON 'LAS VEGAS ROCKS VARIETY SHOW'
Guests on Tony Sacca's "Las Vegas Rocks Variety Show" will include Tony Orlando and feature his longtime band members, world-class harpist Mariano Gonzalez, and The Cole Brothers - Kerry and Tracy. The show will be taped before a live audience on Saturday, Sept. 20 at 2 p.m. at the Railhead Showroom inside Boulder Station. Admission is complimentary with doors opening at 1:30 p.m. For guaranteed seating, call 702-364-8669.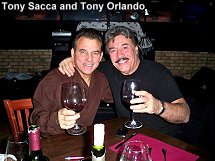 HYDE BELLAGIO ANNOUNCES LINEUP FOR 'LIVE MUSIC THURSDAYS'
Last Thursday, Hyde Bellagio launched its new fall season "Live Music Thursdays." Every Thursday from 10 p.m.-midnight, the chic nightspot rocks with music. September performers include: JR Aquino on Sept. 18 and Mahi Crabbe on Sept. 25. There's no cover charge.
JR Aquino from Anchorage, Alaska, broke onto the music scene as one of American Idol's top 50 finalists during Season 4. In 2012, Aquino competed on "The Voice." Mahi first gained national attention in 2011 when he was amongst the Top 100 on "American Idol." From there, the Hawaiian crooner took on Sin City, conquering the local music scene.
MISS ASIAN LAS VEGAS PAGEANT REVEALS ENTERTAINMENT LINEUP
Miss Asian Las Vegas has booked several Las Vegas stars to perform during its second pageant inside The Palazzo Theatre at The Palazzo on Sunday, Sept. 28 at 2 p.m. Acts will include classically trained violinist Lydia Ansel; favorite local act Zowie Bowie; singer, songwriter and guitarist Daniel Park; and the reigning Miss Chinese Las Vegas Elisa Chan. Tickets start at $28, call 866-641-7469.
HAKKASAN CELEBRATES GOLDEN WEEK WITH AN EXCLUSIVE MENU
Hakkasan Las Vegas Restaurant at the MGM Grand will celebrate the annual Chinese holiday Golden Week Monday, Sept. 29 through Sunday, Oct. 12. To mark Golden Week, the restaurant will feature a limited edition chef's menu. In addition, guests who dine on the specialty menu will receive an exclusive takeaway gift in celebration of the holiday.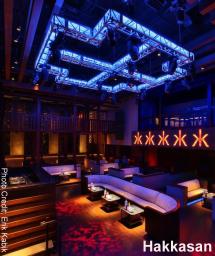 Golden Week is considered to be China's biggest annual national holiday, spanning seven days Oct. 1-7 where all workers are given three days of paid time off.
International Development Chef Ho Chee Boon has created a special menu to cater specifically to traditional Chinese tastes. For parties of two or more, the set chef's menu is $138 per person.
SAMMY'S RESTAURANT & BAR TOASTS ONE-YEAR ANNIVERSARY
Sammy's Restaurant & Bar will host a special one-year anniversary edition of Sammy's Social Club beginning at 7 p.m. on Wednesday, Sept. 24. The locals' favorite dinner series will highlight different wine varietals from Simi Winery in Sonoma County, Calif. Sammy's Social Club will offer a four-course wine pairing dinner priced at $60, call 702-567-4000.
ITEMS OF INTEREST
Master Chef Gustav Mauler is holding a Spiedini Wine Tasting fundraiser for Catholic Charities on Friday, Sept. 19 from 6-9 p.m. at Spiedini Italian Ristorante at JW Marriott on Rampart Blvd. Tickets are $60 in advance and $75 at the door, call 702-387-2234.
Entertainment legend and Academy Award® winner Jerry Lewis will appear at Reynolds Hall at The Smith Center for one night Tuesday, Sept. 30 at 7:30 p.m. "An Evening with Jerry Lewis" is a blend of stand-up comedy, gags, trademark vignettes, and memorable big-screen video montages. Tickets start at $49.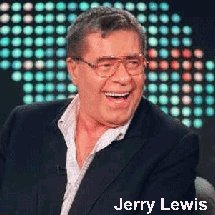 Elixir - a Local Lounge invites everyone to break out their bobby socks, put on their poodle skirts, shine their saddle shoes and travel back to the '50s to celebrate the Green Valley hangout's first anniversary on Saturday, Sept. 27 at 7 p.m. There is no cover for the party.
DELMONICO STEAKHOUSE HOSTS ONE NIGHT PORK AND WHISKEY DINNER
Delmonico Steakhouse and Templeton Rye are joining forces to host the ultimate evening of pork and whiskey on Saturday, Sep. 27. For one night only, Delmonico will offer five special menu items created by Chef de Cuisine Ronnie Rainwater and Culinary Director Sean Roe in participation with The Templeton Rye Heritage Pork Project. The program raises Duroc pigs with superior pedigrees on a specially formulated diet of the spent grain from making Templeton Rye Whiskey. Mixologist Max Solano conducted a fat-washing process utilizing the pork's belly with Templeton Rye Whiskey to create two interesting libations. Five menu items will be available Saturday, Sep. 27 during dinner hours from 5-10:30 p.m.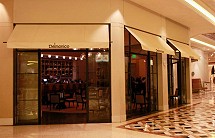 EXHIBIT-'TAIJI DOLPHINS: THE TRUTH BEHIND THE TARPS' AT ENCORE
Sea Shepherd Conservation Society is presenting a gallery exhibit "Taiji Dolphins: The Truth Behind The Tarps" in the Brahms Ballroom at Encore at Wynn, Sept. 19-21 opening each day at 10 a.m. Admission is complimentary.
Whales are captured and killed each year during the annual dolphin drive hunt. For a staggering six months of every year, a group of dolphin hunters herd wild migrating dolphins from the ocean's open waters into a hidden shallow bay, now infamously known around the world as the Cove. Sea Shepherd introduced the atrocities of the Cove worldwide in 2003. Since 2010 Sea Shepherd has had an ongoing presence of volunteers from around the globe who remain on the ground in Taiji, documenting the slaughters.
THE JUICE STANDARD INTRODUCES NEW PRESSED JUICES TO LAS VEGAS
The Juice Standard located at 4555 S. Fort Apache Road opened in March and is setting the standard for pressed juices as well as a signature innovative cleanse. Developed by two Las Vegas health and juice enthusiasts, Jamie Stephenson and Marcella Melnichuk, The Juice Standard offers raw, cold-pressed juice blends that apply 15,000 pounds of pressure to fruits and vegetables that have been farmed responsibly and locally whenever possible. Every blend is raw, completely organic and bottled without high-pressure processing. There are 20 different juice blends on the menu.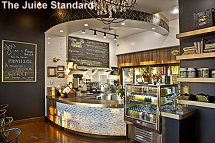 BOOK FESTIVAL HOLDS ILLUSTRATED WORD EXHIBITIONS AT FOUR PLACES
In conjunction with the 2014 Vegas Valley Book Festival, there will be free illustrated word exhibitions at four locations around Las Vegas. The Vegas Valley Book Festival, scheduled Oct. 16-18, is the largest literary event in Las Vegas. Now in its 13th year, the festival is free and open to the public, visit vegasvalleybookfestival.org.
The exhibitions include: "BAM! It's a Picture Book: The Art Behind Graphic Novels" through Oct. 25 at the Mayor's Gallery - Historic Fifth Street School; "My Nevada: Viewpoints from Poets and Artists of the Silver State" Oct. 2-Nov. 28 at the Nevada Humanities Program Gallery, 1017 S. First Street; "Illustrators 56" Oct. 3-31 at The Studio @ Sahara West Library, 9600 W. Sahara Ave.; and "The Improbable Metropolis" by artist Dave Rowe Oct. 6-Nov. 14 at the Clark County Government Center Rotunda Gallery.
Column Continues Below Advertisement
CONTINUE ON TO...:
THIS WEEK'S >LAUGHLIN NEWS
LAST WEEK'S >LAS VEGAS NEWS
>VEGAS VIEW FULL NEWS ARCHIVES
Return to >"Heard Around Town"
Return to >Las Vegas Leisure Guide