MAGICIAN FRANZ HARARY HEADLINES AT THE RIVERSIDE


The Riverside will feature Franz Harary - "Mega Magic-Reality Remixed" show in Don's Celebrity Theater, Sept. 16-20. Tickets for the 8 p.m. shows are $28, call 702-298-2535 ext. 616 or 800-227-3849, ext. 616.

Harary is the first world-class magician to design and create all of his own illusions. This was best demonstrated on an NBC-TV special in November 1994, when Harary vanished the Space Shuttle before a live audience at Kennedy Space Center. Since the fall of 1991, Harary has been boggling the minds of audiences throughout Asia.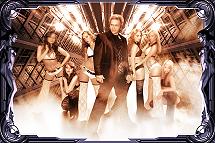 Harary's fascination with magic began in his youth. He attended eastern Michigan University on a classical voice and music scholarship. While in the Michigan Marching Band, Harary convinced the director to let him merge his passions for music and magic by designing illusions as part of the half-time shows. He once made the trumpet section vanish from the 20 yard line and reappear at the opposite end of the football field. Since then, his magic has been featured at countless sporting events including the 1983 Rose Bowl and the 1989 Super Bowl.
In 1983 Harary's career skyrocketed when he sent a videotape to superstar Michael Jackson and became the designer for all of the illusions.
EDGEWATER HIGHLIGHTS NEW COMEDIANS EVERY WEEKEND
"Comedy on the Edge" with two stand-up comedians featured each Friday, Saturday and Sunday at 7 p.m. in Kokopelli's Showroom has Barry Diamond and Rick Pulido Sept. 18-20, followed by Rickey Shackleford and Lee Levine Sept. 25-27. Tickets are $10, call 702-298-2453.
Stand-up comedian Barry Diamond has appeared in many popular television shows and movies including "Friends," "Seinfield" and "Curb Your Enthusiasm." For his shows, he opens and closes with a song. Instead of telling one-liners, he prefers to weave different stories into his act. He introduces various characters early in the show and then has them appear throughout the performance. The characters aren't impersonations of famous people; instead, they're impersonations of everyday people, complete with hand gesturing and facial expressions.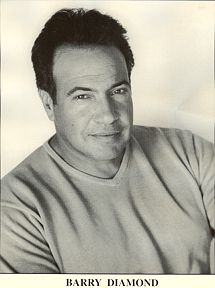 Never knowing his father, Rick Pulido was born and raised in El Paso Texas by his mother, sister and aunts. He developed what he calls a "feminine macho" attitude, which he says is, "Be aggressive, ruthless and take no prisoners, but dress well doing it." Pulido takes that stand on stage with him every night.
In his act, Pulido looks at life and then turns it upside down like a lens on a camera. His words are amplified with inflections, sound effects and animated body and facial contractions.
AVI HOLDS VOLLEYBALL TOURNAMENT FUNDRAISER
On Sept. 17, United Way Sand Blast will be held at the Avi's Special Events/Sand Drags Area. The annual fundraiser features a sand volleyball tournament, food, drink. information booths and vendors. The event begins at 5 p.m. and free to attend. For team information and registration, call the local United Way office at 702-298-0611 or 800-770-8929.
EDGEWATER AND COLORADO BELLE HOLD OUTDOOR FESTIVAL
On Sept. 18-19, the Mexican Independence Celebration being held on the Riverwalk between the Edgewater and Colorado Belle resorts will highlight a strolling mariachi band and Mexican food. Hours on Friday are 4-10 p.m. and on Saturday 2-10 p.m. Admission will be free with food and beverages sold separately.

TOP OF NEXT COLUMN
RIVER PALMS BOOKS COMEDIANS BARBUTTI AND SHORE
Laugh makers Pete Barbutti and Sammy Shore will appear at the River Palms, Sept. 16-20, at 7 p.m. Tickets are $10, call 800-835-7904.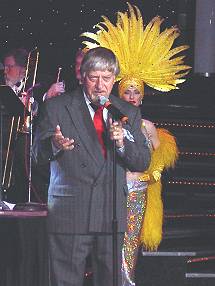 Pete Barbutti is a story teller and himself a character, who made at least 12 appearances on "The Tonight Show" with Johnny Carson from 1971 through 1992. He's also a musician playing piano, "cordeen," and trumpet. One of his famous bits is "playing" the cigar.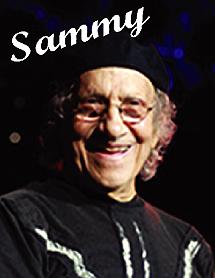 Comedy legend Sammy Shore founded the Comedy Store on the Sunset Strip and was handpicked by Colonel Parker to be Elvis' opening act during the King's 1969-1972 "Comeback Tour" in Las Vegas.
BILL ENGVALL WILL PERFORM AT AQUARIUS OUTDOOR AMPHITHEATER
Popular comedian and star of television and film, Bill Engvall will headline at the Aquarius Outdoor Amphitheater on Friday, Sept. 18 at 8 p.m. Tickets are $20 and $30, call 800-435-8469.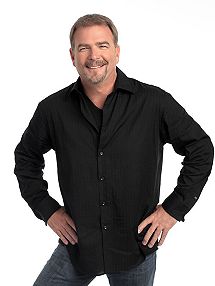 Engvall is currently starring in and executive producing the new half hour sitcom for TBS entitled "The Bill Engvall Show." The show centers on Engvall as the father at the core of a family comedy. Engvall also hosts one of the top-rated shows on CMT, "Country Fried Home Videos." On Nov. 22, Engvall's new Comedy Central special "Aged and Confused" will premiere. He has also starred in "Bait Shop," which had its world premiere on USA and is currently available on DVD. Additionally, Engvall starred in the movie "Delta Farce" with Larry the Cable Guy and D.J. Qualls, which was released on May 11, 2007.
Prior to his big screen debut, Engvall was one of the stars of the sketch comedy show, "Blue Collar TV," on the WB network. The ensemble cast included Jeff Foxworthy and Larry the Cable Guy. Engvall is also a platinum recording artist. His first album, "Here's Your Sign." has been certified platinum and held the No. 1 position on the Billboard Comedy Chart for 15 straight weeks. He has also written several books including his autobiography, "Bill Engvall - Just A Guy."
JAY & THE AMERICANS PAY THE TROPICANA EXPRESS A VISIT
Jay & The Americans will headline at the Tropicana Express in the Pavilion Showroom on Sept. 19 at 8 p.m. Tickets are $25, $35 and $45, call 800-243-6846.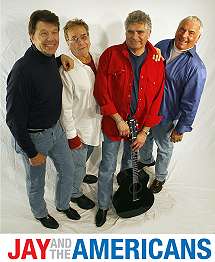 The group was discovered in the late 1950s and their first hit "She Cried" was in 1962. The rest of their hits were in the 60s and the group split in 1973. All of the members moved on to solo musical careers, with the exception of Jay Black, who continued to perform as "Jay and the Americans." The original core group reunited in the 1990s for special performances, most notably the "45 Years of Motown" special on PBS.

CONTINUE ON TO...:

>THIS WEEK'S LAS VEGAS NEWS
>LAST WEEK'S LAUGHLIN NEWS
>VEGAS VIEW FULL ARCHIVES
>Return to "Heard Around Town"
>Return to Las Vegas Leisure Guide