LAS VEGAS SHAKESPEARE COMPANY UNVEILS $45 MILLION EXPANSION!

The Las Vegas Shakespeare Company (LVSC) has kicked off its Capital Fund Drive for funding the renovation of downtown's historic Reed Whipple Cultural Center. The 35,000-square-foot center will be expanded to house a state-of-the-art, 499-seat theatre and rehearsal space as well as the Bard Lounge, Gallery OV - Opportunity Village Fine Art gallery and the return of Chef Mike Jordan to Las Vegas with Rosemary's Café. This expansion to create a multi-faceted cultural gem will be anchored by LVSC - Nevada's first permanent, professional theater company.

LVSC aims to produce full theatrical seasons in the new space by early 2014 and to raise $15 million and break ground in early 2013.


Column Continues Below Advertisement



GUNS N' ROSES SET THEIR FIRST RESIDENCY AT HARD ROCK

Iconic rock band, Guns N' Roses, will begin their first-ever residency "Appetite for Democracy" at The Joint inside the Hard Rock. The band will play 12 shows from Wednesday, Oct. 31, through Saturday, Nov. 24. Each night, the band will perform a show featuring a set list created exclusively for The Joint.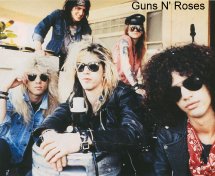 COSMOPOLITAN GRABS RED HOT CHILI PEPPERS FOR DEC. 31
The Cosmopolitan will ring in 2013 with legendary band Red Hot Chili Peppers at an intimate New Year's Eve performance, marking their first performance in Las Vegas in more than seven years. The New Year's Eve celebration will begin at 10 p.m. inside The Chelsea with the group going on at 11 p.m. The Cosmopolitan will broadcast the entire concert live on the resort's Strip-side 65' digital marquee. General admission tickets are $150.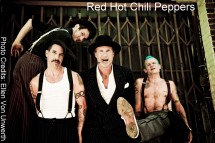 GUITARIST ESTEBAN AND DAUGHTER PERFORM AT SMITH CENTER
Known as "The Man in Black," Internationally acclaimed guitarist, Esteban, and his daughter, Teresa Joy, will make their debut at The Smith Center on Thursday, Sept. 13, inside the Cabaret Jazz, and again on Sunday, Sept. 16. Both performances are at 7 p.m. Tickets range from $35 to $49.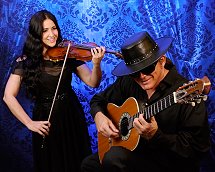 The father-daughter duo share their love of music and started a one-hour weekly radio show, "Songs From My Heart," last month airing every Wednesday on KLAV.
Joy picked up a violin at the age of four, and by the time she was 15, was performing with her internationally renowned father. Esteban has delivered eight No. 1 Billboard albums. Esteban was eight when his uncle bought him his first guitar and it never left his hands. He graduated from Pittsburgh's Carnegie Mellon University and took master classes in Spain with mentor Andrés Segovia.
IHEARTRADIO MUSIC FESTIVAL RETURNS TO LAS VEGAS
The iHeartRadio Music Festival will be held at the Grand Garden Arena, Sept. 21 and 22. The event will be hosted by Ryan Seacrest and feature performances by Taylor Swift, Aerosmith, Rihanna, Usher, Bon Jovi, Lil Wayne, Green Day, Swedish House Mafia, No Doubt, Brad Paisley, Pitbull, Deadmau5, Miranda Lambert, Enrique Iglesias, Linkin Park, Jason Aldean, P!nk, Mary J. Blige, Calvin Harris and Shakira.
PUBLIC HOUSE IS OPENING AT THE LUXOR
"Casual cocktails, comfortable food" is the mantra that has made Public House a restaurant success story from the East Coast with the first eatery opening in 2005. There's a Public House at the Venetian and now at the Luxor on the main casino floor adjacent to the lobby and next to LAX nightclub. The 7,000-square-foot bar and restaurant will accommodate as many as 200 guests for seated dining, along with standing room and bar stools for about 50 more in the bar and lounge. Public House will open at 11 a.m. daily, and serve lunch, dinner and late-night menus, as well as a "Happy Hangover Brunch" in the months following its opening.
JEFF CIVILLICO CROWD FUNDS 'THE PEOPLE'S ARCH'
Champion juggler Jeff Civillico headlines a 2 p.m. "Comedy in Action" show at the Imperial Palace and came up with an ingenious way to raise money for a set piece. He successfully "crowd-funded" a live entertainment stage production set, which will be a one-piece enormous inflatable arch, 40' wide by 20' high, in just six days by raising $10,900.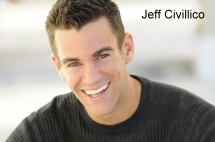 For a $10 donation, his supporters will receive a free ticket to the comedian's show and an opportunity to see the set that fans built. He's billing it as "The People's Arch."
VICTORY'S BAR AND GRILL OPENS AT THE CANNERY
Victory's Bar and Grill, a race-themed restaurant, has opened inside the casino at the Cannery. Open 24/7, it features a Lobster Zone - a claw machine with live lobsters. For $2 per attempt, guests have a chance to catch and pull out a live Maine lobster that will be prepared and served at no additional charge. Menu items have names like Checker Flagged Cheese Curds, Shelby Shrooms, and Crash and Burn Burgers. For sports fans, Victory's features 80' flat screen TVs around the entire venue.
GYMNASTICS CHAMPIONS VISIT THOMAS & MACK
Members of the 2012 U.S. Olympic Team will join 2008 Olympic all-around champion Nastia Liukin and her fellow 2008 Olympic team silver medalists Chellsie Memmel and Alicia Sacramone, in headlining the "Kellogg's® Tour of Gymnastics Champions," at the Thomas & Mack Center on Thursday, Sept. 20, at 7:30 p.m.
AUSTRALIAN SINGER JOHN STEPHAN CHANNELS ROY ORBISON
Australian singer John Stephan will make his Las Vegas debut at The Orleans with a salute to Roy Orbison. "The voice from down under" will take audience members on a trip through the Orbison's storied career for a limited run Sept. 28 – 30. Tickets range from $29.95 - $49.95.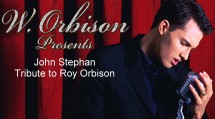 Stephan's song "Mascara" climbed to No. 3 on the United Kingdom and European country charts and he had duets with Grammy Award-winning country star Vince Gill, Australian music legend John Williamson and country star Billy Dean. Stephan is also an accomplished songwriter and producer, with credits including Blake Shelton's "Good At Starting Fires" and "Just Because You Walk Away," which became the second most-played song in Eastern Europe in 2006.
WYNN LAUNCHES WYNN SOCIAL AND GOES BEHIND THE SCENES
Wynn Las Vegas will allow a behind the scenes look into its premier nightlife scene, focusing on the roster of 36 celebrated resident DJs, through an innovative digital content platform and social media hub, Wynn Social. Wynn Social brings users into DJs' lives through personal interviews, original features like "In Your Bag" and "Wynn Secrets," footage from beyond the booth and new mixes through the Ultra/Wynn music label.
CHANTAL CLARET HAS EXTENDED RUN AT HARD ROCK'S VINYL
The Hard Rock's latest musical hotspot Vinyl will feature songstress Chantal Claret for an extended 10-show run from Sept. 29 to Nov. 30. Most known for her role with rock band Morningwood, Claret is making waves as a solo artist with her current debut album "The One, The Only…" Her shows are free.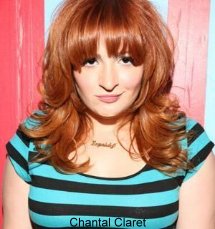 PRIMM VALLEY OFFERS THE CHAMBER HAUNT IN OCTOBER
You'll be able to get spooked in Primm when The Chamber Haunt invades the property from Oct. 5 through Halloween. The haunt will feature two mazes: The Chamber, a two-room haunt that includes the Westchester House and the Fortress of Fiends, and The Reactor. The Chamber Haunt attraction has been voted as one of the top five scariest places on earth by Travel Channel for the past five years and also received two awards from "Haunted Media Magazine" for best haunt and best makeup in the nation. Tickets for the individual labyrinths are $15 for The Chamber and $10 for The Reactor, or a $23 pass for both; visit www.chamberhaunt.com.
DR. HAVOCK'S SIDESHOW OF CURIOSITIES VISITS STRATOSPHERE
After a fun private Halloween event last October, the Stratosphere is bringing back Dr. Havock's Sideshow of Curiosities for the public to enjoy. Dr. Havock's Sideshow of Curiosities is an eccentric show experience full of startling visual illusions, dark humor, chilling characters and scenes inspired by the medicine pitch men, carnivals and vintage circus sideshows of yesteryear.
This theatrical show haunt is for people 18 years of age or older and children 12+ accompanied by a parent. Tickets are $12.50. Shows are Oct. 3, 5, 6, 7, 12 – 14, 19-21, and 26-31 from 5 to 11 p.m.
Adult guests will pass through the Elixir Lounge filled with bizarre mementos of Havock's travels and featuring specially concocted Jägermeister potions and test tube shots.
TOP OF NEXT COLUMN
BELLAGIO UNDERGOES ROOM REMODEL IN SPA TOWER
The Bellagio is remodeling all 928 rooms and suites in the resort's Spa Tower. Following Bellagio's $70 million redesign of 2,568 guest rooms in its main tower in 2011, the Spa Tower remodel will encompass 819 guest rooms and 109 suites. The $40 million project is expected to be completed by this December.
'THE WICKED ROCKY HORROR SHOW' IS A FUNDRAISER
On Monday, Sept. 24, at 7:30 p.m., the National Touring Company of "WICKED" will host "The WICKED Rocky Horror Show," a staged concert performance of Richard O'Brien's "The Rocky Horror Show" at The New Tropicana in the showroom. The net proceeds of this event will benefit Broadway Cares/Equity Fights AIDS and Las Vegas's Golden Rainbow. General admission tickets are $60 and VIP $125.
UNRELATED TIDBITS GALORE
The Four Seasons Four will complete the renovation of all 424 guest rooms and suites by Dec. 17.
The Las Vegas area chambers and business organizations are holding
Las Vegas' Largest Mixer®, a big networking event, on Wednesday, Sept. 19, from 5-9 p.m. at Texas Station. Admission is $15.
Madame Tussauds is offering active firefighters, EMT, military and police officers free admission to the attraction on Tuesday, Sept. 11, and the San Gennaro Feast, taking place Sept. 11-16, is offering military, veterans, firemen, policemen, FBI, Secret Service and Homeland Security a $5 admission on Sept. 11.
The 900-seat, in-the-round designed Crown room at the Rio features the "Rat Pack is Back" Monday-Sunday at 7 p.m. and "MJ Live" starring Michael Firestone as Michael Jackson, Sunday-Friday at 8:30 p.m.
Had a friend inform me that Vince Cardell, who was a former protégé of Liberace and master pianist at the Opryland Hotel, after years of performing in Reno, around the country and in Las Vegas at the Landmark and the Hilton, passed away in May this year. The time passes too quickly.
The Sneakers Ball, a fundraising event benefitting the Boys & Girls Clubs of Las Vegas, will be held at the Palms on Saturday, Oct. 13. This calls for wearing party attire with stylish sneakers.
Stations Casinos has booked a couple names from the past: Toto at Green Valley Ranch on Sept. 22 and Johnny Rivers at Aliante Station on Sept. 14. On the current side, country singer Luke Bryan will appear at the Red Rock Amphitheatre on Friday, Sept. 21. His current album, "Tailgates and Tanlines" was released in August 2011. Brian Culbertson and David Sanborn will headline at Texas Station's Dallas Events Center and make it a night of jazz on Friday, Sept. 21.
Immediately following the outdoor Las Vegas Jazz Festival on Saturday, Sept. 15, JW Marriott will present the All-Star Jam in the Valencia Ballroom at 10 p.m. Festival host Mark Cordes will emcee this event featuring a live jam session with Dominic Amato and guest jazz artists who are performing at the Las Vegas Jazz Festival. Tickets will be $19.
The Mob Museum's inaugural "Inside Stories" speaker series will start with undercover agent Jack Garcia on Sept. 19, Dr. Mark Galeotti, a global evolution of organized crime expert on Oct. 17, and crime-fighting attorney G. Robert Blakey on Nov. 13.
The National Mining Association's (NMA) exposition, MINExpo International® 2012 rolls into the Las Vegas Convention Center Sept. 24-26. This is the mining industry's premier exhibition of equipment, technology and services and occurs every four years in Las Vegas. Some of the world's largest machinery will be on display.
HARD ROCK HOLDS REGGAE FEST WEEKEND
The Hard Rock will present a three-day celebration of reggae music and culture during Reggae Fest Weekend, Sept. 14-16. The lineup will include: Yellowman – Sept. 14; eight-piece Latin gypsy funk band Leche de Tigre – Sept. 14; Grammy Award nominated Matisyahu and Dirty Heads – Sept. 15; Mishka and Anuhea – Sept. 15; Grammy-winning dancehall and reggae artist Sean Paul at Vanity Nightclub-Sept. 15 and at the pool on Sept. 16. Ticket prices vary.
F&B NEWS ITEMS
Allegro, the latest restaurant at Wynn is now open and offering a new take on Italian-American favorites.
Restaurant Guy Savoy, a five-time winner, and Old Homestead, a first-time recipient, at Caesars Palace have been honored in Wine Spectator's 2012 Restaurant Wine List Awards.
Strip House, the modern American steakhouse at Planet Hollywood, is celebrating its five year anniversary and throughout September offering a selection of anniversary specials from famed meat-man, Corporate Executive Chef John Schenk.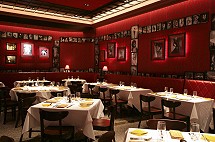 Señor Frog's, which opened last spring, will keep the fiesta going during a weekend-long celebration honoring Mexican Independence Sept. 14-16 at Treasure Island. There will be live Mariachi music and Mexican party specials including two-for-one tequila shots and Señor Frog's signature flavored margaritas.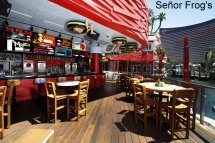 As part of the Casa Fuente Sprits Society, the cigar bar and lounge inside The Forum Shops at Caesars Palace will be hosting a special beer tasting event on Wednesday, Sept. 26 from 6-8 p.m. featuring two specialty beer lines, Shock Top and Joseph James.
Dollheads Blowdry & Extensions Bar has opened its first location inside the Miracle Mile Shops at Planet Hollywood becoming the first and only salon of its kind on the famed Las Vegas Strip.
Sage at ARIA has introduced 12 uncommon craft cocktails to complement Chef Shawn McClain's offerings.
The 4th monthly whisky cask event will be held Thursday, Sept. 13, at 6:30 p.m. at the Freakin Frog & The Whisky Attic, 4700 So. Maryland Parkway. Event is $40, RSVP to adam@whiskyattic.com to reserve your space.
Acclaimed chef Megan Romano will instruct participants on how to make Grilled Flank Steak Skewers with a Potato Parmesan and Rosemary Tart and a Chocolate Brownie and Caramel Torte. The class on Wednesday, Oct. 3 from 5 – 6:30 p.m. at the Chocolate & Spice Bakery, 7293 W Sahara, Suite 8, costs $65.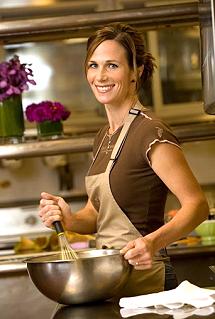 DANA CARVEY RETURNS TO THE ORLEANS
Witty impressionist, actor and comedian Dana Carvey will return to The Orleans Showroom, Sept. 21 and 22. Tickets for his 8 p.m. show are $54.95.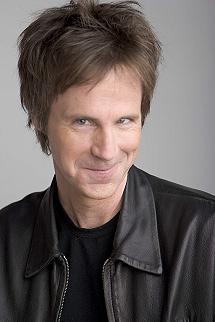 Carvey rose to national prominence during a six-year run on NBC's "Saturday Night Live," where he became famous for such memorable characters as "Church Lady," "Garth" and "Hans," as well as spot-on impersonations of President George H.W. Bush, Johnny Carson, Ross Perot and Regis Philbin. Carvey's work on "SNL" garnered him six Emmy Award nominations, including a win in 1993 for "Outstanding Individual Performance in a Variety or Music Program."
JON B TO PERFORM AT SILVERTON'S SWAY POOL
Contemporary R&B singer Jon B brings will bring his smooth melodies poolside at Sway Pool Lounge at the Silverton on Sunday, Sept. 23, at 7 p.m. Tickets are $25 in advance and $30 at the door.
Jon B is an accomplished singer, songwriter and musician. His debut album "Bonafide" went platinum upon release in 1995 and garnered him a GRAMMY™ nomination for the song "Someone to Love" with Babyface. His latest album "Comfortable Swagg: was released in February 2012.
TITO PUENTE JR. PERFORMS AT THE CANNERY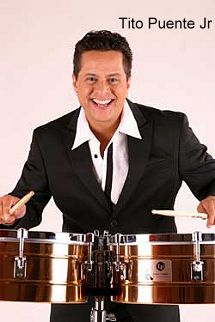 Tito Puente Jr., the son of the late, great Latin music legend Tito Puente, who won seven Grammy Awards, is now carrying on the family legacy. Puente Jr. is bringing his father's music back to life with his 11-piece band appearing at The Club at the Cannery on Sept. 22. Puente Jr. also has his own contemporary Latin music, which will be featured on his new album, "In My Fathers Shoes," due to drop sometime next year.