<!A-- Left Column -->

The newly renovated Riverview Restaurant at the Riverside began construction to upgrade the room on July 10. Some of the improvements include widening the entrance, upgrading the restrooms, putting in new carpeting, chairs, and a new earth tone color scheme to enhance the room, and introducing new staff uniforms.
The menu continues to feature some favorite dishes including: The Riverside Skillet, Riverside's famous Giant Hamburger, the Cowboy Steak, Giant Ham Steak, and the nightly Italian menu.
The Riverside has an ongoing renovation program to bring the property a fresh new look and the next change will be remodeling the Riverside Pit Bar.
The Colorado Belle has a new, state-of-the-art card room that offers an endless list of amenities and exciting gaming promotions.
Interior changes to the poker room include plush new chairs, tables and shuffle machines as well as an automated seating system which alerts poker room staff of availability for any of the games. Players are able to view game status on a large monitor which flashes their name when their seat becomes available. This monitor also informs players of all game progress, including limits and structures to suit their level of play.
The poker room feeds every player's need by providing the only daily hot buffet which is set-up in the card room for all participants to enjoy.
The property's new ACCESS Players Club system has also been integrated into the room's design so that players can generate comp dollars just by swiping their card at the table.
Daily promotions such as "Aces Cracked" continue in addition to fun new promotions, such as the high-hand progressive jackpot 90/10 Cash Splash. No-limit Texas Hold 'em daily tournaments and special bounty poker tournaments are also available. Players can view a list of complete details on all poker promotions in the poker room.
Country star Kenny Rogers will take center stage on Sept. 22 at 8 p.m. at the Aquarius Outdoor Amphitheater. Tickets are $40 and $45, call 800-435-8469.
Houston-born Rogers formed his first band while in high school in 1956. The rockabilly group, called The Scholars, got a record deal and released two singles that had local success, and led to a performance spot on American Bandstand. Soon afterward, Rogers joined the Bobby Doyle Trio, playing stand-up bass in the jazz band, and appearing on their album. In 1966, he became a member of the New Christy Minstrels folk group, leaving a year later to form The First Edition with other members of the troupe.
The spotlight started focusing on Rogers when the group got their first hit, "I Just Dropped In (To See What Condition My Condition Was In)." Within a year the band was called Kenny Rogers and The First Edition, and his distinctive voice led the group to both pop and country chart success with "Ruby, Donít Take Your Love To Town," written by Mel Tillis. The double-genre success struck again with "Reuben James," and the group landed their own TV variety show.
In 1974, Kenny Rogers and the First Edition disbanded, leaving Rogers at a crossroads and his path to a mega-successful solo career.

TOP OF NEXT COLUMN
Harrah's is launching the Monopoly Super Money Grab promotion from Sept. 10 through Oct. 14. Harrah's guests may enter daily 5 p.m. drawings for a chance to win cash and Reward Credits. Eligible promotion participants will also have an opportunity to return for a chance to win a share of $13,000 in the Monopoly Super Money Grab Cash Craze and grand prize drawing on Nov. 13. Entries may be earned in a variety of ways from playing games and dining to shopping and seeing a show.
Five daily drawing winners will be selected by random drawing at 5 p.m. each promotional day. The five potential winners, in the order identified, will select a Monopoly Board Game displayed on stage. There are five possible prizes: 1,000 Bonus Reward Credits, 2,000 Bonus Reward Credits, 3,000 Bonus Reward Credits, 4,000 Bonus Reward Credits or $200 cash.
Each daily drawing winner will also receive an invitation to return for the Monopoly Super Money Grab final drawing on Nov. 13. The final drawing invitation includes two complimentary nights Nov. 12 and 13; 50 entries for the grand prize drawing; and five entries into the Cash Craze Drawing. Winners will also receive a free Monopoly shirt.
Eligible promotion participants have an opportunity to win a share of $5,000 in the Monopoly Super Money Grab Cash Craze event held from 2 p.m. to 5 p.m. on Nov. 13. Beginning at 2 p.m., one name will be drawn every 15 minutes for a chance to win $350 cash with one final name drawn at 5 p.m. for a chance to win $800 cash. Participants must be actively playing slots on the casino floor and must have their Total Rewards card in the slot reader to be eligible to win. Cash Craze winners are eligible to participate in the final drawing, which will take place at 6 p.m. on Nov. 13.
The new Fist Full of Cash daily drawings began this week at the Edgewater and Colorado Belle. This is their newest ACCESS Club program that rewards customers every day for their continued play.
All ACCESS Club players earning 350 points per day on their card can pull a winning envelope from the Fist Full of Cash drawing drum located at the ACCESS Club booth. Each drum has thousands of envelopes guaranteeing participants a variety of prizes. The top cash prize of $1,000 can be won daily as well as other cash denominations, free slot play, free hotel stays, complimentary dining and more.
The Doobie Brothers and Peter Frampton will be a double-bill concert on Sept. 16 at Harrah's Rio Vista Outdoor Amphitheater. Tickets start at $45.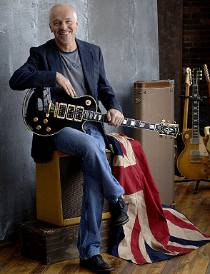 Master illusionist Franz Harary will mystify folks in Don's Celebrity Theater at the Riverside, Sept. 18-23. Tickets are $25 for the 8 p.m. shows.
It's The Comedy Shop providing laughs at the Rivers Palms with a trio of laugh makers. The Sept. 24-29 lineup will be Pam Matterson, Don McEnery, and DíLai. Tickets are $14.95 and $19.95.
CONTINUE ON TO...:
>THIS WEEK'S LAS VEGAS NEWS
>LAST WEEK'S LAUGHLIN NEWS
>VEGAS VIEW FULL ARCHIVES
>Return to "Heard Around Town"
>Return to Las Vegas Leisure Guide