Andre Agassi's 12th annual Grand Slam for Children star-studded benefit concert will take place at 9 p.m., Saturday, Oct. 6, at the MGM Grand Garden Arena. More than 90,000 fans and VIP guests have attended 11 Grand Slam events, raising $61 million for charity. Tickets are $90, $70 and $50; call Ticketmaster at 702-474-4000.

Column Continues Below Advertisement


A stellar lineup has been assembled again by The Andre Agassi Charitable Foundation (AACF). Tony Bennett, Kelly Clarkson, Matchbox Twenty, Carlos Santana, George Wallace and a special performance by Jerry Seinfeld will be featured. Performers and other celebrities are expected to participate in a red-carpet ceremony that will be open to the public prior to the show from 6 p.m. to 6:30 p.m. on the east side of the MGM Grand Garden Arena.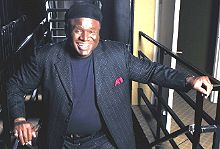 Trader Vic's with its rich history dating back to 1934 is scheduled to open a new eatery early next month at the Miracle Mile Shops inside Planet Hollywood. Trader Vic's is the inventor of the Mai Tai and the first to import Polynesian dishes and decor to the United States. For Las Vegas, the new 15,000-square-foot restaurant will be re-invented with new design elements and new island-inspired, Euro-Asian-Polynesian cuisine.
Trader Vic's Las Vegas will be unlike any of the other Trader Vic's found in the United States, Europe, the Middle East, and Asia. Instead, it will include three separate dining and entertainment venues featuring a ground-level restaurant and Strip-side patio that opens onto Las Vegas Boulevard and a second-level Tiki Club-ultra lounge, both providing customers with panoramic views of the Bellagio Fountains, the Eiffel Tower and CityCenter.
Although inspired by Trader Vic's famed tropical island motif, the new place will build upon the signature Polynesian décor of towering wooden tikis and amplify the tropical theme with two separate DJ booths, a 20-foot outdoor bar and lanai surrounded by palms, thatch, a sweeping shingled roof, and an upstairs Tiki Club-ultra lounge.
Gwen Stefani, who opened the theater to a sold out crowd earlier this year, will return to The Pearl at the Palms on Friday, Oct. 26, at 8 p.m. with support from 17-year-old pop singer Sean Kingston whose hit single is "Beautiful Girls." Tickets are $153 and $253, call 702-474-4000.
Music and fashion icon, Stefani began her career as the lead singer of the multi-platinum Grammy award winning band No Doubt. She has performed the world over and opened for the Rolling Stones and U2. In 2004, her multi-platinum debut album, "Love. Angel. Music. Baby.," featured the breakout hit "Hollaback Girl," which went on to become the first song ever to reach the one million digital download milestone. Stefani has graced the covers of countless music, fashion and lifestyle magazines all while launching her successful L.A.M.B. and Harajuku Lovers clothing and accessories lines. This year has marked the launch of Stefani's world tour in support of her platinum album, "The Sweet Escape."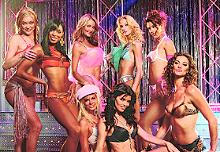 The seductive adult "Fantasy" revue at the Luxor in the Atrium Showroom recently celebrated its two-year anniversary and unveiled the 2008 Fantasy Calendar. The show has introduced several new numbers including a new opening dance routine and an original song entitled "Goin' to Vegas," which was written and performed by singer Stephanie Jordan. The ladies in the show are gorgeous and the show's pacing is nice because most of the numbers include multiple ladies versus the typical production having every lady do a solo number which can be repetitive. Tickets range from $45 to $59, call 702-262-4400 or 888-777-0188.
Country crowds, now that Gilley's night spot at the Frontier has closed, have a new hot spot, Stoney's Rockin' Country. The 20,000-square-foot honky tonk nightclub features live music, a dance floor, special concerts, three 44-foot mini bowling lanes, four pool tables, two full-service 45 feet and 55 feet long bars, the Cowboy Ultra-lounge and nightly bull riding contests. Scheduled activities include line dancing classes every Thursday, Friday and Saturday beginning at 7 p.m. Thursday night is Ladies Night featuring $1 drink specials. Stoney's is open daily from 5 p.m. to 5 a.m.
South Point has begun a $95 million expansion project that includes a 25-story, 830-room hotel tower planned for completion next July, nearly 10,000 square feet of convention space, two new restaurants and three bars that are scheduled to open by the end of the year.
The Light Group, which redefined the Las Vegas nightlife landscape when it opened Light Nightclub at Bellagio six years ago, has closed the club's doors for renovations. The space will be remodeled into a revolutionary 6,600-square-foot nightlife concept named The Bank, which is set to open this New Year's Eve.
The Bank will have a sensuous foyer, present a dramatic aerial perspective in the main room, and have elegant VIP booths layering the dance floor in an impressive multi-tiered environment with a slightly raised, glass-encased dance floor at the lowest tier acting as a focal point in the center of the room.
Saxophonist Kenny G will conclude the 2007 Stars on the Lake concert series on the floating stage at Lake Las Vegas Resort's MonteLago Village on Saturday, Sept. 29, at 8 p.m. Tickets are $50, $85 and $100, call 702-564-1600.
In his 25-year career, Kenny G has produced eight No. 1 albums, sold more than 50 million albums worldwide and recorded with legendary artists such as Aretha Franklin, Celine Dion, Frank Sinatra, and Barbra Streisand. His prestigious accolades include Grammy, American Music, Soul Train, World Music and NAAP Image Awards, as well as a star on the Hollywood Walk of Fame.
With a worldwide rights licensing agreement with Frank Sinatra Enterprises, Unshackled Studio Artist Tom Zotos will make his debut with a tribute to Frank Sinatra entitled "Meeting Adjourned" released on a Special Collector's Edition Lithograph and Limited Edition Giclee' at Artexpo Las Vegas, Sept. 28-30, at Mandalay Bay.
Zotos captures the irreplaceable void of "The Chairman," yet his presence is expressed with an old fashioned standing microphone of the big band era, a stool, a hat and a faint cloud of rising smoke illuminated by a single spotlight on a darkened stage. The image is entitled "Meeting Adjourned."
Zotos is an unheralded artist behind film studios including Warner Bros., Lucasfilm and The Disney Studios, who was inspired by the master Andy Warhol early in his studio career. Warhol was to Marilyn and Campbell's Soup what Zotos became to rock stars and super heroes such as John Lennon, Mel Blanc, Superman, Batman and Luke Skywalker.
Entertainer Terry Fator, who gained national popularity when he recently won NBC-TV's "America's Got Talent" show and then announced he was headlining at the Las Vegas Hilton on Oct. 14, sold out that show and added another performance on Oct. 15. Fator's special guest for both shows is Bobby Badfingers. Tickets are $39.95 - $79, call 702-732-5755 or 1-800-222-5361.
Fator has spent 32 years honing his skills as a ventriloquist, comedian, singer, and celebrity impressionist, but his key decision to blend those skills with his incredible ability to mimic famous singers put him over the top. Fator has shared the stage with top performers such as Reba McEntire, Garth Brooks, Neal McCoy, and Styx.
Badfingers snapped his way into the hearts of fans when he reached the semi-finals of NBC-TV's "America's Got Talent." As the world's "best snappest," he has performed on numerous TV shows, previously opened for Carrot Top, The Beach Boys, Jan and Dean, Sugar Ray and Trent Carlini and worked on national advertising campaigns for Yahoo! Roadrunner Internet Services and Lakeland Guitars.
Badfingers is working on his animation series "T-Day - The World's First Green Feature Animation" with his original Snap Bandito music. He is also concentrating on the launch of his new line of snap merchandise, planning to market his professional art of snapping and creating a cartoon. Badfingers started his lifetime of snapping while watching Flamenco dancers on television when he was just 4 years old. "I didn't know they were playing castanets," he explains, "I thought they were snapping their fingers, so I started trying to sound like them."
San-Toki Korean BBQ & Shabu Bar, the newest concept from the Las Vegas-based Tiger Restaurant Group that created the San-Toki menu to utilize ingredients that cater to health-conscience customers, opened this month at 4480 Paradise Road across from the Hard Rock. The restaurant is open from 5 p.m. to 4 a.m. daily, call 702-732-TOKI.
Diners can participate in the Korean barbecue experience by grilling their own specially marinated meats on a grill at the table. Customers may also choose to sit at the Shabu bar where they can cook assortments of meat, seafood and vegetables in individual hot pots and create their own healthy meal. Shabu Shabu originated in Japan and was named after the 'swishing' noise made by stirring the meat through the broth.
The dining room features dark wood floors and tables with shoji screens lining the walls. Diners are greeted by a colorful display of authentic Korean kites suspended from metal poles. San-Toki features bright red walls with accent colors of green, yellow and blue and artwork that reflects Korea's history.
The San-Toki bar and lounge features Soju, A Korean version of vodka, and a late-night happy hour from midnight to 4 a.m. Sunday through Thursday with select appetizers available for 20 percent off.
The Grammy award winning trio, The Pointer Sisters will bring their timeless collection of pop and R&B hits to The Club at the Cannery in North Las Vegas on Saturday, Sept. 22. Tickets are $29.95, $19.95 and $14.95. Call 866-287-4643.
The Pointer Sisters recorded a string of popular R&B and pop tunes in the '70s and '80s that made them perennial chart toppers during that era. The singing group debuted in 1973 with their self-titled debut album and achieved early success with such hits as "He's So Shy," "Slow Hand" and the cover of Bruce Springsteen's "Fire." Their 1983 album, "Break Out," was certified triple-platinum, making it the biggest selling album of The Pointer Sisters' career.
Clay Walker is set to perform at Buffalo Bill's Star of the Desert Arena in Primm located 25 minutes south of Las Vegas on Friday, Sept. 21 at 9 p.m. Tickets are $29.95 and $39.95, call 1-800-FUN-STOP or 702-474-4000.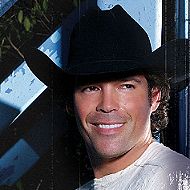 Walker became a country music favorite in 1993 with No. 1 hit singles "What's It to You," "Live Until I Die" and "Dreaming With My Eyes Wide Open." He has remained widely popular and sold a combined eight million albums throughout his celebrated career.
Loews Lake Las Vegas hosts a SOUK Moroccan Market every Saturday at the resort located in Lake Las Vegas. From 10 a.m.-2 p.m., local artists and vendors sell and create items for guests to purchase. Along with the Souk, the hotel provides wine tasting at the Souk Wine Walk.
Magicians Siegfried & Roy will do the official kickoff by tapping the ceremonial first key on Saturday, Sept. 15 at 7 p.m. at Oktoberfest 2007 at the Hofbräuhaus.
JW Marriott will be hosting Las Vegas' first Celebrity Chef Tour benefiting the James Beard House Foundation on Thursday, Nov. 1. The gala reception and dinner will be held in Ceres Restaurant with celebrity Chef Steve Corry of Five Fifty-Five Restaurant in Portland, Maine, collaborating on the menu design and orchestration with JW Marriott Executive Chef Bruce Knapik. Corry was named one of ten of America's Best New Chefs by "Food and Wine Magazine" in 2007. The Celebrity Chef Tour was launched in 2004.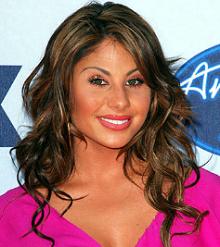 Inspirada, a new master-planned community located in the southern foothills of the Las Vegas valley, will celebrate its grand opening with a parade, live entertainment and other festivities. Las Vegas native and "American Idol" star, Mikalah Gordon, will participate with a performance and autograph signing. The event from 10 a.m. to 4 p.m. will be free and open to the public. For information, call 866-758-LIVE (5483).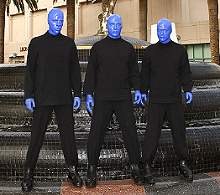 Last month the Venetian's Blue Men were nominated for outstanding short promo for a KCAL9 promotional segment for the Los Angeles Dodgers at the Leonard H. Goldenson Theater in North Hollywood.
Terri Irwin, wife of the late Steve Irwin television's "The Crocodile Hunter," and daughter Bindi recently took in the sites at Las Vegas' greenest attraction, the eco-friendly Las Vegas Springs Preserve.
CONTINUE ON TO...:
>THIS WEEK'S LAUGHLIN SEGMENT
>LAST WEEK'S LAS VEGAS SEGMENT
>VEGAS VIEW FULL ARCHIVES
>Return to "Heard Around Town"
>Return to Las Vegas Leisure Guide