<!A-- Left Column -->

Herman's Hermits starring Peter Noone will take center stage at the Tropicana Express on Sept. 20 at 8 p.m.
Herman's Hermits sold more than 52 million recordings. In all, 14 singles and seven albums went gold. Classic hits include: I'm Into Something Good, Mrs. Brown, you've Got A Lovely Daughter, I'm Henry VIII, I Am, Silhouettes, and Can't You Hear My Heartbeat.
Peter Blair Denis Bernard Noone is a multi-talented entertainer, who was born in Manchester, England, where he studied voice and acting at St. Bede's College and the Manchester School of Music and Drama. As a child, he played Stanley Faircloug in the long-running British soap opera Coronation Street. He was also featured in the television series Knight Errant, Family Solicitor and Monro's Saki Stories.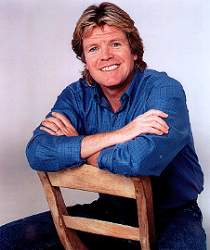 At age 15, Noone achieved international fame as "Herman," lead singer of the legendary Sixties pop band Herman's Hermits. As "Herman," the photogenic Noone graced the cover of nearly every international publication including Time Magazine. He also performed on hundreds of top-rated television programs and appeared with such luminaries as Ed Sullivan, Jackie Gleason, Dean Martin and Danny Kaye. He starred in ABC's musical version of The Canterville Ghost, Hallmark Hall of Fame's presentation of the classic Pinocchio (in which he played the title role) and three highly successful feature films for MGM: Mrs. Brown, You've Got A Lovely Daughter, Hold On! and When The Boys Meet The Girls.
Throughout the 70s, Noone performed, composed songs and produced recordings with such artists as David Bowie, Debby Boone and Graham Gouldman. With characteristic zeal, Noone took on leading roles in full-scale theatrical productions of Dick Wittington, Aladdin, and Sinbad The Sailor.
The 80s found Noone starring on Broadway in the New York Shakespeare Festival's production of The Pirates of Penzance. His performance was so well received, that he went on to reprise the role at the Drury Lane Theatre in London. and continued with both the U.S. National Touring Company and the International Touring Company of Pirates.
Noone's acting career flourished with guest-starring roles in prime-time television shows such as: Married With Children, My Two Dads, Quantum Leap, Dave's World, Easy Street, Too Close For Comfort and Laverne and Shirley.
He has a legion of faithful fans known as "Noonatics" whose loyalty is unparalleled. Today's teen girls scream just as passionately as their mothers did back in 1965, prompting VH1 to select Peter as their viewer's choice for the "Sexiest Artist of the Yea." Most recently, Noone starred in the recurring role of "Paddington" on the CBS daytime drama, As The World Turns.

TOP OF NEXT COLUMN
The American rock band Styx that has been popular since the 1970s will appear at the Rio Vista Outdoor Amphitheater at Harrah's on Friday, Sept. 19 at 9 p.m. This dynamic group will perform their classic hits such as Blue Collar Man, Come Sail Away, and Renegade. Tickets are $25, $35 and $45, call 702-298-8510.
Styx is the first band to have four consecutive albums certified multi-platinum by the RIAA. Twin brothers Chuck and John Panozzo first got together with their neighbor Dennis DeYoung in 1961 in the Roseland section of the south side of Chicago, eventually taking the band name "The Tradewinds." Chuck Panozzo left to attend seminary school for a year but returned to the group by 1964. By this time the others had brought in guitarist Tom Nardini to replace Chuck on guitar so he rejoined as bassist. Brother John was the drummer, while DeYoung had switched from accordion to organ and piano. In 1965, the name Tradewinds was changed to TW4 after another band called Trade Winds broke through nationally. By 1966, the Panozzo brothers had joined DeYoung at Chicago State College and kept the group together doing gigs at high schools and frat parties while studying to be teachers. In 1969, they added a college buddy, John Curulewski, on guitar after Nardini departed and guitarist James "J.Y." Young came aboard in 1970 making TW4 a quintet.
In 1972, the band members decided to choose a new name when they signed to Wooden Nickel Records. Several suggestions were made and, says DeYoung, Styx was chosen because it was "the only one that none of us hated."
The River Palms is keeping the laughter center stage at the River Palms Comedy Room. Comedians John Joseph and Johnny B will be telling the jokes Sept. 16-20. Shows are presented Tuesdays through Saturdays at 9 p.m. Tickets are $17.95 for general seating and $22.95 for preferred seating, call 1-866-448-7849 or 702-474-4000.
Joseph is one of the hottest comics working today. He's made nine tours of the United States and Canada opening for Julio Iglesias, and worked with other stars such as Huey Lewis and the News, Kenny Rogers, Rodney Dangerfield, Alan King, The Doobie Brothers, Leann Rimes and the Righteous Brothers.
Joseph has taped Live at Jongleurs in London, England, and appeared on such television shows as The Rosie O'Donnell Show , The View with Barbara Walters on ABC , Club 54 in Toronto, Ontario, Comic Strip Live on FOX, Standup Spotlite-VH-1, Evening at The Improv, Comedy on the Road, and Caroline's Comedy Hour all on "E", Girls Night Out on Lifetime TV, and Crook and Chase on TNN.
Recently Joseph has been touring with "King of the Piano Bars" Johnny B, in a show titled A one man show wit 2 guys. This 90-minute show incorporates comedy, music, and theatre.
Acrobats of Hebei China will bring their gravity-defying stunts and incredible acrobatics to Don Laughlin's Riverside from Sept. 23-Oct. 5. Tickets for the 8 p.m. shows are $30.
The multi-talented troupe range in ages from 19-25 and feature such unique acts as daring maneuvers of Chinese Poles, incredible Foot Juggling, exciting Chair Balance, and unbelievable strength of Martial Arts. Beautiful music soundtrack drives each performance and sets the tone of this "wow-factor" production. Stunning costumes and props create a kaleidoscope of color on stage.
CONTINUE ON TO...:
>THIS WEEK'S LAS VEGAS NEWS
>LAST WEEK'S LAUGHLIN NEWS
>VEGAS VIEW FULL ARCHIVES
>Return to "Heard Around Town"
>Return to Las Vegas Leisure Guide