JAY & THE AMERICANS PAY THE TROPICANA EXPRESS A VISIT
Jay & The Americans will headline at the Tropicana Express in the Pavilion Showroom on Sept. 19 at 8 p.m. Tickets are $25, $35 and $45, call 800-243-6846.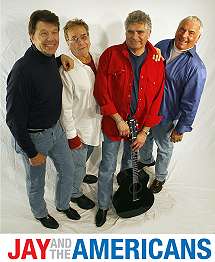 The group was discovered in the late 1950s and their first hit "She Cried" was in 1962. The rest of their hits were in the 60s and the group split in 1973. All of the members moved on to solo musical careers, with the exception of Jay Black, who continued to perform as "Jay and the Americans." The original core group reunited in the 1990s for special performances, most notably the "45 Years of Motown" special on PBS.
DOUG KERSHAW FIDDLES AROUND AT THE RIVERSIDE
"The Ragin' Cajun" Doug Kershaw will delight audiences at the Riverside, Sept. 8-13. Tickets are $26 for the 8 p.m. show, call 702-298-2535 ext 616, 800-227-3849, ext 616.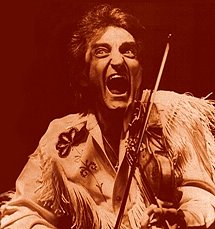 When Kershaw was 19 years old in 1955, he performed with his brother Rusty Kershaw on the "Louisiana Hayride" radio broadcast. In 1957, the duo appeared at the Grand Ole Opry.
After the service, Kershaw returned to the music business scoring with an autobiographical song he wrote called "Louisiana Man." The song not only sold millions of copies but over the years has become the symbol of Cajun music and was even broadcast back to earth by the crew of the Apollo 12 moon mission. In June 1969, Kershaw made his first network television appearance on the debut of the "Johnny Cash Show."
Singing in both French and English, Kershaw's stage performance is marked by his abundant energy. Simultaneously playing fiddle, singing, and dancing, it is not unusual for him to wear out several bows, sometimes during just one song. With more than 25 albums to his credit and a five-decade-long career, Kershaw continues to tour worldwide.
EDGEWATER HIGHLIGHTS DIFFERENT COMEDIANS EVERY WEEKEND
"Comedy on the Edge" with two stand-up comedians featured each Friday, Saturday and Sunday at 7 p.m. in Kokopelli's Showroom has Bruce Baum and Bruce Heppler, Sept. 11-13. Future lineup includes: Sept 18-20-Barry Diamond and Rick Pulido, and Sept 25-27-Rickey Shackleford and Lee Levine. Tickets are $10, call 702-298-2453.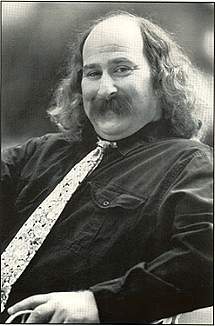 Bruce Baum's humor has permeated the entertainment-scape for decades and he has the distinction of co-starring as himself in a special episode of Fox-TVs "The Simpsons." He has spent three seasons as a creative consultant on ABC-TV's "Whose Line Is It Anyway?" Previously, Baum spent two years at Fox-TV as resident short filmmaker and sketch comedian on "Sunday Comics" and "Comic Strip Live." He was then drafted by "America's Funniest People" where he appeared for two years in live and videotaped sketches. Some characters Baum has created include Babyman, Dimples the Cow, and Chiaman.

TOP OF NEXT COLUMN
HARRAH'S WELCOMES `CIRQUE SHANGHAI BAI Xi'
"Cirque Shanghai Bai Xi" will perform at the Harrah's Fiesta Showroom at 8 p.m. nightly from Sept. 15-20.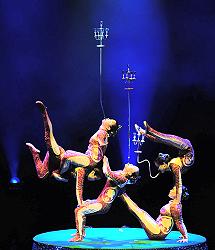 The production features Chinese acrobats performing feats of physical strength and balance, contemporary dance, and martial arts. The spectacular includes colorful costumes. Tickets are $23.95, $28.95, and $33.95, call 800-447-8700 or 702-298-8510.

BILL ENGVALL WILL PERFORM AT AQUARIUS OUTDOOR AMPHITHEATER

Popular comedian and star of television and film, Bill Engvall will headline at the Aquarius Outdoor Amphitheater on Friday, Sept. 18 at 8 p.m. Tickets are $20 and $30, call 800-435-8469.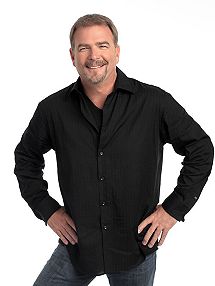 Engvall is currently starring in and executive producing the new half hour sitcom for TBS entitled "The Bill Engvall Show." The show centers on Engvall as the father at the core of a family comedy. Engvall also hosts one of the top-rated shows on CMT, "Country Fried Home Videos." On Nov. 22, Engvall's new Comedy Central special "Aged and Confused" will premiere.
GARY ALLAN PERFORMS AT HARRAH'S OUTDOOR AMPHITHEATER
Country artist, Gary Allan will perform on Sept. 12, at the Rio Vista Outdoor Amphitheater at Harrah's. Allan's numerous hits include "Best I Ever Had," "Watching Airplanes," "Her Man" and "Right Where I Need To Be." In the past, this platinum recording artist has toured with Rascal Flatts and Keith Urban and Kenny Chesney for the 2008 Poets and Pirates Tour. Tickets for the 8 p.m. show are $35, $45, $55, and $65, call 800-447-8700 or 702-298-8510.
AQUARIUS PRESENTS 12TH ANNUAL FIESTA FUNDRAISER
The Aquarius will present the 12th Annual Fiesta and 10K Give Away to benefit the Boys & Girls Clubs of the Colorado River on Friday, Sept. 25 in the Aquarius Pavilion with doors opening at 5:30 p.m.
Local companies will compete in this year's "Best Margarita in the Tri-State" contest. Fiesta tickets are $35, which includes entry to the event and unlimited appetizers and margaritas. The $100 10K tickets include one chance to win $10,000. Only 250 will be sold.
EDGEWATER AND COLORADO BELLE HOLD OUTDOOR FESTIVAL
On Sept. 18-19, the Mexican Independence Celebration being held on the Riverwalk between the Edgewater and Colorado Belle resorts will highlight a strolling mariachi band and Mexican food. Hours on Friday are 4-10 p.m. and on Saturday 2-10 p.m. Admission will be free with food and beverages sold separately.
AVI PLANS VARIED EVENTS
At the Avi on Friday, Sept. 11, there will be a free 6 p.m. Patriots Day Program with the keynote speaker being Rear Admiral Mark Kenny.
The Avi will hold a Summer's End Pool Party on Sept. 11 and 12. The event will feature the music of Turn the Page - A Tribute to Bob Seger and the Silver Bullet Band, food and drink specials. Gates will open at 6 p.m. and Turn the Page will perform from 7 - 8:15 p.m. and 9:15 -10:30 p.m. The event is free.
The United Way Sand Blast, which is an annual fundraiser featuring a sand volleyball tournament with food, drink and information booths, and vendors will take place on Thursday, Sept. 17. The free event begins at 5 p.m. For information, call the local United Way office at 702-298-0611 or 800-770-8929.

CONTINUE ON TO...:

>THIS WEEK'S LAS VEGAS NEWS
>LAST WEEK'S LAUGHLIN NEWS
>VEGAS VIEW FULL ARCHIVES
>Return to "Heard Around Town"
>Return to Las Vegas Leisure Guide