'NUNSENSE' WILL OPEN AT THE LAS VEGAS HILTON
"Nunsense," the successful East Coast musical comedy, is scheduled to open here in the Shimmer Room at the Las Vegas Hilton on Wednesday, Sept. 15. The cast is made up of Diane Ellis as Reverend Mother Sister Mary Regina, Michelle Johnson as Sister Hubert, Kelly Clinton-Holmes as Sister Mary Amnesia, Janien Valentine as Sister Robert Anne, and Robin Berry Vincent as Sister Leo.
Column Continues Below Advertisement
For one cast member, she is a nun by day and a stripper by night. Veteran performer Janien Valentine plays a lead role in "Nunsense" at 4 p.m. every afternoon except Tuesday and every evening except Wednesday slips into five-inch heels to perform in "Peepshow" at Planet Hollywood at 9 p.m.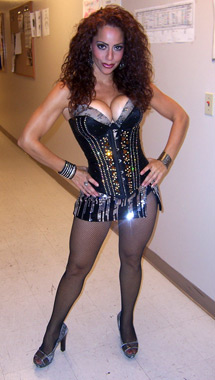 TROPICANA UNVEILS BISCAYNE RESTAURANT
The Tropicana Las Vegas is continuing with its incredible remodel into a South Beach-style resort. Newly unveiled is the Biscayne steak, seafood and wine restaurant that reinterprets the classic steakhouse with an innovative island flair. The restaurant, which is open for dinner nightly except Tuesday and Wednesday, has a one-of-a-kind Wine Wall featuring more than 500 bottles to accompany wonderful food.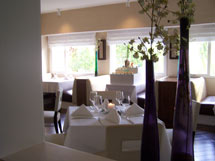 MASTER ILLUSIONIST DIRK ARTHUR DEBUTS AT O'sHEAS
After a six-year run at the Tropicana that ended last March, master illusionist Dirk Arthur will debut his new hour show at O'sheas Casino on Monday, Sept. 13 at 7 p.m. "Dirk Arthur's Wild Magic" show blends comedy, dance, magic and a rare up close opportunity to see the largest collection of exotic cats in Las Vegas. Shows are twice nightly except Wednesday and Friday at 7 and 9 p.m. Tickets are $22.95 and $33.95, call 800-221-7299.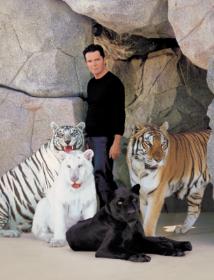 Arthur is showcasing some new tricks, including a gun with an audience member and another illusion with the seductive black panther.
The assortment of cats varies on a daily basis. Among them are snow white tigers, orange- and white-striped Bengal tigers, spotted leopards, black panthers and even a rare liger. Arthur's show includes an educational video segment detailing his conservation and breeding program.
Arthur has appeared on television, including NBC's "World Greatest Magic," CBS's "Late Show with David Letterman" and on his own primetime HDTV special "Big Cat Magic," seen on the Animal Planet network.
CIRCUS THEMED 'RED LIGHT' SHOW OPENS AT RIO
The Crown Theater at the Rio is opening "RED LIGHT," a circus-themed variety show in-the-round, over Labor Day weekend. The show with a meet-and-greet afterwards will run nightly Sunday through Thursday at 8 p.m. Tickets, which include free admission to Crown Nightclub, are $69 and $99, call 888-746-7784.
"RED LIGHT" will feature circus and sideshow acts including acrobats, contortionists, jugglers, dancers, magicians and more. Emceed by a ringmaster, the show will feature acts such as Swingshift Sideshow, most recently seen on "America's Got Talent," fire-eating Bambu from "Scare Tactics," and contortionist The Boxman, seen on "The Jay Leno Show" and in the film "Minority Report."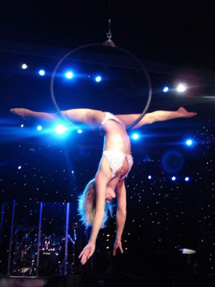 GOLDEN NUGGET HOSTS FALL BEER FESTIVAL
The Golden Nugget downtown will host its first two-day Fall Beer Festival on Oct. 15 and 16.
The first event on Friday will be the Great American Craft Beer Tasting sponsored by Samuel Adams from 7-10 p.m. in The Grand events center with more than 300 craft beer selections, appetizers, live music and award-winning brew masters. A highlight will be the traditional "tapping of the kegs" featuring 12 seasonal artisan draft beers. Tickets are $59, call 702-386-8100 and each guest will receive a commemorative souvenir glass.
On the second day, there will be a free traditional Oktoberfest Pool Party with music at The Tank from 3-9 p.m. with 200 different beers for sale. Guests adorned in their sexiest beer maiden costumes will receive $10 in food and beer tickets and be entered to win $1,000 cash during the Miss Oktoberfest costume contest at 6 p.m.
'HELLZAPOPPIN' PLAYING AT THE QUEEN VICTORIA PUB
ETE will present "HELLZAPOPPIN" - A Sideshow Revue at the Queen Victoria Pub at the Riviera on Sept. 10 and 11 at 9 p.m. Tickets are $10 at the Pub.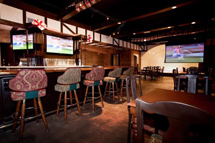 Frank "The Firegod" Hartman, who is a master at fire eating, sword swallowing, escaping and being a human pincushion, will be the master of ceremonies.
From the planet Satiri IV, will be The INTERLOPER, a seven-foot Alien Warrior Comic from the Future. Other acts will be burlesque beauty Cha Cha Velour and magician Bram Charles with American Idol semi-finalist Camdon Scott and His All Star Band providing music.
MIRAGE HOLDS LIVE LIKE A ROCK STAR WEEKEND
The Mirage and "Rolling Stone" magazine have partnered to develop the ultimate party during the Live Like A Rock Star Weekend Oct. 1-3. This is the first time that the Hot Issue Party will be in Las Vegas.
Beginning on Friday, The Mirage will have a concert by alternative rock band Weezer and a celebrity-filled red carpet at the Rolling Stone VIP Hot Issue Party at JET Nightclub. Tickets are $75, call 800-963-9634. On Saturday, "Rolling Stone" and The Mirage will host a Poolside Recovery Party at BARE pool lounge.
To be eligible for The Mirage Rolling Stone Rock Star Weekend sweepstakes, sign up for a Mirage Guestbook account online at www.mirage.com/rockstarweekend by Sept. 20.
TOP OF NEXT COLUMN
LAKE LAS VEGAS CELEBRATES JOHN LENNON
The Village Lake Las Vegas is hosting a special John Lennon Celebration Weekend with free entertainment on Oct. 1 and 2 in honor of what would have been his 70th birthday. On Friday, there will be a free lakeside concert with hits from Beatles tribute band The Fab from 7 - 10 p.m. On Saturday, at 7 p.m., there will be a sneak preview of "Nowhere Boy," the new feature film about Lennon's early life that is set for national release on Friday, Oct. 8. After the screening at 9 p.m., there will be a concert lakeside by Lennon's original band-mates The Quarrymen.
T&T MAKES ELVIS PART OF MEXICAN HOLIDAY
In celebration of Mexican Independence Day, Tacos & Tequila (T&T) at the Luxor will launch the premiere of "Viva T&T" on Wednesday, Sept. 15. The wacky rendition of Elvis Presley's "Viva Las Vegas" will showcase a routine choreographed to DJ Ernan's mariachi mash-up and feature an unusual trio with mini-Mariachi Elvis, sexy Elissa cast as a modern-day Ann-Margret and the human rooster. Attendees on Sept. 15 who dress in an Elvis costume will receive a free daiquiri and the best Elvis impersonator will be crowned "Mr. VIVA Elvis" and win $1,000 in cash and prizes.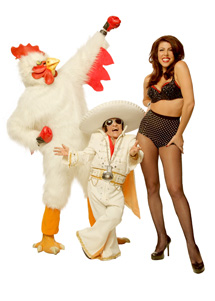 As part of T&T's ongoing Mischieve Wednesdays, "Viva T&T" will have the unlikely-threesome perform a fun number from the hit film every Wednesday night starting at 8 p.m. In addition, partygoers can take on the human rooster in a live "Cock-A-Doodle Duel" competition and enjoy $5 margaritas, Tecate beers and shots of Hornitos tequila.
M&M's WORLD® UNVEILS 'MY M&M's®' EXPERIENCE
The iconic "Welcome to Las Vegas" sign has been turned into a gigantic five-foot by seven-foot piece of edible art made with more than 50,000 M&M's® Chocolate Candies. The masterpiece handmade by local artist Gabe Ortiz highlights the newly-launched "MY M&M's®" experience, which allows guests to create and print custom messages and popular Las Vegas icons on M&M's® chocolate candies exclusively at M&M's World® Las Vegas on the Strip. Until now, these personalized M&M's® have only been available online.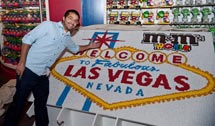 UPCOMING EVENTS
Las Vegas' favorite Art and Craft Show – Harvest Festival will once again transform Cashman Center from Sept. 10 to 12 into a shopping paradise where attendees can discover hand-crafted, one-of-kind gifts, view "demonstration artists," and enjoy free entertainment at the Food Court Stage. Admission is $ 9, $ 7 for seniors (62 and older), $4 for youths 13-17, and free for children under 12.
The Las Vegas Epicurean Affair will be held poolside at The Palazzo on Thursday, Sept. 9 from 7 – 10 p.m. Hosted by Nevada Restaurant Association (NvRA), the event, which is open to the public, will feature samplings of cuisine and cocktails from nearly 75 renowned restaurants and beverage purveyors. General admission is $100, and VIP with early 6 p.m. admission is $150, call 702-414-9000, or visit www.epicureanaffairlasvegas.com.
QUICK CLIPS
Actor/comedian Carlos Mencia will return to Treasure Island Sept. 17 at 7 and 10 p.m. Tickets start at $49 and $65 for VIP, call 866-712-9308.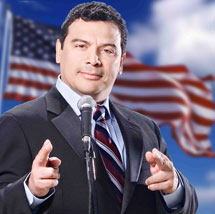 "Justin Timberlake and Friends" show taking place at Planet Hollywood on Oct. 23 as part of the Shriners Hospital for Children golf week has confirmed Christina Aguilera, Sean "Diddy" Combs and Lady Antebellum along with hip hop icons Salt-N-Pepa, actress-singer Selena Gomez & The Scene, R&B artist T-Pain, FreeSol - a group Timberlake discovered, and Combs new group Daddy-Dirty Money.

Latin superstar Luis Miguel will make his return to The Colosseum at Caesars Palace for the 2010 Mexican Independence Day weekend celebrations Sept. 15 - 18. Tickets range from $95 to $250.

Three new places are set to open around Labor Day in the Fremont East entertainment district: Vanguard Lounge, a night spot for nearly 800 patrons, Azul Tequila, and Maharaja Hookah Café, which won't serve liquor.

There was a recent wall-breaking for the start of a new USO lounge being built in Terminal 1 at McCarran Airport with Wayne Newton on hand. Local resident Newton is the chairman of the USO Celebrity Circle and helps to recruit other celebrities to entertain the troops.

Every Monday, Tuesday and Wednesday through the month of September, Stripper 101, the popular pole dancing class is holding "Bringing Sexy Back… to School" sessions for $25, which includes receiving an official Stripper 101 license and free cocktail, call 702-260-7200.

On Wednesday, Aug. 25, Penn Jillette, the outspoken half of the comedy-magic duo Penn & Teller, sheared 10 inches with the help of his devious cohort Teller of his signature ponytail of almost 25 years to benefit Locks of Love at the Rio Spa at the Rio

.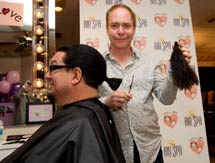 The Playboy Club inside the Palms is in its second year of the monthly Miss Playboy Club Model Search, which gives the winners inclusion in the Playboy Club annual calendar, a chance to appear in a future issue of "Playboy" magazine and to be the face of the Playboy Club in the following month's advertising campaign, plus $1,000 in cash and other prizes. Women interested can register at www.missplayboyclub.com.
New at Hooters is The Sleepy Lagoon Tattoo Parlor and Piercing shop that opened Labor Day weekend. The original shop opened in Orange County in 1999 and the business is a family affair headed by Moochie aka Anthony Trillo. The style of the Hooter's shop reflects Moochie's love of Lowrider cars, Rockabilly and the Zoot suit era. The store opens daily at noon, visit www.sltattoo.com.
Wynn Las Vegas will be hosting a free public viewing party for the NFL season opening game between the Minnesota Vikings and New Orleans Saints on Thursday, Sept. 9 in the Encore Theater with doors opening at 4:30 p.m. Prizes will be awarded after each quarter of the game.
During September, Pole Position Raceway will be giving away more than $50,000 in prizes that include NASCAR tickets, helicopter rides, and opportunities to drive a Ferrari or Lamborghini around a real outdoor speedway. Prizes will be awarded in several ways including daily random drawings.
COSMPOLITAN SIGNS WITH MARRIOTT INTERNATIONAL
The 2,995-room Cosmopolitan of Las Vegas that will open on the Strip in December has made a deal with Marriott International to market the $3.9 billion hotel-casino as part of the international lodging chain's Autograph Collection, a portfolio of luxury and independent hotels and resorts that lists 11 properties throughout the United States. The Cosmopolitan will introduce a new category in the collection and will be the brand's largest property and first casino resort.
Column Continues Below Advertisement




CONTINUE ON TO...:
>THIS WEEK'S LAUGHLIN NEWS
>LAST WEEK'S LAS VEGAS NEWS
>VEGAS VIEWS FULL NEWS ARCHIVES
>Return to "Heard Around Town"
>Return to Las Vegas Leisure Guide