'JERSEY BOYs' WILL MOVE TO PARIS LAS VEGAS
The award-winning musical "Jersey Boys" will conclude its run at the Palazzo at the end of this year and re-open at Paris Las Vegas in early 2012. Exact dates for both the final performance at the Palazzo and opening at Paris will be announced at a later date.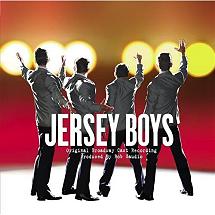 OLD HOMESTEAD STEAKHOUSE COMES TO CAESARS PALACE
One of New York City's most historic restaurants, the Old Homestead Steakhouse will replace Neros restaurant at Caesars Palace. It is scheduled to open before the end of 2011. Boasting more than 16,000 square feet, the space will feature a total of 250 seats with a full dining room, private dining room, lounge and bar. Signature dishes include the popular Colossal Crab Cake, 32-ounce Gotham Rib Eye Steak and the New York-Style Cheesecake.
Column Continues Below Advertisement
HARVEST FESTIVAL RETURNS TO CASHMAN CENTER
The 24th annual Harvest Festival – Original Art & Craft Show will be transforming Cashman Center into a shopping paradise with creative hand-crafted, one-of-a-kind gift items, Sept. 9-11. This show features artisans selling everything from arts and crafts to tasty food items and also has an area with free entertainment. Show opens at 10 a.m. and general admission is $9, $7 for seniors (62 and older), $4 for children 13-17 years old, and free for 12 and under.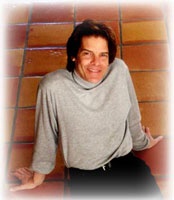 One special artisan will be Robert Shields whose jewelry designs have been collected by numerous celebrities such as Bette Midler, Barbra Streisand, Whoopi Goldberg and Shirley MacLaine. At age 19, this sculpture, painter and jewelry designer's talents led him to a television show as half of the famous duo, Shields and Yarnell. He was also the Director of Clown for Ringling Bros. and Barnum & Bailey Circus. You never know who you will meet at this show.
RIO HOSTS SAN GENNARO FEAST SEPT. 13-18
The 32nd Annual San Gennaro Feast will take place Sept. 13-18, at the Rio All-Suite Hotel and Casino in the northeast parking lot. The festival celebrating the spirit of San Gennaro features more than 70 restaurant food booths, amusements rides, arts and crafts and complimentary entertainment coordinated and hosted by entertainer Tony Sacca.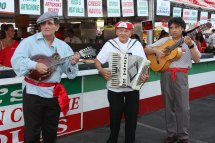 The feast opens at 4 p.m. on weekdays and 11 a.m. on Saturday and Sunday. Visit www.sangennarofeast.com for information.
PLAZA DOWNTOWN REOPENS WITH RENEWED EXCITEMENT
Got a look at the Plaza's exciting extensive renovation project that began at the end of 2010 and concluded with a reopening on Sept. 1. The project included 1,037 brand new guestrooms and suites, an entirely remodeled casino floor and lobby, and all new restaurants, bars and entertainment options.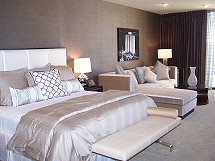 The renovations included using 8,200 pieces of furniture, 1,000 light fixtures, 50,000 square yards of carpet, and 300,000 square feet of marble, granite, porcelain tile and mosaics that were purchased from the Fontainebleau resort after it suspended construction. Now when you walk into the lobby, you're greeted by the gleam of Crème Marfil marble, inlaid mosaic tile, sparkling chandeliers and a plush front desk with a contemporary look. It's truly exciting to see.
In the dining department, the renovated Plaza includes a new food court featuring various options including McDonald's, Subway and coffee bar. Other casual dining options include home-grown Las Vegas favorites such as Hash House A Go Go, Island Sushi and Hawaiian Grill, and Zaba's Mexican Grill. Oscar's, a uniquely Las Vegas steakhouse designed around former Mayor Oscar Goodman, will be located in the iconic dome, which boasts the best view in town of Fremont Street's famous neon canopy.
The Plaza's historic showroom will retain its retro Old Vegas-showroom style with cocktail tables and chairs surrounding a curtain-draped main stage. The new Swingers Club by Anthony Cools offers a laid-back atmosphere amid nine Vegas-themed holes of mini golf. The bar also features dueling pianos and live music nightly. The award-winning, Las Vegas-based repertory company, the Insurgo Theater Movement, will also call the Plaza home.
The Plaza's iconic signs have been refurbished, and the building's exterior has been repainted. The renovation also incorporated a number of green elements to save energy and keep operating costs low.
BELLAGIO UNVEILS NEWLY REDESIGNED GUEST ROOMS
The Bellagio has unveiled a collection of newly redesigned rooms featuring vibrant, warm color palettes. Three color schemes incorporate the essence of Bellagio through botanical macro-photographic images. The new room design creates enhanced functionality with the addition of benches at the end of each bed, brighter lighting in the bedroom and bathroom and a full-length mirror in the foyer. Convenient amenities include a 40" mounted flat-screen television; a bedside iHome docking station; and a centralized media hub. The Bellagio began the $70 million remodel in June and anticipates all 2,568 resort rooms in the main tower will be completed by mid-December.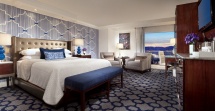 MADAME TUSSAUDS FEATURES MICHAEL JACKSON DISPLAY
The Michael Jackson Experience is a limited-engagement attraction featuring three Michael Jackson wax figures that will be on display at Madame Tussauds Las Vegas from Sept. 8 - Dec. 27. The display will highlight various stages of Jackson's career. The three figures collectively represent more than $1 million in wax sculpting. In all, Madame Tussauds has sculpted six different waxwork figures of Jackson, more than any other celebrity in history.
TOP OF NEXT COLUMN
'FANTASY' INTRODUCES 2012 'ULTIMATE FANTASY' CALENDAR
"FANTASY," the sexy female revue now in its 12th year at the Luxor, will debut its 2012 "Ultimate FANTASY" calendar on Tuesday, Sept. 20. The calendar features 12 of the show's stunning beauties at some of the city's most exclusive locations.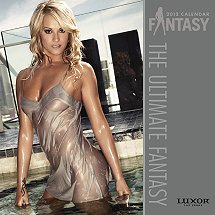 Photography is by renowned celebrity photographer, Willy Camden, who recently shot Carmen Electra's calendar. Distribution will be nationwide by BrownTrout Publishers, Inc. and it's priced at $20. The "FANTASY" ladies will host a series of calendar signings throughout the holidays.
MEXICAN INDEPENDENCE DAY CELEBRATED IN LAS VEGAS
Name headliners will visit Las Vegas to perform for the Mexican Independence Day celebration. Latin superstar Luis Miguel will perform at The Colosseum at Caesars Palace Sept. 15-18, and Alejandro Fernandez will star at the Grand Garden Arena at MGM Grand on Sept. 15. Marco Antonio Solis and Ana Gabriel will appear together at the Events Center at Mandalay Bay on Sept. 16. For complete listings visit VisitLasVegas.com.
"Mariachi USA," one of the most popular mariachi reviews in the United States will bring its fast paced show to the newly transformed Tropicana Las Vegas. The show mixes traditional mariachi tunes with a sprinkle of Cuban and Central American influence in a 90-minute performance.
'NASHVILLE UNPLUGGED' IS EXPANDING
After two successful years at Green Valley Ranch, "Nashville Unplugged: The Story Behind the Song" is expanding. Nashville Unplugged will follow their bi-weekly Green Valley Ranch performances on Friday nights with gigs the following evening inside Chrome Showroom at Santa Fe Station. Nashville Unplugged akin to Nashville's Bluebird Café gives an intimate look at the thought process behind some of country music's most well-known songs.
"Nashville Unplugged" is hosted by Brian McComas, who wrote and sang "I Could Never Love You Enough," and Aaron Benward of Blue County, who wrote and sang "That's Cool." Their shows include "Songs from a Hat," where an original song is written on-the-spot, based on audience suggestions. Performances begin at 8 p.m. and there is a $5 cover at the door.
BARRETT-JACKSON HOLDS ANNUAL AUCTION
Barrett-Jackson will host its fourth annual auction in partnership with MGM Resorts International and the LVCVA. The two-day celebration of cars, chrome and neon will take place Sept. 22-24 and feature the annual Las Vegas Cruise-in, the Barrett Jackson Fashion Show, a Road Rally, auctions and much more. Barrett-Jackson will showcase more than 100 Hot Rods, resto-Mods, classics, new collectibles and muscle cars during its Road Rally.
FLEMINGS HOLDS MONTH-LONG WINE CELEBRATION
The annual unveiling of the new Fleming's 100™, the award-winning list of 100 wines by the glass at Fleming's Prime Steakhouse & Wine Bar, is being introduced this month.
The month-long September celebration will include "Opening Nights," a series of wine tastings held every Friday evening. These events will provide guests with a rare opportunity to sniff, swirl, and sip their way through Fleming's wine by the glass list. Each Opening Night will feature 20 wines from the Fleming's 100™. The first four tastings will be wine selections available at all of the 64 Fleming's nationwide. The final tasting will feature selections by each Fleming's local Wine Manager and Operating Partner. Each Opening Night costs $25, and includes a preview tasting of selections from Fleming's new Small Plates menu.
FOOTBALL FEVER STARTS UP
RHUMBAR's outdoor patio at The Mirage will be a tailgating spot this fall. On Saturdays and Sundays, partygoers will enjoy hours of football along with a noon to 6 p.m. happy-hour. For Monday Night Football partygoers, $30 buckets of six Miller Lites will be available. During games, pigskin fans will receive complimentary cover.
Cabo Wabo Cantina inside Miracle Mile Shops at Planet Hollywood will offer beer specials, Mexican food and Monday Night Football starting with the first official game of the season on Sept. 12. Over the course of the season, football fans will have multiple chances to win cash prizes, giveaways, grand prizes and an ultimate prize of $1,000,000.
GALAVANTIER.COM GIVING AWAY FUN STUFF IN LAS VEGAS
Galavantier Inc, the new hybrid online travel company specializing in unique travel experience getaways, is launching 100 Days of Giveaways on the Galavantier Facebook page - click the 'Like' button. Prizes include free hotel accommodations, show tickets, dinners, VIP nightclub access, helicopter rides, spa treatments, rounds of golf, and much more. The Grand Prize is a four-day, three-night Las Vegas travel experience package with suite accommodations at Palms Place.
QUICK CLIPS
On Friday, Sept. 9, Robin Leach will celebrate his 50th anniversary working as a journalist at Surrender Nightclub at Encore Las Vegas. Leach's illustrious career has included being host and executive producer of "Lifestyles of the Rich and Famous" for 14 years. Leach came to the United States from England in the early 1960s, working first at the "New York Daily News" and then writing the first "People Magazine" cover stories. He was the first showbiz editor of "The Star," working there for a decade before joining "Entertainment Tonight" as its globe-trotting reporter.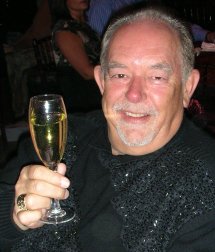 On Thursday, Sept. 8, The Spa at Ravella at Lake Las Vegas is starting Sip & Spa Thursdays, a fashionable ladies' night out featuring hot spa/salon treatments and cool signature cocktails from 6 to 8 p.m. This new happy hour idea features a fun new drink and treatment duo every Thursday night along with a different a great takeaway gift. Cost is $25 with treatment and $10 without.
An all-Italian group, Bronx Wanderers comprised of Vinny on lead vocals, Vinny "The Kid" on keyboard, Nicky "Stix" on the drums, Jimmy Frascassi on lead guitar, and John Tutino on various woodwind instruments will make its Las Vegas debut at South Point on Sept. 20. Their music captures the music magic of the '50s and '60s. Tickets are $20, $25 and $30.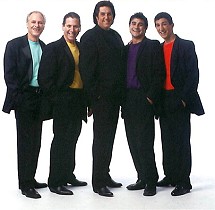 The Jewish Community Center of Southern Nevada will present "Where Art Thou 2," on Thursday, Sept. 15 from 7 – 9 p.m. at the Bar & Bistro at The Arts Factory located in the Downtown Arts District at 107 E. Charleston Blvd. #155. "Where Art Thou 2" will feature five local artists from the community and their artwork that will be for sale. Tickets are $18 for adults and $5 for high school students. For information, visit www.jccsn.org.
Column Continues Below Advertisement
CONTINUE ON TO...:

>THIS WEEK'S LAUGHLIN NEWS
>LAST WEEK'S LAS VEGAS NEWS
>VEGAS VIEWS FULL NEWS ARCHIVES
>Return to "Heard Around Town"
>Return to Las Vegas Leisure Guide