Rock 'n roll giant Aerosmith will return and bring their popular hits and "Route Of All Evil Tour" to the MGM Grand Garden Arena Saturday, Nov. 4 with the popular rock band M"tley Cre. This marks the first time that rock's bad boys have embarked on a tour together featuring all of their original members. Tickets are $185, $95 and $55; call Ticketmaster at 702-474-4000.
For their current concert Aerosmith will thrust themselves into the middle of the audience turning the seats along the 70-foot-long ramp into one large front-row experience.

Column Continues Below Advertisement


Mötley Crüe is delivering an entirely new bag of tricks with massive production and pyrotechnics. The band is determined to out-do themselves in the decadent Mötley Crüe style.
The 2007 Miss America Pageant will return to the Aladdin, where it made its Las Vegas debut this year after leaving Atlantic City, for a two-hour telecast that will air live on CMT, Monday, Jan. 29, 2007 at 8 p.m. ET/PT. By the time of the pageant in January, the Theatre for the Performing Arts will be newly renovated and the resort's transformation into Planet Hollywood will be very close to complete.
Miss America's activities at the Aladdin will begin with the pageant preliminaries, which include swimsuit, talent and evening wear competitions, on Thursday, Jan. 25 and continue through Saturday, Jan. 27. Tickets to the preliminaries and the pageant finals will be available to the public at Ticketmaster.
The 2006 Miss America Pageant premiered on CMT, which is America's No. 1 country music network, last January and ranks as the most-watched telecast in CMT's history with total viewers. Since its premiere, re-airings of the pageant have been seen by more than 22 million different viewers.
Last month, CMT announced an expanded programming strategy to support the 2007 pageant, which will include some nine hours of television devoted to Miss America. This programming will feature a two-hour contestant special; a one-hour special on the current Miss America, Jennifer Berry; a one-hour look at greatest Miss America moments; and Miss America features on the popular CMT Top 20 Countdown and CMT Insider.
British singer, songwriter, and pianist Jamie Cullum, the 26-year-old whose Verve, two-million-seller, Grammy® nominated, debut album "Twentysomething" was a worldwide smash last year, will headline at the Las Vegas Hilton on Sunday, Sept. 24. Tickets are $30 to $45, call 1-800-222-5361.
Cullum's whirlwind schedule the past two years included recording a new 14-song set album, "Catching Tales." In four months, he wrote enough material for nearly two albums.
Tickets for the first four months of superstar and recent Emmy winner Barry Manilow's 2007 show schedule of "Manilow: Music and Passion" at the Las Vegas Hilton have gone on sale. In addition, Manilow has added four shows to his December 2006 schedule, Dec. 27-30. After outpatient surgery, he will return to the resort on Nov. 8, and also launch his new album "The Greatest Songs of the Sixties." For show tickets, call 1-800-222-5361.
World lightweight champion Diego Corrales and former world champion and top-rated contender Joel Casamayor will step into the ring for the third and final time to settle their fantastic trilogy. "MANIFiST DESTINY!" - Corrales vs. Casamayor III - will determine the division's true world champion.
Showtime Championship Boxing will televise this world championship bout live from Mandalay Bay on Saturday, Oct. 7. Tickets are $300, $200, $100 and $50, call 702-632-7580 or Ticketmaster at 702-474-4000.
The Joint at the Hard Rock has penciled in Supernova for a New Year's Eve show on Dec. 31 at 10:30 p.m. Tickets are $103 general admission and $253 for reserved balcony seating.
Alice in Chains, which was the definitive heavy metal band of the early 1990s, will take center stage on Sept. 22, at 8 p.m. Tickets are $40 and $45, call the concert hotline at 702-693-5583.
Other Hard Rock bookings at The Joint include Guns N' Roses on Sept. 16 and 17, Muse on Sept. 21 (tickets $28), and James Blunt on Nov. 18 (tickets $85),
Society of Seven is sharing the stage again with Filipina pop singer Lani Misalucha, but this time they have an afternoon 3 p.m. show, Wednesday - Sunday, at the Flamingo. The Hawaiian musical-comedy group had a successful run at Bally's last year.
One of the coolest deals for this year's MDA telethon is a segment that was pre-taped. Jerry Lewis literally conducted the Las Vegas Philharmonic Orchestra live on the famous Strip from 2 a.m. to 6 a.m.
In addition, comedian Jerry Lewis will be honored during the telethon with the President's Call To Service Award and the presentation will be made by Barry Keller, a security enforcement officer at the Imperial Palace. This lifetime achievement recognition is for being the MDA's No. 1 volunteer for more than 50 years.
Beginning on Tuesday, Sept. 19, "The Barbra & Frank Show - The Concert That Never Was" at the Riviera in the Le Bistro Lounge will be adding 8:30 p.m. shows on Tuesday nights.
Pho, the only traditional Vietnamese restaurant on the Las Vegas Strip, celebrated its grand opening last week.
John Mendoza, who refers to himself as a born-again comedian, will headline the Riviera Comedy Club for seven evenings beginning Monday, Sept. 18, along with fellow comedians Steve Seagren and Boris Hamilton. Tickets for the 8:30 and 10:30 p.m. shows are $19.95, call 702-794-9433.
Mendoza using a relaxed delivery style and cynical outlook has an act that is a collection of unrelated thoughts reflecting the diverse areas of human behavior. He has starred in his own Showtime special entitled "John Mendoza: Over Easy," and has repeatedly appeared on both "Late Night With David Letterman" and "The Tonight Show With Jay Leno" and other talk shows.
Studio 54 at the MGM Grand has created PLAY. Every Wednesday PLAY is showcasing a different performance by the Strip's most dynamic entertainers. Doors open at 10 p.m.
Comedienne Rita Rudner has ended her five-year run at New York-New York while her second novel, "Turning the Tables," hits bookstores. The story takes place in a fictional Las Vegas casino called "Heaven."
Jazz great Maynard Ferguson was suppose to perform at the Santa Fe Station on Sept. 9 and the concert has been cancelled due to his death last month.
The new Red Rock Casino has added Gnarls Barkley to perform at the Sand Bar on Thursday, Sept. 21, at 8:30 p.m. Gnarls Barkley was formed after being paired with vocalist Cee-Lo Green. The album "St. Elsewhere" resulted in peaking at No. 1 on the British charts with an American release two weeks later in May 2006. From the album, the song "Crazy" has peaked at No. 2 on the Billboard Hot 100 while "St. Elsewhere" continues to climb on Billboard 200. Tickets are $37.50, call 702-547-5300.
Recently opened, Bare at The Mirage offers the ultimate in poolside pampering in a contemporary and hip new setting. While Bare is open only to hotel guests, the location is available for private parties and comfortably accommodates cocktail receptions for up to 250 and dinner soirees for groups up to 100. The facility fee is $5,000, drinks and appetizers are an additional $125 fee per person, and dinner is $150 per person.
BB's BBQ at the Riviera will be replaced on Sept. 5 with the return of the Dinner Buffet featuring a free margarita or draft beer with dinner.
"Lunchtime With Ira, Live from the Las Vegas Hilton," a weekly radio show that began broadcasting at noon from the Shimmer Cabaret in 2005 on KDWN AM 720 in Las Vegas, will now be heard at 11 p.m. on Thursdays, beginning Sept. 7 on the 50,000 watt station. The show, produced live every Monday at noon, features Ira David Sternberg talking with the celebrities, entertainers, writers and personalities and the show is open free to the public.
The talk show will continue to be produced and aired live nationally on Mondays at noon on Cable Radio Network (CRN), internationally on the Las Vegas Hilton Internet webcast and podcast, and on the resort's Watchit Television Network in-room television channels.
Hogs & Heifers downtown will celebrate its one-year anniversary on Sept. 14.
Meanwhile the motorcycle friendly bar was recently the only Las Vegas site used for filming "Beer The Movie II: Leaving Long Island," which is the sequel to "Beer The Movie." The story covers the cross country search for the nation's best bars.
The Fourth International Annual Contortion Convention at Sam's Town, Sept. 26-28, will be demonstrating just how uncannily flexible the human body can be. Ska von Schoening, whose company, Showbiz, in Cologne, Germany, produces the event, says there will be about 50 professional well-known contortionists and young talents from all over the globe, from ages 6 to 60-plus, attending, including some former Cirque du Soleil artists, as well as fans, orthopedic specialists, talents scouts and agents from big production shows. On the evenings of Sept. 26 and 27, shows will be presented that will be available for public viewing. If interested, call von Schoening at 702-433-3703.
Intermix, New York-based specialty retailer, has opened a 4,000-square-foot store inside The Forum Shops at Caesars. This boutique marks the company's fourteenth store and first West Coast location. It features Intermix's signature looks - unexpected combinations of established and emerging designers at a range of price points. Intermix carries an expansive assortment of designer collections, contemporary pieces, luxury handbags, denim, jewelry and footwear.
The interior design develops integrating curved lines and feminine shapes into the layout. Like all Intermix boutiques, the design concept is forward thinking, reinterprets standard fixtures and emphasizes store design as a major element of the total shopping experience.
Las Vegas Harley-Davidson is set to host its Third Annual Ride for Nellis Airmen on Sept. 9 starting at 11 a.m. with live entertainment by local band Southern Stue, the parade of the newly released 2007 Harley-Davidson motorcycles, a ride to-and-on Nellis Air Force Base, and a post concert with special guests The Fabulous Thunderbirds.
To join the benefit Ride for Nellis Airmen, register at the Las Vegas Harley-Davidson located at 2605 S. Eastern Avenue by 4 p.m. Thursday, Sept. 7, or on Sept. 9 by 2 p.m. The ride will depart the dealership for Nellis AFB at 2:45 p.m. where there will be a brief presentation, and a tour of the Thunderbird Museum and static displays. The cost is $25 and all motorcycle brands are welcome.
The Fabulous Thunderbirds will perform in concert at the dealership at 7 p.m. following the ride. Tickets for the concert are $25 general admission, call 866-468-3399.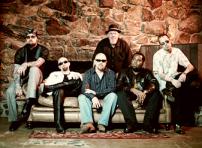 Producer Norbert Aleman's "Crazy Girls" at the Riviera opened in 1987. The current edition features 10 technically-trained dancers and Aleman figures 150 to 200 Crazy Girls have been created over the past 19 years, each averaging a three to five year run in the show.
The totally adult show was originally "Crazy Girls: Fantasie de Paris," a fantasy revue featuring the "Best Showgirls in Las Vegas" and it evolved into "Las Vegas' Sexiest Topless Revue." Over the years, the show has featured many emcees and a variety act or comedian with the current spot being filled by world-class juggler Nino Frediani.
Aleman plans to produce a movie, "Crazy Girls Undercover," and begin shooting in January. It will be an action-adventure movie with the beautiful Crazy Girls playing the movie parts. The film has already been sold in Asia and Europe.
CONTINUE ON TO...:
>THIS WEEK'S LAUGHLIN SEGMENT
>LAST WEEK'S LAS VEGAS SEGMENT
>VEGAS VIEWS FULL ARCHIVES
>Return to "Heard Around Town"
>Return to Las Vegas Leisure Guide