'BROADWAY CELEBRATION' OPENS AT NEW YORK-NEW YORK!

"Broadway Celebration," a New York-style extravaganza featuring Broadway's most renowned show tunes, has opened at The Broadway Theater at New York-New York. The show is performed Tuesday – Sunday at 6 p.m. and tickets start at $49.95. For a limited time, you can buy "Broadway Celebration" and "Dancing Queen" combo tickets for $69.

Presented by producer David King and Spirit Productions with more than 20 hit shows touring the globe, "Broadway Celebration" is a non-stop tribute to hit songs from the world's most renowned musicals.


Column Continues Below Advertisement



THE NEON MUSEUM SET TO OPEN OFFICIALLY ON OCTOBER 27

After more than 15 years of planning, the Neon Museum downtown, which is home to more than 150 neon signs dating from the 1930s and the largest collection of neon signage in the world, will officially open at 770 Las Vegas Blvd. North on Saturday, Oct. 27.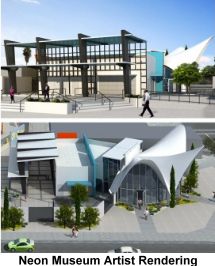 The two-acre outdoor museum space encompassing the Neon Boneyard with iconic signs from the city's most celebrated properties including the Moulin Rouge, the Desert Inn, the Flamingo and the Stardust are displayed alongside those from various other bygone restaurants, hotels and businesses.
The museum's new visitor center is the rehabilitated La Concha Motel lobby, the seashell-shaped, Mid-Century Modern architectural masterpiece designed and built by architect Paul Revere Williams. Originally constructed in 1961 on Las Vegas Boulevard South, next to the Riviera Hotel's current location, the La Concha lobby was saved from demolition in 2005 and moved to its current location in 2006.
The 45-minute tours of the Neon Boneyard will be available every half hour starting at 10 a.m., with the last tour at 4 p.m., every Monday through Saturday. Tickets are $18 for adults and $12 for students with valid ID, senior citizens, veterans and Nevada residents.Children ages 6 and under are free.
SHOEZEUM OPENS AT NEONOPOLIS
ShoeZeum is a new museum with a massive collection of 2,500 new pairs of Nike shoes located downtown next to the Heart Attack Grill in Neonopolis. It is open daily at 4 p.m. and admission is $10. The owner of the world's largest collection of Nikes is Jordan Michael Geller. His father, Steve Geller named his son after the legendary Chicago Bulls.
Jordan Geller went to law school but never lost his passion for Nikes. He bought and sold them on Ebay, then used his profits to round out his collection. He said he has paid up to $7,100 for a single pair.
The first ShoeZeum opened in San Diego last year. It did so well, Jordan Geller decided to move it to Las Vegas.
LAST BITE FOR 'BITE LAS VEGAs' AT THE STRATOSPHERE
After more than eight years at the Stratosphere, "Bite Las Vegas" will have its final performance on Halloween night Oct. 31 at 10:30 p.m. Tickets are $49.45. The show debuted inside the Stratosphere Theater on Friday, Aug. 13, 2004, introducing audiences to the world of vampires while offering a tale of lost love, temptation and redemption.
WAX LANCE ARMSTRONG VISITS MADAME TUSSAUDS
In celebration of Lance Armstrong's 40th birthday on Sept. 18, Madame Tussauds Las Vegas has added a wax figure of the cycling legend to the attraction at the entrance through Oct. 14. The figure features Armstrong riding a bike in a racing uniform. Additionally, the first 100 visitors on Oct. 2, Livestrong Day, will receive a free Livestrong wristband.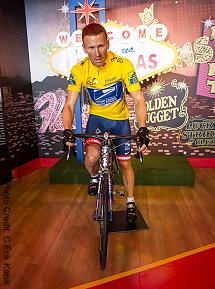 ELI ROTH'S GORETORIUM OPENS SEPTEMBER 27
Beginning Sept. 27, director Eli Roth will unveil Eli Roth's GORETORIUM, the massive chamber-of- horrors that will be open year-round on the Las Vegas Strip at 3717 Las Vegas Blvd. South across from CityCenter. The attraction will open at 4 p.m. Monday-Friday and 2 p.m. on weekends. Tickets at www.goretorium.com are $40 for general admission; $35 for advanced, and $60 for a Death Row VIP package.

The multi-level maze is set at a deadly mythical hotel and casino, The Delmont.The self-guided horror experience begins in the lobby of the vintage hotel and employs high-tech Vegas showmanship, a terrifying labyrinth of live actors, animatronic frights and special effects.
Eli Roth's GORETORIUM also includes a freaky, 60s-inspired lounge called "Baby Dolls." The bar will feature caged zombie dancers and live "feedings." GORETORIUM also features a one-of-a-kind horror retail shop and a venue for special events with a to-go bar called "Bloody Mary's," specializing in gruesomely themed cocktails.
HARVEST FESTIVAL CELEBRATES 40TH ANNIVERSARY
The Las Vegas Harvest Festival® Original Art and Craft Show is returning to Cashman Center, Sept. 7 - 9, and celebrating its 40th Anniversary Tour. The Harvest Festival started as a small community marketplace in San Francisco and now there are eight shows in California, one in Arizona and one in Nevada.
Each exhibitor is subject to a rigid jury process and some are regulars like Fred Heminger, owner of Heminger's Chocolates in Pasadena, Calif., who dresses like a chef from years past, and Tom Reed and friends of the Garlic Festival Foods that have been with the show for 25-plus years.
Attendees are able to directly interact with the artists, watch crafting demonstrations, get many gifts personalized, sample food and watch entertainment.
SAN GENNARO FEAST CELEBRATED AT THE SILVERTON
The 33rd Annual San Gennaro Feast will take place Sept. 11-16, in the main parking lots at the Silverton. The Las Vegas festival celebrating the spirit of San Gennaro features more than 70 restaurant food booths, 80 amusements rides and midway games, arts and crafts booths, and complimentary headliner entertainment nightly coordinated and hosted by Tony Sacca.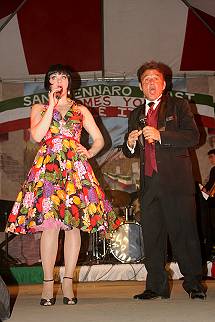 SCORE! AT LUXOR WILL HOST PRO FOOTBALL HALL OF FAME EXHIBIT
SCORE!, an interactive sports fan experience at the Luxor, will announce a historic strategic alliance with the Pro Football Hall of Fame on Sept. 6. Headquartered in Canton, Ohio, the Pro Football Hall of Fame will celebrate its 50th anniversary in 2013 and has selected SCORE! to host its first-ever exhibit in Las Vegas as part of its golden anniversary.
The exhibition is in collaboration with Premier Exhibitions, Inc. and will reside on the mezzanine level next to their other experiences "BODIES…The Exhibition" and "Titanic: The Artifact Exhibition.
FOOD & WINE ALL-STAR WEEKEND EXPANDS THIS YEAR
The third annual Food & Wine All-Star Weekend returns to the Las Vegas Strip Oct. 5-7. This year's premier culinary event has expanded its roster of resorts to include MGM Grand, Mandalay Bay and The Mirage along with original host properties ARIA and Bellagio. Culinary masters participating in the array of events include Shawn McClain, Jean-Georges Vongerichten, Julian Serrano, Michael Mina, Masa Takayama and Rick Moonen.
TENDER CELEBRATES WINE SPECTATOR AWARD OF EXCELLENCE
TENDER Steak & Seafood at the Luxor will celebrate its 2012 Wine Spectator Award of Excellence award with a special four-course, prix fixe dinner menu for $95 from Sept. 17 - 23. For the fourth year in a row, the restaurant has received the prestigious award based on its vast selection of half bottles, including more than 100 wines from around the world and an array of unique labels. The eatery is featured in "Wine Spectator's" Aug. 31 issue.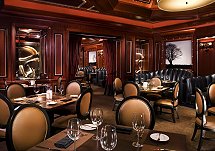 MUSIC PRODUCER TOM FLETCHER WILL OPEN FOR ELVIS MONROE
After working with the biggest rock stars, renowned music producer and Las Vegas native Tom Fletcher will step onto a Las Vegas stage for the first time with his new band Atomix and perform for headliner Elvis Monroe's album release party at Rocks Lounge inside Red Rock Resort on Saturday, Sept. 8. A collaboration of Fletcher, bass guitarist Mico Olmos and drummer Patrick Caccia, Atomix released their debut album "In a Perfect World" this year.
ED KOWALCZYK PERFORMS AT 'BUBBLES AND CHOCOLATE'
The 3rd Annual Bubbles and Chocolate presented by Moët & Chandon on Friday, Sept 14, will kick off the Wine Amplified Weekend at Mandalay Bay. The event from 8-11 p.m. will feature a rocking acoustic performance from Ed Kowalczyk of Live on a stage inside of Moorea Beach Club. This event with chocolate delicacies from Master Chocolatier Vincent Pilon is limited to 500 guests. Tickets are $55 and only available from Rock 'n Roll Wine.
TOP OF NEXT COLUMN
BILL MAHER RETURNS TO THE ORLEANS
"RealTime" comedian and political commentator Bill Maher brings his trademark humorback to The Orleans Showroom, Sept. 8 and 9. Tickets start at $64.95.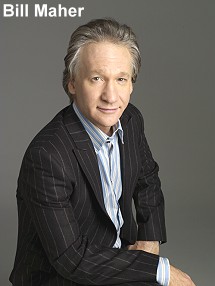 Maher's most recent stand-up special for HBO, "Bill Maher But I'm Not Wrong," aired in 2010 and in February 2012, his"Crazy Stupid Politics LIVE! from Silicon Valley" debuted on yahoo.com.
SPEEDY NEWS ITEMS
The Crown Theatre at the Rio will no longer be a nightclub.
"WICKED", the untold story of the witches of Oz, is currently playing at The Smith Center through Oct. 7. There are currently seven productions of "WICKED" worldwide.
2012 Olympian and soccer goalie Hope Solo will celebrate her team's gold medal win at Chateau Nightclub and Gardens at Paris on Friday, Sept. 7. The first-time author of "Solo: A Memoir of Hope"is also promoting her book.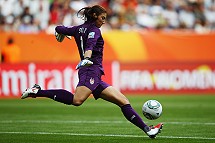 The Jeremy Cornwell Projects that has opened for multi-platinum artists will appear at the M Resort and create a party scene every Friday and Saturday in September.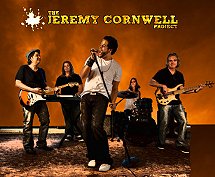 Pinkberry, the number one tart frozen yogurt brand, opened its first store in Las Vegas in front of the Mandarin Oriental on the Las Vegas Strip next to the CVS Pharmacy.
L Marie is hosting an open Red Carpet Event featuring champagne, wine and Naked Sushi and Las Vegas Chamber of Commerce Ribbon Cutting to debut her exclusive skin care line "It's All About Skin!" on Saturday, Sept. 8, from 6-9 p.m. at L Marie's Bare Elegance, 10624 S. Eastern Ave Suite H. The distinction with her new line is that it's actually customized to meet the particular needs of each client.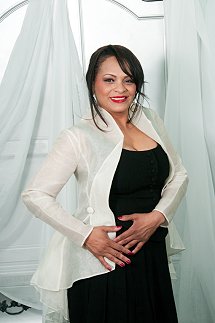 A high-end accessory store, Henri Bendel, opened in the Fashion Show Mall on the Strip.
Chateau Nightclub & Gardens will give go-go dancers the chance to earn a resident position and $5,000 at the Paris hot spot during a special industry night on Wednesday, Sept. 5. The grand prize winner will receive a resident dancer position at the nightclub and the top finalists will receive a share of $5,000 in cash and prizes.
Latina bombshell, Jessica Burciaga, will host a hot Mexican Independence Day party at Crazy Horse III and Posh Boutique Nightclub on Saturday, Sept. 15. She has graced the pages of "Maxim," "Modified Mag," "Latino Future" and "Playboy." In February 2009, she was named Playmate of the month.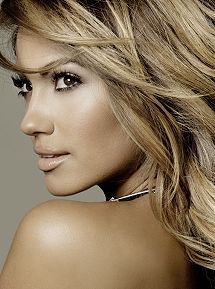 For the first time in its history, Arizona Charlie's at both locations has designated its signature sandwich to be the Reuben, which means it will always be on the menu.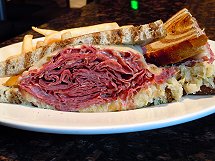 DiVine's breakfast-lunch eatery on Valley View at Sunset will resume monthly special event d.lish dinners on Oct. 4 and celebrate its one-year anniversary. Cost is $25 until Sept. 28 and then increases to $35, call 702-253-1400.
Cabo Wabo Cantina inside Miracle Mile Shops at Planet Hollywood will throw a weekend long fiesta in honor of Mexican Independence Day, Sept. 14-16, with $25 buckets of ice cold Sol.
On Saturday, Sept. 22, Wet Republic Ultra pool will welcome back Bob Sinclar in conjunction with the iHeartRadio Festival at the MGM Grand's Garden Arena.
"Military UFO's: Secrets Revealed" part five of the Area 51 Lecture Series at the National atomic Testing Museum, will be held Saturday, Sept 22, with a reception at 6 p.m. and lecture at 6:30 p.m. RSVP by calling 702-794-5150. Tickets are $20 for museum members and $35 for non-members.
Medium and author Hollister Rand will hold an evening of spirit communication and book signing on Friday, Sept. 7, from 6:30 – 8:30 p.m. at the Ganesha Center at 3199 E. Warm Springs Road. Tickets are $40, call 702-485-4985.
RANCH HOUSE KITCHEN HOLDS 'PIGSKIN PLAYGROUND' SERIES
Ranch House Kitchen at Town Square will partner with CollectiveZOO to ignite football season with "Pigskin Playground" starting Sunday, Sept. 9 with drink specials and prizes, including the grand prize, an all-expenses paid trip to Hawaii for the Pro Bowl.
During games on Sundays, Mondays and Thursdays, football fans that partake in $2 domestic drafts and $12 domestic beer buckets will be entered into the "Best Seat in the House" raffle. A weekly football fan wins a $100 bar tab for the following week and selects which games show on the big screen.
All patrons that enter the raffle on Sundays will be included in the grand prize drawing at the end of the season for an all-expenses paid trip, sponsored by Budweiser, to Honolulu for the Pro Bowl in January 2013.
"HENDERSON PAVILION HOSTS 'SEUSSICAL'TM
RagTag Entertainment and Music Theatre International (MTI) will present multiple performances of the original Broadway musical "SEUSSICAL"TM at the Henderson Pavilion Sept. 21-23 and Sept. 28-30. Tickets are only $10.
RICE & COMPANY CELEBRATES NATIONAL FORTUNE COOKIE DAY
Rice & Company at the Luxor will celebrate National Fortune Cookie Day, Thursday, Sept. 13, with a special fortune cookie giveaway running Sept. 1-14. Every guest will receive a fortune cookie and some will include an array of offerings and giveaways. All diners who receive a fortune cookie with a prize will be entered into a grand prize drawing to win a chef's dinner for up to six guests on Sept. 14.
LAS VEGAS CHEF JEFF HENDERSON APPEARS ON 'BEAT THE CHEFs'
Chef Jeff Henderson, the first African-American executive chef at the Bellagio and sought-after speaker and author, made his return to the kitchen on GSN's new original series, "Beat The Chefs," that premiered last month. The show features Chef Henderson and two other top chefs competing in a cooking show against amateur cooks who believe their family recipes are worthy of the winning prize of $25,000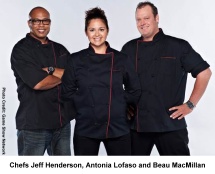 Chef Henderson's story is nationally known for him going from breaking the law, to breaking boundaries in the kitchen and becoming an award-winning chef and author of the New York Times bestselling memoir "Cooked." His first reality show was "The Chef Jeff Project" on The Food Network.
The chef plans to release his fourth book in spring 2013. His first book, "Cooked" has inspired Sony Pictures to tell his story on the big screen and is set to star Will Smith in the leading role. He also has plans to open a southern themed restaurant that will be in partnership with a Downtown Las Vegas casino.
CASEY MARTIN WILL COMPETE IN JUSTIN TIMBERLAKE'S FUNDRAISER
Former PGA TOUR professional and 2012 US Open qualifier, Casey Martin, has been awarded a sponsor exemption to compete in the 2012 Justin Timberlake Shriners Hospitals for Children Open tournament, Oct. 1-7, at TPC Summerlin in Las Vegas.
A former teammate of Tiger Woods at Stanford University, Martin was a member of the university's NCAA Championship team in 1994 and a two-time All-American. He turned professional in 1995 and as a member of the Nike Tour won the Lakeland Classic in 1998 and recorded five top-50 finishes.
Martin currently serves as the head coach for men's golf at the University of Oregon where he has led the team to four NCAA Championship appearances in the last five years.
ECF HOLDS ANNUAL SCHOLARSHIP FUNDRAISING GALA AT M RESORT
The Epicurean Charitable Foundation of Las Vegas (ECF) will host the organization's 11th annual scholarship fundraiser, M.E.N.U.S. (Mentoring & Educating Nevada's Upcoming Students), at the M Resort's upscale Villaggio Del Sole Pool and Entertainment Piazza on Friday, Sept. 28.
The evening event will feature more than 30 of Las Vegas' top restaurants. Tickets start at $500 per person, call 702-932-5098 or e-mail elizabeth@ecflv.org.
Column Continues Below Advertisement
CONTINUE ON TO...:

THIS WEEK'S >LAUGHLIN NEWS
LAST WEEK'S >LAS VEGAS NEWS
>VEGAS VIEW FULL NEWS ARCHIVES
Return to >"Heard Around Town"
Return to >Las Vegas Leisure Guide