A recent announcement made by Harrah's Entertainment and Anschutz Entertainment Group (AEG), the biggest worldwide player in sports facilities and events, outlined plans for a new $500 million sports and entertainment arena to be built off the Strip behind Bally's and Paris without taxpayer dollars. AEG operates the Colosseum at Caesars Palace where Celine Dion performs.
The 20,000-seat arena to be built on 10 acres owned by Harrah's will be funded privately by both companies. In a joint venture, AEG will develop, build and manage the arena for Harrah's. Plans are to break ground in June and open by September 2010, which would make it the third large arena along the Strip.

Column Continues Below Advertisement


The Scintas, the Buffalo, New York foursome, will debut their new show, "Laugh Out Loud with The Scintas," at the Las Vegas Hilton in the Shimmer Cabaret on Sept. 24. Showtimes are Friday-Wednesday at 9:30 p.m. with a matinee on Monday at 2 p.m. Tickets are $49.99 and 64.99, call 800-222-5361.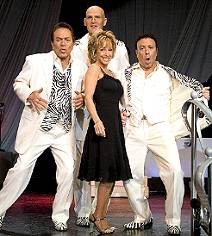 "Laugh Out Loud with The Scintas" (LOL) is the result of a new collaboration that brings together a contemporary European approach from ASIENT and The Scintas. LOL includes many new sketches and lots of new music along with some favorites. Also participating in this production is comedy writer Dave Boone whose credits include the Academy Awards, Emmy Awards, Jay Leno, David Letterman and Brad Garrett, among many others.
ASIENT Entertainment's Andy Walmsley and Steve Parker have worldwide credits that span television, stage, Las Vegas entertainment and rock 'n' roll. The two men have been critical in the success of projects involving David Bowie, The Rolling Stones and even Harry Potter. TV viewers are familiar with the work of ASIENT on, amongst others, "American Idol," "Who Wants To Be A Millionaire," "So You Think You Can Dance" and "America's Got Talent."
For more than two decades, The Scintas - Frankie, Joey and Chrissi Scinta and Pete O'Donnell - have entertained audiences nationwide. They've been Las Vegas headliners for many years with their own show originally at the Hilton, then at the Rio and most recently at the Sahara.
Morrissey returns to The Pearl at the Palms after his sold-out performance there for 2,500 guests in June. He will bring songs from The Smiths of yesterday and the Morrissey of today to life on Friday, Sept. 21, at 8 p.m. Tickets, which go on sale on Sept. 8, will be $60, call 702-474-4000.
After Morrissey was the lead singer of The Smiths, which was the best indie band in Britain in the '80s, he branched out in 1988 with his first two solo singles, "Suedehead" and "Everyday Is Like Sunday." He took a dip in the early '90s when the album "Kill Uncle" was released; it was not well-received and fans were speculating that this would be the end of Morrissey's career. Morrissey experienced a quick come back in the mid-90s with the release of "Bauxhall and I" in 1994 and he was once again on top of the alternative game.
In preparation for her new show at The Colosseum at Caesars Palace, Bette Midler and award-winning choreographer Toni Basil recently held auditions to select 20 female dancers. Midler's show is set to premier on Feb. 20, 2008.
Basil, whose smash hit "Mickey" earned her a permanent space in dance and music history, has been the dance director and choreographer for Bette Midler's notorious live performances for more than 20 years, including her Emmy Award winning HBO special, "Diva Las Vegas." Basil's impressive repertoire includes choreographic credits in major motion pictures like "My Best Friend's Wedding" and "Legally Blond," commercials such as the "GAP Khaki's Groove," and television programming like the MTV "Video Music Awards."
Midler will perform approximately 100 shows a year. Tickets, which range from $95 to $250, for performances from Feb. 20 through March 9 are on sale now, call 877-7BETTEM (723-8836).
QUICK CLIPS
Tickets are on sale now for the Las Vegas production of the Tony Award-winning hit musical, "Jersey Boys" set to open on April 4, 2008, at the$1.8 billion Palazzo, which is currently under construction on the Strip and slated to open Dec. 20. Ticket prices range from $65 to $135, with VIP Packages available, call 866-641-SHOW. "Jersey Boys" is the story of Frankie Valli and The Four Seasons.
Originally planning to close this summer at the Tropicana, an overwhelming public response has lead to another extension of, BODIES...The Exhibition and Titanic: The Artifact Exhibition through the end of December.
Monty Python's "Spamalot" at Wynn has launched the Very Important Person Package (V.I.P.P.). Ticket holders are escorted behind the curtain and taken backstage to see the inner sanctum of the show. They sign a blood oath, swearing not to reveal any of the secrets or chance being impaled on a spike. The limited number of V.I.P.P. tickets offered exclusively Sunday - Wednesday and on Friday are $159 and include premium seating, a 45-minute "Secrets of the Grail" backstage tour after the show, and a commemorative Grail cup (filled with beer or soft drink). Guests will be able to take photos with cast and crew, set pieces and props.
The beautiful Bistro Zinc restaurant at the MonteLago Village that had a fire on June 30 reopened last month.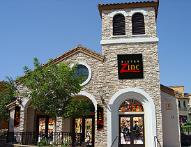 The Light Group's newest restaurant concept, Diablo's Cantina at Monte Carlo, will be opening its doors on Sept. 15. The 13,000-square-foot multi-level Mexican coastal cantina entertainment complex will feature a Strip-side location, an open-air design, "cross-the-border" cuisine, an extensive selection of specialty drinks, more than 75 tequilas, and high-octane entertainment.
City officials recently celebrated the completion of a $5.5 million streetscaping effort for downtown's new entertainment district called Fremont East with the lighting of four 40-foot-tall, retro-looking neon signs. The $5.5 million streetscaping improvements also include the creation of wider sidewalks and more pedestrian-friendly streets; landscaping; and lighted gateways. The Fremont East District sits adjacent to the Fremont Street Experience.
A fundraising performance hosted by Venetian headliner Gordie Brown and featuring singer Clint Holmes, Cornell Gunter's Coasters, ventriloquist Ronn Lucas, director, writer, and producer Christopher Broughton, and other special guests will highlight the festivities on Thursday, Sept. 6, at the Venetian. Tickets for the reception/silent auction and the show are $150 and $65 for the show alone, call 702-414-9000.
The Rampart Casino in Summerlin has reintroduced live poker with four new tables on the gaming floor.
Country singers will compete in the state-qualifying round of the 26th annual national Colgate Country Showdown competition at Toby Keith's: I Love This Bar & Grill, inside Harrah's, on Sept. 3. The nationwide singing competition gives hopefuls a chance to claim the title of the "Best New Act in Country Music" and a $100,000 grand prize. The competition, which is free and open to the public, will be held from 9 p.m. - 2 a.m.
Las Vegas resident, best-selling author and original Supreme, Mary Wilson has been named spokesperson for the Humpty Dumpty Institute (UDI) to help raise public awareness and support mine-clearance projects around the globe. Her first mission will be on Oct. 31 when she travels to Sri Lanka to review HDI's mine clearance and dairy development program in the Jaffna Peninsula, followed by a visit to an HDI mine clearance and school feeding program in Laos.
Joe Weider's internationally renowned 2007 Olympia Weekend that will include Mr. Olympia, Ms. Olympia, Fitness and Figure Olympia will be held at the Orleans Arena Sept. 27 - 30. This competition is one of the most prestigious contests in the world of bodybuilding. Tickets range in price from $54.50 to $212, call 702-284-7777.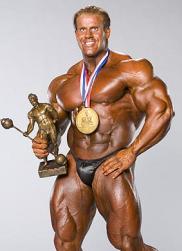 Magician Kevin James has closed his three-year run in the "World's Greatest Magic Show" at the Greek Isles.
Blue Man Group is donating all proceeds to Opportunity Vilage from one of its nightly performances on Sunday, Sept. 30. Tickets to the 5p.m. performance can be purchased by calling 702-414-9000.
Now through September, guests who book a two-night stay online have their choice of hot summer specials at MGM Grand, Mandalay Bay, Treasure Island, Monte Carlo, New York-New York, Luxor, Excalibur and Circus Circus. Each resort offers different incentives ranging from two-for-one "Mamma Mia" tickets and complimentary spa access passes to discounts at restaurants and free drinks.
International recording star Petula Clark and legendary comedian Sammy Shore will take the stage at the KJUL Listener Appreciation Concert hosted at the Cannery on Saturday, Sept. 15 at The Club, an indoor/outdoor venue. Tickets for the free concert are available at the ticket sales counter.
An accomplished actress and singer, Clark has appeared in more than 30 British and American movies and has been recording music for more than 50 years. After winning her first Grammyr in 1964 for "Downtown," Clark earned a second Grammyr the following year with her smash hit "I Know a Place." Clark has sold more than 68 million records worldwide, has had 15 top 40 hits in the United States and had recorded 159 international top 40 hits.
An actor and a comedian, Shore worked alongside some of the world's greatest musicians including Sammy Davis, Jr., Tony Bennett and Bob Hope. In 1969, Elvis Presley caught Shore's act and made him his opening act for five-years. Shore also founded Los Angeles' popular Comedy Store, and has opened for his son, comedian Pauly Shore, on a national comedy tour.
Comedian Paul Rodriguez will perform at Buffalo Bill's Star of the Desert Arena in Primm, on Saturday, Sept. 22 at 8 p.m. Tickets are $19.95 and $29.95, call 800-FUN-STOP. Primm is located 25 minutes south of Las Vegas on Interstate 15 at the Nevada/California state line.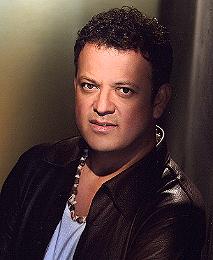 Referred to as the "Original Latin King of Comedy," Rodriguez' career has spanned more than two decades and includes starring roles and featured appearances in more than 30 films and countless television series and specials.
Baby Boomers expo will take place at the Sands Expo Center over Columbus Day Weekend, Oct. 6 and 7. The expo, which has successfully been staged in Los Angeles, is moving to Las Vegas because of the city's international tourist appeal. The public will be able to get information, products and services from numerous exhibitors within a variety of categories from second careers to real estate investments, financial services to healthy living, anti-aging to travel, aesthetics, technology, fitness, self-improvement, and more. CVS/pharmacy, the presenting sponsor, will provide health screenings, samples and information. Electronic Arts, also a sponsor, will exhibit a variety of video games created for the Boomer market.
Celebrity fitness guru Richard Simmons will be making a personal appearance and will conduct an exercise class. Actor Ed Begley Jr. will be exhibiting his Begley's Best Environmentally Friendly Products to promote "green" consciousness. Additionally, there will be speakers on relevant topics.
The show will run from 10 a.m. to 6 p.m. Saturday and 10 a.m. to 5 p.m. Sunday. Admission is $25 per person; however, free tickets can be obtained at any CVS/pharmacy starting in September, or now on the show's web site at http://www.boomersshow.com, click for free Tickets.
Poker will become a team sport at the Cannery in North Las Vegas for season two of its poker league. The new season starts Sept. 12 with registration now open at the poker room.
Players can put together a three-person team or be a free agent and compete against other teams over the course of a 20-week season. League players play live $3/$6 Hold 'em from 7 p.m. to 9 p.m. on their selected league night. The weekly league fee is only $10 per player with 100 percent of the collected fees paid back in prizes at season's end. Statistics on teams and individual players will be kept throughout the season. At season's end, cash and trophies will be awarded to the top teams and individual players.
CONTINUE ON TO...:
>THIS WEEK'S LAUGHLIN SEGMENT
>LAST WEEK'S LAS VEGAS SEGMENT
>VEGAS VIEW FULL ARCHIVES
>Return to "Heard Around Town"
>Return to Las Vegas Leisure Guide