CONSTRUCTION BEGINS ON BELLE'S LOADING DOCK BAR & GRILLE!

Construction of the Loading Dock Bar & Grille, a new casino level restaurant at the Colorado Belle, began last month and is scheduled for completion on Feb. 15, 2014. The restaurant will occupy what is currently the "bow" of the "boat" and seat approximately 250 guests. Offering both indoor and outdoor patio seating for 92 guests, the restaurant will feature free live entertainment, two bars, and an open fire grill. The menu will reflect the regional nature of the restaurant, and will offer Southwestern, Tex-Mex and Barbecue selections including beef, seafood, chicken and pork dishes, Black Angus Steaks and chops.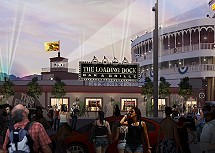 The décor will reflect a river culture-warehouse style with photos of riverboats from the turn of the last century and utilize raw steel, aged paint, vintage stencils, repurposed wood, polished concrete, oxidized metal, galvanized metal, weathered nautical rope and props and artifacts that will give the Loading Dock an interesting authenticity.
Entry way signs and materials will promote the restaurant's "4 Basics," branding the quality meats that will be featured. The open main dining room will have a 15-foot tall exposed deck ceiling with floating wood shipping pallets and exposed vintage-style lights hanging from exposed conduit.
The bar area will have all the trappings of a vintage warehouse, but will feature 42" plasma monitors for following sporting events. An expansive exterior glass wall will overlook the Colorado River with a sliding partition system to allow the entire corner of the dining room to open up to the outside patio. The patio will be accented with vintage-styled cage light sconces, industrial ceiling fans, and the entire length of the 100' long patio along the river will be covered with string lights filled with retro-style light bulbs to provide the perfect ambient glow for drinks at dusk. Adding to the experience is an outdoor stage overlooking the Colorado River. Two beer bars will flank the stage.
LYNYRD SKYNYRD WILL ROCK THE E CENTER
Rock and Roll Hall of Fame's legendary southern rock band Lynyrd Skynyrd will headline at the Edgewater's E Center Saturday, Sept. 21 at 8 p.m. Led by core members Gary Rossington and Rickey Medlocke on guitars along with Johnny Van Zant singing, Lynyrd Skynyrd continues the legacy that began more than 35 years ago in Jacksonville, Fla. Concert tickets start at $41.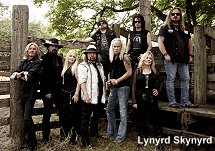 With a catalog of more than 60 albums, sales beyond 30 million worldwide and their classic American rock anthem "Sweet Home Alabama," Lynyrd Skynyrd remains a cultural icon appealing to all generations. The band's latest album, "Last of a Dyin' Breed," shows a fiery slice of Southern style guitar rock.
CLINT BLACK VISITS THE RIVERSIDE AMPHITHEATER
Clint Black, one of country music's brightest stars, will bring country music to the Riverside Amphitheater on Sept. 14 at 8:30 p.m.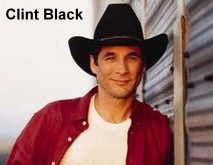 His many talents have made him one of the most successful artists in all the music industry. To date, Black has written, recorded and released more than 100 songs and had five No. 1 hits, including "Like the Rain," "Better Man' and "No Time to Kill." He's won numerous country music awards and has a star on the Hollywood Walk of Fame. While it's well-known that Black is an accomplished singer and guitarist, people may be surprised to learn that he is also proficient on drums and harmonica. Tickets range from $35 to $50.
VENTRILOQUIST KEVIN JOHNSON STOPS AT THE RIVERSIDE
Ventriloquist Kevin Johnson will appear at the Riverside Sept. 17-22 at 8 p.m. Tickets are $30.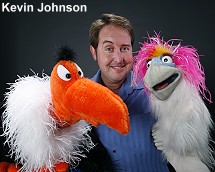 Johnson has been a ventriloquist nearly all his life starting at 9 years old. Having no formal training, he taught himself the art of ventriloquism over a four-year period. Johnson is mostly recognized from his 2006 appearance on NBC's "America's Got Talent" and in 2007, he appeared on "The Late Show with David Letterman." He recently finished a nine-year run at San Diego's Legoland California Theme Park where he performed 8,824 shows and now performs during the Summer Nights at Busch Gardens Tampa. Johnson's pals on stage are two birds, Clyde and Matilda. A new character has recently been added to Kevin's show as a tribute to his grandfather, right down to his name Harley, who believes he is a real ladies man. Johnson was introduced to the stage by his grandfather Harley Noles, who performed magic shows throughout Colorado.
THIS MONTH 'DEFENDING THE CAVEMAN' IS PERFORMED AT HARRAH'S
"Defending the Caveman" is a hilariously insightful one-man play about the ways men and women relate. It is being performed in the Fiesta Showroom at Harrah's through Sept. 29 at 8 p.m. Tickets are $25 and $35.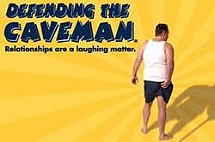 "Defending the Caveman" was written by Rob Becker over a three-year period during which he made an informational study of psychology, sociology and prehistory. Today more than 40 talented actors perform the record-breaking comedy worldwide. With hysterical observations on contemporary feminism, masculine sensitivity and the erogenous zone, "Defending the Caveman" has found a way to mine the common themes of relationships that goes straight to the funny bone.
TROPICANA HOSTS NATIONAL KARAOKE SINGING CONTEST
"Talent Quest National Karaoke Singing Contest" regional winners from throughout the United States will compete in a week-long talent contest at the Tropicana in the Pavilion Theater and Caboose Lounge Sept. 15-21 for a total of $25,800 in cash prizes. Preliminary and semifinal rounds will be Monday-Friday and free to watch. There will be a charge TBA for the finals on Saturday.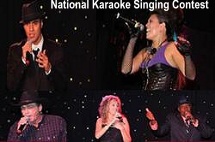 Contestants will compete in six categories: Male and Female Country, Male and Female Pop, and Male and Female Masters age 50 and over.
LATIN AND HAWAIIAN SHOWS AT EDGEWATER AND RIVERSIDE
Los Tucanes de Tijuana, a popular Latin band in Mexico and the United States for the past 24 years, will perform at the E Center at the Edgewater on Sept. 14 at 8 p.m. The Grammy award-winning Los Tucanes de Tijuana has sold more than 13 million albums worldwide, had 56 Hits on the Billboard list and 25 BMI awards. Mario Quintero Lara, lead singer, lead guitarist and overall leader of the group, has written more than 350 songs and corridos. Tickets range from $25 to $85.
Audiences are being transported to the Hawaiian Islands from Sept. 3-8 at the Riverside with "Hot Hula Swing" in Don's Celebrity Theater at 8 p.m. The show has singing, dancing, sounds of Hawaiian Native drums and comedy of the Maori Warrior. Tickets are $30.
TOP OF NEXT COLUMN
BERLIN FEATURING TERRI NUNN APPEAR AT AVI
Berlin featuring Terri Nunn will appear at the Avi Grand Ballroom on Saturday, Sept. 14 at 8 p.m. Tickets are $10 to $25.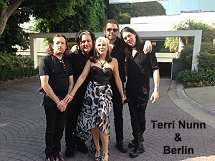 For fans of electronic music, Berlin vocalist Terri Nunn is an icon having earned the No. 11 spot on VH1's list of the "100 Greatest Women in Rock." As the vocalist for a band that virtually launched electronic dance rock in the United States, Nunn is still performing and recording more than 20 years after the release of the groundbreaking debut, "Pleasure Victim." Nunn and Berlin are currently touring on selected U.S. dates on the Regeneration Tour in support of her new live CD/DVD "All The Way In," the group's impressive 11th release. "Although we didn't realize it at the time," Nunn recalls, "Berlin's early sound was the start of modern electronic music."
THERE ARE COMEDIANS EVERY WEEKEND AT THE EDGEWATER
The Edgewater features two comedians every weekend Friday-Sunday at 7 p.m. The cost is $10 and veterans with a military ID and ACCESS Club card receive a $2 discount. Future bookings include: Sept. 20-22 Michael Goudeau and Tom Myers; and Sept. 27-29 Andy Beningo and Nate Armbruster.
Dennis Blair and Cliff Yates will take over the Edgewater Showroom, Sept. 6-8.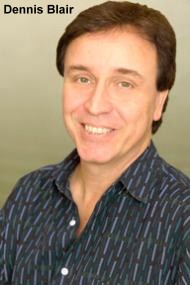 Blair has performed on "The Tonight Show" and HBO, co-hosted the "Stephanie Miller Radio Show" with Elayne Boosler, and entertained everywhere from Carnegie Hall in New York and the Universal Amphitheater in Los Angeles to the Kennedy Center in Washington, D.C. He has appeared with major celebrities including Rodney Dangerfield, Joan Rivers, Jackie Mason, the Beach Boys, Gloria Estefan, Tom Jones and George Carlin, with whom he toured for more than 18 years in the United States and Canada.
Dave Burleigh will appear with Bobby Wayne Stauts, Sept.13-15.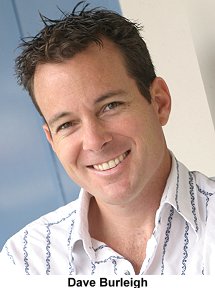 Burleigh's uncanny ability to impersonate just about anyone has recently landed him the starring role as Charlie Sheen in "Not Another Celebrity Movie." His multiple impressions were showcased on the 2012 season of "America's Got Talent" where he was a finalist. He has opened for Robin Williams, Dana Carvey, Tim Allen, George Lopez, Olivia Newton John, KC and The Sunshine Band, and this summer Rhianna.
JOURNEY TRIBUTE ACT WILL HEADLINE AT THE RIVERSIDE
With more than 400 performances since 2005, "Lights - The Music of Journey" from Los Angeles, will visit the Celebrity Theater at the Riverside Sept. 11-15. Tickets are $26.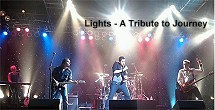 "Lights" delivers a show with note-for-note accuracy and genuine renditions of Journey classics. With the wonderful vocal range of American Idol finalist, front man Rudy Cardenas, "Lights" recreates the feel of being at an actual Journey concert and is one of the Nation's top tribute acts.

CAR SHOW WILL TAKE PLACE IN RIVERSIDE PARKING LOT

The "22nd Annual Roddin' on the River Car Show" put on by the River Cruizers car club will be held in the South Parking Lot at the Riverside, Sept. 26-29. The event will feature all years, makes and models, street rods, muscle cars, trucks, 4x4's, classics and specialty vehicles. In addition to vehicles, there will be vendors, a pinstriper, car corral for vehicles for sale and an auto parts swap meet. Fun events will include an open header contest, creeper races, poker walk and run, auctions, ladies luncheon and fashion show, cosmic bowling pizza party, 50/50 drawings and raffles, food court and bar, and a DJ all weekend. Event hours are Thursday noon-10 p.m., Friday and Saturday 8 a.m.-10 p.m., with a 7 a.m. awards breakfast on Sunday. There will be a small fee to view cars; see rivercruizers.com for car entry or information.

KING OF THE CAGE FUTURE LEGENDS 17

King of the Cage "Future Legends 17" live mixed martial arts fights are set for the E Center at the Edgewater Saturday, Sept. 7. Current King of the Cage Middleweight Champion Justin Jones (8-0) of San Diego, Calif., (Victory MMA) will fight against Mike Florio (9-1) of Las Vegas, Nev., (Team Excel) in the main event. In the co-main event, Shannon Mackenzie (6-1), Riverside, Calif., (Team Icon) will be fighting Eric Wilson (8-1) San Diego, Calif., (Victory MMA), 135-pound division.

Future Legends 17 will also feature a women's battle featuring Chloe Repogle of Apple Valley, Calif., (Team White Belt) vs. Sherry Wilanteen, Bullhead City, Ariz., (Desert Warriors), 125-pound division.

All bouts on the card are amateur fights. Tickets start at $15 and can be purchased at edgewater-casino.com or at the door. Doors open at 4:30 p.m. with the fights starting at 6 p.m.

GUESTS QUALIFY NOW FOR 'LET IT RIDE' TOURNAMENT AT AQUARIUS

The Aquarius is holding a "Let It Ride" tournament Dec. 14 and 15 for a piece of a $40,000 cash prize pool. Guests can qualify now through Friday, Dec. 13 for a free entry into the tournament by hitting a flush or better while playing a live game of Let It Ride in the casino. Tournament play will be from 9 a.m. – 2 p.m. Saturday and Sunday, and the top six places will be announced to sit at the final table on Sunday, Dec.15 at 5 p.m.

The total $40,000 prize pool will range from $10,000 for first place to $1,600 for seventh place. Seven drawings will be held on Dec. 14 at the ace | PLAY Center at 4 p.m. to award $200 to each winner. Also semi-finalists in attendance on Dec. 15 will receive $120 each. Complete tournament rules are available at the ace | PLAY Center.

AQUARIUS HOSTS $15,000 BLACKJACK TOURNAMENT IN SEPTEMBER

The Aquarius will host its $15,000 Splash for Cash Blackjack tournament Saturday, Sept. 14. All ace | PLAY members are eligible for one free entry into the tournament. Ace | PLAY red card players receive two mulligan entries and ace | PLAY green receive one mulligan entry. The top six finalists will go home with cash and first place wins $7,000. Table game players using their ace | PLAY card can earn points and point multipliers during regular play, just like slot players.

AQUARIUS PRESENTS $40,000 'CRAZY 4 POKER' TOURNAMENT

The "Crazy 4 Poker" table game tournament will be held at the Aquarius on Saturday and Sunday, Nov. 2 and 3. Guests can qualify for this special tournament now through Nov. 1 by winning a free entry based on hitting a three-of-a-kind or better while playing a live game of Crazy 4 Poker in the casino.

Tournament play will be from 9 a.m. - 2 p.m. both days. The top five places will be announced and take their places at the final table on Sunday, Nov. 3 at 5 p.m. The $40,000 prize breakdown ranges from $10,000 for first place to $2,500 for sixth place. Also, all semi-finalists in attendance will receive $120 each. On Saturday, Nov. 2 at 4 p.m., there will be four drawing winners for $325 each at the ace | PLAY center.



CONTINUE ON TO...:
THIS WEEK'S >LAS VEGAS NEWS
LAST WEEK'S >LAUGHLIN NEWS
>VEGAS VIEW FULL ARCHIVES
Return to >"Heard Around Town"
Return to >Las Vegas Leisure Guide