<!A-- Left Column -->

The Aquarius Casino Resort will host a performance with Little Joe y La Familia and offer a variety of specials during "Viva Aquarius" beginning Friday, Sept. 12 and running through Tuesday, Sept. 16. Tickets are $15 and $25.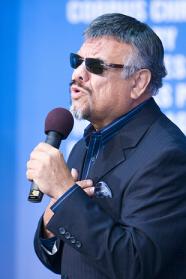 Little Joe y La Familia will perform on Saturday, Sept. 13 at 8 p.m. in the outdoor Aquarius Amphitheater. One of the most popular Tex-Mex bands in the music industry, Little Joe y La Familia has been entertaining audiences for more than 40 years. Little Joe has helped pioneer "Tejano" music, a mix of traditional "norteño," country, blues and rock. Little Joe received a Grammy in 1992 for Diez y Seis De Septiembre for Best Mexican-American Performance and the 2008 Grammy for Tejano Album of the Year for Before the Next Teardrop Falls.
Café Aquarius will offer a special from Sept. 12 through 16 for $8.95. The special is a chicken quesadilla served with refried beans and Spanish rice. On Sept. 16, Windows on the River Buffet will celebrate Mexican Independence Day by offering special entrees including pork tamale, chili verde and cheese enchiladas. Cost is $7.99 with an A.C.E. Rewards card and $9.99 without. Children 3 and under eat free.
Dos Equis Amber will be sold for $2 and 1,800 Tequila margaritas will be sold in a souvenir glass for $5 at any casino bar Friday through Tuesday.
Elvis impersonator Trent Carlini and winner of ABC television's Next Best Thing will bring his The Dream King show to the Riverside, Sept. 16-21. Tickets for his 8 p.m. shows are $32.
Carlini was born in Chicago, seven years after his parents immigrated to the United States from Italy. He became a Rock 'n' Roll fan at the young age of 5, and at age 10, began playing guitar. During his late teen years in Italy, he produced a few records of his own music and moved back to the United States in 1987, making Florida his home.
With the King's death in 1977, Carlini's musical direction changed. In 1988, he was chosen to star in the Annual Birthday Tribute to the King at the Star Plaza Theater in Indiana with the Jordanaires, the King's own vocalists, and returned many times for the same event. In 1990, Carlini was chosen "Entertainer with the Most King-like Charisma" at the Global Record's Star Search Contest in Dallas, Texas. From 1992 to 1996, he headlined as Elvis in Legends in Concert in Las Vegas. Venturing out on his own, he starred on the King's stage at the Las Vegas Hilton for four years and most recently did his show at the Sahara. He's also made many appearances on network television shows.

TOP OF NEXT COLUMN
The River Palms is keeping the laughter center stage at the River Palms Comedy Room. Comedians Fielding West, Eric Hunter, and a host TBA will be telling the jokes Sept. 9-13. Shows are presented Tuesdays through Saturdays at 9 p.m. Tickets are $17.95 for general seating and $22.95 for preferred seating, call 1-866-448-7849 or 702-474-4000.
Award-winning comedy magician Fielding West has been seen everywhere from stage to television and appeared in many Las Vegas productions. He's also an actor, game show host, TV personality, motion picture technical director and writer.
Eric Hunter has been performing comedy since age 6, when he got his very first laugh at a family picnic. He graduated with a BA degree in Communications and Theatre from the University of Notre Dame. Hunter now performs non-stop around the country and is best known for his deadpan attempt to impress the women in the audience. He jokes sarcastically about various topics, including his friends and Irish Catholic family, education, sports and relationships and has performed with a wide range of comedians including Louie Anderson, Bobcat Goldthwaite and Jimmy Walker.
The Mohave Shrine Club will present the Jordan World Circus on Thursday, Sept. 25, at the Mojave Crossing Event Center on Aztec Road across the Colorado River from the Avi Resort. Proceeds from the event will benefit the Mohave Shrine Club and their commitment to serve the needs of others.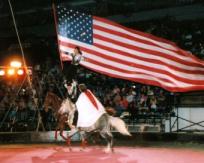 The circus will provide an evening of entertainment including the daredevil Kambarov Troup from Russia performing bareback on Arabian stallions, aerialist, acrobats and clowns. The largest attraction of the evening will certainly be the elephants. Doors open and tickets will be available for purchase at 6 p.m. with the performance beginning at 7 p.m. Adult tickets will be $16 and children under 12 will be $12. For information, call 928-330-2505.
The Aquarius will host a performance with country music superstar Randy Travis on Saturday, Sept. 20 at 8 p.m. in the Aquarius Outdoor Amphitheater. Tickets are $30 and $40.
Travis burst onto the country music scene with his 1985 album Storms of Life. Throughout his successful career, Travis has had more than 25 million record sales, 22 No. 1 hits, six No. 1 albums, six Grammy Awards, six Country Music Association Awards, nine Academy of Country Music Awards, 10 AMA Awards, seven Dove Awards and a star on the Hollywood Walk of Fame. Today, he continues to record and tour while uniting old and new fans.
The Mounted Shooters of America will host their Championship Event, Sept. 27-29, at the Mojave Crossing Event Center across the Colorado River from the Avi Resort. Competition starts at 9 a.m. each day. For information, call 928-330-2505. Admission is free.
Mounted Shooting is one of the fastest growing equestrian sports in America. It is a combination of a fast-paced timed equestrian sport and two .45 caliber single action revolvers loaded with special blank ammunition. Competitors ride a variety of courses requiring precision control of the horse. At the same time the rider must be ready to shoot 10 balloon targets at a gallop. Scoring is based on time running the course plus a five-second penalty for each target missed or barrel knocked over. Competitors are grouped in classes based on experience and wins, with classes for Men, Ladies, Seniors and Outlaws (under 12 years of age).
CONTINUE ON TO...:
>THIS WEEK'S LAS VEGAS NEWS
>LAST WEEK'S LAUGHLIN NEWS
>VEGAS VIEW FULL ARCHIVES
>Return to "Heard Around Town"
>Return to Las Vegas Leisure Guide