The Excalibur has introduced a fully automated poker room with no cards, no chips and no dealers. As the first Strip location, the casino has installed 12 PokerPro tables for a six-month trial run.
The 10-person poker table has individual touch screens for each player and a 40-inch flat screen in the middle to display community cards, players' table stakes and the pot. The machines allow customers to play Texas Hold 'em, seven-card stud and Omaha.

Column Continues Below Advertisement


Six-time Grammy award winner Mary J. Blige will showcase her talents at The Pearl Concert Theater at the Palms on Friday, Oct. 17 at 8 p.m. Tickets are $100, $125 and $200, call 702-474-4000.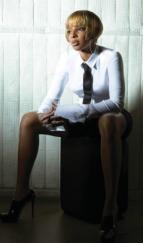 Blige made her debut in 1992 with What's the 411?, which demonstrated her unique blend of R&B and rap and sold more than three million copies. Her follow-up album My Life was in 1995 and her third album, Share My World debuted at No. 1 on the Billboard charts. In 2006, Blige released The Breakthrough, and her latest release, Growing Pains, was released at the end of 2007 and went straight to No. 1 on the Billboard R&B / Hip-Hop chart.
In keeping with the storied tradition of the Binion's legacy, the downtown property has unveiled a new version of the famed $1 Million Display that for decades attracted millions of visitors for a chance to pose for a photo with the money. The $1 Million Display is open from 10 a.m. to 10 p.m. daily. Photo subjects must be 21 or older.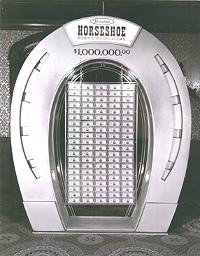 "Reintroducing the display with a modern look is part of our strategy to preserve tradition while refreshing the Binion's brand for today's market," said Tim Lager, Binion's general manager.
Binion's new $1 Million Display holds exactly one million dollars and is structured in a pyramid design of acrylic glass boxes filled with cash denominations ranging from ones to one hundred dollar bills. The display is set up on a poker table, evoking the nostalgia of the Binion's poker heritage and the days when Benny Binion would present stacks of cash to poker tournament winners.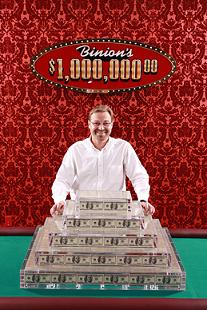 Iconic hard rocker Alice Cooper, who literally invented the concept of the rock concert as theater and is known as the architect of shock-rock, will headline at The Orleans Sept. 5-7. Tickets for the 8 p.m. shows are priced from $54.95, call 702-365-7075.
Cooper's latest concept album, Along Came a Spider, is his 25th studio album. The recording has elements of serial killers with Cooper taking the central part, acting out the murderer's diary imagining himself as a spider. In addition to touring and making albums, Cooper makes time for such side projects as Alice Cooper'stown (his Phoenix-based restaurant/sports bar), his Alice Cooper: Golf Monster book, and his Nights With Alice Cooper nightly radio show, syndicated domestically and worldwide on more than 100 stations.
Little Anthony and The Imperials, the only vocal group originating in the 1950s that still perform with all of the original members, will headline at the Tropicana on Sept. 27 at 8 p.m. Tickets are $24.95 and $34.95 for booth seating, call 702-739-2411.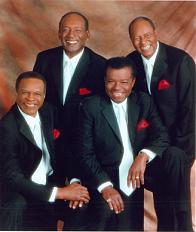 The group's distinctive vocals offering a unique blend doo-wop, soul, and rhythm and blues have earned them a variety of accolades throughout the years. Accomplishments include the Rhythm and Blues Foundation Pioneer Award, induction into the Long Island Hall of Fame as well as the Vocal Group Hall of Fame. Little Anthony and The Imperials are set to release a new album entitled You'll Never Know this fall.
Two shows opened in August: Hitzville starring Jennifer "Jin-Jin" Reeves at the Harmon Theater and Superstar Voices in Concert starring impersonator Larry G. Jones at the Royal Resort. Both shows have a lot to offer, are totally different and reasonably priced.
Hitzville - The Show is an upbeat Motown revue featuring a five-piece band, and a trio of women and quartet of men singers, delivering famous hits by Tina Turner, The Drifters, Gladys Knight, The Supremes, The Four Tops and many more. The show is jam packed with tunes and the bonus is a tasty Southern cuisine buffet. Dinner and show, Wednesday through Sunday, are $54.95 and $64.95 for VIP seating, call 702-836-0836.
Impersonator Larry G Jones has opened his very impressive Superstar Voices in Concert show at a new tiny venue inside the Royal Resort Hotel on Convention Center Drive. The 9 p.m. show, Monday-Wednesday, hosted by Red Skelton look-alike and tribute artist Brian Hoffman is a hidden gem and highly recommended. Jones is every bit as talented as major headliners and tickets are only $24 and $34 for the VIP package, call 800-595-4849.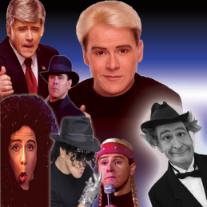 Madonna has kicked off her Sticky and Sweet tour and will stop in Las Vegas for shows on Nov. 8 and 9.
Xtreme Magic Staring Dirk Arthur at the Tropicana will be dark Oct. 1-10 and resume its regular schedule on Saturday, Oct. 11.
The City of Henderson is getting revved up for the 10th annual Super Run Classic Car Show, which is Southern Nevada's largest car show, being held from Sept. 25-28 in the downtown Water Street District. The four-day nostalgic extravaganza attracts more than 100,000 car enthusiasts and features thousands of flashy street machines, hot rods, motorcycles and classic cars. The event is free for spectators.
Festivities include poker walks, contests, giveaways, cash drawings and a variety of live entertainment at the Henderson Events Plaza. This year's headliners include country music star Keith Anderson on Friday at 8 p.m. and 60s rock 'n' roll band The Grass Roots on Saturday at 8 p.m.
For additional information and a complete schedule of events, visit www.SuperRun.com.
Odyssey Las Vegas 2008, a four-day gourmet food, fine wine and the arts charity event, celebrating the journey of fine living, is set for Nov. 6-9. Tickets for this annual event may be purchased online at www.odysseylifestyle.com, or by calling 702-257-2345.
The Wendy's 3-Tour Challenge now has a new two-year agreement with Harrah's Entertainment to host the made-for-television event in 2008 and 2009. For this year, the Rio Secco Golf Club, located in Henderson, will host the official fundraising pro-am on Nov. 10 and the Wendy's 3-Tour Challenge professional competition on Nov. 11.
The Wendy's 3-Tour Challenge is the only professional golf tournament that pits three players from the PGA, LPGA and Champions Tours against each other in competitive, head-to-head threesomes for tour bragging rights and a share of the $1 million purse. Each threesome consists of one player from each tour competing in two separate, nine-hole stroke play matches. The one-of-a-kind contest is scheduled to air on ABC Television Dec. 13 and 14.
Co-sponsored by the City of Henderson and the Las Vegas Hawaiian Civic Club, the 18th annual Prince Jonah Kuhio Ho'olaule'a Pacific Islands Festival is set for Sept. 13-14 at the Henderson Events Plaza from 9 a.m. to 6 p.m. Admission and parking are free.
Festival-goers will be able to experience Hawaiian customs with more than 100 exotic food and craft vendors, view culinary demonstrations, and enjoy two stages featuring live entertainment. For information, call 702-267-2171.
NASCAR fans are being called upon to help those in need by participating in the NASCAR Foundation's third annual Blood & Marrow Drive on Thursday, Sept. 11. The blood drive will be held at Las Vegas Motor Speedway's (LVMS) infield media center from 9 a.m. to 7 p.m. Those who donate blood will have the opportunity to win several prizes including passes to the Neon Garage for the 2009 NASCAR Sprint Cup Series Pole Day, Sam's Town 300 race tickets for Feb. 28, 2009, and NASCAR memorabilia. Individuals may register by visiting www.bloodhero.com and typing in the sponsor code: nascar. Appointments may be scheduled by calling 702-562-2166.
LVMS is one of more than 30 NASCAR tracks participating in this annual event. Individuals who donate blood at any of the participating tracks will be registered for the opportunity to meet reigning NASCAR champion Jimmie Johnson at a future race. All who donate blood at LVMS will receive two tickets to the Qwik Liner Las Vegas 350 NASCAR Craftsman Truck Series race on Sept. 20 and one ticket to the Defending the Caveman show at the Golden Nugget downtown.
Influential Latin singer Marco Antonio Solís is set to play at The Pearl Concert Theater at the Palms on Saturday, Sept. 13. Tickets are $78, $103 and $128, call 702-474-4000
Hailing from Michoacán, Mexico, Solís formed his first band when he was 12. In the mid-1970s, Solís formed the group Los Bukis and spent nearly two decades as the lead singer and principal songwriter before deciding to embark on a solo career. In the '90s, Solís released several platinum certified albums and his latest release is Una Noche en Madrid.
Mah Jongg players are invited to participate in the Fifth Annual Mah Jongg Tournament presented by the Jewish Community Center of Southern Nevada on Thursday, Oct. 23 from 9:30 a.m. to 3:30 p.m. at the Red Rock Country Club near Sahara and I-215. The $60 tournament fee includes a kosher-style buffet lunch and the opportunity to win cash prizes. More than 100 players are anticipated.
The Green House: New Directions in Sustainable Architecture and Design at the Springs Preserve is the premier traveling exhibition exploring sustainable, innovative residential design. It's open to the public in the Patio Gallery of the Desert Living Center from Aug. 29 through Dec. 29. For information, visit www.springspreserve.org, or call 702-822-7700.
Come Back Buddy (www.comebackbuddy.com), a Phoenix-based group, will be performing on the main stage at the Harvest Festival arts and crafts show being held at Cashman Center, Sept. 5-7. Their free shows are at 12:15, 2:45, and 5:15 on Friday and Saturday, and noon, 2:15 and 4:30 p.m. on Sunday.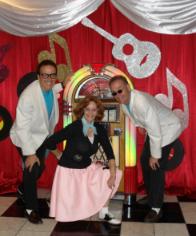 Grammy-Award nominated American indie rock band Shiny Toy Guns will perform for the Rio's End-of-Summer Pool Concert at the Voodoo Beach on Thursday, Sept. 18. The group's newest female lead joined them earlier this month and will be featured on their November release Season of Poison. Cost is free with a printed voucher from www.area1079.com or www.spyonvegas.com.
On the heels of a recent JCK Jewelers Choice Award for best timepiece design, overwhelming collector demand, and a reputation as fast becoming "the official watch of the poker industry," Steve Soffa's Hardcore Watch Company is launching its first consumer gallery and corporate store in Vegas at the Rio on the bottom floor next to the Masquerade stage, and against a backdrop of the 2008 World Series of Poker. Soffa is changing the way we view time with his true lifestyle brand and limited edition timepieces.
Galaxy Neonopolis Theatres downtown and Las Vegas filmmaker Robert Cochrane are hosting a week-long screening of the award-winning, feature-length documentary, Boys of Summer. The film will screen six times daily from Sept. 6 to 11 to raise funds and awareness for The Michael J. Fox Foundation for Parkinson's Research (MJFF). For show times, call 702-639-9779. Boys of Summer follows Cochrane and his father Dan Cochran, who has Parkinson's disease, in their two-month, 20,000 mile road trip across the country to visit each of the 30 Major League ballparks.
The 2nd Las Vegas Tequila Fest will be taking place at the Rio on Sept. 12 and 13. It's a free event for members of the food and beverage industry, contact www.lasvegastequilafest.com to attend.
Iliza Shlesinger, the recent Last Comic Standing winner, performed in Donn Arden's Jubilee! for four nights at Bally's this past week and showcased her distinct observational comedy style. Shlesinger was the first female comic and youngest to win NBC's summer hit during the sixth season which filmed this month live at Paris. She won a $250,000 prize package that included her Jubilee! gig.
CONTINUE ON TO...:
>THIS WEEK'S LAUGHLIN SEGMENT
>LAST WEEK'S LAS VEGAS SEGMENT
>VEGAS VIEW FULL ARCHIVES
>Return to "Heard Around Town"
>Return to Las Vegas Leisure Guide