GOLDEN NUGGET OPENS NEW 'COUNTRY SUPERSTARS TRIBUTE'
The Golden Nugget downtown has announced the opening of a new production show, "Country Superstars Tribute," starting Tuesday, Aug. 31 in the Gordie Brown Showroom. The 75-minute concert-style event features a live five-piece band and via ever changing impersonators some of the biggest names in country music. The tribute show has performed more than 800 times since its debut in 2007.
Column Continues Below Advertisement
The "Country Superstars Tribute" has a 9:30 p.m. time slot, Tuesday through Saturday. Tickets start at $25 and there's a show and buffet package for $34.99, call 702-386-8100.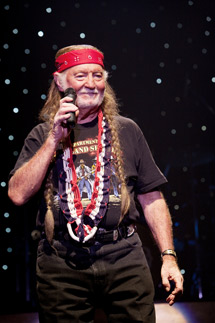 PBR ROCK BAR GETTING SET TO OPEN ON THE STRIP
Opening soon on the Strip at the south entrance to the Miracle Mile Shops, PBR Rock Bar will feature a ruggedly contemporary atmosphere with authentic PBR (Professional Bull Riders) regalia and have a distinctive rugged décor. Adjacent to the patio overlooking the Strip will be a mechanical bull. There will be a stage with entertainment and dancing on the bar tops. PBR Rock Bar will host special events for two of PBR's largest events each year, the PBR World Cup in the spring, and the PBR World Finals in the fall.

PBR Rock Bar will feature American comfort food and barbeque and be open for lunch, dinner and late-night daily. For information, visit www.pbrrockbar.com.
MINUS5 IS NOW OPEN INSIDE MONTE CARLO
Minus5 has opened its second Las Vegas location inside Monte Carlo. The first is inside Mandalay Bay and opened in September 2008.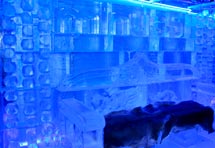 The new Minus5 Ice Bar includes all the frozen beauty of the original where everything is made of 100 percent ice including the bar, tables, benches, walls and drinking glasses that are molded and shipped frozen from New Zealand. The experience includes ice sculptures such as a 10-foot Mount Rushmore, hand-carved pieces, and two ice chandeliers that change colors because of a built-in LED light system.
CHANCE TO WALK THE HOOVER DAM BYPASS BRIDGE
The public celebration for the completion of the new Hoover Dam Bypass Bridge will take place on Saturday, Oct. 16, 2010, from 8 a.m. to 2 p.m. and will allow people to walk the 1,060 foot twin-rib concrete arch before traffic starts crossing it. The $240 million project is a signature bridge that spans the Black Canyon (about 1,500 feet south of the Hoover Dam), connecting the Arizona and Nevada approach highways nearly 900 feet above the Colorado River. To attend the Bridging America event, visit www.CelebrateHooverBridge.com and RSVP.
SILVERTON BOOKS HEADLINING ACTS
The Silverton is booking headlining acts in September and starting off the month with The Avett Brothers, 38 Special and country singer Gretchen Wilson. For tickets, call 702-263-7777.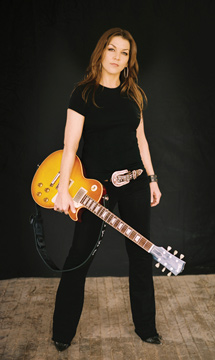 The Avett Brothers performing on Sept. 2 are a folk, country rock act made up of brothers Scott and Seth Avett along with Bob Crawford. These musicians entice their audiences to sing along. Their latest album is "I and Love and You." Tickets are $35.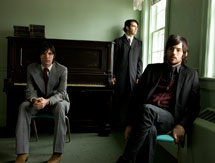 38 Special formed by neighborhood friends, Don Barnes and Donnie Van Zant in 1975 has a broad audience worldwide and will headline on Sept. 4. Since the release of their debut album in 1977, the band has produced a string of successful albums. Tickets are $30.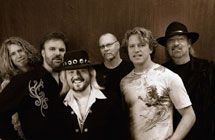 On Sept. 10, Gretchen Wilson, who is famous for her highly recognized song "Redneck Woman" that hit No. 1 on the Billboard country music charts and won her a Grammy in 2004, will entertain. Tickets start at $40.
REPUBLIC KITCHEN & BAR IS NEW IN HENDERSON
Republic Kitchen & Bar is a 5,900-square-foot, modern, family-friendly American bistro that opened in Henderson at 9470 S. Eastern Avenue, Suite 110, and offers home cooking. Conveniently located at Eastern and the 215, the Republic's décor has hardwood floors, a cozy fireplace and a white brick accent wall. Upstairs is the Loft with plush booths, high tables and an array of board games. It's a place for private gatherings and Monday night football.
The eatery open daily for lunch and dinner offers a weekly Republic Jazz Brunch with pricing for the all-you-can-eat brunch ranging from $7.99 to $16.99. There are daily happy hour specials from 5 - 7 p.m., reverse happy hour from midnight until 2 a.m., and nightly entertainment. For information, visit www.republickitchenandbar.com.
CAESARS PALACE BOOKS JEFF DUNHAM AND CHELSEA HANDLER
Comedian Jeff Dunham will bring his comedic cast of characters he has created like Walter the grumpy retiree, Bubba J, Peanut, Jose Jalapeño and Achmed the Dead Terrorist to The Colosseum at Caesars Palace on Friday, Sept. 3. Tickets range from $49.50 to $89.50.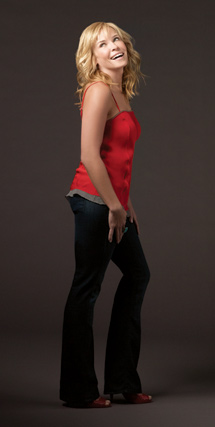 As one of the nation's leading female stand-ups, Chelsea Handler, who most recently performed at the prestigious Carnegie Hall, will headline on Saturday, Sept 4 at 10:30 p.m. Tickets range from $49-$99.50.
TOP OF NEXT COLUMN
ALEJANDRO FERNANDEZ's TOUR STOPS AT MGM GRAND
Leading Latin pop star Alejandro Fernandez will bring his Dos Mundos tour to the MGM Grand Garden Arena on Wednesday, Sept. 15 at 8:30 p.m. Fernandez has captivated audiences since 1992 with his sultry romantic ballads and traditional rancheras. He has more than 15 million fans in more than 25 countries. Tickets range from $45 to $200, call 800-745-3000.
5TH ANNUAL WINE AMPLIFIED FESTIVAL AT MANDALAY BEACH
The 5th Annual Wine Amplified Festival will be featuring Third Eye Blind and special guests Locksley, Jarrod Gorbel, and The Makepeace Brothers on Sept. 25 at Mandalay Beach from 7 – 11:30 p.m. The event will feature 150 wines from 50 wineries; visit wineamplified.com.
In addition, the event has expanded to include a Friday night, Sept. 24 "Bubbles & Chocolate" event from 8-11 p.m. with a selection of champagne and sparkling wines from Moët & Chandon along with pastries and chocolates at the Moorea Beach Club with admission to a live concert by UB40 on the beach.
PIANIST GIOVANNI PERFORMS CONCERTS AT SUNCOAST
International composer and pianist Giovanni will perform original works and beloved classics in two intimate concerts at the Suncoast Showroom on Sept. 25 and 26 at 7:30 p.m. Tickets start from $19.95, call 702-636-7075.
Italian-born and classically trained, Giovanni has sold millions of albums. As the son of famed musician Alfredo Marradi, Giovanni began his classical music training at age five. He blossomed under the tutelage of Michael Chesknov at the Russian Conservatory in Beirut. In 1984, he became a United States citizen and settled in Las Vegas where he became friends with Frank Sinatra.
In addition to being a performer, Giovanni is also an inventor and entrepreneur. He developed the "Roll Out Piano" to aid people wishing to learn and/or conveniently practice the art of the piano.
CELTIC WOMAN PERFORM AT HENDERSON PAVILION
Irish music phenomenon, Celtic Woman, will make a stop at the Henderson Pavilion on Sunday, Sept. 5 at 8 p.m. as part of their Songs from the Heart tour. Tickets start at $35 at HendersonLive.com or by calling 702-267-4849.

"Songs From the Heart," the group's fifth CD and DVD, debuted at No. 9 on Billboard Top 200 and No. 1 on Billboard World Music Chart and was recently nominated for an Emmy. The gifted Irish women featuring vocalists Lisa Kelly, Chloë Agnew, Lynn Hilary and fiddler Máiréad Nesbitt in five short years have sold five million albums. The all-female group has performed on ABC's "Dancing With The Stars" and made highly popular PBS TV specials.
QUICK CLIPS
Wine Walks with up to 20 stations are planned at The Village at Lake Las Vegas for Saturdays, Sept. 18 and Oct. 23, from 7 to 10 p.m. Cost is $30 per person or $50 per couple.
Primm Valley Casino Resorts located 25 miles south of Las Vegas is commemorating Labor Day weekend with a $40,000 fireworks display for guests at dusk on Saturday, Sept. 4.
Filipino pop rock act Aegis will perform live in The Lounge at the Palms on Friday, Sept. 3 at 5 p.m. and Saturday, Sept. 4 at 4:30 p.m. Aegis has released seven albums, which have consistently made Gold and Platinum. Tickets are $49 and $69, call 702-944-3200.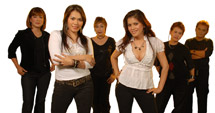 In celebration of the fourth annual Restaurant Week, rock 'n' roll chef Kerry Simon will host an event on Wednesday, Sept. 1 from 6-8 p.m. at his newest restaurant, KGB: Kerry's Gourmet Burgers at Harrah's. Open to the public, guests will be treated to signature samplings of his famous Iron Chef sliders, Captain Crunch milkshakes, specialty cocktails, desserts and more. Donations of $20 to benefit Three Square will be collected upon entry.
Just in time for football season, the M Resort's Vig Deli and 32° Draft Bar will hold a special grand re-opening on Thursday, Sept. 9 from 5-7 p.m. to celebrate the expansion of both venues and a new menu in Vig Deli. There will be $2 Miller and Coors draft pints and complimentary tasting cards to sample some of the 96 coldest beers on tap.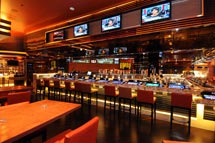 Superstar John Travolta with six friends attended "O" by Cirque du Soleil. After watching the show, a very gracious Travolta went backstage to meet the cast and crew.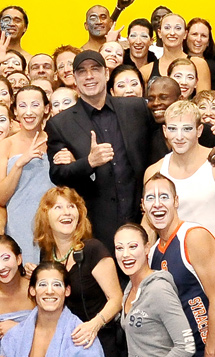 During Mexican Independence Day weekend on Saturday, Sept. 18 two division world champions Juan Manual "JuanMa" Lopez and Rafael Marquez will collide at the MGM Grand Garden Arena for the Lopez's World Boxing Organization featherweight title. Tickets arrange from $50 to $400, call 800-745-3000.
Uno! Dos! Tres! Thursdays at Hussong's Cantina at The Shoppes at Mandalay Place will have comedian Carrot Top on hand to launch the weekly event on Sept. 2 as his likeness is added to Hussong's Charcoal Portrait Wall of Fame. Every Thursday from 7 to 9 p.m., just three dollars buys locals one taco, one Dos Equis and one Tres Agaves margarita or shot.
Tacos & Tequila (T&T), the rock 'n' roll-inspired Mexican restaurant at Luxor, will extend its happy hour starting at 3 p.m. and offer its signature Mariachi Brunch over Labor Day weekend. There will be a variety of specially priced libations and tasty tacos Thursday, Sept. 2, through Monday, Sept. 6, from 3 to 5.p.m., along T&T's Mariachi Brunch Sunday from 11 a.m. to 3 p.m.
AWARD RECOGNITIONS
"Travel + Leisure" recently announced its 2010 World's Best Awards as voted by readers, and Bellagio has been recognized for the eighth year among the top hotels in the continental United States and Canada.
The Palazzo® has been named as one of the Top 50 Hotels in the Continental United States and Canada in the "Travel + Leisure" 2010 World's Best Awards readers' poll featured in the magazine's August 2010 issue and on TravelandLeisure.com/worldsbest. The Palazzo came in at No. 18 among Large City Hotels (100 rooms or more) in the region and was the highest ranked property in Las Vegas.
The website TripAdvisor recently named Fremont Street Experience as one of the "Top 10: Free Things To Do in the United States." TripAdvisor has 15 million members and 35 million reviews and opinions.
The Mirage's RHUMBAR's lead mixologist Kristen Schaefer was named Las Vegas' "Most Inspired Bartender" at Bombay Sapphire's regional competition in July. Schaefer's cleverly-crafted cocktail, "The Don Harlow," took first place and earned her a spot in the national "Bombay Sapphire Most Inspired Bartender 2010" competition taking place in Las Vegas Aug. 29 and 30.
SOUTHERN NEVADA CHILDREN FIRST HOLDS BBQ BATTLE
Non-profit Southern Nevada Children First (SNCF) will host its second BBQ Battle on Saturday, Sept. 18. Tickets will be $15 per person or $25 for two, children under five will be admitted free.
The competition will be held at Nevada Partners Culinary Training Academy located at 710 W. Lake Mead Blvd from 11 a.m.-3 p.m. Hosted by comedian Sweet Lou Collins, the fundraiser will feature barbeque restaurants and chefs in the Las Vegas Valley. The competition will be judged by celebrity chefs, media personalities, performers, etc.
Column Continues Below Advertisement



CONTINUE ON TO...:
>THIS WEEK'S LAUGHLIN NEWS
>LAST WEEK'S LAS VEGAS NEWS
>VEGAS VIEWS FULL NEWS ARCHIVES
>Return to "Heard Around Town"
>Return to Las Vegas Leisure Guide